Whispered Secrets: The Story of Tideville Collector's Edition
Uncover the mysterious past of a sleepy seaside village in Whispered Secrets: The Story of Tideville! You and your son, Tim, recently moved to the small town of Tideville to make a fresh start. One peaceful autumn evening, you arrive home just in time to see Tim vanish into thin air! Armed with only your wits and a cryptic clue about a scientist, you set out to find your son. But you soon learn that Tim was not the first resident of Tideville to disappear... In fact, people have been going missing for years. But who is behind it all? And what do they want? Unravel the town's dark secret in this stunning Hidden Object game!

This is a special Collector's Edition release full of exclusive extras you won't find in the standard version. As a bonus, Collector's Edition purchases count toward three stamps on your Monthly Game Club Punch Card!

The Collector's Edition includes:
Built-in strategy guide
Bonus gameplay
Concept art and soundtrack
Wallpapers and screensavers
Game System Requirements:
OS:

Windows XP/Windows Vista/Windows 7/8

CPU:

1.0 GHz

RAM:

1024 MB

DirectX:

8.0

Hard Drive:

842 MB
Game Manager System Requirements:
Browser:

Internet Explorer 7 or later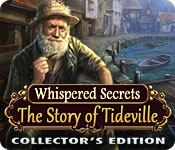 The Big Fish Guarantee:
Quality tested and virus free.
No ads, no adware, no spyware.

Reviews at a Glance

Whispered Secrets: The Story of Tideville Collector's Edition
0
out of
5 (
0
Reviews
Review
)
Customer Reviews
Whispered Secrets: The Story of Tideville Collector's Edition
57
57
Pleasant game. A good entertainment
After being widowed, Clarice and her son Tim move to a small village, but Tim disappears in front of her eyes. Clarice, with the help of Tim's friend, Rudy, will try to solve the mystery and find her son. Good story, nice graphics, great VO, nice and interesting ambiance. Characters very compelling, as Rudy - the cute boy. To save Tim, you have to collect 15 blue crystals. (Very easy to find, because Tim is almost always around them). Sure! Has "monsters"! Mechanical monsters! But soon you build a machine to fight it. Despite them, the story is nice, with lot of very well done locations and provides good fun. Interactive HOS but the local repeat themselves. You can play Match 3 instead. Mini games very easy. Two play modes, it has a journal and tasks. Game itself is not challenging, but it is enjoyable.
October 7, 2012
Relaxing And Enjoyable Game From A New Developer - Review Of Entire Game
Story: You take on the role of recently widowed, Clarice and move to a small fishing town Tideville with your son Tim who has been kidnapped by a mad scientist and with the help of Tim's friend, Rudy, will try to solve the mystery and find her son. 8 chapters plus a bonus chapter Integrated strategy guide which only shows the first 2 chapters during the demo. I didn't use it but checked it out and it stays where you last left it. 2 play modes: Regular/Expert: I played Expert mode and there are no sparkles not even for HOS (hidden object scenes) but there are black bar tips up at the top of the screen. Journal which holds story and puzzle clues Voice Overs No map 15 crystals you find throughout the game to help you save Tim. HOS: There are quite a few scenes to this game. Found by word list. They are interactive. You can also play match 3 and switch between the two at any time during the game. Puzzles: Not a whole lot of puzzles to this game. Most of them are swap the pieces to form a picture, rotate the rings/circles. Also some solved by clues in your journal just to name some. HINT/Skip charge up: I can't comment on the hint for this game cause I didn't use it one time for anything. The skip does take about a couple of minutes. Bonus Chapter: The main game does come to a satisfactory conclusion as the bonus chapter is not needed for this. The bonus chapter you have to save the townspeople from the mad scientist. This does have scenes from the main game but also opens up some new areas. It also looks like this may be continued which I sure hope so but the bonus chapter also has a satisfactory ending as well. Main game time: Close to 6 hours. Bonus time: Just about an hour. Depending on your game play may be more or less for you. My overall impression: Well for this being a new developer I think they did a pretty good job with this game. For the most part I found this to be a pretty ease game but sometimes I like an easy game and just like to relax. I don't think the demo time does this game justice cause after the demo this game opens up to quite a few locations. There's some traveling back/forth to this game. Yes pretty easy as I mentioned but I did notice on a few locations I really had to take my mouse and go over the area pretty thorough to come across using an inventory item and/or picking up something. The graphics for me were superb as I had no problems with them and the two boys Tim and Rudy are so cute. Just adorable. I will say as far as the HOS go a few scenes a bit on the dark side and even Sanford & Son junkyard pile but I located most pretty easily and the few I had trouble with I just played match 3 as I like match 3. It also didn't bother me there are a lot of HOS to this game as after all it is a hidden object game so that's what I would expect to find in the game. It also didn't bother me that there aren't a lot of puzzles to this game as I'm not a huge fan of these. I also had no problems with the voice overs. They were well done as far as I'm concerned. I also enjoyed the story while yes it's been done before. Overall, this is getting a 5 star rating from me as I really enjoyed this game and about 7 hours total was long enough for me as I pretty much played this straight through. Thank you Big Fish and a job well done by the developer here. As always, give it a whirl and decide for yourself.
October 7, 2012
Very familiar story line!
This dev is not familiar to me, but there are a lot of them out there. If they are new, not a bad first showing. Same old story line, but the graphics are very nice and so is the game play. Music isn't bad either...didn't get tired of listening to it. HOGs interesting in that you could solve them two different ways. A little change now and then is nice. Games simple. There was no map, which would have been extremely helpful and save a lot of shoe leather. Hint system nice, SG was good (don't know how many chapters, again), but if you aren't going to have a "jump" map, then give us a little direction to save time, e.g. back two, down one, up three, and into pub, etc. Two things I didn't care for. Too many keys to find..wow! Everything is behind a locked door or cabinet that has a missing handle or knob. A bit much. Really didn't care for the flash of light you got when you find an item in the HOG. Very distracting. All in all, a pretty nice game, but would like to know how long it is before I decide to buy. Game didn't make me want run right out and buy it when the demo ended, but I did wonder what happened next. Not really sure this is CE quality, so this will go into my puddle until I decide whether to buy or not. As always, give it a try and decide for yourself. We all have different tastes in games and you may like it a lot. Thanks for the reviews.
October 7, 2012
Can't Wait For Part Two To Come Out.
I loved the storyline where the woman saves her son and the towns folk too. Women RULE!! The story grabbed my attention right from the beginning. The mom like most would go looking for her son while most would set and go boo hoo. With the help of her son's little friend and the bar keep, boat captain and the librarian, Mom was off on the biggest adventure of her life. To rescue her son from the Mad Doctor. You have two modes of play: casual and expert. You had choice of window or full screen and choice of cursor. There was voice over which I kept low and music at same level. Sound I kept full volume. The game was long. With the bonus game thrown in where mom saves the captured town folks after she saves her son was fantastic. The game took me over six hours to play. The hidden object scenes were nice and the puzzles were fun and hard. Even with the built in Guide I messed up on two. One I finished after just a glance at the Guide. The very last one where you had to move the little knobs around so that the red lines all changed to blue I had to use the skip button. Grrrr!! You don't have a replay button for that one. All in all; this Grandma (and greatgrandma) loved this game and encourages everyone to try the demo and if you like it; purchase the game. I am also glad that I got to finish it with NO bugs or freezes. YIPPEE!! Come on Part Two !! Happy playing Fishies.
October 7, 2012
Missing son !!!!!! Mad scientist !!!!!
Played 25 minutes, casual - 2 modes, regular, expert - Integrated SG which only shows 2 chapters (stays on the page you leave) - Voice overs - You collect blue crystals throughout the game in order to save the boy - Note book - No map - Hint button useful outside H0 - Skip button - H0 , you interact, you can swap for a game of M3, "atmosphere" fog in H0, could be disturbing for some people - Mini games easy up till now - Good graphics - Music OK Widow, son kidnapped by mad scientist, people disappearing, nothing really new. The game looks easy, you use the items you find nearly as soon as you get them. Looks like a nice, enjoyable game, shame it appears after two grand CEs....we've been spoiled !
October 7, 2012
Wonderful whispered secrets!
To start out, this is one of THE BEST HO games that I've had the pleasure of playing. There is absolutely nothing to say about it that could be negative. The graphics are very well done & I LOVE the music. The hint button tells you where to go next without telling you what to do. ALL HO games need this. Definitely a buy for me!!
October 7, 2012
Another awsome game from BFG.
My personal view is we are being rather spoilt this past month with good games, however down to the game itself. My review is based on the demo only. The game starts off with the usual background information but soon gets you involved in the story. There are two game modes, I'm playing on the most difficult and must say I am finding it a challenge on certain things ......good! The voice overs are realistic and the graphics are very nice too, not only that but if you don't want to hunt for objects there is the option of doing a match 3 game instead, you can even play half of H.O. and then switch without any disruption at all. Up to now I haven't found any glitches or bugs and have bought the game so hopefully it will continue in a similar vein. I do hope that you enjoy the game as much as I am. Good luck.
October 7, 2012
Not Impressed!
A widow living and young son have recently moved to a small town that has a checkered history of people who have gone missing. It is not long before her own son dissapears right in front of her and her only clue is a dream she had of a scientist who seems to be behind the mystery that palgues the town with wierd mechanical contraptions. Our young Mother is now off in search of her son equiped with only a notebook and a list of tasks that she must complete. This is really your average HOPA with graphics that are sharp with artwork that appears hand-drawn. There are voice-overs and frankly our Mother whose son has just dissapeared, recounts the event as if she were were a journalist in search of a story; cold, impartial and aloof. There are two play modes to choose from and your only tool is a journal. During her mission to find her son, she needs to collect 15 glowing stones and according to her son, they are important. The puzzles involve mainly seek and find, collect inventory items and use them. There is no map therefore, alot of back-tracking is required which gets annoying after a while. The HO scenes are junk-piled and not well lit but you do have a choice to play a simple Match 3 game instead. I opted for the M3 games as I really could not be bothered to find items. HO scenes get tedious after a while. There are mini-games to solve and in the first two chapters that are available in the demo, there was absolutely no challenge in them. This game is a relatively easy going and straight forward to play. Although you do have the option of not hanving any sparkles in Hard mode, there is a task list to help you out and the SG does follow your progress and maintain your place. I suppose we have been very spoiled this last week with some spectacular CE games and this one does pale in comparison. Beginners may enjoy this one however I found the entire gameplay predictable and at one point, incredible lame. A mother has lost her son and she is busy looking for glasses so that the Librarian can offer her a clue froma scap of newspaper? Why not just read it to him. Seriously, I really would like to see some realism in our stories that we encounter and this one is just too familair. I will recommend that you wait for the SE version as I think that in today's economy, our pennies are worth more than this game.
October 7, 2012
Mixed feelings
The story line was good and the game was easy enough. I did get a little bored. Great game for beginners or a rainy day special. Music was good. The HO's were fairly easy.
October 8, 2012
Stunning Hidden Object Game!
I don't know why so many people complain on this game. I'm happy that I've tried and bought this game without reading all of that beforehand. I really really love this game!!! There are no many complicated puzzles but everything were just for me. I really recommend to try the game by yourself and make your own decision.
October 11, 2012
The Apple logo is a trademark of Apple Computer, Inc.