Mystery Trackers: Four Aces Collector's Edition
Stop a devious conspiracy in Mystery Trackers: Four Aces! The entire town of Brightfield was evacuated after a series of bizarre animal attacks. Now, strange creatures roam the streets, danger lurks around every corner and you've just landed smack in the middle of it all. As you begin to investigate, you discover that the attacks may have been part of a whole series of crimes committed in town, all tracing back to an organization called the Four Aces. But just who are the Aces and what is their plan? With the help of your trusty canine companion, Elf, you must keep digging to get to the bottom of things. Good luck out there, Detective. You're going to need it!

This is a special Collector's Edition release full of exclusive extras you won't find in the standard version. As a bonus, Collector's Edition purchases count toward three stamps on your Monthly Game Club Punch Card!

The Collector's Edition includes:
A bonus chapter that reveals the Four Aces' final plan!
Stunning wallpapers, screensavers and concept art
Downloadable music tracks
Integrated Strategy Guide
Game System Requirements:
OS:

10.8/10.7/10.6/10.5

CPU:

2.5 GHz (INTEL ONLY)

RAM:

1024 MB

Hard Drive:

854 MB
Game Manager System Requirements:
Browser:

Safari 4.0 or later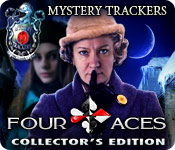 The Big Fish Guarantee:
Quality tested and virus free.
No ads, no adware, no spyware.

Reviews at a Glance

Mystery Trackers: Four Aces Collector's Edition
0
out of
5 (
0
Reviews
Review
)
Customer Reviews
Mystery Trackers: Four Aces Collector's Edition
114
114
A must-have!
VERSION Collector's Edition full game DEVELOPER Elephant Games GENRE Hidden Object weird science/secret society STORYLINE You return in your role as the Mystery Trackers detective, this time investigating the town of Brightfield, which is being evacuated due to the appearance of some strange and aggressive animals. Helping you out is your most brave and awesome canine companion Elf. It turns out that these bizarre creatures are the creations of the Four Aces, a secret society hatching a nefarious plot of some sort. The basic game comes to a natural ending, while the bonus play adds a segue to a sequel. GAMEPLAY A map aids your travels, noting areas which will help you progress and allowing you to transport there. The HO scenes are of the "junk pile" variety, but most are in context?inside a medicine cabinet or a briefcase, for example?and are of medium difficulty. The mini puzzles range from familiar to unique, and from relatively simple to somewhat challenging. Several nice touches mark this game. First, you have Elf to help you in tight spots. He can fetch objects for you, for example. Second, you keep some tools to be used more than once. Collect chips to spend at the Dog Shop rewarding Elf for his loyalty, and collect the odd hybrid animals that appear from time to time. TECHNICAL I experienced a disconnect in the tracking between voiceover and live action, but don't let that deter you from purchasing this game. It was, at most, a minor annoyance. GRAPHICS Live actors enhance beautifully rendered 3D graphics. Wonderful use of color and animation which really sets the mood of the game and allows you to immerse yourself in the story. I recommend playing with the lights down. CUTSCENES The cutscenes are of two types: live action and updates. The live action scenes occur during the game when you encounter the Four Aces and other story characters. The intersection between live actor and rendered graphics is seamless. The updates are of the film noir variety?voiced over by a narrator?and contain information. They're quite frequent, but they fill in the backstory for you and contribute to your immersion into the story. MUSIC Honestly, I didn't even notice it! So I'd have to say it added to the overall experience, as I generally notice the irritating music. SOUND Appropriate ambient sound as well as sounds to let you know you've found things and completed tasks. VOICEOVER The voiceover acting is quite well done, especially the film noir-style narration. SUMMARY Overall, a superlative game that I would definitely recommend. It's not a necessity to buy the CE, but if you really love the demo, I'd go for it. I felt it was well worth it.
November 9, 2012
bravo, again
i don't submit reviews anymore because frankly, i can't keep up. i don't have the time to play the 3 or 4 games i have going at any one time, nevermind have the time to submit reviews on all of them. let me just say for all of them---i love each and every game i purchase and all exceed my expectations. they just keep getting better and especially within the last 3 months or so. i've been a gamer for a while and find escaping into and exploring these fantasy worlds very relaxing. i don't know if it's because i have a HD display or not but the graphics are breathtaking. i think part of the appeal of being a gamer in the ps3 world is HD graphics that sweep you away. while i love that, there are not enough science fiction, beautiful fantasy worlds for me. many are great and provide extreme challenges for serious gamers which serve a purpose but many or i should say most are shooter or violence-based that ruins it for me. i'm not gaming online to pretend i'm in an army...i use it to relax and escape. just wanted to put in one last comment to the developers and artists creating games here that just keep getting better. i want to tell you to stop in a way because it's costing me a fortune :_), but i wont because i really enjoy them. haven't seen a dark, insane asylum type in a while and wouldn't download them anyway. so i will just say to keep it up because i look forward to what's in your head and where you take me the next time. just wish i had more time for them. ps...while i'm enjoying the games with no hos, i find myself looking forward to them as they get scarce so i think if you're going to eliminate them, you should replace that challenge with something just as challenging or fun, whether within exploring the landscapes or mini-games on the side. thanks again for your gorgeous art, creative minds and helping me relax.
November 7, 2012
ELF AND MR. TOAD WERE QUITE HELPFUL :-D
This game was great. Storyline - Without giving away too much, you, as the detective, must stop the evil and rescue two people. Won't tell you what the evil is but I can sum it up in one word -UGH!! Music- Really didn't listen and seldom do in any game. I have a tendency to tune it out. IHOS - Clear, large items, very few small items Hint/Mr. Toad - Slow to recharge but he tells you what inventory items to use and where. Elf - Detective's dog comes in handy aiding his master getting into small areas. There are chips collected along the way to buy gifts for Elf that he richly deserves, by the way. :-D Map - Didn't use it so I don't know if it transports Live actors/VOs were good Misclick penalty - None Morphing strange animals - If you click on them, it gives you bonus clues Puzzles - Varied types and levels of difficulty Inventory - Items used quickly in other scenes This game has something for everyone. Give it a try and enjoy!
November 2, 2012
Fun from start to end
OK, finally I got something I was able to really enjoy! First of all story plays in the real world. Well, it is an extraordinary story of course but at least you can go through it without ghosts, demons and co....what a relief! Story has some mishaps, e.g. I still don't understand why (don't read if you don't want to know about it) the aces killed each other, and why the last of them chose to turn himself into a lion-bread cross (how would you work on your keyboard without hands??? Paws just seems to be useless...). I really felt sorry for the reporter who possibly was genetically modified into a monkey form and we forgot rescuing him though we read his story... Actors could have done a better job, neither of them was very authentic... It had logic, mini games were OK, you can choose the skill level (more and more games offer this option so soon it will be a basic accessory). If you think about it as a game and not as a whole movie+game cross it is just great to play. I enjoyed!
October 31, 2012
Excellent game shame about the acting
This game was on par with others in the series. I played the CE version that unusually this was an ?extra? as the standard game finished of the story quite comprehensively (which I have found to be rare in games that have both SE and CE editions. The bonus game takes you on a new challenge completely independent of the main challenge (though you are playing in the same town so there is some references to the ?main game?. If however you have just bought the SE version you are not penalised from a gaming point of view. The VO is good, but the ?live? character acting in my opinion was very poor, whilst the concept is a good idea it just seemed to be a tad stilted in this game, and didn?t seem to ?flow? very easily. Having played others in the series, this was only where I felt that it was ?stilted acting?. Other games didn?t use as many ?live actors? and maybe the games were better because of this. It seemed to me to really notice in this as the ?main character? (the ?ACE?) was in my opinion very stilted. On the plus side the mini-games were good, and challenging, though I did ?by-pass? two, one because whilst I could understand the concept of the game, I totally lacked the patience, and the other because I didn?t understand the concept of the game. The gameplay and storyline was logical and proceeded in an orderly manner. There was an ?interactive map? which was not only useful to be able to ?jump? to locations but it also showed what areas there were tasks to complete (some may regards this as cheating, but I thought it helped with the flow of the game as it meant you didn?t wonder aimlessly wondering what you should be doing next). Overall this was a fun game and a worthwhile addition to the series, for the reviewer who said there should be ?slider control? for the snow and rain, I agree to extent as I can imagine it would slow down and older system, however in context of these game (and it always seems to be snowing/raining etc.) it adds to the atmosphere of the overall game (a sort of 90?s noir feeling).
October 30, 2012
More Mystery Trackers!!!
Big fan of the series, this one doesn't disappoint! I bought the CE version and am glad I did. Some CE versions aren't worth the money, but this one is. Great games and graphics, beautifully done. Now, when's the next one?!!?!
October 30, 2012
Finished Review
I don't hand out 5 stars very often. It was fun, entertaining and loved the little twist with the dog. I am so glad when they let you glide from area to area with the compass it is greatly appreciated. This game was like a good mystery novel you cannot put down. I wanted to stay up all night and finish it, but went to bed and was up early to finsh it, then was sad when I did. You will not go wrong with this game and I will play it again. Enjoy!
October 28, 2012
Great Game!
This game was a lot of fun to play. It was slightly predictable but it had some surprises that kept you interested throughout the entire game. I purchased the collector's edition which had the usual bonus game to play. This too was well thought out and added to the mystery of the Four Aces plot. Overall, a great game. I like the fact that it didn't take too long to travel from one place to another and it was fun collecting coins to buy items for Elfie, the dog.
October 25, 2012
Great game!
Graphics are great, its fun, I am sold on the storyline and the challenge is good too, I have only played the demo but buying the game now, because it is definitely worth it!
October 25, 2012
Cryptozoological adventure!!
I enjoyed this game a lot. It is a hidden object mystery game and a fantastic cryptozoological adventure all in one! :-D Although the graphics and the atmosphere reminded me of "Escape from Ravenhearst", this game wasn't depressing (or disgusting) at all. There was a very mysterious atmosphere throughout.The storyline is rather predictable, but the game was challenging, so I didn't get bored. I especially enjoyed collecting the strange animals. Some are just curious, some are cute, some made me laugh, because they are so bizarre. I also liked having a pet in this game. It was great to have Elf as a little helper by my side and to be able to buy presents for him at the store. I think that people who like hidden object games, mysteries, pets and mythical creatures will enjoy this game.
October 19, 2012
The Apple logo is a trademark of Apple Computer, Inc.
The Windows logo is a trademark of Microsoft, Inc.