Farmington Tales
Welcome to Farmington Tales! Let's get farming in this unique Hidden Object farming simulator hybrid. Plant crops, nurture animals and run the farmer's market! Search the farm for rare treasures. Complete quests and hang out with a quirky cast of folk. Build upgrades like a silo or bridge! Plow, plant, water and harvest the perfect crop, even eggs, milk, and wool!
Explore picturesque Dahlia Farms
Innovative quest system
Expansive farm with over 75 upgrades
Unlock 20 stunning wallpapers
Game System Requirements:
OS:

Windows XP/Windows Vista/Windows 7/8

CPU:

1.0 GHz

RAM:

256 MB

DirectX:

8.0

Hard Drive:

158 MB
Game Manager System Requirements:
Browser:

Internet Explorer 7 or later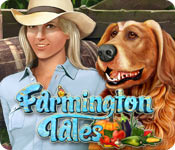 NEW299
The Big Fish Guarantee:
Quality tested and virus free.
No ads, no adware, no spyware.

Reviews at a Glance

Farmington Tales
0
out of
5 (
0
Reviews
Review
)
Customer Reviews
It could have been a great game
I've been playing the trial and the game looks so beautiful, you have to fix up this huge farm, there are just so many things you can do which i loved. You can also plant and sell crops in the market which i also loved. The voice acting is great and the story line makes you really want to get into this game. Everything is great... until you figure out what it is you have to do to earn more money... you have to sell a bunch of stuff to this weird guy and you do this thru seek and finds... this is where this game throws me completely off, the seek and finds are so dull and not very easy as some of the objects are very small, i had to squint! Such a turn off for me, i'm not gonna buy this game just because of the seek and finds, it totally ruins it! This game could have been so great!!!
October 11, 2012
Upgrades Too Costly
I agree with the others that there is a lot to do and this seems fun for awhile, but the more you play the more it is difficult to get upgrades. And if you don't upgrade as often as the game thinks you should someone comes along and revokes your market license which means you can't sell the product at the market until you do some upgrades or buy some blueprints. I bought several blue prints but the upgrades were way too expensive for me to do. So therefore the game suddenly slowed down a lot. The only way I could increase my money is to play countless hidden object scenes and complete quests for the small amt. of money you get. That's not discounting that you have to still buy feed for the animals, or the ridiculously hard puzzles you may have to skip. This soured the game for me and I would not buy t his because they made this SO difficult to get anywhere.
November 25, 2012
Not As Good As All Reviews Said, But Still Worth Playing!
Good Parts: Different theme for once. Hint recharged fast. Hidden Object Scenes were a great challenge and were fun too. Included tasks that you could complete for extra money and 3 gems which you could find for extra money also. Great graphics throughout the game. Able to harvest crops and sell them in your store. The game uses your name in the story and you are able to name the dog. OK Parts: Skip was available on the rare moment you encountered a puzzle, but it cost 10 gold to use. The storyline didn't really get interesting untill you were told about the Farmer of the year award. Bad Parts: Kind of repetitive in a way. I did get bored quickly. It was HOS, Harvest Crops. a little bit of dialogue. This repeats for the entire game. No voice-overs Didn't really see the point in the quests. Overall, an alright game that I was happy to play for the trial. I recommend you download the trial.
October 27, 2012
OK HO
Soft country guitar and banjo music, fairly accurate graphics, great navigation, and relaxing game play were a plus. No timer, hints regenerate, and easy exit strategies let you move in and out of play. Players generate coins by solving HO puzzles, selling products, and completing mini-games. No glitches and I completed the game. I didn't enjoy any of the mini-games and had to buy my way out. Thanks to the forum, I found out that by setting product prices on "white" I sold more and made more coins. The game directions didn't make this very clear to me. The farm upgrades took forever and the mini-games were too frequent and set me back. The dialogues were really tedious but there was a Skip button. Finding gems opens new HO locations but once they're all open, it's pretty ho-hum. Overall, it's OK and relaxing for a bargain-of-the-day but not very challenging. Definitely for HO fans who are tired of doom, gloom, and desperation.
October 28, 2013
Okay hidden object game
I liked the idea of building the farm using money from selling the hidden objects. However, the money builds very slowly and some of the farm upgrades are expensive. I got a little bored with the repetitiveness of having to go back to hogs so often to kill time while the money built up. I guess its a good game if you really LOVE hogs
January 24, 2013
Fun or Flat? Hmmm, Fifty-fifty
I hate parts of this game and love the rest. I agree with other reviewers about a few of the hidden objects being so small that you cannot see them (or tucked behind an object with only a tiny corner showing). Furthermore, some are transparent and hidden behind nets and fences so they appear to be a shadow. Sometimes the jewels are ridiculously small and hard to find. Other times they are blatantly obvious. The most annoying aspect of the game is the penalty for skipping the puzzles. You pay each time you hit the skip button. I hate puzzles, so I paid a lot.of my hard-earned money and it put me behind in some of my building goals since the payment increased with each puzzle. On the flip side, I loved the building mode. It was fun to upgrade. Also, the story line was cute and the characters whimsical. The time management aspect was also fun, and I am not a fan of TM games. Although the HO scenes repeated, different objects were available when they loaded (watch the tractor hood and you will see what I mean). The side quests were ok, not great but not bad, either. At times the game was fun, other times the game was flat.
October 14, 2012
fun at first
this game was fun at first. I like games where you have to fix up the garden or house. but this one got tedious and very repetitive. I found the characters irritating and skipped them. HOS were easy and all the mini games were the same over and over again, just a little harder each time, but not too taxing, except for one game (removing mines) which was just frustrating! However, as a really fun change this game had sudoku which was fun. the worst part, this game froze repeatedly and it also crashed every time I tried to harvest capsicums, so I just had to leave them in the field. I don't think it was as much fun as some of the other makeover games
February 1, 2014
I like it, but ....
I have always enjoyed Hidden Object games, but have grown tired of the macabre, so was pleased to see one that was just a fairly simple HO game. I like the format. I like the puzzles. What I don't like is the fact that it crashes every time I attempt to harvest one particular crop ... red peppers. Not sure what the problem is, but it's certainly putting a damper on my enjoying this game!
January 19, 2014
Hidden Object Disappointment
While this game could have been fun, I found the hidden object scenes extremely problematic for me. Some of the objects were very, very tiny - an earring mixed with skate blades is fine, but you couldn't even tell one was gold the other silver. Another object I clicked on 3 times, and it didn't resolve itself until I used a clue - the same item I had been clicking on was the object! One is supposed to find gems in each area - who would know that something that looks like a white dot, or a seed, is actually a gem? It's a fine mixture of hidden object and building the farm, getting into locked areas, but just too tedious for me. And no, I'm not hard of sight.
October 11, 2012
Not what it was touted to be
It's become a nasty habit of a lot of HOG's to advertise themselves as "puzzle games" when they are strictly hidden object scenes with a few simple puzzles every few levels or have you solve a few puzzles with the objects you find, which rankles me badly enough. This one touting itself as time management is just beyond the pale. There is no time management to this game whatsoever. None. It is hidden object scenes, fulfilling quests with some of the objects you find, selling the rest of the objects, and collecting money to fix up the farm. The crops that you do get to grow to supply your shop take ten minutes a shot to harvest; methinks the dev's took too many cues from Facebook games on that score. If you're looking for a strictly HOG, then here you go. The graphics were clean, the scenes easy to find the objects in. The extra challenges were a little unclear as to what, exactly, you were supposed to do and took some trial and error to figure them out. The sounds and music were applicable to a farm, so that's a matter of personal taste as to whether or not you like country music. There is an option to turn the music off and leave the voice-overs and ambient sounds as they are. The storyline was interesting and engaging, by far the best part of the game as a whole. If you're looking for a time management game...don't even bother with this one.
October 12, 2012