Lost in Night
Build a beautiful town in the amazing Match 3 game, Lost in Night! Earn gold to purchase a pumpkin house, circus, and many other fabulous upgrades. Complete hundreds of different levels by destroying the marble plaques in multiple gameplay modes, swap, chain, and group. Challenge yourself with the traditional square and innovative hexagon field. Use power-ups bonuses to help you complete each level and restore your amazing night town!
Three gameplay modes: swap, chain, group
Relaxing music and smooth sounds
Amazing night town to restore
Game System Requirements:
OS:

Windows XP/Windows Vista/Windows 7/8

CPU:

2.0 GHz

RAM:

1024 MB

DirectX:

8.0

Hard Drive:

45 MB
Game Manager System Requirements:
Browser:

Internet Explorer 7 or later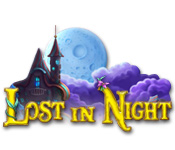 NEW299
The Big Fish Guarantee:
Quality tested and virus free.
No ads, no adware, no spyware.

Reviews at a Glance

Lost in Night
0
out of
5 (
0
Reviews
Review
)
Customer Reviews
Fabulously fun game!
I love the different kinds of M3 styles. It challenges but doesn't get boring. It's not the same thing over and over again. The artwork is beautiful. The tiles are easy to see and distinguish from on another. I wish there were more games like this. Total win!
October 17, 2012
An adorable relaxing game!
Did'nt take the full hour to decide that the game flowed very smoothly, the graphic design artist had had a really good day, and it had appeal people of all ages and skill levels! Didnt encounter any annoying or glitchy aspects of the game, and really enjoyed myself in the brief time spent with it......so, purchased it to enjoy it at my pace!
October 16, 2012
Loved it!
I really like this game and the graphics. It has wonderful sounds and its not too difficult. Once it is purchased there are other patterns, not just chain. I would highly recommend it to anyone.
October 12, 2012
NOT SURE WHAT TO THINK
This is a nice comfortable Match3 game but I have to admit that I'm a tad confused by it. On 3 occasions, I OBVIOUSLY cleared ALL tiles within the given time BUT because it was so close to the end of the hourglass and despite having a slight amount (to me it seemed, anyway) of "sand" left, instead of saying "level complete", the game told me that my time had run out. YES, YOU CAN PLAY RELAXED!!! The saving grace, for me, of this game is that you CAN toggle between timed and relaxed modes between each level. I became upset with the "time ran out" comment on Level 5, so I went to the Options in the Main Menu and UNticked the timed mode and returned to the game. I expected to start at Level 1 but the game returned me to Level 5; YEAH I then returned to the Options in the Main Menu and REticked the timed mode and returned to the game at Level 6 (after completing Level 5, of course) and continued in the timed mode for the rest of the demo. I have to say that I am strongly considering using my game coupon on this game as I've got to "use it or lose it" by tomorrow. Since this game can be played in BOTH timed and relaxed modes PLUS a gamer has the option to TOGGLE between the 2 modes, I am certain that this game'll meet everyone's expectations of happiness.
October 10, 2012
Moonlight Fun
This is a nice Match 3 game. I played on the relax mode. First thing I noticed is that there are no instructions. At this point with 100's of Match 3 games I don't think instructions are needed. Its not a hard game. Just match the tiles and use the power ups. I like that. Second the graphics are beautiful. The Match 3 tiles change as you go along and they are very well done. The goal is to build a little village. You cannot really tell how big this game is. There are arrows on both sides of the screen that expand the village area. Plus the village buildings are small and close together so there is a lot of room for more. Finally to get power-ups in relax mode in the corner of the tile screen you get a challenge to match certain amounts of tiles in a small amount of time. I know it seems weird to have a timer in relaxed mode but its not a challenge that you will have to kill yourself to do. I was able to do it while relaxing. Don't let that put you off on getting the game. Besides you can still play the game without using those power ups. In fact as I went along I got a free power up to shake up the screen when the game had too few of moves. I really liked this game. If you like Match 3 give it a try.
October 10, 2012
Solid, well made Match3
This is a very well made M3 - nothing really new and exciting going on, but it is a solid game that shows quality throughout, from an experienced M3 developer. Choice of timed or untimed mode. 3 matching modes, each with 140 levels. So a satisfyingly long game. The game premise has become common - earn resources in the M3 levels to build a town (or rather; purchase buildings). In this case it is a sort of children's fairy town with houses such as Pumpkin House, Flower House, etc. There is no story to follow, as such, nothing that needs to be saved or released or anything- just pure matching and building. It is very cute, and the eternal night lit by the full moon gives it a dreamy, peaceful atmosphere. It was perhaps not the most challenging I have played, even on timed mode. there was only one level that gave me problems, but if you run into an impossible level, know that you can switch to Untimed mode without having to re-start. The matching levels can be tailored to one's preference. At start you have swap-to-match only, but after playing a few levels the two other modes are unlocked. The board/ tile grid can be either sqare tiles, hexagonal tiles or random mix of both - this I liked because it gave a greater sense of variation. Object to match are attractive to look at - a mix of "nature" (pine cones, beetles etc), with "culture" (books, money bags etc) and familiar jewels, amulets and such. Swap mode: smooth, seamless. Can make matches during a cascade or while pieces are still dropping. Chain mode: same style as Cradle of Persia, where new tiles are ushered in following the path of your chain. So the direction and where you chose to start your chain matters, as it will affect what tiles will replace them. But for some reason this mode did not give a lot of gold, so if you like this mode your village building may be slow. Group mode: the group will vibrate when you hover your cursor, to indicate a possible match. For all modes: Large matches, combos, long chains and huge groups will create a discreet explosion that takes out neighbouring tiles, so it pays off to strive for large matches. The usual obstacles; chains - single or double Crates - wooden or steel Coloured tiles to break - single or double Powerups - also the usual bombs, hammer, row exploder, magnet that takes out all of the same tile etc. But strangely enough, no "extra time" powerup, would have been useful in timed mode. You can have 6 of them A nice touch is that you sometimes get the chance to choose which powerup to recharge. Similar games; by this same developer Lost in Reefs, Wizard Land, Woodville Chronicles As said, a solid, very well made game from a developer who knows what match3-players expect in a game, who also gives beginner players a chance. I experienced no glitches at all during many many hours of play (finished Swap-mode 140 levels on timed, almost finished Chain mode), the play area is large and tiles are big. And there are trophies and achievements to go for. A long game, pretty, peaceful - even in timed mode - very well recommended!
October 26, 2012
Cute Little M3
If One were new to Match 3's there might be a bit of a problem in that there is little to No instruction. For others, it is a pretty straightforward little M3.. I only played a few minutes before burning a stray credit I played in Relaxed Mode, but I think I could have easily done Timed. Reminiscent of Cradle of Rome & Persia Games.... Generic Swapper, (( I believe other gameplay styles unlocked as you progress)), with "Build your Community", in stages. My only Con is that even in Fullscreen, the gameplay board is Tee_Niney!!..('tis indeed wee) Might be a challenge to us Old, half-blind far--Folks :) Music & Graphics Ok,.. Challenge... Meh... Just a relaxing game
October 10, 2012
good
very creativ and powerfull game. looks good! :-)
July 28, 2014
Very Imaginative
This game uses crayon box colors to create the background and the fanciful dwellings. There are flowers, fruits, vegetables and trees that become homes when you earn money to build them. The further along the game progresses, the more investment you need to make to Upgrade your structures. There is a cute side game of betting on snails on a racetrack, where you can either add to or deduct from your accumulated winnings. The game allows you to continue playing even after the village is completed. This reminds me a lot of "Fishdom ", which I also liked. The figures on the game boards are on the small side, but become easier to see once the background colors change. I have only played this in relaxed mode, so have no opinion about how challenging it would be with a timer. Fairy tale graphics, and a relaxing game, though fairly short.
July 21, 2014
Sweet Game
Very pretty and relaxing M3 game. Good for all ages. Timed and untimed. Only complaint is the tiles are small with different items on them. Much easier to see when the tiles are just colored blocks or larger. Otherwise a perfect game.
January 18, 2014
The Apple logo is a trademark of Apple Computer, Inc.