Girls with Secrets
In a peaceful small town, an unknown killer has taken the life of a teenage girl. No one was ready for this. Who would want to kill Amy, the most popular girl in class? The police have no clues, so Amy's best friend takes up the investigation herself. Help solve the case by searching key locations, collecting evidence, and interrogating suspects. Catch the true killer!
Uncover a small town's secrets
Investigate your best friend's murder
Classic hidden object and mini games
Game System Requirements:
OS:

Windows XP/Windows Vista/Windows 7/8

CPU:

1.8 GHz

RAM:

1024 MB

DirectX:

9.0

Hard Drive:

145 MB
Game Manager System Requirements:
Browser:

Internet Explorer 7 or later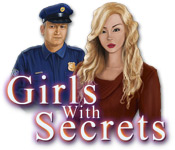 NEW299
The Big Fish Guarantee:
Quality tested and virus free.
No ads, no adware, no spyware.

Reviews at a Glance

Girls with Secrets
0
out of
5 (
0
Reviews
Review
)
Customer Reviews
If you want a good or challenging game keep looking but . . .
. . .if you want a bunch of junkpiled HOS's interspersed with a couple of unoriginal minigames, this is the game for you. All we have is HOS after HOS with a minigame thrown in occasionally. There is no explanation for the mini's but that doesn't matter as the two I found were completely unoriginal. The HOS's look like photographs in their clarity and color but they are junkpiled and so small as to make it hard to find things. You do have to look carefully though because if you use the hint button it takes two minutes to recharge in casual mode. The music is repetitive and matches the game-dull. There is a backstory because a cartoon drawn character relates it but nothing in the game connects the story to the gameplay from what I could tell. At one point we're told that so and so is dating so and so and we are supposed to know by photos found except that there were no photos found. This dialogue appeared after a series of junkpiled HOS's and that's how the story unfolds. I played 22 minutes of the demo-about 16 HOS's and 2 minigames-and that was all I could take. Sometimes I like a straight HOG for relaxing but this isn't one of them. My suggestion is don't waste your money or time. There are other straight HOG's much better than this.
October 10, 2012
Boring boring boring
This game was soooo boring I couldn't even finish the free hour, thank goodness we get a free trial I would have been very upset to spend monies on this !!!!!!!!!
October 13, 2012
Straight boring HOG!
This is boring! There's no enough storyline too much straight HOG just find the list of items and thats is it. I like more interactions with my HOG's. Also the comic book like graphics are not impressing. I didn't finish demo.
October 13, 2012
BORING GAME
search is that all? No story no hidden , just scene after scene to find things. as I said BORING
October 10, 2012
Girls With Secrets Will Have to Remain With Secrets Hey Big Fish Cut This Off
I usually do reviews on the whole game unless I'm not buying which happens to be the case here so this is based on the 1 hour trial time. Story: You are out to find out who killed Amy the most popular teenage girl in the class. Chapters: Since there is no walk through (not needed) I'm not sure but I completed almost 2 chapters during the trial time. 2 play modes - The only difference is the easy mode takes 2 minutes and the classic mode is 3 minutes for charge up. There are no sparkles to this game. I usually play a harder mode in games but for this game I played the easy mode since the only difference was charge up of the hint/skip. There is a note pad down at the bottom along with a compass which is the map. No voice overs HOS (hidden object scenes): A total of 17 scenes and I completed 15 of them in the hour. All found by word list. They're not Sanford & Son junkyard as I located most pretty easily however a few are really tiny and/or blended into the scene. Also a few I had to click just so for it to recognize my clicking on it taking 2 to 3 times for it to register or sometimes even having to use the hint. There is no inventory or 'wandering around" at all to this game at least what I've played of it. Puzzles: I only came across 3 during the demo time: Rearrange the wine glasses/books to reach a metal box, switch on the lights in the correct order, and a lock picking. There's also achievements. My overall impression: I usually don't mind games with a lot of HOS overall for the game but I do like some variety as well. To give you an idea though of how much "variety" this game has well if you've ever played the Mystery PI games well there's a lot more going on in those than this game here. I also like to play the Mystery PI games every once in a while when I want a break from harder games. The characters did pop up a few times throughout the trial but not a whole lot of "story" in my opinion just off on another mission to search for items. The music also grated on my last nerve as it must only change when you get to a new chapter cause if you are in a chapter its the same music for that chapter. Just goes in a loop. As for the map while it's not needed at least for the hour I played this game nor did I use it but I did check it out. If you do click on the map well it will bring up a box and tell you that you will lose the progress you've already completed? I'm inserting that alien emoticon from the Big Fish pond here! What? I've never read such nonsense in all the games I've ever played such as this. Why would you lose your progress? Sorry but that's absurd. I also never earned any "achievements" during the trial and I must say with other games I've played while I didn't earn them all but at least earned a few of them or sometimes even most of them. Even the Mystery PI games you earn points and achievements. Now this game here just might get more exciting after the hour demo but I'm sorry to report but this is definitely a no go for me and gets the 1 star stop madness, cut off, and pull the plug rating as I'm not paying $6.99, using a game club credit or punch code coupon to find out. Truth be told well I wouldn't finish this game for free as this would cure insomnia. Sorry Big Fish and developer but this game is dreadful and needs to go back to the drawing board and spiced up here just a bit as I didn't have a problem with the story line itself even though yes it's been done before but this game needs more variety and story telling to it. As always, give it a whirl and decide for yourself.
October 10, 2012
Boring- Dont bother
Very disappointed. With all the games out there mixing HO and Strategy or TM, I am surprised anyone would bother with plaing hidden object. There was a little game in it but too far and few between. A lot of cluttered rooms looking for useless items.
October 10, 2012
This girl can keep her secrets - I don't want them!
An absolute waste of time! No story, no challenge, no fun - just one screen after another where you had to find objects that had nothing to do with anything at all! Whoever designed this 'game' obviously needs to look at other games to see how it CAN be done! To sum up----- C**P!
October 11, 2012
Wouldn't recommend this at all
I don't usually review games unless they are really really great or really really bad. This one was pretty bad. It was a repetitive HO game and had a couple puzzles thrown in. Neither were very challenging. The music was also repetitive. I was also annoyed when I had to click an object several times in order to check it off the list. Once I had to use the hint button because it wouldn't register that I had clicked it. Not fun. The story was mediocre and not very interesting and if this girl is proposing a murder because so-and-so was dating so-and-so, uh-uh. I normally will finish the demo, but this time I couldn't continue. I'd like those nineteen minutes of my life back please.
October 17, 2012
I'd like to know how it turns out but the demo lost me.
I never intended to buy this game after viewing the preview and reading the reviews, but the title intrigued me enough to want to play the demo. My first recommendation to NOT buy is because you'll lose your progress if you switch scenes during an HO search. Why should you be punished for leaving a scene to work on another one? I've never played a game yet where you couldn't switch between HO scenes while finding the items that are left on your list. Why should you have to start over again with all new items? When I'd rather not use a hint, I like to investigate other scenes and come back with "fresh eyes" where I'm likely to find the item the next time. This is absurd gameplaying and does nothing to make it challenging or to improve the already stagnant storyline. The cartoonish graphics didn't bother me as much as the poor grammar and spelling mistakes that randomly occurred during the demo hour, so this turned me off for good. I struggled through the free trial so I could write a fair review but I was glad when it was over.
October 16, 2012
YAWN
10 minutes into the game I needed a nap. Nuff said.
October 11, 2012
The Apple logo is a trademark of Apple Computer, Inc.