A Moon for the Sky
Launch up A Moon for the Sky after the old moon dies! Carefully guide the new moon up into space in this unique Action & Arcade game! At the dawn of each new millennium, Astrolunia sees its moon die and the world is thrown out of balance. Create platforms that the moon will use to bounce up into the night sky. Avoid tricky obstacles as you master different levels and save the planet of Astrolunia!
Create platforms for the moon
Work around obstacles
Launch A Moon for the Sky!
Game System Requirements:
OS:

Windows XP/Windows Vista/Windows 7/8

CPU:

1.0 GHz

RAM:

512 MB

DirectX:

9.0

Hard Drive:

211 MB
Game Manager System Requirements:
Browser:

Internet Explorer 7 or later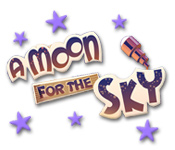 NEW299
The Big Fish Guarantee:
Quality tested and virus free.
No ads, no adware, no spyware.

Reviews at a Glance

A Moon for the Sky
0
out of
5 (
0
Reviews
Review
)
Customer Reviews
Cute and fun
The description of this game makes you feel that this is a stupid game But I gave it a try after lunch, having a cup of coffee - and liked it very much. It's a real cute little game, just the right one to relax a bit. You have to draw lines with your mouse which serve as a catapult for your moon (btw. you can later chose other objects, not only moons) and thus you have to make your way up to the sky; the line disappears after some seconds. For sure, there are a lot of obstacles as well as bonus stars; so you have to plan the position and angle of your lines exactly. Its a quick game and lots of fun.... BUT: Why does this game come with a terrible, awful German translation??? I didn't want a German text, and this translation was done by a translating program, that's for sure. The translation is really outstanding - in a negative way and might be a reason for me not to buy this really nice game; but perhaps the English original is better?
October 13, 2012
Someone, in all of BFG membership files, will like this one...I hope...fingers crossed!
A Moon for the Sky I have been trying each new release. This game seems like it should have been released 15+ yrs ago! Well maybe that is the feeling the dev?s wanted to bring out in players. For me, it did not work. When I am confused at what needs to be done, I scan through the games options to see if anything in those categories will help me, plus help me to find the volume controls so I can turn those down right off the bat. In this case, there were no options listing on the main page or ?sign in? under ?profile? or volume controls anywhere. I became more confused, so I exited, read the forum pages & bravely tried again. This time with my ear buds with volume control & armed with Big Fish Game member Mr_Russ's response to another confused player, Mr_Russ states "That first line between the stars is only the start. Draw another line higher up the screen before the moon comes back down (so it hits and bounces again). The shorter your new line, the higher the next bounce. Green / orange / red reflects the length of the line and the power on the bounce." The opening screen will say Play & Profile. If you choose Profile you will see a Moon with a star badge, ?Custom C? & ?Shop?. At the beginning of your gaming experience with this game, the Custom C category will only have a crescent moon avail. Under "Shop" along the bottom of the screen, ticker tape style states "here you will find new moons & hearts to unlock." In ?Shop? there are 4 icons, an 8 ball egg@ 50 units, yarn ball@300, frog like creature@300 & a gear@300. I am not sure what to call the unit of measure that looks like a Capital B with a double long line. Under "Lives" you can purchase 1 hearts@200, 3 hearts@ 500 & 10 hearts @1000 units. The game states at the bottom of the screen again "Buy a lot of lives for the No Limit mode." Under ?Badge? you have the choice of a star, a heart or what looks like a cellophane wrapped candy ball. I am back to thinking I am reading a foreign language here... ..so I exited again and read BFG Kamali?s post that said to choose ?adventure? for tutorial instead of ?No Limit?, so I went back to try yet again. This time I skipped ?Profile? & selected ?Play?. Given the choice of ?No Limits? and ?Adventure? I now selected ?Adventure?. There are 4 levels listed, Nebula Oceanis, that is unlocked & Nebula Hiverna, Nebula Prehistoria & Aero Nebula which are all still locked. So I selected my only choice, Nebula Oceanis & clicked on the #1 star & ?GO?. The game finally started. Recalling Mr_Russ's advice, I was at least able to start playing a game that reminded me of the very early years of casual gaming. The difficult part of this game is that the whole game field is not in view. When the moon with a star attached, drops back down & hits your line, like a trampoline, & bounces up, you will need to figure out very quickly, where to place the next line segment & how long to make that line, plus figure out if you need to angle that line, in order to have the moon clear any obstacles in the playing field, which you can not see until that part of the playing field comes into view. Those sensitive to motion sickness should try before buying. Then again, with this game EVERYONE should try before buying! The moon will keep bouncing higher & higher, as long as your lines keep moving the bouncing moon to clear any obstacles. You earn pts by the number of coins & bonus stars you collect on the mini game field. I say mini game field as it only uses the center 1/3rd of my screen. Once you have earned enough pts you will be able to choose other items to bounce, instead of a moon, plus you will have the opportunity to purchase more lives which this game calls heart?s. With Big Fish Game membership numbers there will be at least a few members that will either love this game and give a thumbs up since it reminds them of the games from their youth or they have not yet learned to read the forum pages before they purchase any game or there will be the rare few that will enjoy this type of game play. That is the beauty of Big Fish Games as there are games to suit anyone?s style of preferred games. Happy gaming!
October 16, 2012
Don't bother
I thought I would try this game as BFG should now be named BFG HOGS as I think it has lost its way, what TM or other games do come along they are of poor quality, so maybe BFG should have a rethink to its buying policy. Back to the game, firstly you cannot turn the awful music off if thats what it can be called, it is disjointed, it seems amined at young children yet it is complicated, the first hour would be spent reading the never ending pop ups explaining what you need to do. That is as far as I got, the first eight minutes mostly speny trying to find the options to turn the noise off.
October 11, 2012
nothing to do here
draw a line a moon drops and shoots up. one has no control. the first review spoke of pop ups telling what to do. that was not my experience. i had no idea what to do except draw the line. then supposedly i was to earn something that allowed me to try again. but i never did it was just draw the dumb line and there was nothing more to do. This game rates a zilch.
October 11, 2012
Worse game I have ever tried on Big Fish
Rubbish. Could not understand what you had to do. Waste of my time
October 17, 2012
Not even worth the disk space it occupies
The game is well below average level of BFG games. But the worst part are instructions - and believe me, calling them instructions is an euphemism. You are instructed to draw a line to make your moon bounce. What is completely unclear, is that you need drawing more lines while the moon ascends, in order to keep it bouncing!! I suppose most people gave up because the game mechanism was completely unclear. Well, they didn't miss anything. One last word. The game seems to detect the locale settings on your computer, because the texts were shown in Italian to me... great idea! But the translation was so opprobrious that any good intention was washed away. Thumb down. Dear programmers, try harder next time
October 20, 2012
Awful!!!!
Horrible Game! This has got to be one of the worst games I have ever seen on BFG.
October 11, 2012
Boring
This game bored me, no imagination what so ever!
October 18, 2012
The Apple logo is a trademark of Apple Computer, Inc.