The Agency of Anomalies: The Last Performance
Take on the task of exposing a secret brotherhood called The Seekers and save the performers of the theatre who became the brotherhood's victims in The Agency of Anomalies: The Last Performance. As an agent of The Agency of Anomalies, help the performers restore their human form, return their paranormal powers and find out what happened to the theatres founder Patrizia Edelshtain.
Enigmatic characters
Amazing graphics
For a more in depth experience, check out the Collector's Edition
Game System Requirements:
OS:

Windows XP/Windows Vista/Windows 7

CPU:

1.0 GHz

RAM:

128 MB

DirectX:

9.0

Hard Drive:

408 MB
Game Manager System Requirements:
Browser:

Internet Explorer 7 or later
Alcohol Reference
Mild Language
Mild Violence
Use of Tobacco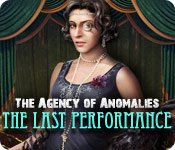 NEW299
The Big Fish Guarantee:
Quality tested and virus free.
No ads, no adware, no spyware.

Reviews at a Glance

The Agency of Anomalies: The Last Performance
0
out of
5 (
0
Reviews
Review
)
Customer Reviews
The Agency of Anomalies: The Last Performance
35
35
Turtlemania
Graphics were excellent and I enjoyed playing the game. Hidden objects were not asx simple to find as they are in some games.
October 12, 2012
Great addition to the "Agency" games!
I loved the other two Agency of Anomalies games, and this one did not disappoint. The setting, game play, and characters were fantastic.
October 23, 2012
Fun, enjoyable game
(I played the CE the plot is 100% tied up here in the SE version) Good, stand alone 3rd game in this series from Orneon. I enjoyed the first one but didn?t like the second one. The plot is the weakest part but it was enjoyable how it was done. People from a theatre have these strange abilities and the owner is missing. While you are looking for the owner you can take the strange abilities of the people you meet, kept in the form of a crystal ball and use it on items. But because of the whimsy of the characters that kept it different and engaging along with some very good puzzles and nice graphics. I nearly didn?t buy this game due to the first 10 mins of frankly seen it all before gameplay, but thanks to a CE sale I bought it and enjoyed it despite this (due to lots of puzzles which keeps me engaged along with collectables that aren't in here so you can factor that in.). There is a lot of backtracking and again I wish this DEV would bring us the transporter map. I played the hardest of three settings ? no skip or hint button and no information button on puzzles. You do get black bar tips but there is no random click penalty on HOS. PROS - Variety of HOS - Lots of puzzles - Graphics - Good length for a SE CONS - Lot of backtracking (no transporter map) - Not that many new areas - Unoriginal setting and part of plot - Repeating of both some puzzles and HOS - I give the following numbers on HOS and puzzles, so you can decide and deduce if this game is for you. I try my best with recording them but I might be out by one or two. 23 HOS (hidden object scenes) There are three different kinds of HOS; list, silhouette and reverse (put items back into a scene). Most were mildly interactive, no random click penalty, some tiny items, most were quite clear. 11 original scenes, each one is repeated and one you have to play three times:- 3 original silhouette 5 original list 3 original reverse 31 PUZZLES 14 different mini-games 17 crystal ball type (5 original) I really enjoyed the puzzles in the game, not so much the crystal ball ones as these were repeated . There were a couple of hard ones ? one very nearly blind jigsaw (2nd one) and the maths took me a while. Spoilers ahead as to some of the type of puzzles (I am useless at describing puzzles, but if you can decipher lol) The crystal ball ones were: 3D rotate the picture, click on opposite icons to make a path (positive and negative), astro ? move cloud to change the path, colour in area (fill up a shape with a spray bottle), link atoms together ? ends have to go in opposite end (cup or rod). Mini-games (some of them) Simple click on one tile others will rotate to make a picture Pipe type combined with lines of light Arithmetic (the math isn?t hard but not repeating numbers took a while) 2 nearly blind Jigsaws ? (just a couple of outlines then rest is blank) Click on correct line to make a path to get to the light Move an object to get the light to connect to all the others Paper doll puzzle Move ball on path with obstacles to get the lights by using pre-programmed arrows TIME main game at least 5 hrs (on hardest setting - so no hints, no skipping puzzles and I was looking for collectables which aren?t in this game which takes a while) I say this so you can judge your own speed from it.
October 12, 2012
Worth the money Not hard
Another in the series and a good game. I got the SE based on reviews. The graphics are good and has voice over which I like. The HOS are not all that hard but you do need to look hard for some. My only complaint is that you have to keep going back and forth with finding and using clues. The finding clues are not hard and seem to be in logical sequence. This is a fun and enjoyable game to play and buy.
November 4, 2012
A FAVORITE SERIES
The Agency of Anomalies are consistently polished, well developed stories with a variety of fun puzzles, clear and crisp HOS [lists and put the objects where they belong], excellent graphics and interesting animation in the HOS. Won't disappoint! The dialogue, however, is faster and more stilted than a person would normally talk. The amulet with powers is a nice touch. A few enjoyable hours of play.
October 12, 2012
Weird and enjoyable
I give it a 4.5 ..most all about this game was fun other than a bit too much back and forth, for my liking. It was a strange story with odd characters and I found it interesting and fun. It was, to me, not long or short but just about right. The hint button continually was helpful as it would point you in a direction to find where you needed to go without telling you exactly, which I like. The graphics were good and the music not irritating. There were many locations to look at and not too many HOS, although there were a few, they were different types. Worth the money--fun to play!
December 31, 2012
Overall Very Enjoyable
This is my first Agency of Anomalies game and I'm excited to have discovered the series! I'm downloading the Orphanage to try as I write this. Here are the pros and cons: PROS -good graphics, music, and sfx -rich gaming experience -interesting and new challenges -puzzles were not easy to solve -HOGs weren't impossibly challenging like some I've played -generally very unique and unlike other BF games I've played CONS -the storyline really wasn't very interesting or enticing, but see note below -some HOGs were so easy I literally finished them in two minutes -lots of back and forth without always having a clear idea of where you need to go next, so used the hints for this a lot OVERALL This game is definitely worth trying. Although the storyline wasn't amazing, this is the first BF game where it didn't bother me because the other elements were so well done and unique. I enjoyed it and I'll definitely play it again.
January 7, 2013
Lots of Variety, Good Mini-Games, Somewhat Lackluster Art
I'm writing this based on the trial but I think I'm going to buy. I've done trials for all three the Agency of Anomalies games but didn't much like the first two due primarily to poor graphics and far too easy scenes. 'The Last Performance' is, in my mind, a major improvement on the earlier games, though it still has flaws I wouldn't expect to see in a game released only recently. The major drawback to me is the art. The interactive objects, be that tools you need to pick up or objects you need to find in hidden object scenes, don't blend in well with the rest of the images. The little animation there is include characters against static backgrounds. There's also not a lot of variety in the art as all action takes place in and around a limited area of a theatre which doesn't seem to have very many rooms. Another review said there's only 11 hidden object locations, each of which is played at least twice, so I'm guessing that this theme continues throughout the whole game. Other than that this game is rather enjoyable so long as you like both mini-games and hidden object scenes. If you plan to mostly skip the mini-games then I'd suggest giving a pass on the game as there's (again, according to another reviewer) 14 mini-games and 17 'crystal ball' games (the latter is used to get new paranormal abilities) which are essentially all mini-games in themselves. What I appreciated was that the mini-games are difficult enough to interesting and different enough from the usual 'move a ball into a corner' 'switch out colours' type mini-game that while there's nothing completely original it's not likely to add to burnout over typical mini-games. Another plus is that there's 3 different types of hidden object scenes: list, silhouette, and 'like with like' matching. That gives enough variety I wasn't bored with the relatively easy scenes. I didn't skip any of the games nor use the hint in any hidden object scenes -- outside of them I used it to find what room I should actually do something in as that's somewhat necessary without a map that shows objectives -- and I found the game took me notably longer than my average HOG pace. I ended up just at the end of the second chapter when my hour trial ran out when usually I make it through the second chapter at somewhere around the 40-45 minute point (demos typically end at the beginning of the third chapter, which is how I've gauged that). It makes up for the game being only seven chapters instead of eight for certain. The storyline is rather thin but I didn't run across a lot of "But I *could* use a crowbar on that!' frustration where you have a tool that would work but they specifically want a different tool (sometimes a much less logical one) and I don't truly play for the storyline (they're almost ALL rather predictable from ten minutes in at best or so vague as to only give you what you need in the last chapter). Overall, I liked the game and would recommend it. I might even buy it assuming nothing else I like better comes my way. I just wish the art was a bit better.
November 20, 2012
A really nice game
Ok I loved this one.... Nice sound and visual, great story, challenging puzzles... I only found one thing annoying. There was no interactive map. So every time you have to go back and back and back to screens in order to solve the next puzzle. But beside this defect I kept me going.
November 24, 2013
Entertaining, fun and a great value
A lot of care and effort obviously went into this game's creation. Hidden object scenes are varied (including interactive objects, and even complete variations such as reverse object finding and silhouette versions), adventure puzzles are plenty but logical, and puzzles are often serious, non-obvious types that could even work as extended mini-games by themselves. It is not a hard game by any means and I'd recommend playing in the hardest setting if you're not unfamiliar with the genre. HOG objects are almost always big and clear, and missing something in a location is very rare. 'Fair' is the best word to describe the gameplay, and consider it is not a short game at all. I needed about 5 hours to finish it. The storyline doesn't really shine, although the initial premise is interesting: a series of circus freaks with unnatural powers are losing their human form and you're asked to investigate. In the process, you'll gain those very same powers and use them in your investigation. Unfortunately, the game falls flat in characterization, as very little is told of each freaks or even the villain, excluding some minimalistic and (perhaps unintentionally) hilarious dialog lines. The game doesn't take itself seriously and that, in my opinion, is a missed opportunity. On the art front, there is some great and memorable music and the graphics are crisp and detailed, with native widescreen support. I'm not a fan of the art style, though: in many cases it looks like old-fashioned 3D renders, and sometimes there is a feeling of inconsistency, as if it were the result of a bad mix of 3D, hand-drawn, and photo material. For the most part they are ok, though. Perhaps the lowest point of the game is the technical execution. The very low performance affects everything from the jumpy mouse pointer to the puzzles and even the cutscene animations. I don't know which system the developer is using, but serious work is needed there. Overall, a fun and pretty long experience. I look forward to future offerings from the developers, specially if they take their story more seriously and fix their engine.
December 31, 2012
The Apple logo is a trademark of Apple Computer, Inc.