Cleopatra: A Queen's Destiny
Help Thomas find his master Akkad and fulfill a prophecy! Akkad was on a quest from Cleopatra herself, in an attempt to end a civil war, when he and his daughter were kidnapped by the opposition. It is now up to Thomas to track down Akkad and the love of his life, Iris, and become a hero to all of Alexandria! Cleopatra: A Queen`s Destiny is an Adventure game that will test out your wits and challenge your ingenuity!
Beautiful 3D graphics
Tricky puzzles
Find Akkad and Iris!
Game System Requirements:
OS:

10.8/10.7/10.6/10.5

CPU:

1.0 GHz (INTEL ONLY)

RAM:

256 MB

Hard Drive:

1552 MB
Game Manager System Requirements:
Browser:

Safari 4.0 or later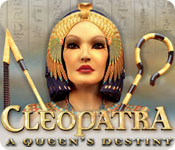 NEW299
The Big Fish Guarantee:
Quality tested and virus free.
No ads, no adware, no spyware.

Reviews at a Glance

Cleopatra: A Queen's Destiny
0
out of
5 (
0
Reviews
Review
)
Customer Reviews
Cleopatra: A Queen's Destiny
12
12
A Great Game with all the Twists of the Drew Series!
Here is a true thinking person's game! I thought it started slowly, but it accelerated very quickly. I was impressed with the graphics (Cleopatra looked ravishing!) and the story was cohesive, if just a bit simplistic. There are many documents to decipher, and codes to break,in Greek.)There are war machines to repair and use and ingenious means of transportation. There are many concoctions to brew and many obstacles to overcome in certain circumstances. With no HOs to irritate the player, this is a perfect venue for someone looking for suspense, beauty, engrossing fantasy, and challenge. It's one of the better games I've played. You know, I'd buy 50 more Big Fish Games if theyd only get the developers to remove those maddening HOs!
May 26, 2012
Excellent game!!
This is my kind of game--I loved this game, it took a quite a bit of time and alot of thought. Usually these type games are priced higher, so great play for the price. The first reviewer said most of it. Most of the puzzles are not too complex,but do require thought. There are some that require a little more thought. Mild spoiler, hardest part is in the library and the different ingredients to make what you need.Also, do not forget to combine objects to make new objects-You could miss details of your next move, Story line was great, never forgot what the purpose of your actions were. Once again, loved it!!
April 29, 2012
review
this developer is well known for great adventures and this is a great adventure. It is made in mouse look view, you can look everywhere around you. You must learn first how to use the menu because it is different to other games. There is also no hint and no help you on you own. You can combine many items you found but you must know how and this is not easy. It is good to use a wolkthrough for this game but you can also experiment for you selfe.
August 16, 2013
Excellent adventure game
Loved playing it -without the walkthrough I would have been flumaxed
January 6, 2013
Good bang for the buck.
I've played this game before under a different title. This is a traditional point-n-click adventure set in Egypt . You play in first person as Thomas, an apprentice astrologer. You find your girl "Iris" and her father "Akkad" have disappeared. The object of the game is to find out what happened and why and track them down. The game is in 3D. Graphics are beautiful and in my opinion the best part of the entire game. Nice ambient sound, lively soundtrack and great use of surround sound for audio effects. Voice acting fair. They sound quite rushed at times. Puzzles are mainly inventory based though there are some logic puzzles. All are well integrated into the Egypt of the time. Most of the puzzles are of a medium difficulty. Though often the difficulty lies in finding an essential object. Solving the puzzles give a cut scene. Game length is nice and not too short, especially for BF's price . 17+ hours if you take your time as I did. Mild Spoiler Alert: Unfortunately there are only three venues, Akkad's garden, Royal library and Alexandria lighthouse. There are a couple of brief visits to Cleopatra's palace, but no significant gaming action takes place there. I wish there had been more. Greek text instead of hieroglyphics is used throughout the game, which is a nice touch and perfectly accurate for the period in question. There is a system of choosing astrological sign which tailors the puzzles as easier or harder (good day/ bad day). In practice there is not much difference. Bad day requires a few more steps or pieces to solving a given puzzle. The game ran without problems on my son's older XP and fine on my Vista. I would have liked more historical info but I guess you can't have everything. This is a nice enough game for adventure enthusiasts who are looking for lots of puzzles and long playing time. (original review Jun 19, 10)
November 11, 2011
Stunning visually, but not very intuitive.
Absolutely stunning game, gorgeous visuals, gorgeous sound quality, interesting storyline, but wow, just exceptionally poor mechanics and gameplay. Right out of the gate, this game shows you how complex and immersive it is, which makes its lack of smooth mechanics all the more jarring. A fascinating concept--astrology--gets used very poorly as apparently some objects are visible when the stars ruling your character's chosen sign are propitious or ill-fated, but invisible at other times. I didn't have the patience to go over every single part of the courtyard several times to find all the objects I needed to complete tasks. I could have really used a skip function but didn't notice one available during the puzzles. This is billed as a HOG but there really aren't any HOG screens that I saw; it's a more intuitive, flowing game than a normal HOG, so the objects are scattered around and must be picked up. Another fascinating concept in the game is how it works with combining and disassembling objects, and I love its inventory. But neither is particularly intuitive. For example, clicking on an object just right will take you out of the inventory screen and have the object in the upper corner, but from there there's no clue how to use the object or what to do with it, or why it's even up there. I see this shortcoming as a general statement about the game: it has such beautiful ideas, but when it comes to actually seeing them in play, this game falls flat. As it was, I couldn't even get out of the courtyard due to the extreme difficulty of the puzzles. Lovely, lovely game, but I suspect it's geared more for the hardcore folks who prefer a more first-person style of game than a traditional HOG enthusiast. It's such a shame, because this is one of the most visually and conceptually stunning games in the BigFish stable and it looks like the game has many hours of play in it.
October 29, 2012
Gorgeous to look at, no fun to play
I hardly ever review games based on the demo, but by the time the demo was over on this one, I felt like I had wandered around and around and done absolutely nothing. This game has gorgeous graphics, 360 degree navigation and what is intended to be an immersive, RPG style of gameplay. Personally, I do not enjoy RPGs. I find them too talky, overly complicated, and annoyingly tedious. This game has all those traits plus one of my biggest complaints about RPGs, the convoluted inventory and menu. Please, I don't want another life to manage, I just want to play a game. You must choose an avatar and an astrological sign, which will influence whether or not you will have a good or bad day as you are playing. I hate that. Then there is your character, who is always talking as you wander around. He talks too fast, I hated his voice, and I couldn't figure out anything I was supposed to do in spite of the constant monologue. I had no idea what to do with the puzzles. I spent more time standing around looking at the water and the sky and other scenery. To me, there was no intuitiveness to this game. It's a large file game that isn't worth any of the space it takes. I'm always looking for fun, relaxation and interest in a game. I have tiny file little word games that provide far more satisfying gameplay than this clunker, in spite of how beautiful it is. My advice is definitely try the demo to see if it is your style or not.
November 4, 2012
It's Fine, If You Like Being Sea Sick
This game is set up much like those one person shooter games where the scene rotates around you with the movement of the mouse. And not just a little, a lot, and there's no way to turn it off. This was fine until I got to a game where I had to move pieces of a giant globe left and right and scroll over elements all over the globe. The game didn't respond to the click and drag properly each time and when it did, it would tug the screen left, right, up, down with every movement of the globe until I was sea sick. The controls weren't very self explanatory either. Different parts of the main room let you do different things like Save, Exit and adjust options but in an attempt to make the sound option adjustments blend in, they hid them all together. First, you click on a column to rotate it to get to a different option you want to change (Master Volume for example). Instead of tastefully incorporating the words into the scene, a subtitle comes up (so whatever you do, don't turn those off). Then, to adjust the sound levels up and down, you're supposed to grab the pitch bar of the guitar next to the column and slide it up and down. But there's no explanation for this anywhere. I just happened to be running my mouse over it and notice it became a hand and clicked to see what it did. Since there's a subtitle for what you're changing (Voice Volume, etc), why not a subtitle with a quick instruction?! There was also no map and very little instruction so I found it hard to keep track of where I was and what I needed to be doing. Just so this isn't totally negative cause I know that someone somewhere worked really hard on this, the graphics were beautiful and very detailed and the music was very pleasant to listen to. Unfortunately, I didn't get very far in before the constant bobbing up and down of the screen and the lack of instruction drove me to find something else to play.
October 17, 2012
Cleopatra
Apparently the Queen's destiny is to wander around a gorgeous setting with no clue what to do next. To start- computer animated cut scene of Cleopatra and then having to choose an avatar leads to being immersed in a 3D view of ancient Egypt. Stunning and innovative. But after picking up a few things for Inventory (which I had no idea how to access) and exploring this location and that... the whole thing seemed pointless. I did find a zodiac globe that was some kind of puzzle but decided this is a conceptual game that could use less concept and more fun. Trying to exit the game was also royal pain. For a minute I was afraid I'd be stuck in ancient Egypt. So artistically this is stellar but gameplay is confusing and non-intuitive. There's a storyline here I'd have liked to explore but I'd have to follow a walk through the entire time. Too bad. I hope the Devs take the good from this game and retool it to make it more user friendly.
November 22, 2012
Not fun for me
This is for people who know the constellations. It's complicated and when you go to pick things up you can't actually be touching them. My over all reaction is ICK
October 18, 2012
The Apple logo is a trademark of Apple Computer, Inc.
The Windows logo is a trademark of Microsoft, Inc.