Northern Tale
Play as the mighty Viking, King Ragnar, and embark on a journey spanning beautiful forests filled with mythical creatures to save your family and cleanse the kingdom of evil in Northern Tale! Join forces with brave companions as you face countless dangers. Bring color back to your realm and use your wisdom, magic and might to restore balance and defeat an evil witch and her cruel servants.
Three season-themed episodes
Detailed graphics and awesome visuals
Bring color back into the world
Game System Requirements:
OS:

Windows XP/Windows Vista/Windows 7/8

CPU:

1.2 GHz

RAM:

512 MB

DirectX:

9.0

Hard Drive:

238 MB
Game Manager System Requirements:
Browser:

Internet Explorer 7 or later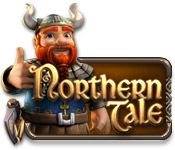 NEW299
The Big Fish Guarantee:
Quality tested and virus free.
No ads, no adware, no spyware.

Reviews at a Glance

Northern Tale
0
out of
5 (
0
Reviews
Review
)
Customer Reviews
My Difficulty level : Medium
Diffuculty level : Medium. starts slow. Just like a gnomes home with better graphics and worse map. Fun story. I only played the free trial hour so far, but when it ended I was fully engaged in it.
November 4, 2012
A Really Fun Game
I found this to be a very enjoyable game to play; not too easy and not too hard. 45 levels and 4 bonus levels. Graphs are good,sound is good, story is cute.
October 22, 2012
Cute but nothing special
This is a Viking themed resource/worker game similar to the RoR and MKftP series. While charming with cute animations and characters, there is little to set this game apart. Fans of the genre may have a lot of fun with this addition. Based on approximately 20 minutes of play: - 3 modes of play (normal, multi-click and no time) - no widescreen - can replay levels to win up to 3 stars - loading screen alternates between game tips and facts about Vikings No complaints about what is offered. It's decent for this type of game but offers nothing interesting or innovative (beyond the multi-click option which I love).
October 15, 2012
fun but some problems
I had some trouble running this game effectively; I had to change the cursor to the normal computer cursor to stop jiggy pointer syndrome, and run the whole game not at full screen to stop character staggering/ghosting which really was impossible to play with at full screen. Once I did these things however, the game was enjoyable, so I did go right through the trial and bought it. I'm a little unclear if I would recommend it to others with these kinds of problems (for some users - obviously not everyone has had problems). I don't get these issues with Roads to Rome or Legends of Atlantis.
October 23, 2012
Addictive Little Vikings!
I must confess that I was disappointed in this game after I bought it. Yet I kept going back to play it some more. It seemed kind of like a grind game, as there was always something in your way to your goal. The power ups were changing all the time. I wasn't sure which ones to use when, but I hate it when I can't beat a game, so I kept going back & playing levels over & over & realized I was hooked! Sneaky vikings! I can't really say why I like this game. You are basically doing the same things over & over, but there is strategy involved, in which obstacle to remove first, what to build first & what power ups to use. I bought it & I still play it off & on between other games. My only down side was the small size of things.
April 3, 2013
Fun TM game
I enjoyed this game. It is very similar to MKFTP series, Roads to Rome series in that you build and repair a kingdom, in this game a Viking kingdom as you look to free your 3 daughters. I like the option to multiclick so you can queue tasks. My one con with the game is that the 'storms' or whatever they are cause lights to flash across the game screen. I found it hard on my eyes and started to feel a bit sick as I worked through chapter 1, so I now play this game for just a couple of levels and then stop for a while. Not sure if this could be a concern for people who have epilepsy or migraines. I hope that there will also be a Southern, Western, and Eastern Tale in the future minus the flashing storms. An enjoyable TM/building game that I will play again.
October 20, 2012
same northern lights
I do love those games more than anything but somehow the graphics are not as detailed as in some other games. That makes it not the most addictive thing out there. Other than the story, there is really nothing new here. Gather your resorces, build or fix the farm etc. I will buy it but I really would like to see another Dash game.
October 15, 2012
Ragnar the Horrible
Review based upon completion of the game with all levels on 3 stars and 54 of 58 achievements. King Ragnar comes back home from a "shopping trip" only to find that Gesta the evil witch kidnapped his three daughters. It's up to his majesty to avenge that and free his offspring through 45 levels (plus 1 bonus level per region if you finish every level with 3 stars), consisting of 15 each for Summer, Harvest and Winter, which coincidentally are also the daughters' names. The Good: + three gameplay modes - regular, chaining, untimed + lenient time limit (sometimes I got 3 stars up to 10 seconds after that time ran out) + lots of achievements (a few of them are actually quite clever) + some levels offer a nice variation of the theme (especially the final one) The Neutral: o ...but most levels are the same old, same old o Spiders in winter levels, but they are small and not scary at all o I liked the Viking facts, but there were only like 5 different ones, and I believe some of them weren't even true, like the bathing (I am sure that with a bit more research the developers could have come up with more) The Bad: - sub par graphics Bottom Line: I had to start this game three times, because I was plagued by access errors. The game ran without problems on the new hard disk. This game does nothing to really stand out in the genre, but it's a charming little game that shouldn't hurt anybody. If you are desperate for a new Time Management game you can do a lot worse than Northern Tale.
June 11, 2013
I can see the good
I can seen the good in this game and how it has got such 'high praise' but the problem for me is that it is too similar to others that I have already got in my inventory (such as Royal Envoy and Kingdom Chronicles), to warrant me purchasing it. If I had a free game credit or it was in a sale (or in about five years as DoD) then I may think about it (or if I got bored or finished the others), but for me for now, I am don't think I will. The game itself is good and has a good storyline and has a bit of 'magic' thrown in, you can't go wrong with all that I know and I wish it was an 'instant buy' for me, but as at the moment I have the others I think for now I will say no. But in complete contrast I do recommend the game, just perhaps if you have the others, to trial before purchase but for others who are trying to decide (or have not got either of the other aforementioned), then I would definitely consider it.
February 1, 2013
Needs something.
Liked the game, but moves to slow. Very hard to get the 3 stars.
October 20, 2012
The Apple logo is a trademark of Apple Computer, Inc.