Web of Deceit: Black Widow Collector's Edition
Exclusive
You're drawn into a web of deceit when your train stops in Andville, where the Black Widow lies in wait. Follow a trail of clues and dead husbands as you explore this once picturesque town now at the mercy of the Black Widow and her mechanical minions. What drives her lust for revenge? Where is the root of her strange power? Uncover the bizarre history – and mystery – of this little town. And track down the Black Widow in time to foil her devious plot for revenge!

This is a special Collector's Edition release full of exclusive extras you won't find in the standard version. As a bonus, Collector's Edition purchases count toward three stamps on your Monthly Game Club Punch Card!

The Collector's Edition includes:
Hours of bonus gameplay as Morgana!
Re-playable collection of puzzles
Concept art and stunning wallpaper
Brilliant soundtrack
Game System Requirements:
OS:

10.8/10.7/10.6

CPU:

1.6 GHz (INTEL ONLY)

RAM:

512 MB

Hard Drive:

1091 MB
Game Manager System Requirements:
Browser:

Safari 4.0 or later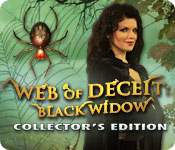 The Big Fish Guarantee:
Quality tested and virus free.
No ads, no adware, no spyware.

Reviews at a Glance

Web of Deceit: Black Widow Collector's Edition
0
out of
5 (
0
Reviews
Review
)
Customer Reviews
Web of Deceit: Black Widow Collector's Edition
69
69
Why I won't be buying Web of Deceit
This review is based on the demo, as you might guess from its title. Note, I don't mind spiders, so that's not the reason I'm not buying it! Before I give the reasons, here are some positives: * the graphics and the sound are good. In fact the graphics are of a high standard and give a good atmosphere to the game * the storyline sounds as if it might be ok though I didn't get far enough to really find out. However I like the idea of someone using mechanical insects But... Quite a few things grated with me in this game. * the video sequences with the characters, instead of adding to the game, subtract from it because the characters take so long to say things and indulge in ridiculous overacting. * every time you look at something or get something you can interact with, you get words to the effect "I can use something here". EVERY time. Now I am all for not having too much of a hint (as in "if only I could find a bit of broken glass I could cut this"), but there are lots of other possibilities. So, if there's a ticket machine, I don't think it's giving anything away to say "I'll need to find a ticket for this". Also, I found that it wasn't at all obvious what the "something" might be as I didn't know what bit of the object was the problem. It just got to be really irritating (and that's not even in the full game). * the minigames. Well, I only did two. The first was ok but fairly easy and the second was so easy I couldn't believe what I was doing was really right (but the door opened ok). * story. Seemed ok as far as I got although there were various things that weren't really clear. Also, in the introduction (this isn't really giving anything away), why are you just sitting there while someone is wrapped up in a web and dragged away in front of your eyes? Are you paralysed by fright (if you don't like spiders you should stay on the train)? Why don't you do something? That's the sort of small detail which makes or mars a game. So, sorry, I won't be buying this one, though others have obviously enjoyed it, and you, dear reader, assuming you've got this far, might too.
November 9, 2012
I can do something in here ?!
This is a good week-end game, especially if you are not afraid of spiders. I found it to be some what short and sometimes annoying. First of all conversations are very slow. It feels like you talk to the zombies. Digitized people are out of context and are not natural. Puzzles freaked me out the most. They are super easy but it just takes a lot of time to rotate things back and forth. The black bar tips are horrid - "I can do something in here". You do not get anything else. If you were to disable the black bar tips you should have not shown them at all (I played in the hardest mode). I have completed the game under 4 hours and WILL NOT play the bonus chapter. C++ or B--- is a fair rating.
October 28, 2012
For the Slowskis out there...
I only played it for an hour. I'm glad I tried it before I bought. This game has the slowest pace of the hundred or so I've played! The characters ... speak .. ... sooo .......... snnore... What? Where was I? ... verrryy .... slowwwwlyyy ... The cut scenes take forever. They're pretty, but enough is enough. Plus there are undending, annoying, lengthy blackouts between all the scenes. In the first hour there were no actual minigames. The activities are on the order of primary school busywork; no logic puzzles or anything with any meat to it. There's some originality and artistic merit, but don't pay full price for this.
December 6, 2012
Nothing special for me.....
Played demo, 60 minutes. Three modes, goes up to expert with no hints. Music was decent, not annoying, and forgot there was any music after playing for a while. Game had good graphics, interactive HOS, and the minigames were easy. I don't really have anything bad to say, but it just did not keep my interest. I am a huge HOAG player, with mostly games like Dark Tales, Grim Yales, and Haunted Halls. So, after playing the demo you might see why I was not sold on this one when comparing the the above games. I recommend for people, but not for me.
October 14, 2012
Average, But Not The Worst
Demo on casual level: Good Parts: The best part of the game by far were the Hidden Object Scenes. I treasured their rarity, and they were a great challenge. Included "interactive" objects Graphically, this game needs to be praised. The people and other surrounding graphics are amazing. Very clear and realistic. Hint and skip recharge fast. Hint is useful outside HOS. OK Parts: The storyline is a little odd. At times I found it hard to folllow and a little boring. The strategy guide was not much use to me. Bad Parts: The voice-overs are pathetic. The acting is so severly overdone. There are un-nesecary pauses in the story. I had to skip every single puzzle in the game. They were way too hard and just a waste. For the most part of the game I found it really hard to figure out what to do. I was relying heavily on the hint. A kind of average game, most certainly different. I don't know what the rest of you will make of it. Download the free trial is my recommendation
October 19, 2012
Irritating
I liked the look of this one. Spiders add an eek touch. Not the same old same old. BUT..... the thing that put me off was the continuous "I can use something here". Why doesn't it say I need to open this, take this, find more pieces etc. I spent the 30 mins I played it for trying to make out what was missing etc. Irritating! Will recommend because probably good if you don't mind working out what you could do "here"..........
October 16, 2012
I liked it, but!
Played the demo for 30 mns and it was enough for me, i couldn't bare about more. LESS There's no story line in the beginning that coud have made me mad and say "yes, i'm here for someone or to find something that could help me save someone!" No, I only jump back down of this train and suddenly i go right to a web-covered city! Why, when, who, how? No thinking involved. first, music is boring. two, when you go somewhere that can help you , you got only the message "I could use something here". So, I tried to use cobwebs, file, gloves and all I had in my inventory, because the message never helped me in any way. in some games, you understand what to use at the moment. three, actors are long to tell you their lives, and what they want you to do, so you click to have the next of their sentences... but no!!! you didn't want to skip the rest of the dialogue, sorry, you did it. so, the actor stays by whith a moody face and you don't understand why, may be you miss something important! forth, your (mouse)hand is not enough different when you can do nothing and you have to do something, just more clear or more dark, I wasn't sure about it! PLUS I am not frightened about spiders, I learned yearler that they are usefull in our houses because they capture all bad insects and never sting us because they are scared about us! it's just what I learned.... in someway, I recommend this game and don't be afraid from spiders (I mean our homespiders)
October 17, 2012
Insey Winsey Spiders Did Not Thrill Me!
After having played the entire demo, I regretfully will decline from buying the CE and will opt to wait for the Standard Edition on this one. Web of Deceit does offer a unique story that may be a turn off to those who suffer from Arachnophobia. After a rather problematic opening scene, you find myself on a train where a very distressful woman enters your compartment. Before she can begin to tell you her story, a cluster of mechanical spiders swarm around her, trapping her inside their web and carrying her off. You then discover that she was on a rescue mission to save her brother from the clutches of his rather disgruntled and insane wife who is using his invention to destroy the world. I will give credit to the devlelopers for coming up with an interesting and at times compelling storyline. Sadly, due to some rather irritating features, the story began to lose its impact on me and I found myself feeling rather disconnected. I personally blame the slightly murkey graphics along with poor audio and lack of sound effects that I found rather dissapointing. Not to mention the extremely slow dialogue that just plain irritated me. Game features include three play modes, a journal and an interactive map that does allow you to jump to locations. The journal also offers you videos that can be replayed and real live actors are used. Another great annoyance was the constant message that ' you can use something here' everytime I clicked on an active area. I realise that advance and Hardcore mode generally offers no hand-holding, but this constant reminder just made the gameplay frustrating after a while. I did try to overlook all of this mainly because I found the the mini-games and puzzles somewhat challenging and fun to play. I also enjoyed the HO scenes which were interactive. Despite this, I am one who advocates the usage of extra when buying a CE: features that include morphing objects, collectables and achievements which does justify the extra cost. A good story, decent graphics and a variety of mini-games are just not enough to entice me into buying this game at this time. However I cannot 'not recommend' this game based on my own personal preference as I do think that many will enjoy this HOPA and ultimately will find this game fun and challenging to play. As for me, I am afraid that our insey winsey spiders and the 'Black Widow' Prima Donna will see me on another rainy day.
October 14, 2012
Web of Deceit: Black Widow CE
A bit slow moving. The puzzles were different, not too difficult and not too easy. This game did not grab me like some others. I would wait for the SE.
October 14, 2012
Spider Lady? Black Widow?
I played the demo version and it was not for me. If you like butterflies and ants and insects then this is the game for you. I personally do not like this game. Its just spider webs and insects to me. People turning into small spiders.....Come on now...really?
October 14, 2012
The Apple logo is a trademark of Apple Computer, Inc.
The Windows logo is a trademark of Microsoft, Inc.