Web of Deceit: Black Widow Collector's Edition
You're drawn into a web of deceit when your train stops in Andville, where the Black Widow lies in wait. Follow a trail of clues and dead husbands as you explore this once picturesque town now at the mercy of the Black Widow and her mechanical minions. What drives her lust for revenge? Where is the root of her strange power? Uncover the bizarre history – and mystery – of this little town. And track down the Black Widow in time to foil her devious plot for revenge!

This is a special Collector's Edition release full of exclusive extras you won't find in the standard version. As a bonus, Collector's Edition purchases count toward three stamps on your Monthly Game Club Punch Card!

The Collector's Edition includes:
Hours of bonus gameplay as Morgana!
Re-playable collection of puzzles
Concept art and stunning wallpaper
Brilliant soundtrack
Game System Requirements:
OS:

Windows XP/Windows Vista/Windows 7/8

CPU:

1.6 GHz

RAM:

512 MB

DirectX:

8.0

Hard Drive:

1135 MB
Game Manager System Requirements:
Browser:

Internet Explorer 7 or later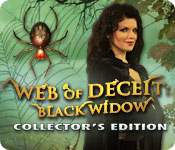 The Big Fish Guarantee:
Quality tested and virus free.
No ads, no adware, no spyware.

Reviews at a Glance

Web of Deceit: Black Widow Collector's Edition
0
out of
5 (
0
Reviews
Review
)
Customer Reviews
Web of Deceit: Black Widow Collector's Edition
69
69
Didn't quite reel me in
I did like the theme of this game because it's different from others but I just wasn't overly impressed with the game itself. The graphics were ok and sound was alright but when it came to the "old man" in the bug museum talking, it was terrible! It looked like he didn't know his lines and he kept looking down as if he was somehow reading his script after every 2 or 3 words. The HO scenes were alright and the map was good to be interactive in getting somewhere quickly and the mini games seemed to be pretty good. Spiders creep me out but knowing it's just in the game helps me to handle them. I really wish every game coming out now didn't have to be a collector's edition because first I don't want to pay that much and secondly, most aren't really worth it. BF please let more SE games come out more often.
October 14, 2012
Web of deceit: An SE game with a CE name!
I found myself rather disappointed in this game. Overall it's pretty good but I was disappointed to find that I paid for a CE and really got an SE with a bonus chapter that could have been left out since it was pretty much covered in the main game play. The graphics were grainy and the VOs poorly done. The puzzles posed hardly any challenge and the cut scenes left much to be desired. There is a journal and a map that allows you to pop to the different locations(which does cut down on going back n forth a lot), they used real people in the cutscenes(not a bonus in this case), 3 modes of play and a hint button that works outside the HOS. The HOS are interactive and mostly junk piles. I'll chalk this one up to lesson learned, play demo before buying. I would have been happier with the SE edition since the CE wasn't worth the price. There are no extra items to collect or activities to accomplish, the ending still leaves room for a sequel and the bonus chapter is a prequel than a wrap up. I'm not going to recommend the CE simply because you can get the same in the SE unless you just have to spend the extra money to see the extra prequel chapter.
November 15, 2012
Great game except for the "actors"
Think of how good this game could have been if the developers had skipped the lousy human "actors" and just drawn all the characters. The over emoting is painful to watch. However the spiders and scenery are fantastic, 5 for them, Luckily you can skip most acting scenes and you can turn off the voices and music.. Nice creepy graphics, good HOG scenes, the usual minigames for the most part. Love the map to facilitate moving from place to place. Wish the Bonus game had been the full game, I want a spider helper too!
October 16, 2012
Web of Perfection
Lots of good things have been said about Web of Deceit, but I also want to add my 5 cents I fell that I have become a fan of Collector?s Edition games. And this one is one of my favourite. Although I am not much into insects theme in general, this time it can be seen the devs put a lot of creativity and effort to make the game really unique, one of a kind. I appreciate almost all the game features. Music, visuals, iHOS ? an ideal pack to make a great game today. + a Spider Woman ? great! Keep up the good job, guys!
November 12, 2012
Spiders, dragonflies & ants... oh my!
I went into this one thinking a little spider activity wouldn't phase me... I was wrong. There are way too many creepy-crawling stars in it for me. Visually, the game is stunning; clean, crisp and life like. The music doesn't become bothersome, however the numerous voice-overs and narratives became very frustrating. 3 different challenge levels, real people, MANY mini-games (my favorite part) and strategy guide stays on the page you left it. Overall, anyone that likes a challenge and doesn't find pest control to be necessary, you picked a winner.
October 18, 2012
Completed Review
I hate spiders and put off purchasing this because of it. So glad I got past that or I would have missed a great game. Different games then normal, not mundane some hard some boringly slow process. Got lost a few times but not as bad as some. Did think it ended a little less than spectacular for such a long game. All in all I will most likely play again on different level. I don't give out many 5's so this really is a 4+++ Have fun it made my Halloween less boring.
November 4, 2012
Creepy Halloween Game
You're on a train at the start of your vacation, but after a nightmare about a scary woman, you wake up to knocking on your door. You have to figure out how to get the door open. A woman comes in and starts to tell you something, but she is attacked by huge spiders, before she can say anything. You decide to investigate and help. You quickly find out an evil woman has taken over a town with her dangerous, mechanical spiders. There is a lot to do in this game, several different kinds of puzzles, a few HOS, etc. plus a lot places to go. Click on the map to teleport to other areas. Hint is helpful, and will point to where you need to go if there is nothing to do where you are. The Strategy Guide is very helpful, and I had to look at it a couple of times. Three game levels: Casual, Advanced, and Hard Core. Live actors do campy voice overs and they're fairly good at it. Graphics are good. There is only one problem: After having been bitten by a brown recluse, I HATE spiders!
October 14, 2012
A very good game with an intriguing storyline. One of the most atmospheric casual games I've played.
"Web of Deceit: Black Widow" was a very nice and entertaining game to play. The Collector's Edition was worth just to play the bonus chapter which was quite long and it was also very interesting since you played as the main game's antagonist, Morgana and got to visit a handful of beautiful new locations. The best assets regarding the game were: The graphics and the artwork are just breathtaking. So very beautifully colored and detailed, and very, very atmospheric. It was all so well made that I could almost feel the opression of the secrets that Andville had kept for all those years! The audio was nothing short of great, too. The music was very different from what I'm used to listen to in other games and it was very mysterious! The hidden objects scenes were also beautiful and very fun to play. The storyline was nice, too, and a bit different from what I'm used to. One of the best things about it was that in the end, it all makes sense and nothing is left unexplained. The developers really did a top-notch work here. I won't spoil it for you so you can fully appreciate it when you play the game ;) Now for the "bad stuff": Now, I know I hate live-action in video-games, but I swore that I completely hated it in this particular game! Where can I start... The acting was the worst I have seen in centuries (and I ain't that old, mind you); The lines delivery was so slow that it almost made me fall asleep; the voice-overs weren't great either, except maybe for the big spider ones. It was a complete, very slow, train-wreck. I pratically skipped all the text so I didn't have to deal with it. It was embarrassing, actually... Luckily, it didn't managed to detract me from the storyline itself, so it had something good to it, after all... Besides the bonus chapter, which was very good (as I have mentioned before), there's nothing more worth the time in the CE. So, buy it if you manage to love the Standard Edition and are left wanting more. This game was very well developed and produced, and these developers are one of the best artists out there when it comes to amazingly beautiful and luxurious artwork and graphics. This game was very entertaining and gripping and the atmosphere is just amazing! A very decent game, in my honest opinion. Well worth my time. And yours, too, I hope!
September 28, 2013
A Pleasent Surprise
over looked this one for a while, not exactly sure why.. But tonight I finally bought it, and found that I over looked a great game! The graphics are great, as is the storyline. There are real actors, and the HOS are easy and clearly visible. There is a map, and it transports, but doesn't show objectives...The hints are directional, which I like. And you can lock your inventory, a must for me. The length wasn't too short. I give this one a 8/10, Happy gaming gamers!
August 19, 2013
fun, different and challenging spiders
When I finished this game I had to actually think about whether I really liked it. the doubts had to do with the fact that games were really hard and I skipped many. fortunately there is a great help button that tells you exactly where to go which is essential and I used constantly and it recharged quickly. over all the story line was unique and different. lots of creepy crawly's which I found fun. if spiders freak you out don't play this game. I don't use sound so can't rate that but at the end I really enjoyed this one and recommend it.
April 7, 2013
The Apple logo is a trademark of Apple Computer, Inc.