Web of Deceit: Black Widow Collector's Edition
You're drawn into a web of deceit when your train stops in Andville, where the Black Widow lies in wait. Follow a trail of clues and dead husbands as you explore this once picturesque town now at the mercy of the Black Widow and her mechanical minions. What drives her lust for revenge? Where is the root of her strange power? Uncover the bizarre history – and mystery – of this little town. And track down the Black Widow in time to foil her devious plot for revenge!

This is a special Collector's Edition release full of exclusive extras you won't find in the standard version. As a bonus, Collector's Edition purchases count toward three stamps on your Monthly Game Club Punch Card!

The Collector's Edition includes:
Hours of bonus gameplay as Morgana!
Re-playable collection of puzzles
Concept art and stunning wallpaper
Brilliant soundtrack
Game System Requirements:
OS:

Windows XP/Windows Vista/Windows 7/8

CPU:

1.6 GHz

RAM:

512 MB

DirectX:

8.0

Hard Drive:

1135 MB
Game Manager System Requirements:
Browser:

Internet Explorer 7 or later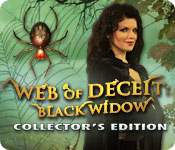 The Big Fish Guarantee:
Quality tested and virus free.
No ads, no adware, no spyware.

Reviews at a Glance

Web of Deceit: Black Widow Collector's Edition
0
out of
5 (
0
Reviews
Review
)
Customer Reviews
Web of Deceit: Black Widow Collector's Edition
69
69
Good game but terrible actors
If you can get past the terrible acting, it's not a bad game to play. Overall, pretty easy, and it doesn't leave you chasing items all over the place like some other HOG games will leave you to do. I only did as far as the demo, but I do think this will be one that I'll purchase.
October 14, 2012
Webby Good
Pretty good game all around. The art/graphics were beautiful. The characters fairly interesting. I will buy this game.
October 16, 2012
Good Game, But...
Overall, I think this is a good game. Cold well become a fan favorite. Just one problem. I HATE spiders. One or two here or there, okay. but this is a little too much for me. If I bought this game, I would be totally creeped and grossed out. But, if spiders don't bother you, you will like this game.
October 14, 2012
fun field hidden object game
i love all hidden object games
October 14, 2012
maybe 3.5
The graphics are great and the music is good. Has voice over. The hint button works good but a little slow. The HOS are good some you really need to look for. The puzzles are challenging. What I did not like was you had to listen to all the talking or not at all. Could not speed it up. If you click on anything you skipped it all. The other thing is that you had to do lots of going back and forth to do things and find things to use. Not a bad game just lots to do.
May 10, 2013
REVIEW OF COMPLETED GAME
Not to my taste. Nothing to do with the spiders, just the game play was not very interesting. The wide screen graphics were very good. Not many colours, but great use of lighting. Also, the large mechanical insects were beautifully designed. Too many number puzzles, too time consuming, one after the other. Still, there are others which show some ingenuity, just not enough of them. Dull. Too many iHOS, sometimes one straight after another in the same spot. Would have been better if they had let us find both items in a single iHOS. The synchronization between speech and actors was way off and far too slow. Sorry I cannot vouch for the length. I have just had too many interruptions over the last few days and lost track, but definitely not short and a good BC for the full hour. Let's you see how the whole thing began. Music unremarkable. Story a bit of a stretch, but then aren't they all. Good SG but easier and quicker to use the hint button, because the jump map, whilst appreciated, is not really very helpful. It does not indicate where one needs to go next. Pretty hit and miss. Overall I found most of it quite run-of-the-mill. There is a lot fo competition out there and this is just too ordinary.
October 16, 2012
Will wait for the SE
Just finished the demo which I enjoyed despite all the spiders..lol. What I am not a big fan of, is the real life actors who take forever to say what they need to say and you can't hurry them along, all you can do is skip the dialogue then you miss something important! The storyline is a bit different, the puzzles good but HOS very easy. All in all I do not feel inspired enough to buy the CE so will wait for the SE.
October 15, 2012
Stunning graphics on a mediocre game
The graphics in this game were clear and crisp, and were very well done. The rest of the game was found wanting..... The cut-scenes were extremely slow and out of sync - probably due to the use of live characters.. Except for the graphics, the game wasn't what I consider to be CE callibre. There were no bonus objects to find. No achievements to earn. The puzzles and hidden objects were basic level. The storyline was....not really sure you could call it a story. Something about a woman who liked spiders, but not husbands. Not the slightest bit riveting, which resulted in the game becoming boring and tedious. The game was a just passable length. The bonus chapter was probably the best part of the game. The puzzles were slightly harder, and the storyline was more a prequel from another character POV, and was also far more interesting than the main game. I think if you like the first hour of play, then get the CE version, but if you are on the fence about it, then see what else is around first.
October 20, 2012
Good, not great!
Interesting game. Mad scientist and lots of spiders! Really like the voice-overs. They add a great deal to a game, but I agree with cbtx...annoyingly slow speech. Very nice graphics, although a bit grainy in some spots. Nice game play and SG. Good hint system. Nice music. Games not difficult but take some thought (and there are a lot of them). I liked the 3 spider game, but then I like puzzles. The one thing I really didn't care for was that the rooms, and not just the HOGs, were cluttered with junk. Yes, I know it was a museum, but no museum I've ever been in was anywhere near this cluttered and messy. Way too much searching around for things. I liked the game, but not sure I liked it enough to spend CE money. I was losing interest very quickly, so quit with 30 minutes left. I will go back and finish the demo and decide from there, but will probably end up getting it anyway. Sort of have the need to see how it ends. As always, try it out for yourself and decide if it is for you. We all have our own tastes in games. Thanks for the reviews.
October 14, 2012
I can use something here...
..such as a better quality game for a CE version. This is an okay, but in no way great game. I was mixed on whether or not to buy the CE, but went ahead and did so with a sale. Honestly, I'd say that if you really want to play it, wait for the SE and get it instead. First off, if it's not obviously from the title and the screenshot, this game has spiders. A lot of them. I don't like spiders, but they didn't bother me. If you can't deal with them in books and other games though, skip this one. The graphics are relatively good, but would be better if they hadn't decided to make everything misty on top of them. Even many of the indoor scenes have a misty quality to them, and the misty can get old after awhile. The cut scenes are really just bad though - they use live actors, which is a novel idea, but are blurry, and poorly animated, with the actors looking like they're not quite in the same scene . The voice track doesn't match the movement of their mouths - it's off by just a bit, as their mouths will either form the words a bit before the voice, or a bit after. It's not a case of them speaking a different language either, as their mouths are forming the words they're speaking, just not at the same time. And the acting is rather melodramatic with overly done movements and such, as are the voices. And the people just speak soooo slowly as well! The storyline is meh - not awful, but not great either. It's also not desperately original, as the most original part is the mechanical spiders. However, I don't want to give it away and ruin it for some. The ending is a bit disappointing as well, though I suspect it's intentional. The gameplay is okay, but I will say the bad cut scenes detract from it a bit. You also cannot skip through the cut scenes, as it only allows you to skip the entire scene as opposed to just parts of it. Which means you'll miss out on some of the dialogue. Honestly though, I got so tired of how slow and painful they were towards the end that I finally started skipping after I'd read the initial thing the person said. The mini games are a mixture - some are good, some are okay, some are too easy, and some are just plain bad or poorly executed. For example, the sudoku-style one with the ferry ticket has a poorly placed "reset" button that I kept accidentally clicking on. It's right at the bottom of the game board and fairly good sized, so when I would click off the board to drop a number, I would sometimes click down there instead. It got so frustrating I finally just entered the answer from the strategy guide rather than get it halfway done and accidentally reset it for the umpteenth time. (Seriously, put them off in a corner, this was the only one that had this issue with the location of the reset button.) Some of the hidden object scenes are rather dark, which may be an issue for some. However, there are some interesting puzzles in this game, and even the sudoku-style one would be interesting if I hadn't kept hitting the reset button by accident. And my biggest complaint with this game, even more than the poorly-done cut scenes? "I can use something here." Argh! The game gives you that message every single time you click on something that needs another object to use. While I don't think that a game needs to tell you what to use/put in a place, "I can use something here" is an incredibly annoying, and sometimes very frustrating, message when it's given to you over, and over, and over. Especially when you don't necessarily have the "something" you can use there and may not have it for awhile. It has the pretty typical stuff for a CE - extra gameplay, wallpapers, concept art, etc. One good thing with this game is that the extra gameplay is not necessary to the main storyline, so it really is a nice extra. Given the other issues though, the extras you get with the CE aren't enough to make up for them. Ultimately, it's not a bad game, especially if "I can use something here" doesn't bother you one little bit and you can get over the badly done cut scenes. But I would save yourself a bit of money and either get the SE, or get this on a major sale (50% off or more), as I'm not sure it's worth even the discounted price I got.
November 2, 2012
The Apple logo is a trademark of Apple Computer, Inc.