Toy Defense - Free to Play
Experience the explosive gameplay of a great tower defense game set in World War I. Use your full arsenal of weapons and tactical tricks to stay in the fight. Eliminate your foes, defend your base and live the life of a true soldier. Lead your army to victory by any means possible!

Play the entire game for free! If you'd like to enhance the experience, virtual items, power-ups, and other fun extras are available for purchase.

72 levels across 3 worlds
Some absolutely new, cool and amazing features to enhance the free-to-play experience:
Repairmen. Now towers are repaired without your assistance!
Resurrection. Revive the ruined tower, take part in the battle again!
Protective barrage. Defend your base. Crush your enemies with blast waves!
Game System Requirements:
OS:

Windows XP/Windows Vista/Windows 7

CPU:

1.0 GHz

RAM:

1024 MB

DirectX:

9.0

Hard Drive:

107 MB
Game Manager System Requirements:
Browser:

Internet Explorer 7 or later
Please note that items you purchase in Facebook, Mac, or mobile versions of this game will not be available in the PC version.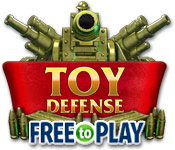 The Big Fish Guarantee:
Quality tested and virus free.
No ads, no adware, no spyware.

Reviews at a Glance

Toy Defense - Free to Play
0
out of
5 (
0
Reviews
Review
)
Customer Reviews
Toy Defense - Free to Play
10
10
Love the game but dont be fooled by "Free to Play"
When the original Toy Defense game came out a few months ago, I was hooked instantly. So when I saw this game and that it had new levels and new weaponry I was so excited, that didnt last long. So, this game is exactly like the original except there is a new level called Die Hard (desert location) which contains 24 levels and you have to pay for upgrades or become an advertiser for the game to acquire free stars which are needed to upgrade your units. You have 2 choices buy stars from the in-game store for real money (which I would never be willing to do- I like to replay my games too much to ever waste money like that). The in-game store prices: 0.99 for 500 stars, $2.99 for 2000, $3.99 for 3500, $4.99 for 5000, $9.99 for 12000, $19.99 for 30000. If you'd like to take the free route: you'll get 25 free stars for a tweet, 100 free stars to 'like' on facebook, or 25 free stars to post on facebook. Why bother making a game thats free for us to download the entire version but then charge real money to upgrade anything or be forced to have to do advertising for this company by tweeting, liking, & posting on stupid websites. What about those of us who dont use twitter or facebook ( I cant stand those sites ), someone like me would have to pay if I want to upgrade. Also there are new upgrades: Protective Barrage: destroys enemies near the base youre not given access to it until you pass 12 levels or spend 700 stars just to get TWO FREE USES! Repairmen: Towers are repaired automatically for free for 60 seconds, 100 stars will get you 3 free uses. Resurrection: allows you to revive a single defeated unit, but its available to you until after 7 levels of play, or you can unlock it immediately for 300 stars & get only 3 free uses out of it. Lastly theres Squashing: Squash enemies by clicking on them, not available until level 17, but you can unlock immediately for 1500 stars to get a measly 5 free uses. And of course theres still the regular upgrades from the original game & the price of stars to purchase them is still the same. Now take a look at the star prices to upgrade and then look at the tiny amount of stars they give you to advertise for them on twitter and facebook.....YOU'LL BE LIKING, TWEETING, & POSTING ALL DAY JUST TO BE ABLE TO UPGRADE ANYTHING. Of course this was intentional because they WANT you to PURCHASE the stars with real money. So unless you have money to throw away (because the upgrades even if purchased with real money will only be good for THAT GAME) What happens when you want to play the game over again fresh. I've played the original Toy Defense over 5 or 6 times since it came out, and the fun of it was selecting new upgrades that I didnt take the last time. You could never do that with this game, unless you want to pay through the nose or spend your entire day on Facebook & Twitter! They chose the wrong title for this game....it is not free play. I hate to say it because I LOVE the game but for these reasons, I dont recommend the game. I'm sure there are ppl who wont care about spending money that way, or those who spend all day on facebook & twitter anyway, so they wont care. I play these games as a way to relax from a hectic day, the last thing I want to think about is having to spend hard earned money over and over again or having to do the social network thing. Love the game, hate the conditions that come with it.
October 17, 2012
Toy Defense Free to Play review
Its very fun, really like it, but don't be fooled by the free to play because eventually you WILL have to buy stars. Other than that this is a very fun game for all ages.
October 18, 2012
just buy the original and save some money
yes i loved the original and bought it. honestly there is some stuff in here i'd love to play, but i won't keep buying stars to do it and i'm not going to harass my friends all day with fb posts and tweets to get stars for free. i'd rather just pay money up front all at once and own it outright instead of doing this star thingie. i hope this isn't the new direction for bfg because the market is already full of "free to play" pay for extras games, and i come here specifically for something different. again this game is great but if you don't want to keep spending to do more with it just get the original version and have fun :)
October 17, 2012
Watch out if you speed up
Game is fun and a little challenging to think where to put your best troops. Of course it also links to FB and there is the "spend money" to get better option. You can play for free and so far I've not had to hire a bunch of friends to do things like with other FB games. Watch out if you hit the fast play however as you can kill off your guys before you know it and even if you restart level the stars and power up like things are gone. I'm on level 9 now and enjoying it. I'll be interested to see if I still enjoy it by the end.
October 17, 2012
Tower defense with twists
I've played this game extensively online and it's one of the more entertaining tower defense games. Some of the twists include the option to transfer any 3 turrets from one level to the next (including fully upgraded ones). The maps and enemies are interesting and varied, and there are multiple strategies you can employ in terms of placement, tower types and budget. The free-to-play but pay-for-bonuses model seems to be new on this site and it's an interesting direction to take with this game. Game play is addictive and the interface is nicely handled, making upgrades and new turrets easy to handle. Towers can only be placed on designated spots, adding to the logistical challenge. Great game for tower defense fans, and easy to learn for new players. Since it's free to play, I highly recommend giving it a try.
October 16, 2012
Surprising!!
Well, I have to admit...I didn't think I would like this game. I tend to play TM games. But, when I started playing, I found it to be a bit addictive. Challenging but still very fun. Quick paced when you fast forward the invasions. It gets a little crazy.
October 17, 2012
nice game!!
nice game. it was a very good game and fun
October 19, 2012
Decent Defense Tower Type
Easy to learn, more challenging to master Free to Play, MAY buy upgrades, or EARN them in game.If you have the patience, you may earn the upgrades, if not, they may be purchased with IRL Ca$h. You defend against more in numbers and increasing in difficulty Enemies as game progresses As stated, easy to learn game mechanics.. Music & graphics, so-so... not Awful. One of the most enjoyable of this type game I've played
October 17, 2012
What a waste
This is a very boring game. Now I see why it was free.
October 22, 2012
Engrossing and Strategic
Thumbs up and kudos to an overall score of 4 stars!
October 17, 2012