Age of Adventure: Playing the Hero
Travel back in time to an age of not only chivalry and heroes, but also deceit and no-good, dirty backstabbers in this deliriously fun time management romp! Capturing a traitor, restoring a kingdom and falling in love might sound like a tall order, but it's all in a day's work in the Age of Adventure: Playing the Hero!
45 nail-biting levels
Three immersive settings
36 achievements to earn
Game System Requirements:
OS:

Windows XP/Windows Vista/Windows 7/8

CPU:

1.0 GHz

RAM:

256 MB

DirectX:

9.0

Hard Drive:

46 MB
Game Manager System Requirements:
Browser:

Internet Explorer 7 or later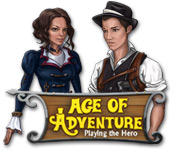 NEW299
The Big Fish Guarantee:
Quality tested and virus free.
No ads, no adware, no spyware.

Reviews at a Glance

Age of Adventure: Playing the Hero
0
out of
5 (
0
Reviews
Review
)
Customer Reviews
Age of Adventure: Playing the Hero
37
37
FUN!!!!!!!!!!
I love this type of game. This had enough challenge for me to want to see more from this provider. FUN!
November 8, 2012
Clicky Fun Game GOLD IS NOT THAT HARD!!
As Experienced TM player i would rate this game a Medium Challange Not too easy Not too hard You might not get gold on the first try but you will in one or two more tries compared to other TM games Game was a bit too short for my tastes Have played it thru once with All Gold Will be playing it again in the future
November 14, 2014
Ninja Clickers!
fun game, good graphics, nice story ..you can get gold, silver or bronze trophies on a level, at first i thought it was pretty cool that you could speed up gathering materials by clicking.. but if you want gold trophies you have to be a ninja clicker! Ouch my hand!.. because of that this game is a challenge. I enjoyed the trial, but the clicking is to much for me so i will not be buying it.
October 19, 2013
Disappointing Adventure
This could have been a really fun TM game but the levels of difficulty are way out of order. Also I would have liked more contrast in what was needed vs what was already enough & more instruction at a slower pace. I don't think there was enough tutorial before the "timed" mode began. Too bad. I will NOT be getting this game!!! I recommend Totem tribe gold, Oregon settler, & The tribez
October 17, 2012
A challenge!
Graphics were good. Clicking was frustrating! I enjoy time management strategy games and this one is enjoyable in small doses. The constant clicking to speed up workers is annoying. The dialogue interferes with goals at times. Overall I enjoy it in small doses. Not a game I will be able to play through in one sitting. Can be frustrating and tiring. Up to level 10 and had to stop for a while. Usually I have to play a game through in one sitting, not this one. Recommend it to people that want a good challenge and are not easily frustrated. Thinking you will make the goals and get a gold or silver only to have them throw another goal at you is frustrating. So far two levels I played out of the 10 I do not feel I will ever get better then a silver. (unless I play the level over and over and over...which I have been known to do!)
October 17, 2012
Challenging Game
This game is a hard challenge, toooo much clicking. but u can get all levels Gold. i did that in two days. if any help needed just ask.
October 20, 2012
Enjoyable Time Management Game, but...
Overall, the fun, visual/sound, and storyline are cute and enjoyable. The challenge comes in completing the levels within the allotted time periods. You must click-click-click-click-click to make the workers work faster. This is a recipe for hand injury. And for those of us who already have some impingement, it is simply a goal that is immediately unachievable. That is unfortunate.
October 31, 2012
Not my kind of game but I think others may like it if they like TM games
I don't care for TM games. I played and enjoyed Farmington Tales but that is unusual for me. There's just something about TM games that don't appeal to me. This game looks like it will be fun for those that enjoy TM's though so I think it should be demo'd by them. The music was repetitive but wasn't unpleasant however I kept it low. The story was told in comic book pictures which weren't bad at all. The visuals of the game itself were very bright, clear and uncluttered during the short amount of time I played. The tasks were clearly outlined and there's a tutorial that cannot be skipped and is helpful in teaching the game mechanics. There were options of adjusting sound, music and vertical alignment. There was only one mode of play-timed, although I didn't actually see a timer. The challenge increased as the demo went forward and I didn't find any minigames but I only played 20 minutes. Not being too familiar with this type of game I can't offer a comparison to other TM's but you should demo this to see if it appeals to you.
October 17, 2012
good game
I played this once, then it would not play again. is there a fix?
December 30, 2014
This game is a "click fest" of non stop clicking from level 4 on up & you STILL can rarely win the gold trophy!
Age of Adventure- Playing the Hero- TM, strategy We are suppose to have traveled back in time, to a time of chivalry & hero's. We have been summoned back there by a group of deceitful, backstabbing traitors, who want you to murder the king & make it look like a suicide. The villainous traitors did not know how to use the time machine properly & they requested a mafia actor from Chicago (you, the male hero to be) instead of a murderer for their evil plans. They burned up vital parts of the time machine getting you there, so now, you are unable to return home to Chicago & back to the present day & therefore you must now stay to help those that are working to keep the kingdom in good repair as well as helping to protect the kingdom against the evil no good traitors. Good story line, though we would be going INTO the future to a time when time machines existed NOT back to a time of time machines since they do not yet exist in our modern day. This looked like a beautiful TM game with great story & beautiful graphics in cartoon form. It includes 45 levels, 3 settings & 36 achievements, adjustable music & sounds. Options included custom cursor, full screen & vertical synchronization. There is only one level of play & if you want to race the clock for silver /gold trophies you can or take all the time you wish & receive the bronze trophy. Now for the part of the game that will cause the majority of people to pass on this game?the click factor. The developers created the ability to getting power, wood, & money even faster, by continuously clicking the work box as it fills to completion, to speed up the task. Yes, you can wait for the task to slowly fill on its own once you click the box & just click to pick it up once the item has filled on it's own but you can not achieve silver or gold in this manner. The only way to get the silver or gold is to click as fast as you can, non stop. through each task for several minutes straight. I am not the fastest clicker, nor the slowest, by any means, I don?t have carpel tunnel or arthritis & just demoing this game with non stop clicking for 30 min has caused me soreness in my forearms & hands. I can?t imagine the pain this would cause those who do have health conditions that would increase pain from the rapid clicking. Due to the rapid clicking that this game requires, I would only recommend this game to die hard TM?ers who have a love of speedy clicking. Happy gaming with which ever game you choose to play today!
October 17, 2012