Happy Kingdom
Oh, how nice it is to rest from your boring work and to visit the place where you spent your childhood in Happy Kingdom! However, suddenly you find out that those places have been destroyed and abandoned. You will learn to be a smart manager and will feel how it is wonderful to renovate places you loved to visit as a child in this beautiful Time Management Game! Service your clients, earn and spend money wisely in order to accomplish your goals! Fix broken items, do different grades! Bring happiness and smiles to the town citizens and don't forget about a smile for yourself!
Beautiful graphics
Dynamic, challenging gameplay
Thoughtful management content
A unique grade system
Renovate your childhood city!
Game System Requirements:
OS:

Windows XP/Windows Vista/Windows 7/8

CPU:

2.5 GHz

RAM:

1024 MB

DirectX:

9.0

Hard Drive:

156 MB
Game Manager System Requirements:
Browser:

Internet Explorer 7 or later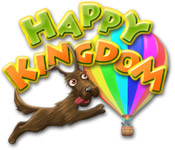 NEW299
The Big Fish Guarantee:
Quality tested and virus free.
No ads, no adware, no spyware.

Reviews at a Glance

Happy Kingdom
0
out of
5 (
0
Reviews
Review
)
Customer Reviews
MIGHT have been fun if I had a clue!
This game has some potentially fun elements and the story has the potential to be cute, but there are NO instructions of any value! I don't know how to see the goals for the round after it has started. I don't know how to achieve the established goals (apparently I level my character up when I make mixes, but I have to make what the people ask for, so I'm not sure how I have much impact on that). I don't get how to get the "level" stars - hovering over the goals for the rounds vaguely indicates it has something to do with keeping the visitors happy, but I don't know how to control that except responding as quickly as the game will let me, and yet I still don't seem to be adding stars. Not too clear on the "hammer" requirements, either, though it seems to relate to either upgrades or repairing new buildings. It appears that you can use all of your money once you meet the level requirement, but that isn't quite clear either. The game automatically opens the "upgrades" window once you meet the level money goal, but at first I didn't know how much I had to spend and whether or not it would affect my level completion. I also don't know what benefit there is, if any, to waiting to run a ride until you have several people on it. It seems to take no time at all to run - you can immediately run the next person - and there's a disadvantage to waiting - reduced "smiley faces." All-in-all, it might be an interesting game if I knew what I was doing! I can't really tolerate continuing as it is. Getting mediocre level ratings and not knowing why is driving me nuts!
October 18, 2012
Dropped the ball...
I only played this game for a few minutes. It could have been a pretty typical TM game, which are my favorite games, but they left out so many basic functions I just gave up on it. Your "goals" for the level flash before you start playing, but they are not displayed on the screen as you are completing it, so you either have to memorize them or just hope you do the right thing. The "upgrade" option randomly popped up for me in the middle of a level. I don't know if it's because I clicked on something to make that happen, or if it does just randomly pop up instead of having a set "upgrade" function before you start each level. There is nothing to indicate what you are shooting for from a score or time perspective. First level I achieved "Pro". Second level I achieved "Master". I have no idea which one was better or why I got one or the other. The gameplay itself wasn't bad - I obviously didn't see much and it seemed like pretty standard TM type stuff. But I didn't feel like wasting my time playing through the game just winging the whole thing and trying to figure out what should be very basic functions in the game. They really missed the boat on this.
October 18, 2012
Disappointing
I made the error and bought the game after trial thinking it would improve but that is not the case. At the second location and probably at every other as well you get the same rides, same challenges, same food etc. There is no difference at all to the starting location. It is almost that the description of the game could belong to a completely other game.
October 19, 2012
Awful from first to last click
I'm struggling to find the words to describe this game but "awful" springs to mind quite strongly :) You don't often come across games that have no storyline or characterisation, zero challenge and non-existent fun factor but this one fits the bill. Add to that appalling grammar (for the love of sanity, if you're going to go to the trouble of developing a game you'd think you'd check the language - any online translator could do a better job) and you've got a total stinker of a game. The only aspect I can recommend are the graphics, which I must admit were quite cute. Shame the developers didn't spend more time on the rest.
October 20, 2012
Yawn & Yawn Again
Clunky and Dull are the only 2 words I can come up with for this game. No redeeming features at all.
October 21, 2012
old and not fun
iIam sure they had good intentions but when a game looks and plays like from the beginning of TMG then I would call that an epic fail. Slow and would not let me upgrade even so I had the money.Uninspired and boring music. I think I played 10 minutes or less. Do not waste your time or money on this.
October 20, 2012
If you love TM games - don't even bother downloading this one...
Normally I love any TM games that come out. I try ALL of them - and usually I can find something (anything) I like about even the worst ones. No so this game. I got through 40 minutes of it before I exited out of it. There is no challenge to this game whatsoever. Never could figure out how to get stars as there is no tutorial to the game at all. The graphics were horrible and in this day of amazing graphics and interplay - this was a major, major set back. I can't even recommend you play it if you have time to kill it's that bad. But you can see for yourself.....
October 19, 2012
Just OK
This game reminded me a lot of a sub-par Burger Bustle. It's a cute concept but they just could have made it a lot better. I felt the instructions were somewhat vague and it just got a little boring once you bought the upgrades. Not a buy for me and I'm an avid TM fan
October 19, 2012
"Average Kid Game
I thought it was too young and childish...
October 18, 2012
Not very interesting
I didn't even play the entire hour. After 20 minutes, I couldn't stand it. Just making different ice creams for customers who stand around in the center of the park was not even vaguely entertaining. As another person mentioned, there didn't seem to be much point in the rides except as a way to get rid of your customers. I've played much better TM games.
October 19, 2012