Margrave: The Blacksmith's Daughter
Embark on a thrilling rescue mission in Margrave: The Blacksmith's Daughter! The town of the Cyclops appears for a single day once every three hundred years, on an island lost to cartographers. On this Day of Alignment, the town rises and sets with the midsummer sun. As the Margrave saga nears its devastating conclusion, Edwina Margrave embarks on a rescue mission into the town. Her only chance of escape is to return life to the arcane machines, and hope to the sole survivor of an ancient war, in Margrave: The Blacksmith's Daughter. Prepare yourself for the adventure of a lifetime: the legacy of an entire civilization depends upon your cunning and compassion.
Game System Requirements:
OS:

Windows XP/Windows Vista/Windows 7/8

CPU:

1.0 GHz

RAM:

512 MB

DirectX:

9.0

Hard Drive:

521 MB
Game Manager System Requirements:
Browser:

Internet Explorer 7 or later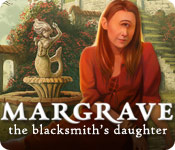 NEW299
The Big Fish Guarantee:
Quality tested and virus free.
No ads, no adware, no spyware.

Reviews at a Glance

Margrave: The Blacksmith's Daughter
0
out of
5 (
0
Reviews
Review
)
Customer Reviews
Margrave: The Blacksmith's Daughter
60
60
NEAR PERFECT
I have nothing but praise for the Margrave Manor games. I have about 450 games and grade them. Less than 15% earn an A (so I know I will enjoy them several times) and the Margrave games have all earned an A. So if you liked the previous Margrave games, you?ll like this one. If you haven't tried them, I suggest you might like what you find. Storyline: 18th Century: One-eyed Oban was considered a god of the pagans by the Puritans. The town disappeared 300 years ago on an island lost to cartographers and appears every 300 years. Present day: The town has appeared and Tom is kidnapped, presumably by an ominous citizen. Who kidnapped him and not Edwina, and for what purpose, are part of the mystery to be solved. Edwina has to find him before the town disappears for another 300 years. Gameplay: Lots of things to do and see. Interactive map which provides a bird?s eye view of the town. Map can be changed to ?discover? mode which shows where tasks can be performed. Edwina encounters many surprises along the way. Example: Huge statutes guarding the town appear from the ground after Edwina solves a puzzle, and the statutes are another puzzle which must be solved before gaining access to the town. You get the idea ? there are a lot of refreshingly unique and challenging but fun puzzles to solve which have a direct correlation to the play on your quest to find Tom. The production values are outstanding. You do have to think about what to do and how to go about it. The hint system is just that ? only a hint. It won?t point you to the exact location or action to take. The artistry is so gorgeous and very detailed that you sometimes just want to relax and look at it. Music changes periodically. The intro would appeal to the younger generation, but it later changes to something that you might like listening to. Voices are English with British pronunciation. There are HOGS every so often (but not as often as puzzles). The objects are good sized but still the HOG is not too easy because many of the objects are so cleverly hidden that it?s easy to bypass them. The developers constructed a very well-crafted and polished game.
October 20, 2012
Took My Breath Away
I bought the Collector's Edition and I have to say for those who passed on it, please do get the SE version. This is an outstanding game with the highest of production value rarely seen in many games today. Our tale follows Edwina's final journey as she embarks on a mission to rescue her beloved and solve the mystery behind the deaths of her parents. This time she must venture into the Town of the Cyclops and has limited time before it dissapears for the next three hundred years. As our story slowly unfolds, we bare witness to a heartbreaking love story as well as discover the secret of Edwina's past. I loved the Margrave series and am amazed as to how they have evolved with each installment. What started off as a simple IHOG has now become a superb HOPA. This game offers truely breathtaking graphics, beautiful artwork and animation supported with authentic voice-overs and a haunting musical score. Game Features include two modes of difficulty, a map that is interactive: offering a bird-eye view of the town as well as an outline of tasks that need to be done. You also have your notebook and your 'tools' that you will need on your journey. This game is heavy on the puzzles and plays more like an adventure with few HO scenes. There are strawberries to collect and your divination cards that were pure fun to play. I loved everything about this game and it took me a while to complete as I took my time just taking in all the beatiful scenery. I found myself immersed in the story and revelled at the challenging gameplay offered. My compliments to the developers and while I am sad at seeing the series end, I do look forward to many more games from them. In my opinion, Margrave: The Blacksmiths Daughter is truely a masterpiece that I will enjoy re-playing again and again.
October 20, 2012
This is completely different, and... I LOVE IT!
I really do not understand why this game gets bad reviews... - because it is difficult or complex? Use your brains - because of the girl's voice? Oh, come on... give us a break... she doesn't annoy me in the least - because of the strawberries you have to pick? Well, just do it... they are in plain view, everywhere - Because of some things such as "bugs in the hair and birds picking the head away"? ... don't you know that most fairytales are much more gruesome than that kind of line? - Because of what? I really don't know. I waited for the SE because of those bad reviews and now I regret not having bought the CE. This game is absolutely loveable in all respects: graphics are gorgeous, the sound is good and never gets on your nerves, voiceovers are excellent with that typical British accent, the storyline is that of a beautiful, charming fairytale... no asylums, no gloomy mansions, no devils, no demons nor witches, no vampires, no gothic castles... nothing but gorgeous nature and yes, something bad and evil lurking within that earthly paradise. As for the HOS, they are not abundant - thanks for that - and easy to do. Minigames are diverse, abundant, sometimes quite challenging, but always within the grasp of someone with normal intelligence who is willing to use his brains. Some of them repeat themselves My advice: do not listen to those bad talking reviewers... buy this game... relax and enjoy, enjoy, enjoy as long and as much as possible... I did, anyway. Do I recommend this game? Oh yes, I most definitely do.
October 21, 2012
Spectacular game
This game kept me at my computer, neglecting my work! The story-line, beautiful graphics and clever quizzes and HOGs are really top notch. I went back and played it twice to be able to relish the game and to pick up *all* the strawberries; no spoiler, just a heads-up that if you get them all, you can read an additional chapter in this story. After playing this, I went and bought the two prior games. Goodness, what a disconnect! The first one had no voice-over, was very cartoonish and was room after room of HOG and letter reassembly; all ok but certainly not up to the standard of the 3rd game. I completed it simply to get the first chapter of the storyline. I also purchased the second one and there was a huge leap of progress in art quality, sound (although the sound when you find an object made me want to scream after awhile) and game play. Seems like a game developer that is learning as they go and growing exponentially. Well, if the "The Blacksmith's Daughter" is the result of that learning process, I look forward to more great games from them. This one was certainly top-notch in my book.
October 21, 2012
Review of Full Game - So Much Fun!
Every once in a great while a casual game comes along and knocks my socks off. This is one of those games! If you are looking for a unique game that isn't dark and dreary - this one is for you. Fantasy lovers take note!!! The game follows the heroine from the last Margrave game as she searches for her beloved inside a mystical city. You'll meet many characters along the way, all who will require your help and even a few who will join you in your quest! This is a very good blend of HOG and Adventure - I was pleased with the balance. HOG scenes are revisited a few times, but I believe the items stay "gone" once you find them. I really love when developers take the time to add that feature. This game has a true fantasy genre feel to it as it centers around a civilization of Cyclops people. You will find lots of wit and whimsy in the puzzles and games that fit along with the theme nicely. I was in wonder at all the FRESH and NEW puzzles here. There isn't a gear or Tower of Hanoi puzzle to be found! Everything is either a new concept or a fun new twist. You are offered different levels of gameplay - I believe there are two. I chose the harder which had no sparkles and the hints and skip buttons took longer to recharge. There is voice acting through the entire game - very well integrated into the story, I thought. I see some people complained about the main character's chattiness, but I did not find her to be overly chatty. I appreciated the care and time that was put into this aspect of the game. I loved everyone's accents as well (British/Scottish/European). The music was divine! Very soft and fitting throughout. In the main title screen there is a nice folk-type song with full voice singing, but the rest of the music is soft instrumental. All in all, I found the audio to be well done and complimentary to game play. The art direction is amazing. Everything "fits" here. You won't find oddly placed items, or human actors thrown haphazardly over badly hand-drawn backgrounds. There is a true style to this game and all content sticks with the design. This makes the game flow nicely. HOG scenes are well-drawn with a few interactive items, but most are straight seek and find. A handful of items were small and/or well-hidden (say 5%). None were badly drawn, though as I found the graphics to be crisp. I think the smaller items were part of the strategy of the game rather then poor game design. I had fun looking for everything and did not have to use hints except in the case where I didn't know what an item was (once). There are NO click penalties. Inventory is unique in that you have a Keepsake Inventory where you can find notes the game takes for you and an Items Inventory where you'll have things you picked up. Along with that, you'll also have a few "helper" items I don't want to spoil as they are part of the charm of the game. Let's just say you get to carry along some fun new friends with you! There are strawberries to collect to open a "bonus" book. There is a map that will eventually allow you SOME fast travel. You can view it in two ways - standard and task based. All in all, this is one of my favorite games for 2012. Pretty much pitch perfect for me. Fun fantasy game with lovely graphics, soothing music and professional voice acting. Just a superb little gem of a game! And all at a Standard game price! Can't beat it.
October 23, 2012
enchanting game
i loved this game. Graphics were great and it was all very original. Puzzles were different. Must admit to turning off the voices and the story was OK. It was SO different from all the crowbar and key stories and I loved it. All the reviews saying constant back tracking are wrong as it is a small world and as you progress you have access to quick travel. Buy and enjoy. Also it is a long game which is good value. Only bought the SE tho as I missed it when it came out. I would have bought CE.
October 23, 2012
Enjoyable game, I love it!
Everything in it is great. I play it and enjoy every bit of it. It has HO it has puzzles, it has a map, dialogs are good and storyline is good as well, fantasy that talks to me. I find the music pleasant to my ears the graphics are clear and there are help and hint buttons available. I find it very entertaining and relaxing at the same time. Great game!
October 20, 2012
That's more like it!
Though the storyline is a little different, this game has everything I've ever wanted in a hidden object game. The puzzles were challenging, the scenery beautiful, and it was just good fun! I wish more games were like this one, honestly. I wish I'd gotten the CE! I may, actually, as I liked it that much!
October 24, 2012
I love it very different
I happen to love voice over and this is the best yet. The hint button recharges fast if you need it. The voice and graphics are great. The game is not that hard but the HOS can be hard to find all the items. The puzzles are fun some easy and some not. You have items to find but also have clues to find to solve puzzles, which is different and works well with the game. Just a cute fun game that keeps your interest because you are not going all over the place to find clues and items.
October 25, 2012
Absolutely enchanted! Imaginative game with quiet understated charm
Glad I gave this one another go! Put off by its unique gameplay style initially, I was captivated on my second try. And hooked I was, from start to finish. Exploring a sprawling cyclopean town while trying to save your lover and then escape, I encountered gorgeous lush scenery, charming characters (some of whom actually had fun lines), found cute companions, and learnt more about the secrets that lay behind. And don?t forget a creepy villain too. The puzzles/mini-games were unique, hidden object scenes moderately challenging, and the rest was pure adventure ? of a more quiet, steady style. The voiceovers were fantastic (in accent and tone), although pretty much everything was voiced, so that could get on some peoples? nerves. Another down side was how some of the recurring puzzles/mini-games (e.g. pebbles) could get quite dull. I enjoyed collecting the strawberries, you had to really look out for them, and the reward was very worth it! *Those who have not played the earlier game- Margrave: Curse of Severed Heart -might want to hold off reading the strawberry book until you?ve finished it* Loved the soothing background music as well. The ending was very moving, even if the cutscenes were slightly awkward. This is one of those rare games where I couldn?t quite predict where the storyline was going. Kept me engaged to the very end. Overall this is a most whimsical and charming game that grows on you. It may seem weird at first, but definitely stands out from the crowd. I would play this again despite its flaws. My whole-hearted 5 stars.
November 5, 2012
The Apple logo is a trademark of Apple Computer, Inc.