Margrave: The Blacksmith's Daughter
Embark on a thrilling rescue mission in Margrave: The Blacksmith's Daughter! The town of the Cyclops appears for a single day once every three hundred years, on an island lost to cartographers. On this Day of Alignment, the town rises and sets with the midsummer sun. As the Margrave saga nears its devastating conclusion, Edwina Margrave embarks on a rescue mission into the town. Her only chance of escape is to return life to the arcane machines, and hope to the sole survivor of an ancient war, in Margrave: The Blacksmith's Daughter. Prepare yourself for the adventure of a lifetime: the legacy of an entire civilization depends upon your cunning and compassion.
Game System Requirements:
OS:

Windows XP/Windows Vista/Windows 7/8

CPU:

1.0 GHz

RAM:

512 MB

DirectX:

9.0

Hard Drive:

521 MB
Game Manager System Requirements:
Browser:

Internet Explorer 7 or later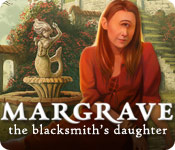 NEW299
The Big Fish Guarantee:
Quality tested and virus free.
No ads, no adware, no spyware.

Reviews at a Glance

Margrave: The Blacksmith's Daughter
0
out of
5 (
0
Reviews
Review
)
Customer Reviews
Margrave: The Blacksmith's Daughter
72
72
Awesome
Awesome game, great graphics, amazing storyline, nice and long took me around 5-6 hrs with extra lvl. My only complaint is because of the large map size I wish there was a quick travel option. Other than that I LOVED this game.
November 13, 2012
Loved this one
Another hit for this series. I have all, sorry I did not purchase CE Great storyline, map,hints voice over, it has all. Well done. Can't wait for next.
November 13, 2012
great game
a very interesting game full of things like i have never seen before puzzles are a bit hard but i did most of them, i recomend this new game its something different from other games i have played before
November 5, 2012
margrave the blacksmiths daughter
great game would recommend this game to all people that like hog
November 4, 2012
interesting & novel storyline
a novel setting & storyline... the games has a lot of card matching, just like the previous margrave games.. some parts of puzzle are quite challanging.. i finished in ard 3-4 hrs.. I like the game a lot.. except that i am lost for quite a few time as the map don't really state the place well & there is no jumping from scene to scene by clicking on the map.. overall, i suggest you at least try the trial version, if you like it you'll like the game :)
October 20, 2012
Nice Change on Hidden Object Game!
This game was a refreshing change for me. I enjoyed all of the little different mini games. For those of you who don't like the voice overs (which I'm one) you can go into options and silence those voices! Then you can read the conversation instead. There is a map but you can't use it to travel around which I find a drawback. The fairyland like atmosphere was enjoyable as well. Hidden objects are a little challenging especially for those of us that have bad eyesight but not unbearable. It was a nice change to the everyday hidden object game!
December 6, 2012
Edwina is back...
This is the best of the Margrave series. It reminds me of The Hobbit setting in that there is much more to the story than the graphics. I'm ready to replay the others in the series now! Play the complete demo and you may be intrigued .
November 11, 2012
Wonderful Fanciful Game
I really enjoyed playing this game. The puzzles are not super hard, a few were very easy. A couple of times the game surprised me with a - think out of the box moment- but once I understood what they wanted some puzzles were simple. The graphics are lovely and clear,the use of the tools and items were a bit whimsical. The overall feeling is very relaxed. Someone commented on the female voice over as problematic, but I did not have any issues with it. I rather liked it. This may not be a game for an advanced player looking for some tough puzzles, but give the demo a try you might like it for some relaxed fun.
October 26, 2012
Complex & Captivating
BASED ON COMPLETED GAME FIRST IMPRESSIONS We open with a beautiful song (yes, lyrics) in the background, and a delightful cut scene that sets the mood and the pace of the game. This is a sweet sorrowful kind of game, at the end of which, you?ll feel you?ve watched a moving film. You know the sort, the ones that you sit staring at the screen for a while before you can shake off the atmosphere of the game and return to the real world. SIGHTS & SOUNDS This game is a sequel, and the first thing I noticed was the vast improvement in the graphics. They are now delightful in every location, HOP scene and cut scene. Hand painted with just a touch of impressionist about them. There remains very little animation, particularly compared to other recent games. The intro is not the only time we hear vocals, and certainly not the only time we?ll be hearing peaceful pleasant music. This game is more wistful than adventurous. There is extensive voiceover work, both for our character and the many she meets. They are all fantastique British and Scottish accents, with excellent acting. It is this aspect that gives the game its movie-like quality. Some are not going to like so much blather, but unlike other games, the blather goes on without interrupting the gameplay, so I just enjoyed it. WHAT?S HAPPENING? I admit to being confused about the story. First, exactly how it connects up to the previous game, which I played immediately before this one. That it is connected is obvious if you played the bonus chapter of The Curse Of The Severed Heart CE. But then, I had trouble connecting it to the main game as well. We meet Miss Thorn at sunrise and see an amazing sight ? a city appearing out of the mist. It is the legendary Cyclopean City, which appears just once every 300 years. But why did Miss Thorn let a cyclopean man creep up behind Tom (the boyfriend) and grab him? Now we must enter the city, use our magic to get answers and open locks, to find him and escape before sunset. GAMEPLAY The gameplay is very complex. There are list HOPs, not animated and not interactive. These are visited twice. And there are puzzles galore ranging from easy to impossible (more of the latter than the former). There is a hefty adventure component, and you will spend a lot of time searching for objects and clues and answers, to and fro all over the map. The map itself is made up of 3 maps, and all 3 will be used for a portion of the game at least, and are very helpful. But no jump facility, so lots of walking. The hint system gives you a suggestion. For part of the game, hint is actually one of the characters you meet, and talks to you. There is no diary, instead there is a keepsake inventory where you keep any notes or clues. The game is really about the specialised mini-games though. There are half a dozen of these ones, each connected to a magical tool or assistant that you acquire. You have your Dream Cards from the previous game, which are cards which you must match up in order to make a series of given symbols. The other ?divination tool? requires you to follow up with a version of the shell game, but much more complex, and shuffled slowly, so you have got a chance *hee hee*. You will also have the help of a mechanical spider and a mechanical bird, each with their own specific uses. Likewise, a magic rose emblem and ?See-charms?. These last unlock the consciousness of various character/locks. COMBINED IMPACT It is hard to explain the gameplay to someone who hasn?t played this or The Curse Of The Severed Heart, because it is all thoroughly original and unique to this series. This was a very hard game for me to play. The mini-games associated with magic got harder and harder, likewise the puzzles. I skipped far more of the game than I am happy with. It is also a very long game. Even with skipping as much as I did (and most of the puzzles took much longer solve than skip took to fill), I still had to play this over 2 sessions, and must have put in at least 6 hours on it. An extraordinary game, but one I found too difficult for me to completely enjoy it. A 5 star game for sure if puzzles are your thing, but for me, just 4 stars.
February 10, 2014
Keeping an "eye" out for hidden objects and puzzle clues!
Standard Edition review: Wander around the city of the Cyclops to save your boyfriend Tom! (And pick strawberries on the way... Don't ask!;) An enjoyable easy-medium level HOPA, with lovely graphics, excellent music, and atmospheric in a sad abandoned city kind of way. I really enjoyed this game. With all the talking heads on walls that you have to do mini-quests for. I felt that maybe I should start breaking into song from the film Labyrinth or something. You definitely have to suspend your belief A LOT in some places. It does get a bit daft sometimes, but I liked it. Pros: - Decent game play time (>4 hours) - Graphics and Sound lovely most of the time - Good humour and a few laugh out loud moments - Excellent pace of story line 'reveals' that pull you along. it is a well paced game. - Lots of puzzles rather than just being HO-tastic, which I appreciated. A number of puzzles as beginner-intermediate I have not seen before. Everything was do-able. (matching pairs, mismatch games, remembering sequences to replay - to name a few). - You are able to bring up the 'help' or 'clue' next to the appropriate puzzle, avoiding toggling or straining the brain to remember sequences too much. - You can see a lot of imagination and love and attention has been put into the the scenery and backgrounds. Very lovely. - I love how you pick up 'minions' (for want of a term) who have abilities which help you progress in the game e.g. things that at the start are out of reach will later be accessible. - I liked how they had a thank you for their mums in the end credits. Bless. Cons: - Map was not a fast map as described in the game (minor thing, since the city is not that big) - I'm British, but even for me the accents and voice acting was grating. The English ones and the Scottish ones. - Any scenes when it came to main characters and actors were jumpy/jerky/blurry and just very wooden in style and acting. Just didn't fit in with the smoothness of graphics in other parts of the game - Some story line twists were like 'you what?!' This kind of sits in the pro area too because some things were just... well... astoundingly bizarre... and just 'what?!' - Still trying to figure out why they have called it the Blacksmiths Daughter... Ah well. There is a fair bit of guidance, maybe too much for some, which might put more experienced gamers off. So bear that in mind. It seems to be the main bug-bear for those who have given harsh reviews, as well as the awful accents. But for a newbie/intermediate looking for a worthwhile casual, enjoyable, good looking and sounding game - this is the bees knees and a lot better than many other HOPA games I've experienced to date. I would definitely recommend this game. Cheers Margrave creators (and their mums!)
March 2, 2013
The Apple logo is a trademark of Apple Computer, Inc.