Nancy Drew: Alibi in Ashes
A local contest turns into an arson scene and now deceit smolders among the charred ruins of the River Heights Town Hall in Nancy Drew: Alibi in Ashes. Police have several suspects, but well-placed incriminating evidence and poisonous local gossip compelled authorities to make only one arrest: Nancy Drew. Can you, as the teenage detective and her closest friends, catch the real arsonist and extinguish the accusations among the embers?
Explore River Heights as Nancy Drew
Visit Nancy's home and explore her room
Find the arsonist and save your reputation
Game System Requirements:
OS:

Windows XP/Windows Vista/Windows 7/8

CPU:

1.4 GHz

RAM:

512 MB

DirectX:

9.0

Hard Drive:

1452 MB
Game Manager System Requirements:
Browser:

Internet Explorer 7 or later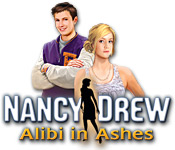 NEW299
The Big Fish Guarantee:
Quality tested and virus free.
No ads, no adware, no spyware.

Reviews at a Glance

Nancy Drew: Alibi in Ashes
0
out of
5 (
0
Reviews
Review
)
Customer Reviews
Nancy Drew: Alibi in Ashes
34
34
I love Nancy Drew!!!
I love all Nancy Drew games. It's the only reason I have a Big Fish account. I'm a fan of all large file games but this line in particular. They force you to use your brain from start to finish. This game requires a lot of dedication as you are constantly moving from room to room, building to building. I love that the game switches characters and everyone has their own tasks to perform. It can get a bit tricky in that you have to know who to use to do what. Certain characters can get more out of suspects than others. And Nancy's not just resting on her laurels, either. Even though she's in jail, she still investigates. I loved the storyline and of course the graphics, which are always on point. There weren't too many puzzles in this one. But I've noticed that there are fewer and fewer puzzles in the new games. My only real problem is that Big Fish took FOREVER to get this game! There are two other games out now! I had to buy this straight from Her Interactive.
October 21, 2012
Light-hearted, but great fun!
Hooray, Alibi in Ashes in BigFish! This anniversary game finds Nancy going back home to River Heights, and this time she is the suspect! The game begins with Nancy going to the old Town Hall to search for clues, and finding herself trapped when the building catches fire - never before have we seen so much adrenaline-inducing action so soon in a Nancy Drew game! She manages to escape, but everyone believes her to be the arsonist, and she is arrested. You have to play as Bess, George and Ned to help Nancy prove her innocence, while she is in prison! It's a fun game, and the fact that it isn't creepy or take place during the night, didn't take anything away from the mystery. There are lots of places to snoop in - and if you are unlucky, to get caught in; lots of evidence to collect, puzzles to play, and ice cream to eat! :) (My little daughter loves watch me play Nancy Drew games and this bit was her favourite, she was eating loads of ice cream every time we went to the parlour) The graphics and music are great as usual, and you find cookies from other games everywhere. The only complaint I have is that it was tedious to switch between characters - every time you had to call Nancy and she was the one to tell everyone to "Your turn to take over!" I thought the culprit was quite easy to guess, but you have to prove it as well! Some people think ASH is quite a short game, and to some extent I agree, I wish the end game had been longer, but great characters and storylines made up for it. Definitely a buy! tuskel, sincerely
October 20, 2012
love ND
Definitely a buy - I had so much fun with this game. For me, the attraction was that we get to see inside Nancy's house, her bedroom and where she grew up. Loved eating the ice cream, meeting all the quirky characters and visiting the various locations. There were a few times that I wished I could have called one of the other characters myself and asked them to take over, rather than calling Nancy first, but that's a minor complaint. There were not as many puzzles in this one but more places to explore. My fav puzzle was beating the clock to click on numbers 1 - 41 in an antique store. I also won an award for being a good customer at the ice cream parlor. The fun interactive between Ned and Deirdre is hilarious. Lots of possibilities there. The color and graphics are excellent. I love Nancy's house and it was fun to snoop around in her bedroom. I definitely recommend this game. I own and have played all the ND games many times over the years. Can't wait for the next one! Thanks BF for offering these Big games!
October 20, 2012
NANCY JUST GETS BETTER AND BETTER!
First off, I want to congratulate HER INTERACTIVE and Cathy Roiter for bringing us two wonderful games, "Last Train to Blue Moon Canyon," and "Alibi in Ashes." I didn't expect a game that calls on Nancy's friends to help her solve a crime right in her own hometown! This story features a great deal of interplay among the three friends of Nancy: Ned, Bess, and George, as they put their heads together to solve this mystery while Nancy is locked up in jail, having been named the prime suspect in the arson destruction of the River Heights historic city hall. Nancy finally gets out of jail, though, and goes quickly to work to solve the crime. The graphics are fabulous, the puzzles are formidable and fun, and the voices, the music, and the many colorful characters are of the highest caliber. The timed tunnels maze at the end was very challenging. This game was a bit of a stretch, story-wise, but, other than that, it was all PURE DREW! Unfortunately for me, I have just two more Nancy Drew Games to play, and then, I will have run out. This is my 25th DREW out of 27. BUY THIS GAME! YOU'LL LUV IT!
January 11, 2013
A New Favorite
Her Interactive has done it again! They have produced another great Nancy Drew game. Granted, this one doesn't have her traipsing all over the world like the previous games, but you are in her hometown of River Heights and she has been arrested for arson. There are many things I like about this game: -- You get to play as her friends. This isn't the first time that George or Bess have helped out, but it is the first game that Ned is included as a player as well. -- You get to 'explore' River Heights for the first time. -- You also get to talk to Carson Drew, Nancy's father, for the first time and get some help from him as well. -- You get to find out what the people of River Heights REALLY think about Nancy. -- If you eat all the ice cream on the menu, you will get a bill at the end. My daughter's bill was over $300. One thing I did find odd is that there weren't too many mini games available. ND games are usually loaded with them. I also didn't like the fact that you had to go through Nancy in order to change from one character to another. As with all ND games, there is a Junior and Senior level of difficulty. The Junior level allows you a task list to check to see what needs to be done. Also, the puzzles are a bit easier. I recommend starting with the Junior level first, and then playing it again at the Senior level. There are several achievements to acquire and after you finish the game, you will see a checklist with each achievement. However, you won't know what these achievements are until after you finish the game. Overall, this is a pretty good game. Not as exciting as the others, but fun nonetheless. It is NOT a Hidden Object game so there are no skips to puzzles or dialog. You may pick up clues along the way to be placed in your inventory, but you will never encounter a Hidden Object Scene.
November 24, 2012
Alibi In Ashes! Is why I didn't cancel my Membership!
Being new to games in general when I joined having liked all the ND Books and not knowing what games came first and not researching them, just reading reviews.. I bought "Message In A Haunted Mansion" months ago Uffda! Needless to say I never made it out of my own hallway before I gave up! I assumed all ND games were like that one and was so disappointed I wouldn't try another one. I've been so bored with the same games new titles on BFG nothing but.. Ghosts, Demons, Sci-fi, Symbols, Relics, Tombs, Ancient History etc! I was ready to cancel my BFG membership when I watched a Youtube video, accidentally of "Alibi In Ashes" and it looked entirely different than my first purchase, it looked FUN so I decided to give BFG one more try! Not that when I run out of ND games I like I'll stuck around if the Dev's don't stop making the same old stories with new titles! About Alibi In Ashes: I read a review of many ND games saying "Have a notebook ready" I didn't think they meant it.. Oh yes they did!! My floor was covered in notes and paper scraps with codes and roughly drawn diagrams.. But, I thoroughly loved every minute of it.. Big plus for met in this game is all the "Character Interaction" which for me, made so much more interesting and such a blast I couldn't stop playing!! Loved having the whole gang there passing tasks via Cell Phone to them was a huge plus! Hanging out in "River Heights" was another plus.. I thought the entire story was well done, excellent graphics and voice overs were some of the clearest I've ever seen! No puzzles were brain sizzling-ly overwhelming but I really could do without so much MATH!! I did have to stop and refer to the walkthrough several times but didn't mind the break! This is now by far my favorite BF game! So with all that said Of Course...
February 23, 2013
Can't Go Wrong with Nancy Drew
LOVE Nancy Drew. Hours of play, entertaining story line, great puzzles, fun detective work, Have played all of Nancy Drew 's game. Very addicting, can't wait for the next one to come out.
October 24, 2012
In Love
I loved this game from start to finish. I liked the different aspects to it and being able to see the town where Nancy grew up in. There were difficult aspects to the game, but it was all in good fun. I loved Nancy being able to move around the police station, as if she were an actual police officer. It was cool to see all of the tools cops have at their disposal.
February 15, 2013
Alibi In Ashes
This one is great, and quite unique. Best characters in the whole ND series. Four different people to play as, and many interesting interview questions. Good graphics all around. Nice music that really fits the scene. It was a little bit short though.
October 15, 2013
What would Nancy do?
As a huge fan of Nancy Drew games, this was a fun one! In it you get to play as Ned, Bess, George, and Nancy which I thought was fun because their personalities are all different when interacting with characters/suspects. For the most part the response when the prompted question is the same, but sometimes it's not! :) I can see how some people would not like the switching between characters, but I didn't mind it. The story was fun as you have to prove Nancy's innocence of being an arsonist. The puzzles weren't as challenging for me as some of the other games but maybe they weren't the types I struggle with. Overall, this game is one that I will play again and would recommend to anyone who is thinking about buying it!
November 5, 2012
The Apple logo is a trademark of Apple Computer, Inc.