Botanica: Into the Unknown Collector's Edition
You are Dr. Ellie Wright, a botanist stranded on a strange planet called Botanica. Full of curious creatures and exotic landscapes, Botanica is like nothing you've ever seen! Test your wits as you navigate through lush forests, steampunk villages, and more. But danger lurks at every corner; make both friends and enemies as you try to outsmart the cunning Queen Kassandra. Can you survive Botanica and find your way back home?

This is a special Collector's Edition release full of exclusive extras you won't find in the standard version. As a bonus, Collector's Edition purchases count toward three stamps on your Monthly Game Club Punch Card!

The Collector's Edition includes:
Hours of bonus gameplay!
Integrated strategy guide
Concept art and cut-scenes
Game soundtrack and wallpapers
Achievements and collectible items
Game System Requirements:
OS:

Windows XP/Windows Vista/Windows 7/8

CPU:

800 Mhz

RAM:

512 MB

DirectX:

8.1

Hard Drive:

719 MB
Game Manager System Requirements:
Browser:

Internet Explorer 7 or later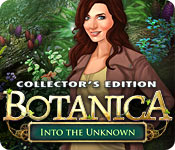 The Big Fish Guarantee:
Quality tested and virus free.
No ads, no adware, no spyware.

Reviews at a Glance

Botanica: Into the Unknown Collector's Edition
0
out of
5 (
0
Reviews
Review
)
Customer Reviews
Botanica: Into the Unknown Collector's Edition
111
111
Very disappointed
Its hard for me to understand how a developer who gave us the wonderful Awakening series could produce something as second-rate as this game. It is a moderately good game that should, and could, have been great. The story line concept was good and the graphics were beautiful but the characters were virtual stereotypes, more like comic book types than you would expect of a reasonably sophisticated game. It also has something of a feminist slant in that all the men who turn up in the life of the female protagonist are virtually useless. They stick around only long enough to give her a list of chores and then take off, leaving her to do the heavy lifting. I found the puzzles either childishly simple or so obscure they left me scratching my head. Nothing really new about them and they quickly became so boring that my skip button got a real workout. The navigation was choppy at best and there was no real ending whatsoever, either in the game itself or in the brief epilogue -- both of which were little more than shameless advance marketing for a sequel which is sure to come but which I won't be buying.
December 5, 2013
Beautiful graphics but....
This game has exceptionally beautiful graphics but it takes more than that for a good game. There are too many cut scenes and the storyline was mediocre at best. Pros: Long playing time Good hint button No a lot of back and forth Decent map Really beautiful graphics Cons: You could surmise the outcome early in the game Not very challenging I didn't finish the bonus game as I was bored. If you want a challenge this game it not it. Buy the SE when there's a sale and the price will be about right.
January 5, 2013
Beautiful Graphics
I played the Demo and knew that I wanted to purchase it pretty quickly. The graphics are beautiful and the game is a lot of fun but for me it was kind of short and the end left you hanging. I guess it's because they can easily make a #2 and I would probably purchase that one too. I forgot about the ladybugs so it will be fun to go back and play again and I only used the guide a few times when I got really stuck and could not figure out what was next. Overall the game was great I just wish that it was longer so I could feel like I got my money's worth.
November 24, 2012
I was let down
I was looking forward to playing this game. The graphics are beautiful but I didn't like the storyline. I also thought the game was fairly easy and not too challenging. I ended up only playing the demo.
October 25, 2012
Botanica CE
Pros : nice graphics; collectables; original HO scenes. Cons: division in short chapters; unclear descriptions of puzzles tips. Lenght : h 5.40 ( some puzzles skipped ).
October 30, 2012
It was Ok
The game is ok. The sceens are very nice. The HO in this game are different from regular ones. Look out for extra bonus, these red flowers. Story line was different but there did not seem to be a lot to do from one area to another. Pretty simple game. But after playing the demo its not a go for me.
October 21, 2012
Interesting Game
Well, being as how I was up early and bored I played this game. Different from other HO's but I am not sure what I feel about this style.
October 21, 2012
The Unknown was, at times, Unknowable.
I played this game from start to finish, including the bonus features. I liked this game and will recommend it, but with a few caveats. FUN FACTOR There was the right mix of puzzles, HOG, characters, music, storyline, activity, sites/sights etc. to make this a fun game. VISUAL/SOUND QUALITY Visuals: It was beautiful to look at. So, I guess the visuals were good, right? It was a very vibrant, colorful game. The Cut scenes were nicely choreographed and really capped the adventure. Sound Quality: The background music, ever-present, was quite good and really supported the kind of tropical/island feel of the game. The Voice Overs were very good, I thought. The actors were good. Some have suggested stiffness. I didn't detect that. I liked the characters (save one, who was kind of an annoying kid) overall. Visual/Sound Quality come together in Lip Synching. There wasn't any in the game and I think that's where some feel the game seemed a bit amateurish. I don't understand why there wasn't. There'd be a drawing of a character and a voice over but no moving lips. It would have taken this from comic strip to movie-like. Because it's not an old game that missing feature made no sense to me. Character movement was a bit choppy and that was disappointing as well. LEVEL OF CHALLENGE HOGs: There were a few different types of HOG. You've seen them all before. They were all executed well. Nothing earth-shattering, nothing new, but what was done was fully satisfying. Mini-Games/Puzzles: Here was a profound problem for me. First, the directions for the mini-games were almost uniformly deficient. Not good. (On the other hand, maybe I'm thick and don't know how interpret what I read). I don't think some of the puzzles were just difficult, I think they were incomprehensible. This was the weakest point of the game for me. While some mini-games were silly easy others just made no sense. Based on the enormously high ratings others have given perhaps it really was me..but I don't think so. Play it yourself and see what you think. I'm betting you'll agree with me. I'm not afraid to say I don't understand something. And yes, I do consider myself an expert. Perhaps I should re-think that. But I will not lie to you. Storyline: It's interesting enough and it drives the action in the game. You can read about it in everyone's review. You don't need another one from me...I won't add anything to the recap. I thought it was fun. Sometimes we review these things and sound like we were expecting works of literature. No. That's not what these are. The best I've seen don't qualify for that distinction and this was certainly not the best I've seen, But it's good. This is a Collector's Edition. Here's what you get: a. Additional chapter, an epilogue. Nice length. Nice content. b. Strategy Guide c. The "who cares" combination of Cut Scenes, Soundtrack, Wall paper and Concept Art. d. Achievements. Most of these you'll accomplish just by playing the game and if you don't achieve them, it's because you stopped playing. Others are simply speed and not-skipping accomplishments. Finally there are awards for how many of the collectibles you get (50 are available in toto). It's what you DON'T GET in the CE that surprises and disappoints me: based on the difficulty I had with the puzzles/mini-games I'd have enjoyed replaying some of them to try and gain an understanding of them. Not an option here. Of course you can replay the game, but you cannot go directly to the puzzles...or the HOG, for that matter. This is a problem. There are other features of the game, but I haven't played the SE, so I I'm not sure, but I rather doubt they are CE only features: a. Something called the Encyclopedia Botanica: this is just a collection of pictures (drawings) and descriptions of the plants found in the story. b. A collectable: kind of a dragon fly of close relative that is hidden, no so carefully. c. Botanist Kit: in the normal course of play you collect fluids and elements. These are used to make potions that you use throughout the game. d. A journal, a to-do list and a map. e. a few different modes of playing (btw, one, rather self-effacing "achievement," is to use the skip feature 10 times in the hard mode....Ok, whatever. Bottom line: I liked the game despite its shortcomings. I do not think it's worthy of CE status or the price you pay. As always, I recommend the "try me" feature which BFG generously offers. I ended up buying the CE and really wish I hadn't. The SE would have been quite sufficient I think. And the $:value proposition adds up for the SE in a way it doesn't for the CE.
December 23, 2013
Something is missing...
First let me say this was an impulse buy. Its one of my fav developers, it was on sale when it came out and I didn't even try it because I was out of town. So I bought this without having trialled it or even knowing what it was about which is something i've never done and honestly next time I won't be so daring. I love boom zap games. Their graphics are always incredible as are the story lines and I love the worlds they think of and the tasks to accomplish. --For some reason this game just did not mesh well with me. I liked the collectibles although I did not find all of them and since you can't go back to old locations once you leave an area, you don't get to go back to try to find all the bugs. I found 25 out of 50. Even though the world of Botanica was quite nice, it was lacking the exciting adventure points that boom zap games usually have. I found it tedious to do the tasks. I like how boom zap usually has more puzzles than hidden object scenes but this time they had more hidden object scenes and they were "find this item, to find that item" type and just really didn't hold my interest as they were pretty easy and thoughtless to do. IF I had just bought the SE of this game I would be very disappointed although the Bonus chapter was really disappointing in itself. It took me an hour maybe and it showed the perspective through the boy sam's eyes. He really wasn't that important of a character I felt so to see what happened was kind of boring. There was an abrupt ending to the actual game as well as an abrupt ending to the bonus chapter implying that something terrible will be happening to botanica in the next game. Usually boom zap games wrap things up rather nicely so this offering just didn't feel up to par with their other games. My last complaint was the voiceovers. I personally liked how they sounded but there was wayyyy too much dialogue. Now don't get me wrong, I like a good story and I like a story being read to me like in Nutcracker but what the people were saying to each other didn't make me feel like the story was progressing very well. I don't feel satisfied after playing this game, more like annoyed that I didn't get what I was looking for. Overall this game took me 4 hours of the main game play and maybe 45 minutes of the bonus chapter. Usually boom zap puts puzzle collections in their CE's as well like in the recent awakening game, they included some nonograms but this offering didn't really have the extras I have come to enjoy from this developer. I really love boom zap so when this sequel comes out, I will see if maybe it gets a little more interesting and lesson learned buying games randomly without test driving them first.
January 11, 2013
Confusing Tasks and Mini-games
As an avid fan of hidden object and puzzle games alike I thought Botanica: Into the Unknown looked rather fun, similar in structure to the ?Drawn? series. I was right about the similar structure; rather than go through hidden object scenes you collect objects (or parts of objects) as you go along in order to complete various tasks on your quest to subvert the wicked queen and find your way back home. [Also, for example, similar to the Puppetshow series if you took out the hidden object scenes.] I was wrong, however, about it being fun. Thirty-nine minutes into the free trial I closed the game in disgust and frustration due to confusing mini-games and even more confusing tasks. Rather than being intuitive or even remotely logical Botanica somehow expects the player to put together 4 or 5 step tasks that are very unusual. For example, gaining a hammer to open a crate to gain berries and a lighter which is then taken to the cooking hut, cut up, boiled (after obtaining a pitcher of water), all so a white cloth can be dyed red and the red cloth used to attract a bull-like creature to ram a tree to knock down a necessary ingredient in moving on to the next location. This is, of course, spread over eight or nine different location scenes forcing the player to move back and forth hoping to find something that might be useful somehow. Just for kicks, there?s also no map. The idea that the average player would understand they needed to do this (or, really, that they needed a red cloth at all) is unrealistic. I play a lot of hidden object games, I love games like Drawn, Puppetshow, Dark Parables, and Azada (which is all puzzles and putting objects together to achieve tasks) but games like these rely on having a logical and/or intuitive structure to them -- collecting glass shards to repair a broken window to create a reflection, for example -- rather than a series of incomprehensible steps. Botanica, in contrast, proves to be confusing and counterintuitive, if anything. Additionally, there are few hidden object scenes but the ones that are present are extremely easy to complete once you understand most of the objects require two steps (putting a skewer with a fish to create a skewered fish, for example). I can honestly say that, IMO, Botanica has nothing to recommend it but if you do buy it make certain to get the CE or otherwise gain access to a strategy guide -- you?re going to need it.
October 31, 2012
The Apple logo is a trademark of Apple Computer, Inc.