SushiChop - Free To Play
SushiChop is an easy to learn, but difficult to master slicing game. Your finger is the razor-sharp knife, as you swipe your way to sushi chopping glory! Cut with precision and skill to fill each tray before the timer runs out. Fill a tray chopping the fewest fish necessary to earn a Perfect Chop bonus, but beware the stinky green fish!
2 Game modes!
Unlock Kids Mode!
Earn all 24 Mishellin stars
High resolution graphics
Online and Offline Achievements
Game System Requirements:
OS:

Windows XP/Windows Vista/Windows 7

CPU:

600 Mhz

RAM:

128 MB

DirectX:

6.0

Hard Drive:

74 MB
Game Manager System Requirements:
Browser:

Internet Explorer 7 or later
Please note that items you purchase in Facebook, Mac, or mobile versions of this game will not be available in the PC version.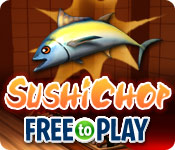 The Big Fish Guarantee:
Quality tested and virus free.
No ads, no adware, no spyware.

Reviews at a Glance

SushiChop - Free To Play
0
out of
5 (
0
Reviews
Review
)
Customer Reviews
SushiChop - Free To Play
17
17
Not a TM!
I'm not sure why this is listed as a time management game, seems more like an arcade game. All you do is chop fish with by dragging your "knife" across the screen as they are flying by. The instructions pop up too quick to read, and the knife is touchy and hard to manage. Boring.
October 23, 2012
Addictive in the short term.
A bit of frantic mouse waving and clicking as you try to chop the good fish into pieces for sushi, watch out for the green smelly fish though. I quite enjoyed this one for a while and was quite happy to try, try again. After 15 minutes or so though it does get a little repetitive. This is one of those games that you can leave installed and keep going back to, maybe while you're waiting for another to download. There are two game play modes available when you first install (I'm assuming the other is available for a price) The only difference being the difficulty (I didn't last too long on sushi master) If you've got an iphone or similar you will have come across an app with the same sort of play (it's a lot harder with a mouse though) Worth a good half hour of entertainment and with some replay value. Enjoy!
October 23, 2012
SushiChop Free To Play review
This game is not great, if you like chopping up fish then alright have fun. All you do in the game is chop up fish!!! You can finish the game in a short time and its not very fun. I would give this game a 3 out of 5. End result, not a very fun game.
October 23, 2012
Not TM game
Instructions flash on your screen and are gone before you have time to read them. Fast and frantic game play, would suit an iPad or similar, not good on PC with mouse. Why was it put out as a Time Management game?
October 23, 2012
Free, fun and challenging
Since this was free, I decided to give it a try. Immediately I fell in lovewith it. After buying several of the other "food prep" games, I came to realize the easiest way to play, A graphic artist computer drawing tablet. I like the arcade aspect of it not always being the same "fish" each time. I felt the ability to purchase Power Ups was good in that earning coins to buy them was a good idea. It is a great alternative to the same HOG, TM and Match 3, in that I felt that there was true action in it.
October 24, 2012
silly, but addictive
SushiChop - Free To Play is one of those silly kinds of game that is sort of cheesy, but once you get started, you really don't want stop. In this game you play as sushi chef, and you are cutting up different kinds of fish and shellfish to make nigiri. Along with this, you will also sometimes cut wasabi and ginger root along with the fish for bonus coins. Coins can earn you upgrades to get better knives. Between waves of fish being thrown up in front of you, you also get bonus rounds where you have to cut up a certain number of one kind of fish or shellfish. This should seem simple, but there is one big nasty, stinky catch, literally, that keeps popping up. It is a polluted green fish, and just one slice of this disgusting thing can ruin your platter, your cutting record, and your game. Cut too many of these poisoned nasties, and it's game over. This is a nice diversion, and since it is a freeb, you should give it shot, but don't forget the other great sushi games that are not quite so silly like Asami's Sushi Shop. You might even want to steam up some rice and break out the mini tatami mat or the nigiri mold.
October 24, 2012
Free and Worth every penny (or dime) !
Awful awful game. Actually only played it for about 30 seconds but that was long enough. Basically its a kind of game of skill where you have to slash fish as they are thrown through the air. Its about rapidity of movement and reflexes - but its also at the point where for me at least the latency in the hardware makes it nearly unplayable and it was basically a very unenjoyable challenge. Download it, play it (it is free) - it will drive you mad for ten minutes at most and then you can delete it - everybody?s happy. :)
October 24, 2012
Repetitive and Boring
I tried the trial version of this game as I do with all BF games. Instructions are not clear. It took a minute to figure out all you do is chop fish as they fly through the air. After a while it becomes boring and repetitive because this is all you do. I guess I like time management games with a storyline or something to keep my interest peaked. Unfortunately, I accidentally purchased this game. I still don't know how that happened, BF. I used to look forward to time management games. I do not know about the TM games over the past year. Disappointed.
October 24, 2012
Ipod/pad game should stay that way
Like another reviewer has stated this game plays exactly like fruit ninja for the ipod/ipad, but the difference is the intimacy with this piece of kit is that it makes for a more interactive feel (as well as 'weirdly' strange work out for chosen finger#, whereas playing it on a computer you not only lose the intimacy of the game but also I suspect that for long periods of play #not that I think this game is designed for that#, I don't suppose it will either do the mouse or the surface the mouse is on much good. So whilst the concept is OK I don't think the medium #home computer#, is the best the medium that could have been chosen for the game. Also another 'throw-back' from the Ipod/ipad is the ability to purchase 'in-game' credits I hope BF don't starting pushing this as the norm and soon on other genres such as HO games we have to buy extra chapters with 'in-game' money to be able to enjoy playing those game, if the tide is turning then I ain't looking forward to the tsunami that is going to follow.
October 30, 2012
Borinngg I mean Really BF. Dont insult your site ever again
I mean really this was just the worse game BF has ever come across. What is it going to come to BF? I sure nothing more like this one it was just boring and overall poor quality. Music was good believe it or not, but true. Graphics to fast and awful was again. yucko. geesh where did you find this game?
October 23, 2012