'dillos
The evil Constructo Corp has done the unthinkable! They've started constructing brand new buildings over the once peaceful homes of the 'dillos! The 'dillos aren't just going to roll-over though, they're going to fight back. Guide the 'dillos and help them strategically plant dynamite to bring down Contructo Corp and save their homes!
Stylized 3D graphics
Brain-teasing puzzles
40 unique challenging levels
Game System Requirements:
OS:

Windows XP/Windows Vista/Windows 7/8

CPU:

1.0 GHz

RAM:

1024 MB

DirectX:

9.0

Hard Drive:

126 MB
Game Manager System Requirements:
Browser:

Internet Explorer 7 or later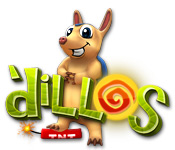 NEW299
The Big Fish Guarantee:
Quality tested and virus free.
No ads, no adware, no spyware.

Reviews at a Glance

'dillos
0
out of
5 (
0
Reviews
Review
)
Customer Reviews
A little bit different.
When I first loaded this game, I was disappointed with the lack of instruction and the slow animation scenes (which I always skip) I decided to persevere and found a screen explaining how to play. It still took a couple of fails at the first level before I worked out what to do. Once I had worked it out, the game became a pleasant change from my usual type (HO's and TM's) and was challenging enough to keep me interested. Those of you who have played Ho games will have come across this type of puzzle before. You have to roll your armadillos across a board to destroy ants and land on coloured crosses to plant dynamite. You have to land the right coloured dillo on the right coloured cross - there are obstacles that help or hinder and you get some power ups to remove them. This is definitely a strategy game as you only have a few armadillos and have to work out the sequence in which to use them. The graphics were great, the dillos endearing and the music was ok too. This one is definitely worth a go and like me you may end up hooked.
October 22, 2012
YAH or NAH?
This is my very first logic/puzzle that I have played so my review is completely baised. I have no idea what these games are like and I have never been a fan of games where your brain starts to hurt after a while. Feeling rather whimsical this morning, I was intrigued at the the game description and decided to download it just to see what the hype was all about with regard to puzzles/logic games. There wasn't much of a story to start off with and from what I can tell of the opening cutscene, a group of very cute armadillos are being invaded by a constuction company and they are out to stop them. I loved the crisp 3D graphics even if they are outdated and I especially loved the cute little 'dillos. All of them just standing around and waiting for me to play my first move on what appeared to be a chess board with colored X marks on them. After having read the instructions, I felt stupid because I was still clueless as to how the game was played. Nevertheless I decided to continue onward and proceeded to play the first level. After several attempts and a series of trial and error (thank God there was a re-play button), the fog began to lift and I had that amazing AH AH moment. I actually got this game! I understood the logic and much to my surprise, I was actually enjoying myself. After having played several rounds and feeling enormously clever about the whole thing, I decided that perhaps I wasn't as stupid as I thought I was. That feeling lasted only a few minutes, that is until I got to level 6. I was totally misled by the simplicity behind the game mechanics and it wasn't until I got through the first five boards that I realised that this wasn't as easy as it appeared and much to my chargrain, I wasn't as clever as I thought I was. Gradually after 6 failed attempts at level 6, my level of frustration began to peak at which I then decided: NOPE, I was right, I am just not one for logic and strategy games. However, I am not one to give up so easily and I am all for trying something new, expanding your horizions and what not. SOooo I will buy this game and if it takes me all night, I will attempt to at least finish level 6 and get those dastardly 'dillos in their right place! So as it is written in the game, the question remains, is it a nah or a yah? I suppose those who are use to these type of games are rolling their eyes and thinking what an absolutely idiot I am for not understanding this game in the first place. The only thing I can say, dont take my word for it and do try the demo.
October 22, 2012
'dillo as in Armadillo, don't make them angry as they solve problems with Dynamite!
'dillos .....as in Armadillos. The evil Constructo Corp has started building on top of the 'dillos peaceful homes. The armadillos are fighting back with dynamite! In the first level of 10 boards the armadillos plan is that the Constructo Corp's gas station, will go KABOOM! Each game board needs to have dynamite buried at each X, plus it needs to be buried by an armadillo of the same color as the X. Each game board has rocks, cactus, ants & X's of various colors (red, blue yellow & green). The arrows on the sides of the game board are where 'dillo's can be placed to roll down the row until they come to an obstacle in their way. The cactus can be cleared with lightning but the rocks can not. Your job is to use the least amt of 'dillos to set the dynamite & collect as many ants as you can as well as using the least amt of lightning "energy" as possible. Filling of the holes is optional. You roll armadillos from alternating sides. The strategy is that you use the cactus and rocks as points to stop the armadillo prior to clearing the cactus, as well as not blocking your route to continue collecting the ants & burying the dynamite from the other side/ direction. As well as not running out of armadillos. The holes can be filled with any colored armadillo if needed & another 'dillo can then roll over the top of them or even stand on their heads if need be. The 3D graphics are more like 2D & cartoon. The options pg includes music & sfx. Game includes 40 levels to be strategically solved using multi colored armadillos bouncing their heads to the strumming music. I could not get the music low enough. The game is being released for both Mac & PC, req 126 MB hard drive &1024 RAM. When I first started the game I did have a configuration box pop up to set the graphics, screen resolution as well as 6 different levels of graphic quality, which did seem rather funny once I saw that we were going to be playing a cartoon of colored armadillos, not some high end game where the graphic settings would actually make a difference in the players gaming exp. Very little instruction is given. I did finally see the 1 page of basic instructions. A couple times there was a box that popped up as a tutorial but quickly disappeared. The head shakes that the 'dillos do after you make a move, makes it look like they are saying you made a bad choice of moves, though several times, I still won so I doubt there is meant to be a message here. Game is good for those who like puzzles/strategy but in small doses, as the music is grating & play becomes boring/repetitive, as you do the same thing over & over just on different boards. I may purchase with a PPC or as a daily deal but it is not a priority for me. Happy gaming with which ever game you decide to play!
October 22, 2012
Want your brain teased
This isn't your average puzzle game. This game actually makes you think. The characters are cute and the graphics are stellar. A definite fun time that will last hours and keep you entertained the whole time. The dillos are adorable! Great game!
October 23, 2012
Cute Logic Puzzler
Never reviewed a game before but after trying it I just felt it didn't deserve such a low rating. I don't play with the sound on so I can't comment on the music but the graphics are cute. The instructions are almost none existent but It was easy enough to work out on the first level. If you like logic problems you will probably like this game as a nice little time passer.
October 23, 2012
Very nice! :)
Superb little game,once you get into it's alot of fun :) And becomes really challenging. Graphics are cute and adorable. Love how the themes change and more and more to the gameplay.If you like puzzle/logic game, you definitely want to try this out :)
October 23, 2012
Challenging Puzzler
'dillos is a fun challenging puzzle game, that increases in difficulty as the game progresses. It might start out a little too easy, but it finishes with a bang and will make you think more than once on how to get a "perfect". The frame rate is good, the sound effects are appropriate, the graphics are good, and overall this is a quality game.
October 31, 2012
need an amusing game to stretch your mind ... this is it!
lovely little game, fun to play and testing to work out as the levels increase. the music can get a little repetitive but the sense of achievement when you get through a level with dillos to spare ... yay hey! give it a go, great fun
October 30, 2012
My type of game
Loved this game, need more like it and Ruin Please!
October 26, 2012
Super cute logic/strategy puzzle game, not as easy as it might appear!
I played the demo, then I bought it with a promo code a couple of days ago. As you go through the levels, it does get quite difficult. Many people have mentioned an apparent lack of instructions. There is a page of instructions, but it is after all, a logic game so if you dont find the instruction page, then the way to play the game is the first puzzle. Basically what you do is work out how to land a dillo on a corresponding colour X, in the least possible moves & collect all the ants. The teleport pads on the moon levels are not random, but work to a gravitational formula, the instruction page does hint at this. Play the level first just to see the mechanics of the pads if they seem confusing. But basically, if you enter a teleport pad from the right side of the board, when it comes out of the corresponding teleport pad, it will reverse its direction and come back toward the right. If you enter it from the left, going up the board, it will come out of the corresponding pad coming down the board back toward the left. Like a gravitational pull, it comes back toward the side your dillo was launched from. Sometimes there are lots of pads, and you need to block one of them so the dillos can roll right over the corresponding pad without being teleported. You do need a measure of logic to solve the puzzles, and strategy if you want to solve them in the minimum amount of moves. It makes you use your brain, its a good puzzler & I would definitely recommend it if you like brain teasers. There are not a huge number of levels though, so I would recommend buying when there's a promotion on :)
November 1, 2012