Dark Parables: The Red Riding Hood Sisters
Play as the fabled detective and defeat the Wolf Queen in Dark Parables: The Red Riding Hood Sisters! Centuries ago, the first Red Riding Hood defeated the wolf and established the Order of Red Riding Hood Sisters. Recently, the nefarious Wolf Queen entrapped the sisters and planned to unleash legions of ravaging wolves onto our world. Assist the Red Riding Hood Sisters in this thrilling Hidden Object Adventure game!
Assist the Red Riding Hood Sisters
Discover the secret Mist Kingdom
For a more in depth experience, check out the Collector's Edition
Game System Requirements:
OS:

Windows XP/Windows Vista/Windows 7/8

CPU:

1.0 GHz

RAM:

512 MB

DirectX:

9.0

Hard Drive:

939 MB
Game Manager System Requirements:
Browser:

Internet Explorer 7 or later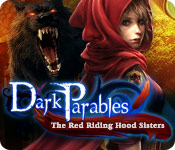 NEW299
The Big Fish Guarantee:
Quality tested and virus free.
No ads, no adware, no spyware.

Reviews at a Glance

Dark Parables: The Red Riding Hood Sisters
0
out of
5 (
0
Reviews
Review
)
Customer Reviews
Dark Parables: The Red Riding Hood Sisters
114
114
Fun and entertaining game.
I have played all of the Dark Parable games and this is my second favorite. It has very nice graphics. The puzzles are not as hard as the other games were. The balance between finding objects for the puzzles was a bit too much. It seemed as though there was to many of those. Some of the acting of the Hood sisters was over done in the end. So I did mute allot of that. The ending was a bit of a disappointment. The rest of the story line was well done, if not a tine bit sad. If you have played all the other games, I would give this one a go. It was a pleasure to play this game to stave off the cold days with.
December 15, 2012
Interesting Twist
I love most of the Dark Parables series. This one have beautiful graphics and the story is good too. It may not be as well twisted as the first Dark Parables but it's still very good. It gives the Red Ridding Hood original story some new meanings. The game is pretty straight forward and I would said better than the Dark Parables of the second series. If you haven't try it and a hidden object fan I would said go for it.
December 13, 2012
Red riding hood revisited
Echoing Stewart new Snow White, here embodied in a full bunch of sexy red cap warriors, the story compels u through a binding curse that displays the eternal war between Good & Evil. Excellent dubbing and compelling plot. Only flaw (for me) the sometimes too repetitive hidden game parentheses. A must try. U won't regret it.
December 1, 2012
Too short for $2.99 special
Extremely short game to pay for $3.00! I downloaded yesterday evening and finished today. Only because i did it late and by that time it was time to go to bed. I would of finished it in 2-3 hours. Not worth downloading. I was hoping for it to be long like Nancy drew.
November 4, 2012
fun but slightly annoying
I played the CE trial when it came out and liked it enough to try the SE and buy it (especially on the Halloween offer). I got quite engrossed in it and enjoyed the game play. The different slant on HOS was more fun than I expected. It was often not clear what to do and where to go next once you'd acquired your object. Repeated clicking on the hint button helped, but I'd rather be able to work things out for myself. Having said that, the game devs almost lost me right at the start. Do they really think the Vosges mountains are that wild and undeveloped? Really, in 21st century Western Europe on the border of France and Germany? Do they really think people still travel by horse and cart there? And if they are going to run with that scenario, they should at least find out how to pronounce "Vosges" before doing the voice-over! It may sound picky but it was almost enough to make me think such a sloppily conceived game wasn't going to be worth playing. That and the ridiculous outfits the so-called warrior maidens had trussed themselves up in - no wonder they needed outside help to do their job! Anyway I realise it's meant to be fantasy and, as stated, I did enjoy playing.
October 28, 2012
Dark Fairy Tale
This game is good, I played the demo and its on my buy list. I like the challenges, the graphics are great and this isn't a boring fairy tale story. Some of the mini games are not interesting but that is a small part that I can put up with or you can skip.
November 9, 2012
Fun Diversion, a Little Quick
I won't go into the details of what the game offers/how it's set up since you've got dozens of reviews like that. The graphics were gorgeous, the voice-overs weren't half bad, and the story line was interesting (although a bit obvious). I just felt that the game was over too fast! Because of that, I'm glad I got this on the Cyber Monday deal. From what I can tell, these Dark Parable games seem to go quickly, but I suppose that kind of makes sense considering they're all a little linked up. Although, I think that's more of a way to make more money off of consumers than anything else - which isn't stupid from a business standpoint. Had the game been longer and a little deeper, I would have given this 5/5 stars. However, I'd still recommend the game 100%!
December 7, 2013
Great SE buy!
I finally decided to give one of the 'Dark Parables' a try after reading so many good reviews, and I wasn't disappointed. First off, the storyline ends properly. New questions are raised at the end, which may be answered in the CE - that's the way to do it. I've said in other reviews a SE story still needs to stand solid on its own, and this one does. Kudos to the developers for doing that. Now the game: I played it over several sittings on the middle difficulty. There are lots of Chapters, but some of them are very short, so that's not really a good barometer of the game length. I'd say it was at least four or five hours long. I certainly didn't feel cheated in that department.. I'm sure you've read about the HOS and how they work. Most of the 'items' could be found by just looking at the picture and clicking on 'what doesn't belong', but there are usually a few you'll need to actually look for. I had to use the hint a couple times, but could usually find them with some effort. The scenes are repeated, and even some of the items you need form each scene. They struck a good balance between Adventure / Hidden Object Scenes / Puzzles. The map. Honestly, it looks exactly like the maps generated by ZMud when you go through those text games (precursors to modern MMO's). Pretty much useless. If ever a game needed a transporting map, this was it. You run back and forth. A LOT. Then you run back and forth some more. By the end of the game I had memorized and order to go through and check every room. Difficulty: There was at least one 'key' type item that I never found - not sure if that is something for the CE or I just didn't find it. If it was there, it was 'optional' as the game and story were fine without it. There are 'parable' pieces to find. Each collection of four tells a parable when you collect them all - nice touch and a way to bring some 'lore' into the game. You do have the 'cursed objects' in the SE. I think i got 12 out of 20. They make your hint bar recharge faster, which doesn't do a whole lot, but its something. I'm glad they didn't go with the 'one morphing object in each room' pattern, as that actually makes them easier to find (you know one is there somewhere, you just have to click on the right spot). I didn't count the rooms but there are a lot more than 20. The minigames were new, or at least new variations on old themes. I'm not going to say they were difficult - they could have been, but the devs decided to make persistence pay off rather than being forced to solve the challenge: I'm thinking especially of the 'wolf' game near the end. Dinging a star for that. The sound and graphics were great. The style grew on me as I was playing. The cut scenes were well done, with a few lip synching issues that most people probably won't notice. Bottom line: it's a solid HOPA with a good story (one of the characters from an earlier game in the series even makes a 'cameo') that plays and finishes well as a Standard Edition..
November 28, 2013
Excellent in all ways
Blue Tea's Dark Parable series has been excellently creepy and I enjoyed playing DP: The Red Riding Hood Sisters. The traditional fairy tale was creatively interpreted, the visuals were often stunning, and the plot engaging. BUT I do have one criticism: In the end there were story line threads which didn't tie into the finish. Could this be because I played the standard edition and those threads are wrapped up in the CE bonus game? Or it is possible those threads are linked to other games in the Dark Parable series? After finishing, I lay awake for hours thinking about the game, so it obviously got under my skin. I've decided I need to play the game over and pay closer attention this time.
November 18, 2013
Pretty good game
Just finished playing this game, played on Casual and probably spent about 5 hours in all playing total. The graphics and scenes are beautifully done, the storyline is interesting and characters likable. As I played on Casual, if I ever needed a nudge in the right direction, it was there if I needed it. I found the hints were good in that they didn't give away too much unless you wanted them to. Also, not too much drudging back and forth in this game or the usual assemble a makeshift torch, etc. that you often see in IHOGs. Nice game, good purchase for money well spent.
October 13, 2013