Dark Parables: The Red Riding Hood Sisters
Play as the fabled detective and defeat the Wolf Queen in Dark Parables: The Red Riding Hood Sisters! Centuries ago, the first Red Riding Hood defeated the wolf and established the Order of Red Riding Hood Sisters. Recently, the nefarious Wolf Queen entrapped the sisters and planned to unleash legions of ravaging wolves onto our world. Assist the Red Riding Hood Sisters in this thrilling Hidden Object Adventure game!
Assist the Red Riding Hood Sisters
Discover the secret Mist Kingdom
For a more in depth experience, check out the Collector's Edition
Game System Requirements:
OS:

Windows XP/Windows Vista/Windows 7/8

CPU:

1.0 GHz

RAM:

512 MB

DirectX:

9.0

Hard Drive:

939 MB
Game Manager System Requirements:
Browser:

Internet Explorer 7 or later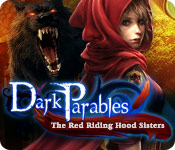 NEW299
The Big Fish Guarantee:
Quality tested and virus free.
No ads, no adware, no spyware.

Reviews at a Glance

Dark Parables: The Red Riding Hood Sisters
0
out of
5 (
0
Reviews
Review
)
Customer Reviews
Dark Parables: The Red Riding Hood Sisters
120
120
Too short
I love the Dark Parables series but this one seemed much too short ( 21/2 hours on a wet afternoon).
October 28, 2012
Love Blue Tea Games
Blue Tea Games are one of my favorite developers because they always have beautiful graphics, interesting and different plot lines, fragmented objects to bring a little spice to the game and morphing objects that you get in the standard editions as well. There is also widescreen in all their games, they release both to mac and pc at the same time and have unique mini games. This game is really spectacular in the graphics. Everything is beautiful and magically laid out, easy on the eye in the hidden object scenes and the rest of the fantasy world dark parable games put you in really wow'ed me. I wasn't able to locate all the morphing objects, I only got 12 out of 20. No matter how many times I go back and forth to locations, I can never seem to find all of them. Compared to their last offering, The snow queen, this game is an out of the park home run as the snow queen bored me to tears and made me question where this developer was going (they have made it up to me over the year) but compared to dark parables: the exiled prince, this game comes up a little short. The exiled prince was one of the most magical, special games i've ever played. This game is good and is long (10 chapters, I believe?) but is still not in my opinion as good as the previous offering. But blue tea games continues to grow and grow as a company so it gives me hope that in the next chapter and with their other games, more thought will go into each one and make me see them as a 5 star game... I also enjoyed how the SE has an actual ending! No need to purchase the CE here for an ending like some games and it gave a hint to what the next dark parables game is about and I for one am thrilled!! Let it be said that although their music repeats in all the dark parables games, its welcome to my ears. Its beautiful and crafted to fit these games and for some reason I never tire of it...maybe its because they only release one of these games a year and have other music in their other offering unlike some games but I love the relaxing feel of blue tea games. xx
January 7, 2013
Great graphics, story line, boring HOSs
I loved this game and would give it a 5 except for the 30 or so HOS that appeared in every other scene and were so similar I got annoyed when I saw those sparkling lights appear as in "Oh no, not another one". All the items in the HOS are mostly constructed from metal and gems, so each item ends up looking like an elaborate piece of jewelry, lovely to look at when completed. All you have to do is scan the HOS clicking on anything that looks like a piece of metal: pipe, curly que, fan, or a gem, and boing!, you are done with it. A few times I was stuck on the last piece and used the HINT just to get on with it. I usually like HOS and searching for hidden pieces but this just got boring; I think there are about 30 HOS, being medallions, shields, vases, rabbit, angel, etc, .If you enjoy a HOS every other screen this game is for you. I loved the graphics and the mystical fairy tale story line with the twists and turns, which involves a group of hot young red riding hood sisters dressed in black leather and red capes and an equally sexy evil Wolve queen, exotically gorgeous except for those grotesque black wolf/hands/paws with long sharp claws. Ouch. The Huntsman, who is helping you along the way to find and save the RRH girls, is also a hunky guy with tousled brown hair and a Robin Hood appearance, There are many scenes where the characters talk to you at key moments, which I liked a lot. Very imaginative areas to explore, each different and with fun puzzles that result in colorful animation:e.g., waterfalls parting to reveal secret areas, fountains flowing from the ceiling, never a dull moment. I couldn't wait to get back to the game and it is easy to remember the magical forest paths, the bridge across the lake to the Misty kingdom, the swirling portals to other dimensions, etc.etc. There is a map that is super helpful and guide when u get stuck. The puzzles were all very original, esp the ones involving the wolves being killed in some quite odd ways. Wolf lovers beware, these misty wolves get it but no blood is involved as they dissolve into black mist, if that makes you feel better. If the HOS were only more interesting, I would have loved every second of this game.
January 2, 2013
Enjoyment and wanting more
I found this game intriguing and a load of fun. I am glad i bought the game and am looking forward to trying the rest of the series before the next one comes out. The graphics were amazing and I loved them! I am new to the series and have fallen in love with how they intertwine with each other. Please keep it going! My advice for the day would be not to put the game pieces all together in the hidden object areas. Maybe put a main piece there to conclude the item being made. Or to let the gamer know they have something new and to find the rest of that item somewhere else. I will be looking forward to the next game with anticipation. jb
November 10, 2012
Positive overall
Nice animation. Interesting twist on HOS since you're looking for shapes instead of a list of items. That said, items are not always color faithful and rarely correctly oriented. The map is OK but not as helpful as it could be. Hint system is good. All in all, I enjoyed the game and it's an easy recommendation for me.
December 2, 2012
Fun and entertaining game.
I have played all of the Dark Parable games and this is my second favorite. It has very nice graphics. The puzzles are not as hard as the other games were. The balance between finding objects for the puzzles was a bit too much. It seemed as though there was to many of those. Some of the acting of the Hood sisters was over done in the end. So I did mute allot of that. The ending was a bit of a disappointment. The rest of the story line was well done, if not a tine bit sad. If you have played all the other games, I would give this one a go. It was a pleasure to play this game to stave off the cold days with.
December 15, 2012
Interesting Twist
I love most of the Dark Parables series. This one have beautiful graphics and the story is good too. It may not be as well twisted as the first Dark Parables but it's still very good. It gives the Red Ridding Hood original story some new meanings. The game is pretty straight forward and I would said better than the Dark Parables of the second series. If you haven't try it and a hidden object fan I would said go for it.
December 13, 2012
Red riding hood revisited
Echoing Stewart new Snow White, here embodied in a full bunch of sexy red cap warriors, the story compels u through a binding curse that displays the eternal war between Good & Evil. Excellent dubbing and compelling plot. Only flaw (for me) the sometimes too repetitive hidden game parentheses. A must try. U won't regret it.
December 1, 2012
Too short for $2.99 special
Extremely short game to pay for $3.00! I downloaded yesterday evening and finished today. Only because i did it late and by that time it was time to go to bed. I would of finished it in 2-3 hours. Not worth downloading. I was hoping for it to be long like Nancy drew.
November 4, 2012
fun but slightly annoying
I played the CE trial when it came out and liked it enough to try the SE and buy it (especially on the Halloween offer). I got quite engrossed in it and enjoyed the game play. The different slant on HOS was more fun than I expected. It was often not clear what to do and where to go next once you'd acquired your object. Repeated clicking on the hint button helped, but I'd rather be able to work things out for myself. Having said that, the game devs almost lost me right at the start. Do they really think the Vosges mountains are that wild and undeveloped? Really, in 21st century Western Europe on the border of France and Germany? Do they really think people still travel by horse and cart there? And if they are going to run with that scenario, they should at least find out how to pronounce "Vosges" before doing the voice-over! It may sound picky but it was almost enough to make me think such a sloppily conceived game wasn't going to be worth playing. That and the ridiculous outfits the so-called warrior maidens had trussed themselves up in - no wonder they needed outside help to do their job! Anyway I realise it's meant to be fantasy and, as stated, I did enjoy playing.
October 28, 2012
The Apple logo is a trademark of Apple Computer, Inc.