The Legend of Sleepy Hollow: Jar of Marbles III - Free to Play
Travel through the spooky town of Sleepy Hollow and unravel its legend! Empty out the Jar of Marbles as quickly as you can in this Match 3 game to help guide you through the town. Make sure you're always planning two steps ahead!


Play this game for free and purchase additional gameplay, virtual items, powerups, or other fun extras within the game to enhance your experience.

Unravel the mysterious legend behind Sleepy Hollow
Exciting gameplay
Earn and use extraordinary new power-ups
Game System Requirements:
OS:

Windows XP/Windows Vista/Windows 7

CPU:

1.4 GHz

RAM:

128 MB

DirectX:

9.0

Hard Drive:

134 MB
Game Manager System Requirements:
Browser:

Internet Explorer 7 or later
Please note that items you purchase in Facebook, Mac, or mobile versions of this game will not be available in the PC version.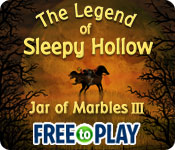 Top In-Game Purchases
1.

Unlimited Coffee

$ 3.99

2.

10,000 Coins

$ 2.99

3.

25,000 Coins

$ 4.99

4.

15,000 Coins

$ 3.99

5.

1,000 Coins

$ 0.99
Game Club members
SAVE 30% on
in-game items.
The Big Fish Guarantee:
Quality tested and virus free.
No ads, no adware, no spyware.

Reviews at a Glance

The Legend of Sleepy Hollow: Jar of Marbles III - Free to Play
0
out of
5 (
0
Reviews
Review
)
Customer Reviews
The Legend of Sleepy Hollow: Jar of Marbles III - Free to Play
29
29
WOW.....M3 + Strategy game in one
This game is not just M3 it requires a bit of strategy. You are given 3 objectives in each level (i.e. leave one marble at the end of the level or charge power up but dont use it) If you accomplish all the objectives then you get more points/ coins. The further you go the objectives get bit more difficult yet achievable -hence the need for strategy. The BONUS is: For your hard work you are awarded trophies approx 50+ to achieve. It takes about 10mins then the game slowly grows on you & it starts to get interesting. Fishies you actually need to read the short dialogue to get the straightforward instructions (i.e. the laser -if you read the dialogue it tells you to "hold" the left button so you literally "press down and hold the left button" and voila -after three or so seconds the laser appears which you use as a pointer (like in Peggles) TIP: be mindful of the boundaries. If a ball falls outside the "jar" or bucket you loose 10 points. Not sure why other fishies experience 5-6 mins waiting time in between levels. I went from one level to the next without any hitch. It's a refreshing game for when my eyes need a break from the HO games. This game should be given more credit. Give it a go and hope you enjoy it. Thanks BigFish for giving us this nice freebie!
November 2, 2012
Nice game!
I like the other Jar of Marbles games but this is a bit better. I think the challenges makes the whole thing a bit more fun.
November 8, 2012
Fun game
addictive. Was very enjoyable game.
October 31, 2012
Quite enjoyable
I am enjoying this game. I'm finding that the number of levels that can be played before the storyteller "is tired & needs a break" is just right. I can usually play for 30-45 minutes, then am prompted to either buy coffee to keep the play going, or take a break. Since I don't want to spend all day here without break anyway, it's just fine ... I go do the dishes or laundry or whatever, and come back and I can play more levels. I love too that there's a time bonus - but no time pressure, you can play a level as long as you need. And you only need the 'coffee' to start a level - you'll never be kicked out partway through because of that. Then for those who do want to play hours on end, they can buy coffee ... using in-game coins, or $4 cash for unlimited (still cheaper than buying a regular-price game, even for fishies). Great work, Big Fish!!
July 14, 2013
More areas to explore
I gave it a four . More areas need to open so the game can continue. The story line is excellent. I didn't have any problems with purchasing the coffee.
April 26, 2013
Kinda fun
For a match 3 game, the game's not too bad but after EVERY round, you either have to wait 5,6 or 10 minutes before you can play the next round OR SPEND YOUR MONEY TO BUY COFFEE THAT YOU DON'T WANT!!!!!!!!
October 31, 2012
OK but not really free
NIce, relaxing match game. Cute story line but in order to keep playing you have to pay for coffee. Not exactly what I expected from a free to play game. Kind of left me a little bit perturbed. If you dont mind paying, this may be an OK game.
November 1, 2012
Jar for free
For a freebie I think its fine, what can you get in life for free anyway. Thankyou BigFish. I shall play and enjoy. For a freebie who can complain?
November 1, 2012
Be prepared to pay to play
This is basically a drop the ball to make a match game, with quite lovely graphics. However, unlike Big Fish's previous Free to Play game Toy Defense, which I've played for many hours for free, if you want to play The Legend of Sleepy Hollow, you'd better be prepared to pony up some cash almost as soon as you start playing. You quickly use up energy in the form of coffee as you play. Although theoretically you can buy more with the coins you win while playing, I found it impossible to earn coins quickly enough to buy even one pot of coffee. The effort wasn't helped any by the fact that a pot of coffee kept getting more expensive. At first, a pot cost 1600 coins, but I earned under a hundred coins per level. Then the cost of a pot started increasing by two or three hundred coins a level. The game skirts under the Free to Play label by giving you a little bit of coffee if you stop playing for ten minutes, but you only get enough to play one level. I really don't consider twiddling my thumbs for ten minutes for every minute I play to be legitimate play. My other main beef with this game is the almost complete lack of instructions. You're given various objectives, but no explanation to go along with them. Fire the laser five times? What laser? There's no buttom marked laser, there's nothing on the screen with a picture of a laser. You can skip an objective and hope to get one that makes more sense, but it'll cost you game coins--the same coins you're trying to save up to buy coffee so you don't have to lay out some real cash. If you liked the game and knew for sure that all you'd have to pay was four bucks for an unlimited pot of coffee, it might be worth it. That seems pretty unlikely though, and I suspect this will turn out to be a very pricy free game.
October 31, 2012
The Legend of Sleepy Hollow: Jar of Marbles III - Free to Play Review
This game is not great, recommend not to downloading it, there is really nothing good about this game. End result not a great game at all.
October 31, 2012