The Legend of Sleepy Hollow: Jar of Marbles III - Free to Play
Travel through the spooky town of Sleepy Hollow and unravel its legend! Empty out the Jar of Marbles as quickly as you can in this Match 3 game to help guide you through the town. Make sure you're always planning two steps ahead!


Play this game for free and purchase additional gameplay, virtual items, powerups, or other fun extras within the game to enhance your experience.

Unravel the mysterious legend behind Sleepy Hollow
Exciting gameplay
Earn and use extraordinary new power-ups
Game System Requirements:
OS:

Windows XP/Windows Vista/Windows 7

CPU:

1.4 GHz

RAM:

128 MB

DirectX:

9.0

Hard Drive:

134 MB
Game Manager System Requirements:
Browser:

Internet Explorer 7 or later
Please note that items you purchase in Facebook, Mac, or mobile versions of this game will not be available in the PC version.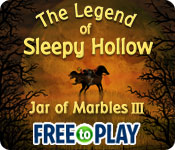 Top In-Game Purchases
1.

Unlimited Coffee

$ 3.99

2.

10,000 Coins

$ 2.99

3.

25,000 Coins

$ 4.99

4.

15,000 Coins

$ 3.99

5.

1,000 Coins

$ 0.99
Game Club members
SAVE 30% on
in-game items.
The Big Fish Guarantee:
Quality tested and virus free.
No ads, no adware, no spyware.

Reviews at a Glance

The Legend of Sleepy Hollow: Jar of Marbles III - Free to Play
0
out of
5 (
0
Reviews
Review
)
Customer Reviews
The Legend of Sleepy Hollow: Jar of Marbles III - Free to Play
29
29
You Get What You Pay For. . .
I appreciate that it was free. I think I would have been very disappointed had I paid for this? And, what's with the "purchasing" coffee for the Old Man? Out of curiosity, I clicked on the "buy him unlimited coffee for $3.99." It actually took me to my credit card information to purchase coffee for $3.99???? Was I acutally buying coffee or this game? I didn't wait around long enough to find out. I don't think I will keep this game in my arsenal of others. It's irritating to have the "purchase coffee" box keep coming up.
November 2, 2012
The Legend of Sleepy Hollow: Jar of Marbles III - Free to Play
I can't lie....I haven't played this for more than a few levels. I am a dedicated Match 3 fan but this just doesn't float my boat. It seems a cross between Match 3 and Marble games and ends up not being either and, I am sorry to say, I found it boring....a word I don't usually have in my volcabulary. The game has different challenges but these don't seem particularly challenging and I think these could be better displayed during gameplay rather than them being hidden during gameplay. Overall, not for me.
October 31, 2012
I can see why its Free
Its Free because it stinks, there's nothing interesting about this game, period.
November 11, 2012
A different kind of Match 3
I played this game and I did not like it. All you do is try to match 3 marbles in a basket. I do like what felix is doing by giving us a game to play for free. I do not recommend this game.
October 31, 2012
dislike
it was boring, one and the same :/
October 31, 2012
Eventually only couple levels then wait a day
If you're not willing to eventually just play 2 levels before you have to wait a long time to be able to play again - DO NOT even try this game. You'll get frustrated. Yes, the game IS free, all the way through. Playing runs on your coffee level. Coffee runs out - you either wait a while, buy coffee with coins earned in the game (expensive#, or you pay $3.99 of REAL money to have unlimited coffee. For the laser, don't recall if in settings, but there IS an option to say yes or no for holding down your mouse for a second or two and getting a laser #shows where the marble will land#. The quests are pretty useless, boring, and go away after you click on them at the beginning of the level. They are cumulative thru the game NOT for each level. #like unfreeze 20 marbles - can take 1 level or 10, doesn't matter#. Game NOT clear in that you can earn up to 3 stars each level. Once all the way thru the first time, unless you keep playing, NO idea you're not done and can get more stars each level. At least once #think twice# I got stuck and had to Ctrl-Alt-Del out of the game #and REDO the level). The pot had a FLAT bottom, only the 3 'star' marbles to touch and end the level. The couldn't roll to each other because it was flat. And because only the stars left, I could not drop another marble to smack them to each other. Even in the 2-star levels, got to where playing TWO levels made me run out of coffee - so I'd play those and just come back the next day. Annoying. AND, after some beginning levels, coffee NEVER REFILLS more than half or a little more, no matter HOW many hours or days you wait before playing again. REALL DO NOT recommend this game for long-term play. Which is too bad because it COULD have been really fun.
June 14, 2014
Didn't like it
Sorry didn't like this game. It wasn't any fun.
November 7, 2012
most terrible game I ever have played
A W F U L TERRIBLE EVEN FOR 2 YEARS OLD
October 31, 2012
Free??? Legend of Sleepy Hollow Jar of Marbles III
I started playing this game thinking it would be a fun match-3 game. Although the matching is easy enough, I am already up to 30+ minute waits between steps. It took very little game play to reach this point and imho, not worth it. Every step, I earn coins. But they are not accumlative. So each time I can not earn enough to use, but I lose them when I take the next step. I hate 'no win' situations :( I am uninstalling this game and will not be downloading any more that claim to be 'free to play' since they are obviously more expensive than just buying a game. A 'pot of coffee' is $2.99 and only lasts a short time. I would rather pay the daily deal or weekly deal price for any other match-3 game than to become harnessed to a game that appears you can never get ahead on. But, to each his own :)
February 14, 2013