Sable Maze: Sullivan River
Exclusive
Every night you have the same nightmare. You see children wandering through a maze, crying for help. These sleepless nights are ruining your waking life. To stop them, you must return to Sullivan River Summer Camp to uncover what happened during that long-forgotten summer. Beware though, this camp isn't all that it seems. With every step, you can feel eyes watching you. Reveal the secret of the ancient labyrinth in this eerie Hidden Object Puzzle Adventure game.
Game System Requirements:
OS:

Windows XP/Windows Vista/Windows 7

CPU:

2.5 GHz

RAM:

1024 MB

DirectX:

9.0

Hard Drive:

653 MB
Game Manager System Requirements:
Browser:

Internet Explorer 7 or later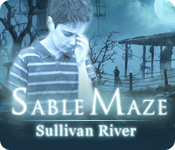 NEW299
The Big Fish Guarantee:
Quality tested and virus free.
No ads, no adware, no spyware.

Reviews at a Glance

Sable Maze: Sullivan River
0
out of
5 (
0
Reviews
Review
)
Customer Reviews
Sable Maze: Sullivan River
45
45
Really fun
rosekaufmann. I look for your reviews because I seem to really enjoy the ones you rate highly. I played the demo and am now downloading this game.
January 6, 2013
Fun, spooky
This is a fun game with great scenes and a spooky storyline. It would suit those that enjoy a beginner-intermediate level of challenge - none of the games are particularly difficult, but some take a while to complete.
February 22, 2013
CHALLENGING HIDDEN OBJECT GAME
the graphics were very clear to see and a bit challenging
October 29, 2012
Sbl Mz: Sullivan River My favorite still in this series
* BASED ON FULL GAME + BONUS GAMEPLAY I am leaving my review of the CE game on the SE page because if you ever have another credit this is a good place to put it. The BONUS X-PLAY ON THIS GAME IS WORTH BUYING THE CE EDITION! I am reviewing this game after 3 editions of the title have come out. This is by far the best. Graphics: Are clear, perfect even on a 22" monitor. The actual gameplay consist gorgeous (a little dark..) locations. The bonus play gets even prettier. Music: Super annoying at first/ a kids voice singing about evil trees. I shut it off. Music does improve as you go on. Storyline: I liked it a lot, you wanted to know what happens next. Its about a young boy dreaming about a summer camp he once attended where other children ostracized him to the degree he has nightmares into adulthood which cause him to seek a counselor. All characters based and look realistic....so its not all that acceptable when trees come to life in the dream state.... It might have worked in another game but this one was too dark for "cutsie" Because some of this story takes place in dream state, some of the gameplay is ridiculous and unworthy of the totality of the game...meaning there are trees that come to life and that was just stupid when most of the game was "reality based". Bonus CE xplay: This game is worthy of purchasing the CE on the Chapter alone. Rarely in CE do we see ALL new areas to go into and these areas actually trumped the actual game. Whoever was assigned this task....bravo. It would have been nice to have a SCREENSAVER, but there were none. All other CE content typical. XPLY, WTG, Wallpapers, Concept Art (Developers....I do not know of one Bigfisher that is lured into buying CE by concept art OR music. I personally play these games all day, due to illness, and I actually WILL buy a CE for Screensavers that save to computer AFTER the game is removed. It reminds us how much we liked the game (every time our screen is in sleep) and to buy the next one!! I really was so impressed by this game I wanted to come back and review it. So far I like it better then its counterparts.... Crossing my fingers the 4th will be the best.
November 14, 2014
Wonderful game... but very, very linear
Everything about this game is very well conceived and constructed... the graphics and the sound are irreproachable... and the storyline keeps you going as if you were reading a thrilling fairytale... Gameplay itself has all it needs to suit the famer: there is a map with teleportation - but I really didn't need it, because there is no real backtracking to do; the hint button refills quickly and keeps you on track by pointing in the right direction, whenever you need it; the notebook is useful to give you extra information about the documents that you find and events which happen along the way. The HOS have interactive elements in them and they are easy to complete. Puzzles are interesting, with some new ideas and variations on well-known ones... a few of them I found tricky, but most of them are quite easy to finish... one was even childhishly easy. And this brings me to the one drawback of the entire game: it is too easy... gameplay is very, very linear and you always find just what you need to go on. Frankly speaking, I like my games to have more of a challenge... what's the point in racing through a wonderful game? It's not as if you were reading a gripping whodunnit which makes you want to reach the last page to find out who the murderer is, is it? So, by making the puzzles and the things to do more of a challenge, the gamer would have a chance of spending more time exploring this beautifully constructed game. Anyway, I enjoyed spending this cold sunday with this game, but it took me barely 5 hours to finish it off and I regret having finished it so quickly.
October 28, 2012
Good Mystery
Game is a combination of Hidden Object and Adventure. Storyline: Six children at summer camp have disappeared while playing at an archological dig of a Celtic Labyrinth. As an adult, you are still traumatized by the event. Due to horrific nightmares of an attacking tree, you seek the help of a psychologist who recomends that you return to the Sullivan River Summer Camp, the scene of the crime, to help you remember what happened. Trauma Warning: If you are startled by ghosts popping up, then this might not be the game for you. Options: 3 levels of play, Options for sound, music, voiceover, custom cursor, and full screen. Music, Sound and Graphics: Music is atmospheric, Sound, graphics and voiceovers are excellent - top notch quality. Hidden Objects and Puzzles: Butterflies indicate the location of hidden object scenes. They have made them interactive by having you find one item in the scene to use on another. In other words, find the key in order to use it to find the open padlock. Items are crisp and large for the most part. Puzzles are evenly balanced with the Hidden Object scenes. Some of them are new, and the "typical" puzzles have a nice new twist to them. Overall they are very well done. New Item: They have added a new item of a locked inventory item. You might find a fishing pole, but it remains locked and inaccessible until you find the reel. Fun! Tape Player: There are reels of video that you can find throughout the game that give you (in video format) the backstory of the game. No reading pages and pages of the journal. Navigation, Journal and Hints: Journal is concise and helpful. There is a map that is used to navigate only, but does not show what areas have an active scene. Hint button can also be used to tell you where to go with no penalty, but if it indicates a task, will have to recharge - 30 - 60 seconds depending on level of play. I purchased the Collector's Edition of the game and played it all the way through. Well worth my credits.
October 28, 2012
Spooky abandoned summer camp just in time for halloween!
I forgot all about this one after I played the CE trial version. Interesting unique story, I'm intriged to see how it ends. Haunted camp, walking trees, looks like it will be an adventure. I'll be buying this during the sale this weekend.
October 28, 2012
Sable Maze has pretty much everything I look for in a game
This was I think about 6 hours gameplay so good value and beautiful graphics, the trees and the stone maze, the delapidated buildings, the dryads all extremely well done. Several ghostly shocks and just the right balance of HO and puzzles with some creative puzzle solutions needed too - like using a lobster to cut through branches! I am an older player and thoroughly enjoyed my down time playing this game. Thank you.
November 24, 2012
Fun Game
I am not completely finished with this game.. What I gather is there is a tree (Driad) that makes wishes come true if one is pure of heart or you get turned into a Driad.. I am still searching for the missing children. Story line is great and keeps you continuing to want to solve the mystery. Some of the children had taunted and made fun of another child. So, are they pure of heart? Pros: Sufficiently Eerie - Trees coming to life (love that) Fun and adventurist Great Graphics a little blurry when it comes to the animated parts (which helps keep the file size down). Cool areas, especially the tree houses. Great story line I gave this game 4 stars instead of 5 because: Cons: Hidden Object areas... I get tired of sitting there and finding objects that I don't need to just end up with the one object that i do need. What I really hate is having to go back to the same Hidden object area and researching it and you will be doing this often. Still the game is definitely worth buying.
November 1, 2012
i didn't really like this game
it is just a personal thing, i believe. hints/skips charge pretty fast and the hints help to tell you where to go. there is a map and diary. no sound for me. graphics were good. i played on casual. i just didn't like it for some reason, but i played it to the end. don't let my review put you off it. i am sure there are many others that will like it.
January 24, 2013
The Apple logo is a trademark of Apple Computer, Inc.