Abyss: The Wraiths of Eden
Find your missing fiancé in the deepest parts of the ocean in Abyss: The Wraiths of Eden! Discover and investigate a forgotten underwater city that hides many spine-chilling secrets and supernatural forces which still lurk in every corner of this mysterious world. Face an ancient evil that is hiding in the deepest chambers of the once idyllic city of Eden. Hold your breath and dive into this breathtaking underwater Hidden Object adventure!
Scary and thrilling story
Beautiful, hand-drawn graphics
Original and inventive mini-games
Game System Requirements:
OS:

Windows XP/Windows Vista/Windows 7

CPU:

2.0 GHz

RAM:

1024 MB

DirectX:

9.0

Hard Drive:

1343 MB
Game Manager System Requirements:
Browser:

Internet Explorer 7 or later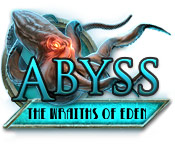 NEW299
The Big Fish Guarantee:
Quality tested and virus free.
No ads, no adware, no spyware.

Reviews at a Glance

Abyss: The Wraiths of Eden
0
out of
5 (
0
Reviews
Review
)
Customer Reviews
Abyss: The Wraiths of Eden
145
145
Did I Play The Same Game As Everyone Else?
Whoa - I almost bought this game just on the reviews. Seeing that it was a bargain at $2.99 (when you purchase the new Nightmares of the Deep: The Siren's Call CE), I thought what the heck, 5 Stars? I should buy it! But, I've been burned before. Played the demo.....painful. Granted, the graphics were beautiful and the game seemed long. But, the puzzles were just too easy and the gameplay slow. Sorry, no buy this time.
July 25, 2013
fairly average hidden object game
The game is pretty much like most other hidden object games - not particulary great, not really bad either. The hidden object puzzles can all be skipped by playing a very simple "domino game". The voice acting is pretty low standard with lots of over-acting and poor delivery. Some aspects get rather annoying, fx: - an elevator, with only one button, so if f.i. you go down a level, and the want to go back up again, you have to go all the way to the bottom first, and then stop at every level on the way back up. - Several object cannot be picked up, even though you are going to need them later, until you find something else, the should be used in conjunction with - again meaning, you have to revisit rooms and locations more than should be necessary. In the end - your enjoyment of this game is dependent on your ability to ignore these annoyances. I wasn't able to do so, and found myself longing for the ending (which incidentally proved to be amazingly anti-climactic!)
December 20, 2012
I really don't get the hype
After I played the trial I really don't understand the hype over this game. There's absolutely nothing that hasn't been there before. From the usual person that goes missing in some mysterious environment up to some guy in a black cloak with red eyes. Nothing is new. The graphics are nice, I give this much and instead of doing Hidden Object Scene you can choose to play a game instead, but even that has been done before. The puzzles are far too easy for my liking, absolutely zero challenge in solving them.
January 26, 2013
There were some things that were different about this game....
which I liked, such as the option to not have to do hidden object scenes. Whenever you came across a H0 scene, you could choose whether you wanted to look for objects or play a game of dominoes. Since I do not enjoy doing H0 scenes, and prefer the puzzles and adventure aspects of games like this, having the choice to play dominoes instead of doing a H0 scene was a really nice option. I just wish they would have varied it up more since after a while I got sick of playing dominoes. This game wasn't completely overrun with H0 scenes, they were somewhat spread out (except for the bonus game, which had a lot more of them closer together), but I would have liked if there had been a choice of a few different games to play, instead of dominoes being the only option. I know I am being kind of nitpicky, and despite the fact that I got sick of playing dominoes, I was still grateful to have a choice when it came to what I wanted to do, and wish other Devs would give you a choice between doing an H0 scene or playing some other kind of game. Phantasmat is the only other game I can think of that does that (it gives you a choice between doing an H0 scene or playing Match 3) and I appreciated that choice when playing that game as well. I know that I am not the only person who plays casual games that loves the puzzle and adventure aspects of games like this, but isn't so crazy about doing H0 scenes, so I think other people beside me would appreciate if more games gave a choice. (I also bought Dark Arcana: The Carnival, which is by the same Dev that made Abyss: The Wraiths of Eden, since that game also gives you a choice between doing an H0 scene or playing a matching game instead, and I appreciate the Dev doing that in more than one game). I bought this game because it allowed me to play dominoes instead of doing H0s, and I also bought it because the story sucked me in and seemed very different from your average HOG. It kind of reminded me of the shows by J.J. Abrams that I watch such as Lost and Fringe (The Legates reminded me of the Observers from Fringe, and the people who come to live in Eden reminded me of the Dharma Initiative on Lost). Since I love those shows, it was cool to find a game that had Sci-Fi/Fantasy elements like that, and although the story started out very interesting, I felt as if it kind of fell apart as the game wore on. From about midway through to the end, it felt to me like all I was doing was running around and looking for inventory items that I needed, and that the story had taken a backseat to that. I lost interest in the game from then on, and kind of had to force myself to finish it. I played the bonus game as well, and that really seemed like something that was slapped together at the last minute since it was mostly H0 scenes. This wasn't a bad game at all, and I am glad I tried it, I just wish the story had remained as gripping as it was at the beginning throughout the game. If it had, I think I would have liked the game more.
November 17, 2012
Standard HOG Fare
I'm surprised this game is rated so highly. It is a pretty standard HOG. The Good: - Art style is nice - Nice mixture of mini games and HOGs - Cut scenes are decent The Bad: - The hidden object scenes are terribly easy, to the point of being pointless. This is the biggest strike against this game. It is way too easy. - The mini-games are also easy, but not as bad as the hidden object scenes. - The constant sound of water dripping is maddening and you can't turn it off because then you have no audio during the cut scenes. - Bonus content is mediocre. Overall I say give this one a pass.
March 21, 2013
creepy and evil, if you're into that sort of thing
I can't understand why games with such great graphics and puzzles and HO scenes need so badly to have such an evil storyline. And dead bodies popping out at every turn? It was a little overkill (literally). If you're a fan of the creepy games, this is for you. Everything about it was great except for the unnecessary scare factor.
April 2, 2013
be prepared to get stuck
hog's are not too difficult and graphics are great. however be prepared to get stuck and no help - NO WALKTHROUGH!!!
November 4, 2012
Nothing special about the story or the game play
I enjoy all different kinds of HO games but this one didn't really hold my attention. I just played it for the free hour and only kept playing because I knew it would be over soon. To be fair I am not a fan of HO games where you have to backtrack through the same rooms over and over and over again (like this game) - I like the game to move forward for the most part, it keeps it interesting.
March 11, 2013
Hintbutton Overload Usage
I was underwhelmed by this game. Granted, the graphics are stunningly beautiful and the story was fun. But that's not enough for me. I was constantly confused by the back and forthing. The elevator was maddening, never could remember which floor to get off on and I was always wrong. I had to keep using hints to figure out where to go next. Even the map wasn't helpful because it was hard to havigate the different locations with that infernal elevator. Normally, with these games I have a sense of direction and can figure out how to return to an earlier location with ease. But this game was way too confusing for me. A first! There are also a couple of instances where I finished a task in one locale, had to return back to the top of Eden only to find out I had to revisit the same locale again! I could have knocked out two birds with one stone but the gamers don't let you do that. All in all, a beautifully artistic pretty game but not as much fun as others by this developer. I wish I'd known it wasn't as good as I hoped and I wouldn't have purchased it.
September 3, 2013
Excruciating
Don't often leave reviews but this game was an absolute chore to complete. The map was worse than useless, the tasks made little sense and the hidden object scenes were awful. I have never quit a game before, and I have played well over 100, but this one was excrutiating. Even the cursor did not work well-the objects never "stuck" to it the first time.
November 8, 2012
The Apple logo is a trademark of Apple Computer, Inc.