Twilight City: Love as a Cure
In Twilight City: Love as a Cure, you're a young vampire passionately in love with a human. However, the curse of being immortal comes at a high price. Your burning desire for blood can destroy your love. It's up to you to search for a cure in the mysterious city of Skylight. Overcome all obstacles and become human again!
Unique gameplay
Immersive atmosphere
Remove the vampire curse!
Game System Requirements:
OS:

Windows XP/Windows Vista/Windows 7/8

CPU:

1.0 GHz

RAM:

512 MB

DirectX:

9.0

Hard Drive:

209 MB
Game Manager System Requirements:
Browser:

Internet Explorer 7 or later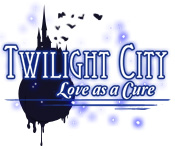 NEW299
The Big Fish Guarantee:
Quality tested and virus free.
No ads, no adware, no spyware.

Reviews at a Glance

Twilight City: Love as a Cure
0
out of
5 (
0
Reviews
Review
)
Customer Reviews
Twilight City: Love as a Cure
34
34
Great little vampire-themed life sim
What a delightful soft release, this one really took me by surprise. Gameplay is similar to Life Quest, Life Story, Magic Life but the look and style are different enough to make this game feel quite unique. Additionally there are little puzzles to solve and the occasional hidden object scene. Graphics are dark and gothic, leaning towards realism, and suit the theme well. You are a vampire in love with a human and must find the cure for your condition so that your love can be realized. Choose your gender, your appearance, your hair colour. Change your clothes, furnish and decorate your accommodation. You need to manage two separate energy levels (vigor and mana) but you don't need to sleep (you're a vampire of course!). These can be replenished in various ways from eating suitably vampirish dishes, watching the macabre circus, riding around on a variety of nightmarish steeds and get depleted when you work at your job, learn new skills and spells and attend classes. My review is based on the demo and I can't comment on the full length of the game but I have a feeling it is on the shorter side. This is fine with me as the experience is enjoyable and promises replay value as there are different choices you can make. This is something a little different from what is usually offered on this site, and thus refreshing to play and a lot of fun. Give this a try if you enjoy micro-managing and character development. There are plenty of quests and tasks to keep you busy. The game is easy to learn and ran very smoothly.
October 29, 2012
Could be a great game, If ...
Despite the excellent graphics, sound appropriate to the environment, the spooky atmosphere, the interesting story - wanting immortality, but the price paid was to become a vampire-, the amazing characters, and the great locations, the game is boring and too slow! It has infinite comes and goes and you have to wait ages for the horse travel the road! Another very annoying thing is that in every movement, a pop up appears! The developers tried to innovate, and you can choose male or female character, face and hair, and even hair color. But to go to the Circus, Menagerie, Academy, City Hall, Laboratory, Tavern, Store, etc. ... take years! And you often have to go into each of these places. The game is not even a little challenging, and as soon as you do something, you have to ride to another place. Could be a good game if it was not so slow and with so many pop ups. Giving up after 20 minutes! Got tired!
October 29, 2012
All the ingredients of a good game, but...
I'm a fan of the Life Quest style games (in this case it's closest to Magic Life), but I felt like Twilight City had all the components of a great game and then failed in putting them together to make a cohesive whole. Now, the art and the music were beautiful. My only gripe was the lack of body diversity options -- you had one skin type (white) and one body type (thin), and all the characters in town had the same skin/body type because they use the same art as your character. Really, it's highly disappointing that this game was so lacking in diversity when all the other LQ games have been so good in that department. The storyline was... ok. Cliched and not very developed, but nothing horrible. The writing, however, was sub par. The dialogue was often awkward, and in two spots it was just wrong: 1) it said something about my character (a woman) becoming "man" (should have been "human"), and 2) it called my unnamed human lover a "her" when in the opening movie the couple was clearly a man and a woman. And, on that note, I'd like to say that making the pair hetero was disappointing, given that the Life Quest games always let you choose the gender of your partner. So, last but not least, the gameplay. Twilight City uses a quest system, which I liked in theory, but in practice -- since you can only have one active quest at a time -- it disrupted the flow of the gameplay. Quest completion was also what decided what items and jobs were available, which was both limiting and frustrating because so many of the quests needed money and new jobs (which I was already qualified for) just wouldn't open up. Then, finally, at the end, I felt like the designers just dumped everything at once. I was never able to strike a good balance between questing and progressing through jobs/skills, and it made the game feel poorly paced and not very fun. There was also no real challenge to the game. No chance of failing anything and no visible time limit. There wasn't even a meaningful separation of days! Because of this, I sailed through the game and beat it rather quickly (in about 2 or 3 hours), and the linear storyline means that it has no real replay value for me (unlike the Life Quest games, which I generally had to have 2 playthroughs to experience all the content). What I really want to see out of a Life Quest style game is a good, non-linear story that gets me engaged and immersed in the world. I want to be able to use my character to influence the world around me, and I want my choices to change who the character is. A deeper storyline, and a better balanced level design, would have made this a great game. As it is, I can't recommend it, even for fans of Life Quest.
November 1, 2012
When Life Quest gets gothic
This is a game simalar to life quest but graphics are much better and not cartoony. I love the whole gothic feel to the game centering around a vampire striving to become human once more.by getting careers, taking courses and moooore! The horse is slow but you can upgrade your "vehicles" to help you go faster later on, even a touch of hidden objects included. Sound is well done as is the music, A perfect game for Halloween. Give it a try to anyone that enjoyed Life Quest, you won't be disappointed. I loved it so much I couldn't stop playing.
October 30, 2012
Loved it!
Absolutely loved it, a great break from the norm. The quests have nothing to do with how quickly your character develops, or what jobs you can qualify for. You train at the Academy to increase Mana, and at the Camp to increase Vigor, and jobs are dependent on what you are trained in. You work, earn money, take the training, rest in your room to regenerate mana and vigor and can continue doing this for as long as you wish until you have become an expert in all jobs, and all skills, if you choose to do so. Quests you can do along the way, to learn new spells, earn free potions, etc. The furniture you buy to decorate your room helps you regenerate a lot more quickly, as do your clothing items....and even the "vehicle" you ride...It is thoroughly charming, relaxing, and enjoyable. Beautiful graphics, music, and best of all, flawlessly smooth game play. A great break from the same old, same old hidden object games, and although I'll never give up the strategy/TM games, (when we can get them) I'd love to see more like this, great to pass the occasional afternoon!!
November 24, 2012
Try this game!
This is, hands down, the best game I have ever played on Big Fish. I am not into vampires and very nearly did not try this game, but after reading the reviews I am glad that I did. If you like Life Quest, My life story, Magic quest etc you will LOVE LOVE this game. It has all of the best elements from those games plus a ton of new stuff, stunning graphics, new options, mini-games etc. I knew after 3 minutes that I would be buying this game. Huge replay value. Huge fun. Wonderful game. Please make more of these! Great job!
October 31, 2012
Worth it as a Punch Card purchase
I love Life Quest and Magic Life, so this one was definitely appealing to me. The graphics and music are great, although I agree that the lack of variety in character types was surprising. I appreciated only having to balance two elements, vigor and mana, with activities, instead of food, sleep, time, and mood. That said, it was difficult to balance working, questing, and advancement. Some stretches of the game seemed to take forever to get to the next level (jobs, classes, quest fulfillments, etc.), while at other times I jumped quickly from one job/quest to the next. Some elements and locations were pretty much unnecessary after the initial part of the game; aside from quest requirements, I don't think I ever used the services of the tavern, the circus, or the laboratory, and I'm not sure I ever needed a potion. The game wound up being disappointingly short when playing it through from quest to quest, but when I took the time to develop the character, it felt like I was just grinding. I still enjoyed it enough, though, to consider it a good buy, and I'll definitely replay it. I'd just prefer better balance between the two elements of character development and questing.
November 1, 2012
I like it.
I like games like this, I suppose I've played all of them; Life Quest, Magic Life etc. This one has the best storyline. Soundtrack with opera singer is brilliant. The game is a little bit too easy and there are no difficulty options.
November 12, 2012
A little fun , but could use some improvements.
I especially hate the part where you're supposed to remove the crystal from the altar near the very end of the game. Thanks to the fact that there's no way to get out of it and try again later or skip it or an easier way to do it, I can not get to the very end and it's very annoying and frustrating. It makes me so angry that up until that point the game is pretty fun and easy but then I get stuck at that point every time , especially if I try to cast a spell...as far as I know / can remember , you can only cancel / get out of one spell after casting it but you can't do anything with the teleport spell when you're at the part where you're trying to get the stupid crystal off the stupid altar. ( yeah I'm only saying things there are stupid because I'm so frustrated and upset about that part of the game ) The game could use some other improvements like more outfit options , more pets , and more appearance options. Some of the furniture I liked better than other pieces of furniture had lower recovery scores but all these gripes are a bit minor in comparison to the "get the crystal off the altar" issue. The writing / story is not great but it's not terrible either. I'm really disappointed that there's no skip option , alternative solutions , or a way to escape from spell mode for most of the spells especially during the part near the very end with the crystal and altar. *sigh* I only recommend this game for those who enjoy "goth" , "halloween" , "vampire" , "dark" , ect. themed games. Again...it's a pretty fun game up until near the end , those crazy people who seem to have something against a lot of dialogue and text will enjoy it because compared to other games most of the game is very simple and easy and there's not tons of text to read ....those who enjoy voice acting in a game might not enjoy it since there's little to no VA. But fans of old school gaming or visual novels - ( not the "kinetic" type but the ones that actually are a type of game ) - will probably enjoy this game. Good luck with the stupid altar part!
November 8, 2012
Nice Little Gem
i was quite surprised at this little gem of a game. when i downloaded it...the description was not that great. but took a chance and found i liked it very much and it was fun a nice change of pace from my usual genre ho-s, tms, i like having to use my brain to figure things out...but not so hard its impossible to win a game. the game itself is a bit on the dark side and when u looking in the town u better have fresh eyes...because its pretty much dark all the time when ur moving thru town. but i had soo much fun playing the demo ^^ it is very similar to path to sucess and life stories but has much better direction and has a nice feature that u can go to where u want or need to at a click on the interface very nice u dont have to click on the actual building unless ur going to bed...which i found not to be so much. anywho...give this a try and if u dont get addicted to it dont buy it and uninstall it LOL :P happy gaming :)
December 2, 2012