Twilight City: Love as a Cure
In Twilight City: Love as a Cure, you're a young vampire passionately in love with a human. However, the curse of being immortal comes at a high price. Your burning desire for blood can destroy your love. It's up to you to search for a cure in the mysterious city of Skylight. Overcome all obstacles and become human again!
Unique gameplay
Immersive atmosphere
Remove the vampire curse!
Game System Requirements:
OS:

Windows XP/Windows Vista/Windows 7/8

CPU:

1.0 GHz

RAM:

512 MB

DirectX:

9.0

Hard Drive:

209 MB
Game Manager System Requirements:
Browser:

Internet Explorer 7 or later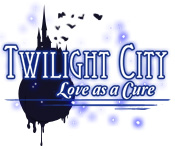 NEW299
The Big Fish Guarantee:
Quality tested and virus free.
No ads, no adware, no spyware.

Reviews at a Glance

Twilight City: Love as a Cure
0
out of
5 (
0
Reviews
Review
)
Customer Reviews
Twilight City: Love as a Cure
52
52
Great little vampire-themed life sim
What a delightful soft release, this one really took me by surprise. Gameplay is similar to Life Quest, Life Story, Magic Life but the look and style are different enough to make this game feel quite unique. Additionally there are little puzzles to solve and the occasional hidden object scene. Graphics are dark and gothic, leaning towards realism, and suit the theme well. You are a vampire in love with a human and must find the cure for your condition so that your love can be realized. Choose your gender, your appearance, your hair colour. Change your clothes, furnish and decorate your accommodation. You need to manage two separate energy levels (vigor and mana) but you don't need to sleep (you're a vampire of course!). These can be replenished in various ways from eating suitably vampirish dishes, watching the macabre circus, riding around on a variety of nightmarish steeds and get depleted when you work at your job, learn new skills and spells and attend classes. My review is based on the demo and I can't comment on the full length of the game but I have a feeling it is on the shorter side. This is fine with me as the experience is enjoyable and promises replay value as there are different choices you can make. This is something a little different from what is usually offered on this site, and thus refreshing to play and a lot of fun. Give this a try if you enjoy micro-managing and character development. There are plenty of quests and tasks to keep you busy. The game is easy to learn and ran very smoothly.
October 29, 2012
When Life Quest gets gothic
This is a game simalar to life quest but graphics are much better and not cartoony. I love the whole gothic feel to the game centering around a vampire striving to become human once more.by getting careers, taking courses and moooore! The horse is slow but you can upgrade your "vehicles" to help you go faster later on, even a touch of hidden objects included. Sound is well done as is the music, A perfect game for Halloween. Give it a try to anyone that enjoyed Life Quest, you won't be disappointed. I loved it so much I couldn't stop playing.
October 30, 2012
Try this game!
This is, hands down, the best game I have ever played on Big Fish. I am not into vampires and very nearly did not try this game, but after reading the reviews I am glad that I did. If you like Life Quest, My life story, Magic quest etc you will LOVE LOVE this game. It has all of the best elements from those games plus a ton of new stuff, stunning graphics, new options, mini-games etc. I knew after 3 minutes that I would be buying this game. Huge replay value. Huge fun. Wonderful game. Please make more of these! Great job!
October 31, 2012
I like it.
I like games like this, I suppose I've played all of them; Life Quest, Magic Life etc. This one has the best storyline. Soundtrack with opera singer is brilliant. The game is a little bit too easy and there are no difficulty options.
November 12, 2012
Strategy Will Get You Everything
I love this game. I understand how others could consider this boring, but I am a fan of the LifeQuest games, so this is a winner for me. I bought it on a Daily Deal, but would gladly have paid regular club price for this little gem. If you have ever played life management games, like LifeQuest, Kudos, or LifeStory, then you will understand the game mechanics. Yes, in the beginning the mode of transportation is slow, the clothing choices are limited, and career options are few. But like all life management games, you learn and grow so you can advance. As you move up the ladder, you gain more career choices, as well as open up multiple options for clothing, furniture, and "vehicles" (bat clouds, dragons, etc.). Twilight City is not a time management game or a HOPA- it is a LIFE management game. Therein lies the confusion. This is not a click-as-fast-as-you-can monstrosity or a puzzle-laden HO journey, but a game of subtle strategy. If you want something fast and furious, or full of intrigue, this is not the game for you. Strategy, remember? You have to carefully consider career choices, educational opportunities and purchase options. Everything you do has an impact on your progress. Twilight City has great repeat playability. You can chose different genders, clothing, classes, occupations, transport, etc. You will eventually have to gain a certain level of skill, but it is clearly marked out in detail. There are no major surprises here, so don't expect ghosts jumping out at you or bats flying toward the screen. This is strategy with a gothic twist. I read on the forum of various technical issues, but I didn't encounter a single glitch during my gameplay. Everything went smoothly, from installation to clicking on the last item. Lots of fun for those of us who don't care for timers, but love to strategize!
November 6, 2013
Magic Life of a reluctant vampire.
I've replayed this several times - very relaxing. If you enjoyed Magic Life by the same devs you will probably enjoy this game that has similar game mechanics. . You will see many of the same ideas in that you have to go to City Hall for job vacancies, you have to go to the Academy to learn new things in order to qualify for better paying jobs and you have to keep your vitality and mana up as well. In addition, you have tasks and quests to perform and there are HOS to sift thru. There are things to buy that help you and also prepare you for Academy classes. This game could have used more challenging features but it is a relaxed play and the music is enjoyably atmospheric
November 16, 2012
Twilight City... A Supernatural Life Quest!
When I first came across Twilight City: Love as a Cure, I thought it would be a neat little game as I have enjoyed similar games such as Life Quest and its sequel. So, I decided to give the trial a chance and I'm really glad I did. It plays very similarly to the Life Quest games so there's no learning curve for those who have played the others. The graphics are great overall with a nice gothic feel to them. The story behind the game is nice as well, with you playing a vampire who is desperately trying to become human again to be with the woman he loves. Like in Life Quest, you have to learn skills and build up attributes to get better jobs and more money so you can meet certain goals along the way such as updating your room's furnishings and your wardrobe, not to mention the really interesting vehicles and pets! However, there is no need to go to sleep at the end of every day, so there's no load time and goal update screens to wait on. The game is fairly simple but still a lot of fun to play and took longer to finish than either Life Quest game did for me. There are spells to learn and mana & blood potions to drink to solve goals and regain vitality and spell energy. Each spell has a rune that needs to be drawn for casting and you can either do it automatically or draw it yourself from memory to save a lot of energy. Drawing it yourself gets a little tricky as you near the end of the game and sometimes you have to try several times as the game seems to want perfection by then. All in all, this is a great little game that I spent a freebie on and I'm really glad I did! A fun strategy game for anyone to at least try.
July 8, 2013
My Favorite Game on Bigfish!
A little like life quest except that there's hidden object...setting is very spooky but its easy to make money and the quests are fun
November 11, 2012
Spooky Halloweeny Fun
Career Type game where you Earn Learn & Deco... WITH a Fun Twist .. The Major difference between this one and other Similar games is the Setting.. Dark & Spooky town. Eerie music & spare graphics. .. FUN Game.. I snapped it up after only a few minutes into the Demo Very much more Info in my Review, would, I believe spoil Your fun . . I HIGHLY Recommend This one 8-) My new Fave
October 29, 2012
Fun!
Thoroughly enjoyed this game. Hope you will too.
November 3, 2012