Twilight City: Love as a Cure
In Twilight City: Love as a Cure, you're a young vampire passionately in love with a human. However, the curse of being immortal comes at a high price. Your burning desire for blood can destroy your love. It's up to you to search for a cure in the mysterious city of Skylight. Overcome all obstacles and become human again!
Unique gameplay
Immersive atmosphere
Remove the vampire curse!
Game System Requirements:
OS:

Windows XP/Windows Vista/Windows 7/8

CPU:

1.0 GHz

RAM:

512 MB

DirectX:

9.0

Hard Drive:

209 MB
Game Manager System Requirements:
Browser:

Internet Explorer 7 or later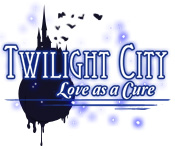 NEW299
The Big Fish Guarantee:
Quality tested and virus free.
No ads, no adware, no spyware.

Reviews at a Glance

Twilight City: Love as a Cure
0
out of
5 (
0
Reviews
Review
)
Customer Reviews
Twilight City: Love as a Cure
52
52
a different challenge
Once I got the hang of this game, I found it quite addictive and 3 hours had passed. It is nice to play a change of type of game. Getting tired of looking for items in a list that have NOTHING TO DO WITH THE GAME!!!!!!! This is a pleasant change. Try it!
March 5, 2013
Just Great Fun
Was skeptical but this game was so much fun. I wish they would come out with another more advanced one with more choices in magic spells, tailoring and furniture design. Great concept, much like the Sims but on the darker side. You can play it forever...
February 16, 2013
Refreshing change
Wow! This may not be everyone's cup of tea, but it sure was mine! Similar gameplay as LifeQuest, but more grownup and less restrictive, at least as far as not being sent to bed without supper for using too much energy on a task. I like the theme and the mildly snarky dialog from the various characters, and the fashion/decor/pets/goods shopping adds an interesting element, as well. No HOs to be found other than the occasional "find x items" quest, which while initially frustrating (clicking is not enough - you must wait for your character to travel to the object to collect it#, was actually a piece of cake once figured out. You can improve in everything #speed of travel, skills, pay, capacity for energy, etc) by taking courses, working and buying items that help. I have been playing about 3 hrs so far and really enjoying doing things in my own way, at my own pace. I probably have at least another hour to go and it is clear that this game is one that can be played over and over again, making different choices along the way. I was only half way through the demo when I knew I would be buying, and I feel I got my money's worth within the first hour. If not for the Valentine's Day sale, I might have otherwise overlooked this very enjoyable game!
February 14, 2013
Pleasant surprise!
I honestly wasn't too sure about even trying this game. I am so glad I did. It is the perfect mix of HOG and Strategy. It is a great mix so you don't get bored with the game play. I love that you can create and somewhat individualize your character. I will be buying this game as soon as I can. Well worth a try. Wish more games were innovating their game play like this.
February 3, 2013
Little Jewel
Really surprised me once I got into it. Got hooked and spent way too much time on it, but enjoyed every minute. Want another like it.
December 5, 2012
Fun isnt over
Great game loved it!!! And you can finish game and continue to make money and buy things for your haven and fashion. Great game need more like it out there.
November 20, 2012
Loved it!
Absolutely loved it, a great break from the norm. The quests have nothing to do with how quickly your character develops, or what jobs you can qualify for. You train at the Academy to increase Mana, and at the Camp to increase Vigor, and jobs are dependent on what you are trained in. You work, earn money, take the training, rest in your room to regenerate mana and vigor and can continue doing this for as long as you wish until you have become an expert in all jobs, and all skills, if you choose to do so. Quests you can do along the way, to learn new spells, earn free potions, etc. The furniture you buy to decorate your room helps you regenerate a lot more quickly, as do your clothing items....and even the "vehicle" you ride...It is thoroughly charming, relaxing, and enjoyable. Beautiful graphics, music, and best of all, flawlessly smooth game play. A great break from the same old, same old hidden object games, and although I'll never give up the strategy/TM games, (when we can get them) I'd love to see more like this, great to pass the occasional afternoon!!
November 24, 2012
A little fun , but could use some improvements.
I especially hate the part where you're supposed to remove the crystal from the altar near the very end of the game. Thanks to the fact that there's no way to get out of it and try again later or skip it or an easier way to do it, I can not get to the very end and it's very annoying and frustrating. It makes me so angry that up until that point the game is pretty fun and easy but then I get stuck at that point every time , especially if I try to cast a spell...as far as I know / can remember , you can only cancel / get out of one spell after casting it but you can't do anything with the teleport spell when you're at the part where you're trying to get the stupid crystal off the stupid altar. ( yeah I'm only saying things there are stupid because I'm so frustrated and upset about that part of the game ) The game could use some other improvements like more outfit options , more pets , and more appearance options. Some of the furniture I liked better than other pieces of furniture had lower recovery scores but all these gripes are a bit minor in comparison to the "get the crystal off the altar" issue. The writing / story is not great but it's not terrible either. I'm really disappointed that there's no skip option , alternative solutions , or a way to escape from spell mode for most of the spells especially during the part near the very end with the crystal and altar. *sigh* I only recommend this game for those who enjoy "goth" , "halloween" , "vampire" , "dark" , ect. themed games. Again...it's a pretty fun game up until near the end , those crazy people who seem to have something against a lot of dialogue and text will enjoy it because compared to other games most of the game is very simple and easy and there's not tons of text to read ....those who enjoy voice acting in a game might not enjoy it since there's little to no VA. But fans of old school gaming or visual novels - ( not the "kinetic" type but the ones that actually are a type of game ) - will probably enjoy this game. Good luck with the stupid altar part!
November 8, 2012
Worth it as a Punch Card purchase
I love Life Quest and Magic Life, so this one was definitely appealing to me. The graphics and music are great, although I agree that the lack of variety in character types was surprising. I appreciated only having to balance two elements, vigor and mana, with activities, instead of food, sleep, time, and mood. That said, it was difficult to balance working, questing, and advancement. Some stretches of the game seemed to take forever to get to the next level (jobs, classes, quest fulfillments, etc.), while at other times I jumped quickly from one job/quest to the next. Some elements and locations were pretty much unnecessary after the initial part of the game; aside from quest requirements, I don't think I ever used the services of the tavern, the circus, or the laboratory, and I'm not sure I ever needed a potion. The game wound up being disappointingly short when playing it through from quest to quest, but when I took the time to develop the character, it felt like I was just grinding. I still enjoyed it enough, though, to consider it a good buy, and I'll definitely replay it. I'd just prefer better balance between the two elements of character development and questing.
November 1, 2012
Nice Little Gem
i was quite surprised at this little gem of a game. when i downloaded it...the description was not that great. but took a chance and found i liked it very much and it was fun a nice change of pace from my usual genre ho-s, tms, i like having to use my brain to figure things out...but not so hard its impossible to win a game. the game itself is a bit on the dark side and when u looking in the town u better have fresh eyes...because its pretty much dark all the time when ur moving thru town. but i had soo much fun playing the demo ^^ it is very similar to path to sucess and life stories but has much better direction and has a nice feature that u can go to where u want or need to at a click on the interface very nice u dont have to click on the actual building unless ur going to bed...which i found not to be so much. anywho...give this a try and if u dont get addicted to it dont buy it and uninstall it LOL :P happy gaming :)
December 2, 2012