Twilight City: Love as a Cure
In Twilight City: Love as a Cure, you're a young vampire passionately in love with a human. However, the curse of being immortal comes at a high price. Your burning desire for blood can destroy your love. It's up to you to search for a cure in the mysterious city of Skylight. Overcome all obstacles and become human again!
Unique gameplay
Immersive atmosphere
Remove the vampire curse!
Game System Requirements:
OS:

Windows XP/Windows Vista/Windows 7/8

CPU:

1.0 GHz

RAM:

512 MB

DirectX:

9.0

Hard Drive:

209 MB
Game Manager System Requirements:
Browser:

Internet Explorer 7 or later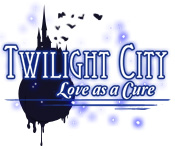 NEW299
The Big Fish Guarantee:
Quality tested and virus free.
No ads, no adware, no spyware.

Reviews at a Glance

Twilight City: Love as a Cure
0
out of
5 (
0
Reviews
Review
)
Customer Reviews
Twilight City: Love as a Cure
48
48
Almost like Magic academy
There are only two HOGS in the game that I can remember. Getting the crystal at the end is hard.
October 30, 2012
Wish it was longer
I beat the game in less than 20 hours.. Of course I skipped alot by working for the highest pay right off the bat..
October 29, 2012
Fun and a great change
I just recently found this game. Many reviewers compare this to Lifequest. I've never played that game or any like it, so I was very surprised with this game. Very nice pace and a great game to play when you just want to chill. A buy for me ;)
January 20, 2014
BECOME A HUMAN AGAIN - IS IT POSSIBLE?
Other reviewers have described the game abundantly, so I won't repeat. The graphics in this game were beautifully done and the atmosphere was appropriate to the plot (edging on the spooky side). Music was apropros. But it seemed the main adventure was working, eating (why did I get to eat ribs when I ordered fruit), learning, talking, buying - hmmm, sounds a lot like life, huh? The initial horse was a little slow, but it was cute watching him run to our next location. And he can be upgraded later. Nice game, but I guess I like a little more action.
November 6, 2013
Pretty Fun needed to be longer.
I like these types of games, but it needed more side quests and challenge
July 17, 2013
Loved It
this is sort of like life quest but i like this one even better. it is easier to keep up with what you are doing and it is not incredibly hard to make money.
January 15, 2013
All the ingredients of a good game, but...
I'm a fan of the Life Quest style games (in this case it's closest to Magic Life), but I felt like Twilight City had all the components of a great game and then failed in putting them together to make a cohesive whole. Now, the art and the music were beautiful. My only gripe was the lack of body diversity options -- you had one skin type (white) and one body type (thin), and all the characters in town had the same skin/body type because they use the same art as your character. Really, it's highly disappointing that this game was so lacking in diversity when all the other LQ games have been so good in that department. The storyline was... ok. Cliched and not very developed, but nothing horrible. The writing, however, was sub par. The dialogue was often awkward, and in two spots it was just wrong: 1) it said something about my character (a woman) becoming "man" (should have been "human"), and 2) it called my unnamed human lover a "her" when in the opening movie the couple was clearly a man and a woman. And, on that note, I'd like to say that making the pair hetero was disappointing, given that the Life Quest games always let you choose the gender of your partner. So, last but not least, the gameplay. Twilight City uses a quest system, which I liked in theory, but in practice -- since you can only have one active quest at a time -- it disrupted the flow of the gameplay. Quest completion was also what decided what items and jobs were available, which was both limiting and frustrating because so many of the quests needed money and new jobs (which I was already qualified for) just wouldn't open up. Then, finally, at the end, I felt like the designers just dumped everything at once. I was never able to strike a good balance between questing and progressing through jobs/skills, and it made the game feel poorly paced and not very fun. There was also no real challenge to the game. No chance of failing anything and no visible time limit. There wasn't even a meaningful separation of days! Because of this, I sailed through the game and beat it rather quickly (in about 2 or 3 hours), and the linear storyline means that it has no real replay value for me (unlike the Life Quest games, which I generally had to have 2 playthroughs to experience all the content). What I really want to see out of a Life Quest style game is a good, non-linear story that gets me engaged and immersed in the world. I want to be able to use my character to influence the world around me, and I want my choices to change who the character is. A deeper storyline, and a better balanced level design, would have made this a great game. As it is, I can't recommend it, even for fans of Life Quest.
November 1, 2012
Fun... but terrible writing
If you like Life Story, this is an interesting little game. Two major gripes, though: the pacing is slow (to the point of dull) and the writing is terrible. Please... get a good translator. If that doesn't bother you, and you like vampires, try the game.
November 22, 2012
Misses The Mark
This should be a great game instead it is just okay. To be honest, it is boring. The riding between locations takes forever, constantly having to go to work and then replenish vigor and mana, having to click multiple times to learn something, repetitive stuff that does nothing to move the game or the story line along at all. It just moves too slow without accomplishing anything. Agree with other reviewers that more diversity would be nice too.
November 6, 2013
Could be a great game, If ...
Despite the excellent graphics, sound appropriate to the environment, the spooky atmosphere, the interesting story - wanting immortality, but the price paid was to become a vampire-, the amazing characters, and the great locations, the game is boring and too slow! It has infinite comes and goes and you have to wait ages for the horse travel the road! Another very annoying thing is that in every movement, a pop up appears! The developers tried to innovate, and you can choose male or female character, face and hair, and even hair color. But to go to the Circus, Menagerie, Academy, City Hall, Laboratory, Tavern, Store, etc. ... take years! And you often have to go into each of these places. The game is not even a little challenging, and as soon as you do something, you have to ride to another place. Could be a good game if it was not so slow and with so many pop ups. Giving up after 20 minutes! Got tired!
October 29, 2012