Haunted Legends: The Undertaker Collector's Edition
Exclusive
Unravel the mysterious undead curse in Haunted Legends: The Undertaker! A once-ordinary fishing village has been transformed into a nightmarish landscape, as the recently buried rise from their graves! As a seasoned detective, it's up to you to find the cause of these unnatural disturbances and put an end to them for good. Take on a chilling new case in this thrilling Hidden Object adventure!

This is a special Collector's Edition release full of exclusive extras you won't find in the standard version. As a bonus, Collector's Edition purchases count toward three stamps on your Monthly Game Club Punch Card!

The Collector's Edition includes:
A bonus game
Downloadable music tracks
Stunning art extras
Integrated Strategy Guide
Game System Requirements:
OS:

10.8/10.7/10.6/10.5

CPU:

1.4 GHz (INTEL ONLY)

RAM:

1024 MB

Hard Drive:

957 MB
Game Manager System Requirements:
Browser:

Safari 4.0 or later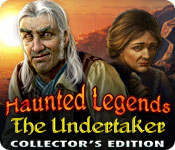 The Big Fish Guarantee:
Quality tested and virus free.
No ads, no adware, no spyware.

Reviews at a Glance

Haunted Legends: The Undertaker Collector's Edition
0
out of
5 (
0
Reviews
Review
)
Customer Reviews
Haunted Legends: The Undertaker Collector's Edition
73
73
Try it
Good game. Ending was a little lackluster, but most of them are. What happens to all the zombies in the end? Needed some morphing objects.
November 21, 2012
Beautiful, but Flawed - A Guy's Review
*Review based on completing the full game + bonus chapter in advanced mode* It seems like this developer has a lot of die hard fans that blindly rate it high no matter what the quality of the game itself is. I can not understand how this gets so many 5 star ratings. That doesn't mean I feel the game is all bad. No, the game in itself is rather entertaining but it is littered with flaws that is hard to ignore. There is not much to complain about when it comes to the graphics. It is a big step up from its to predecessors and is up to par compared to many similar games of today. It is all hand drawn which is something I personally appreciate. It is crisp and colorful and most locations are quite interesting in design. When it comes to the story/storyline I am quite disappointed. It is clear to see that the developer has noticed the hype about zombies/living dead these days and is trying to sell on that. That in itself is not necessarily a bad thing. I mean, I am a "The Walking Dead" fan like many others. The problem is that they don't create anything original with it. Actually they are more or less just back drop figures that occasionally turns up in your face. The story is thin and rushed, and weaves all over the place, and in the end it doesn't make much sense. It actually starts off quite interesting right at the beginning, but it doesn't last long until it loses its footing. The voice-overs are both good and bad. Some seem believable and others are just way off. Still, it isn't game breakingly bad in any way. At least the music is much better in this one than the previous two in the series. It is more dramatic and doesn't feel repetitive and annoying. Sound effects though, is another story. That is worse than before. It seems to be a bit flawed as well. Occasional sounds are delayed or do not appear at all. The best part in this game is maybe the adventure elements. Its a lot of them. That is also what I like the most and therefore pay extra attention to. It had a lot of original ideas I appreciated. Though, it is not all gold and glory. There were several occasions that made little sense here as well. And this seems to be a recurring problem in this series. Some things are really not thought through and appears dumb. There is of course a bit of back and forth traveling because of this, and I don't mind at all, but it is 2012, the third game in the series, and they are still not able to have a map in the game? Come on! Luckily they seemed to have zoned off certain areas to relieve some of that traveling. Meaning, you won't be traveling back all the way to the first locations from the last ones. I have seen that too in other games (shrugs). There are a handful of puzzles too. They seem very similar to what we have seen before, though I did find a couple of ones original (to me). Most of them are rather easy, but a couple can offer quite the challenge. I did not care for the last puzzle as it wasn't really challenging your mind, just your patience. A bit senseless even. The HO's have evolved from its predecessor. They are better drawn, brighter and more colorful and not as cluttered as they were before (still clutter scenes). Items are bigger as well. They have interactive elements to them. Some of them are totally senseless. I like interactivity in the HO scenes, but who came up with the idea to use a knife on a bellow to retrieve a spring? Or cutting open a sack of flour to get a plate? Those are just few examples on quite a few similar interactive moments. Clearly not thought through. They have flavored this game with another type of HO as well. Where you have to find items in sequence and use them in the scene to find other items etc. I've seen that a couple of times before, and I must say I tend to like those more than the classic HO's. Nice to have them both though, for more game variations. There are three levels of difficulty to choose from: Casual: -Quick recharge of hint/skip -Sparkles on active zones and objects Advanced: -Slow recharge of hint/skip -No sparkles except on HO scenes Hard: -Very slow recharge of hint/skip -No sparkles -Black-bar tips disabled You can even change difficulty level during the game through "Options". I played it in advanced and found it to be easy to mediocre in difficulty. It certainly offers a little bit more challenge than its predecessors. Finally the hint function works outside of the HO scenes as well, as it didn't before. Now for maybe the worst part. The game mechanics are horrible. The game has a lot of issues that makes me believe the game was rushed and not thoroughly tested before release. Movement is clunky and it plays really slow. Don't click too fast or it might overload. Animations scenes are cut off abruptly, as is the sound. It all seems rather sloppy. It started off good but flaws and senseless things made me just look forward to be done with it. The lack of a solid storyline made me lose interest too. And when I finally came to the end it was an unbelievably abrupt and dissatisfying ending to it all. I have to say I expected much more of this. One thing that might be a plus (if the game appeals to you) is the length. I felt it was quite lengthy. Bonus: The CE edition includes an extra chapter to the game play. It's not very long, but compared to other games I've played lately it isn't that short either. It has wallpapers, concept art, screensavers, music and you can replay all the game's puzzles, mini-games and HO's. There are no bonus collectibles, nor any achievements. The ones who appreciate the art will probably feel they get their money's worth. Even though I was quite disappointed in the overall experience of the game I still didn't feel ripped off. I got it on a deal as well, so that helps. Remember, we all have different preferences when it comes to games, so even though I wasn't thrilled about this game, there is a chance that you will be. Download the demo and try it for yourself. I could easily have waited for the SE version myself, and because of the previously mentioned flaws I can not outright recommend this game, even though it might appeal to many. For the guys: I did not notice any gender bias, and who doesn't love zombies? TJ
November 28, 2012
REVIEW OF COMPLETED GAME
It took 7 hrs to download this and frankly, it was not worth 7 mins. i very much enjoyed their last and quite recent game. It was an improvement on their usual fare, but with this one they just went right back to the old standard format. Average graphics. No wide screen. No map of any kind. No collectables. No achievements. No wow factor and no surprises. Numerous cut scenes in black and white sketches with interminable dialogue that could not be be clicked through and were very slow. They were all just individual accounts of personal experiences of what the evil dwarf did in their lives and did not add anything to the story. As a matter of fact, there is no story to speak of. Just an evil dwarf wreaking havoc, who became increasingly irritating, appearing in every 2nd scene, where I had to sit and wait while he did whatever mischief he was bent on, and he was not quick about it. The iHOS were quite good, with a well balanced amount but the puzzles were the same ones they have used a million times before. The music was dreary and depressing. The BC was irrelevant as far as I could make out. If if had not been for the state of the buildings I would not have understood whether it took place before or after the main game, but I still did not get it it's significance. The main game took me 4.15 hrs and the BC 1 hr and I was, sorry to say, extremely glad to see the back of it. All in all, a bit of a drag. I am reading some rave reviews by die hard fans of these devs, and, obviously the devs consider their games winning formulas, since they never change them and are not put off by the equal amount of reviewers who keep telling them they are not making games good enough to be CEs and they will not buy them. Apparently they are satisfied with the amount of money they make on these games, since it never seems to occur to them that if they gave more they would get more.
November 16, 2012
Skidding downhill
This game was way off hitting downhill. You think I am kidding but I am not. I am a big A+ fan of Ers that's why I wanted to be very honest and super critical at the same time. I do not want Ers to slide down like MCF with their latest since it seems to be the trend. The A+ for visual and sound is an obvious rate but everything else feels odd and slippery. The environment is big but it is confusing. Too much of everything everywhere, it is like a bubble within. I am an expert and even for me it was really hard to keep up with things to do. The second issue that made it even worse was objects you use to act on other objects. Flag pole on a grate? Honestly. It makes no sense. A lot of nonsense in a very spread environment. At the end of it you feel lost and upset because you do feel stupid because you cannot move forward. HOS are also badly made. There are mini HOSes within a bigger HOS scene you cannot simply find nor logically guess. Things are irrelevant and fuzzy, non-intuitive. I was always saying it loudly HOS scenes are supposed to be made to add fun factor of getting the objects in your inventory and not make you stumble all the time and suffer throughout the entire scene especially when you play in the hard mode where hits are disabled. In addition to all what was referenced above: I was criticizing Ers puzzles in the past a lot because they had a tendency of being super easy to solve. In this game we do face the entirely different scene. Half of the puzzles have no logic whatsoever, and another half can be solved by random clicks. I did solve good half of mini games without even knowing what exactly I did or what I clicked on. Once again, Ers is the one of the most brilliant companies in the world that makes very attractive, enjoyable games. I am not saying this game was at its worst- I just simply see a clear potential of Ers to slide off the cliff and make even more mistakes in forthcoming sequels. We still want to have fun. We are dazzled by joy you bring to us. Do not kill our last hope; do not make nonsense-boring-games like BoomZap or the others. It happens way faster than you think. In love with Ers but C+ for Undertaker.
November 28, 2012
another ho-hum, run of the mill HOPA from this developer.
How can a developer screw up zombies? These zombies look too alive, they aren't at all scary. The graphics aren't creepy at all, what a disappointment. Again features the repulsive little evil whatever he is, why does the detective act as tho he never saw him before? Story should be interesting, but it's slow and bland. Music is annoying as are the background noises. Control to turn off voiceovers doesn't work during "cutscenes". The monkey isn't funny, just irritating. HOS and puzzles easy and same old,same old. Why can't this developer include a map, there is so much tedious moving from one end of the game to the other. I bought this because I was bored, I think i'm more bored after finishing the game.
November 17, 2012
TEDIOUS GAME
Played this game for several nights but I can't give the number of hours. Animation/VOS were good as was the hint which recharged quickly and acted as a guide. Too much backing tracking for me and repeated scenes. IHOS were a combo of list and silhouettes (not my cup of tea). Puzzles/Mini-Games were good, some I had never seen before. Inventory items were used fairly quickly in the beginning but began to bog down after a while with too many items and no where to use them. The characters showed only briefly and more time is spent traipsing from location to location. You must collect fish scales along the way for the Destiny Fish. I never will find out what its destiny was. Just couldn't get into this game. Did not hold my interest.
December 31, 2012
Way to Easy and Sort of Cheesy
I own the other Haunted Legend games and enjoyed them. This demo was "like give me a break cheesy" I was really disappointed with this storyline I guess. The annoying monkey who I am sure has some role to play later in the game was just that ANNOYING. I was ready to hit him with the pan. The zombie hands popping out of nowhere were just ridiculous. The game play to easy no real thinking required. Some of the puzzles were not bad. Maybe I am just tired of all these demon, zombie, skulls, spiders, witches and warlocks, werewolves, blood and gore in all these games. But this is one game I will not be purchasing.
November 15, 2012
Nonsensical Story Line
**TnT_TJ wrote an excellent, more thorough review that basically sums up my thoughts. This is the review posted in the forum: This review is based on the completed CE version played in advanced mode. Unfortunately, I must disagree with the many who are thankful for another ERS game... I picked this up with the recent sale, and other than a few interesting puzzles and hidden object scenes, this game was a huge disappointment. The story falls somewhere between "pretty lame and "really bad" - and then the writers 'phoned in' the ending. For those hoping the bonus content would wrap up the story, I did not think it got any better. While some interactive hidden object scenes were quite clever and some of the puzzles rather enjoyable, there were some item usages that simply defied logic. On a couple occasions, it took me forever to figure out I needed to put the dog bowl on top of the ladder to reach the necklace to turn on water. - Not a real example! - Few games rate an A+ from me; sadly this one is a solid D. D for disappointing, because they really could have done so much more. With a better ending and overall story, the weird item logic would have been much more tolerable! Also, as others have mentioned, the game did lag at times - almost freezing - and I had to force a program close twice, which is an unusual occurrence on my computer. There are many games much more deserving of money, credits or punch card coupons. Cross-posted on the game page and in the forum review thread.
May 4, 2013
Disappointment
I purchased all of the games in this series, and this one should not have been one of them. Puzzles & HO's too easy or made no sense. Same with using objects to "uncover something", a flagpole to lift a grate? Seriously? What's with the fish scales... No map, that means a lot of back and forth, if you know where your going and why. Game plays VERY slow. Two thumbs down.
November 18, 2012
There are better choices
I've finished 90% of the game and this game still isn't very interesting. The high points are the funny little man and the obnoxious monkey. If you like the monkey, try any of the Hidden Wonders of the Depths match-3 games here at BigFish, which feature a crab very much like the monkey. The downside of this game is the combination of 1) no map, 2) illogical sequences, 3) lots of back-tracking and 4) slow hint regeneration even on easy mode. This means if the game requires you to do something that makes no sense (happens frequently) you cannot look at a map to get some idea of what to do next. Instead, you are "hinting" from scene to scene trying to find the next step. Another annoying aspect is how often certain tasks are repeated, especially opening a lock and starting a fire. Why would I use and discard the box of matches, and then the flint and steel, and then the burning ember and still find myself searching for a torch to light a fire? The puzzles themselves are blindingly easy. What makes the game "difficult" is its poor design. Final note, there is a room near the end of the game (no spoilers) where you will notice a lot of "lag time" -- the cursor is not responsive and it takes a long time to exit to another room. I recommend you save your game at that point.
November 16, 2012
The Apple logo is a trademark of Apple Computer, Inc.
The Windows logo is a trademark of Microsoft, Inc.