Ashes of Immortality
Mankind lives in terror as creatures of the darkness plague the continent. This is Ruthven, a world where Hunters, Vampires and Werewolves fight to determine which species shall prevail. Join the Hunter, Simona Rinoldt, on a quest of discovery and revelation. What begins as a simple mission to free a small town from evil quickly turns into much more. Simona must travel a dangerous world, making unlikely allies and facing invincible foes in the exciting Role Playing Game, Ashes of Immortality.
Beautifuly composed soundtrack
Compelling yet humorous storyline
Many Side-Quests to complete
Game System Requirements:
OS:

Windows XP/Windows Vista/Windows 7/8

CPU:

1.2 GHz

RAM:

1024 MB

DirectX:

9.0

Hard Drive:

86 MB
Game Manager System Requirements:
Browser:

Internet Explorer 7 or later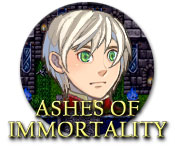 NEW299
The Big Fish Guarantee:
Quality tested and virus free.
No ads, no adware, no spyware.

Reviews at a Glance

Ashes of Immortality
0
out of
5 (
0
Reviews
Review
)
Customer Reviews
Ashes of Immortality
26
26
Classic RPG with great graffics
(This reviews is based on 45 min of playing) If you have played any of the Aveyond series, Skyborn or Celia you will love this game! This is a classical well made game featuring (in the haunting spirit) vampires and vampire hunters. You get to meet several characters, whom all have small biographies made, and a different kind of special skills system. All in all, they took an already good concept of games, added their own twist and amazing artwork, to create Ashes of Immortality. The combat system is more recogniseable for all of you who have played Skyborn (which is one of my favourite games at BF). The only complains I do have is that the beginning is ridiculously easy, hence I have yet to find this challenging. I kind of miss the options of what level you want to begin from.
November 1, 2012
A really fun RPG
This review is based on 3 hours of gameplay. This is an outstandingly well-designed RPG with witty dialogue and very appealing graphics. The story is well thought-out and the side quests are interesting and well worth playing as you pick up some weapons and armor you would not get otherwise. There are a lot of references in the names of the characters to vampire lore and the novel Dracula which will make anyone who is interested in vampires smile. I agree with the previous reviewer that the initial level of battle challenge was easy, but it gets harder as you go along. A very, very fun game!
November 1, 2012
At last! A Super RPG!
I've played lotsa fine RPG's here and on consoles but the PC variety are usually poorly translated and frustratingly hard to control, ignoring the mouse and forcing players to fumble with the keyboard. But THIS game has it all! Good mouse input (with occasional keyboard use but those are usually labeled# a riveting story and very good translation. #Some spelling errors are minor and don't spoil the game's flow.) Thee's lots to do and side quests galore. If you're an RPG fan, rejoice, BF has found a great one. If you're new to RPG's try this out as it's not hard to get the basics and dive into the action. I very much recommend this game to veteran players and newbies alike.
November 8, 2012
A New RPG Game
I love RPG games and this one doesn't disappoint. Am finding it's best to play by using the keyboard controls when the mouse controls don't seem to work at times. Am having fun and thought it was easier to play and follow the quests than the Aveyond series but that's just me. Thanks BFG.
November 3, 2012
Great RPG
I loved this game! I have played all of the Aveyond series and a slew of others. This one had the right balance of storyline, quests and fighting. I am not a fan of the fights in any RPG. I find them tedious and frustrating, however in THIS game I didn't mind them so much. Looking forward to Big Fish getting part 2 which I believe is available on another site.
November 6, 2012
I want the sequel today!
If you are a fan of early RPG's like Final Fantasy or The Legend of Zelda series then this game is perfect for you. It's a great retro-style adventure starring a female vampire slayer who is assisted by a male vampire and few other folks to... well, I don't want to give the story away. But the problem is those two really get under each others skin (shades of Buffy the Vampire Slayer!). There are plenty of dungeons and towns to search, quests to achieve and adventure to be had! Two pointers - Number one: find the fortune teller first thing and keep going in to see her until she gives you the fortune card quest. You will want to start searching everywhere from the beginning in order to find those 32 missing cards, you can't always backtrack to pick up those early ones. You have to accept that quest before you can see the little sparkly icon that tells you there is an actual card there. Number two: keep a pen and paper handy to take a few notes. When someone tells you how to find the next dungeon or town or drops a few hints you can jot it down and you won't have to search all over the place to figure out what comes next. On the con side, the game could really use a built in map. That is the one drawback I found. So, it's up to you now, break out your hiking boots and magic spells and get lost in the Ashes of Immortality!
November 9, 2012
RPG Up From the Ashes
At last! Another great RPG! Great story line. Grabs you from the beginning. Interesting cast of characters so far. Characters get to the point without being too wordy. Things progress rapidly from the start. Enemies are not so hard at the start that you get killed right away. I wish there were more skills available at the beginning for the main character. Definitely a buy for me.
November 1, 2012
Another enjoyable RPG series
As the other reviewer stated - if you love the Aveyond series you will enjoy this game. Another fun and quest filled adventure in a world far-far away with amusing characters and their comedic banter. The storyline is intriguing and the graphics are crisp and clear. At first I did not care for the fight sequences, but after awhile, I learned to appreciate this new format. As stated before...I do miss the ability to choose a skill level (seems a little too easy for me) but I am still enjoying the game nonetheless. If you need a break from HOGs like I did, then I highly recommend you try this one out!
November 2, 2012
Vampires and Werewolves oh my!
This is a nice RPG with an excellent storyline centering around a vampire hunter in the beginning of the game. Very well thought out. I guess I'm too used to flashy battle systems because I found the battles kind of basic for me. The music was ok, felt like there was something missing. It's no Skyborn (my fave) but it kept me interested none the less and there are lots of side quests and things to look for. The only peeve I had with this game was having to save every time I left a map. But other than that, it's a good RPG all around.
November 3, 2012
Enjoyed it thoroughly
Had to check the forums a bit at times, but really enjoyed the play, the characters, and the story. I used the keyboard for it all--much easier. Got a bit bored with the fights at the end, but by that time I had figured out a good rotation and the ending boss was not too tough. LOTS of play time, and much fun with this RPG game and I TRULY wish BFG would get more of them. If more people started playing them they would be hooked! Terrific game, loads of fun.
December 8, 2012