Mayan Prophecies: Ship of Spirits
Climb aboard an ancient Spanish galleon lost in time as a Coast Guard officer tracking an elusive criminal in Mayan Prophecies: Ship of Spirits. As you explore the vastness of a ship lost in time, what mysteries will you uncover amidst its Mayan idols, menacing sea creatures, and exotic treasures? Find out in this exciting new Hidden Object Puzzle Adventure game on the open seas!
Interactive environments
Switch to Hidden Objects or Mahjong scenes
For a more in depth experience, check out the Collector's Edition
Game System Requirements:
OS:

Windows XP/Windows Vista/Windows 7/8

CPU:

600 Mhz

RAM:

128 MB

DirectX:

6.0

Hard Drive:

1718 MB
Game Manager System Requirements:
Browser:

Internet Explorer 7 or later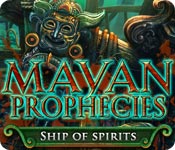 NEW299
The Big Fish Guarantee:
Quality tested and virus free.
No ads, no adware, no spyware.

Reviews at a Glance

Mayan Prophecies: Ship of Spirits
0
out of
5 (
0
Reviews
Review
)
Customer Reviews
Mayan Prophecies: Ship of Spirits
59
59
Nothing Extra, But Good
I enjoyed this game but was not overly impressed. Big plus is there is an interactive map and it was needed Journal, but not needed Hint System works well, but rarely needed Mini games, not good at them, so skipped a few SG not needed Don't regret buying the SE, just a okay game
November 13, 2012
Great game!
I tried the CE demo and liked it, but not much that I waited for the SE to come out. I am not thrilled with the ghost ship theme, since it's not new, but it was about Maya that I decided to give this game a try. I was thankful for the very short time hint, the map and the skip button (i always skip puzzles and mini games) so it was great for me. The story flows nicely and it's quite easy to combine items since you don't have to carry them for long, you can use it almost immediately. In the end I am curious what the bonus game will be, but I suppose I am content with just the SE. Nice game overall!
November 10, 2012
Best I've Played in a While!
I've been getting tired of the selection of HOGS lately, but thought I would try this one. I'm so glad I did. The story kept me interested to see what would happen next, right up to the end. I usually get bored and can't wait for the game to be over. I really enjoyed the option of playing the HO scenes, or switching to Majong. Nice touch. The scenes were so colorful and the music was so pretty. I would play the HO scene, then if it got to hard to find the objects I would switch to Majong and finish the scene. Kept me from getting stressed over objects I couldn't find and having to use the hint button. The only negative comment I have is the fact that the last half of the game I had to rely solely on the jump map to know where to go next. There were too many scenes and all of them stayed open during the game and you would need to return to different scenes for one item here and there. I like games that have you working a few scenes at a time, then close them off so you know there is nothing further to do there. This game had you jumping around all over the ship for one item here, and there. Yet, makes you want to continue to see what happens. All in all, a fun game if you don't mind using the map to see where to go next. I would definitely recommend giving it a try.
November 15, 2013
INCREDIBLY BEAUTIFUL MAYAN ARTWORK
Your partner and a poacher is missing, a boy is crying for help and Mayan treasures are scattered all about. Just dive in and explore this ship. An interactive map takes you to locations with active tasks. You also have a journal and the cutscenes to keep the action rolling. Plenty of interactive HOS - if you get stuck, or if you prefer, you can switch back and forth between a list based object search or mah jong. You never have to wait for the hint button. Although there are the standard puzzles, you?ll need to think about how to solve the few that are more challenging. Excellent animation and sound effects, but the VO?s could use a lot of improvement. Graphics are somewhat dark and gloomy, as befitting an undersea shipwreck, but the detail for the Mayan artifacts are beautiful with incredible coloring. A very well developed, polished game. I did take off 1/2 star because the story is too used; still, it's a great game.
November 2, 2012
it's your standard, middle-of-the-road offering
there was nothing about this game that was really any different than the dozens and dozens of hidden object adventures being put out lately. though instead of crashing your car, it's a boat. basic premise is the same - your boyfriend has gone missing, and you know he's out there somewhere. there are three options for challenge level, plus a "custom" option that allows you to choose each aspect seperately - puzzle skip yes or no, sparkles on or off, etc. the graphics on this were much better than average, but unfortunately the mediocre, wooden voice overs almost cancelled them out. in the demo, there were no puzzles that had any challenge to them at all. in conclusion, there was nothing super great, or really bad, about this game. I would recommend playing the demo to see if it's your style. this might be just up your alley if you're not an expert level player.
November 2, 2012
A worthy offering
This is every bit as good as the CE. You and your oartner and your prisoner are heading back home when your boat literally runs into a ghost ship in the fog. Now on board the ship, you must find your partner and prisoner from whom you have become separated. You have the standard modes of play, a map, a journal a helpful hint and places for the extras you must collect. You must find parts of a Mayan calendar and and sections of an artifact must be found plus the hummingbirds you must capture in the HOS. The HOS are very interactive (Yay!) These HOS are the very best of any of the games I've played. You also have the option of playing Mahjongg instead of the HOS. The puzzles are rather unique to this game. Everywhere you went had a bunch of stuff to pick up and do. You don't exactly use everything quickly but then there is a lot to do in a lot of places. You do have to go back and forth quite a bit but the map will be a help here. The graphics are well done but a bit sketchy. The cutscenes are good and the voiceovers are appropriate. The music fits the adventure well with abounding ambient sounds. CE or SE, it's a fun game with sea monsters and great fun, which is the whole point of a game, yes?
November 2, 2012
B+ to A- Game
Be aware that some people have had tech issues with this game. (see forum) I over came my frozen cursor issue and finish the game. I bought the game knowing this and after playing the free trial, because it is a good game. I enjoyed playing the game, interesting, with decent story line. Played and finish in one day, with breaks. I wanted to see what was next in game. Here's a few facts about the game: More than one mode of play.(good# Use of map with #!# shows where tasks are. Makes it easy to get to your next objective.#good# Can play mahjong instead of HOG.#good# Hummingbirds are extra feature to find, but game does not keep count of them nor are needed to complete the game. No awards or achievements given at the end in SE version. # I do not like this# Ending ?? possible sequel. #might be a good thing)
July 14, 2013
I liked it.
My favorite thing about this game was that each HOS had an optional Mahjong game to play instead. Although I love adventure games, I have very little patience for HOS's and it was really nice to be able to skip them.
November 24, 2012
Very Enjoyable
I was impressed, I picked it out of the blue as I'd earned a free game and wanted to play something different. I liked the storyline and I thought the graphics were lovely and colourful; some of the mini-games were different from the usual ones you can find in other games and although challenging, were not insanely difficult. It was a nice length too and didn't suddenly end like many do (very annoying!). I recommend this game if you fancy using your brain a bit.
February 5, 2014
It feels like I've played the first half of a long and interesting game.
I don't think I realized how much I enjoyed playing this game until it was over. The game play and video sequences were very well done. The HO scenes were also well done and gives the player a choice between mahjong or HOS. The plot was cohesive and interesting --save souls on a ghost ship while trying to track down a possessed criminal. The ending was complete while at the same time to be continued for a sequel. However, the player's true identity is only hinted at. I guess I'll just have to play Cursed Island and find out...
January 22, 2014
The Apple logo is a trademark of Apple Computer, Inc.