Witch Hunters: Stolen Beauty
Exclusive
Help Angelica get her witch-stolen beauty back in Witch Hunters: Stolen Beauty! One evening, Angelicas grandma started talking of her old days at school. Grandma said that she had run away from the finishing school she attended because the director of the school, Madame Flemet was a witch! As soon as she uttered Madame Flemet's name, the woman herself appeared in the room, attacking grandmother and stealing Angelica's youth! The only way for Angelica to get her beauty back is to go for a witch hunt. Go for a witch hunt indeed, in this ensorcelling Hidden Object Puzzle Adventure game!
Game System Requirements:
OS:

10.8/10.7/10.6/10.5

CPU:

1.4 GHz (INTEL ONLY)

RAM:

1024 MB

Hard Drive:

682 MB
Game Manager System Requirements:
Browser:

Safari 4.0 or later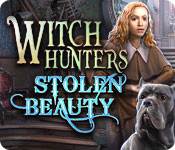 NEW299
The Big Fish Guarantee:
Quality tested and virus free.
No ads, no adware, no spyware.

Reviews at a Glance

Witch Hunters: Stolen Beauty
0
out of
5 (
0
Reviews
Review
)
Customer Reviews
Witch Hunters: Stolen Beauty
34
34
HOG
Game could've been a little more interesting
September 17, 2012
INITIAL IMPRESSIONS WERE WRONG - GLAD I TOOK A CHANCE - I LOVED IT
SUMMARY: I played half the demo and based on that and the reviews, I just didn?t think I?d like it much except to pass the time. Boy, was I wrong! (I got it because I had a coupon.) Compelling story and oodles of fun to play. Good memory or pen and paper needed. Lots of puzzles. Completed game in 5 hours. STORY: Madame Flemet took over a girls? finishing school and began stealing students? youth and beauty. You go to confront Flemet at the school and regain your youth. Instead you find five students and employees who were forced to remain until they solved a problem or performed a task. While contemplating the chores over the years, they developed surprising abilities, which they give to you after you help them complete their task. WHAT YOU GET: Widescreen; 3 difficulty modes; Music and sound volumes; very good detailed hints, NO map and NO journal but it didn?t take away any of the fun in playing GAMEPLAY: Hint system is very good if you need help. You determine that you need an object to complete a puzzle in Location 1, go find it in another location (Location 2), determine that there is nothing more to do in Location 2, return to Location 1 to use the object you just found, determine there is nothing more you can do in Location 1 until you find another object in another location. Repeat many, many times. You are always going back and forth for one item. You have to help 5 students and employees finished a task they have been working on for all the years since the school closed. After helping them, they give you their abilities: see through things, tame animals, stop motion, turn evil into good, and animate objects. You will see where to use these abilities when you get a colored picture when you mouse over (such as a green eye, white hourglass, etc.) There are a couple puzzles you encounter at the very beginning: you can?t see into a hole in a tree, a statue needs to hold some type of weapon, and a grate needs two outlines (they look like cats to me) to open. You won?t be able to solve them until the end of the game is near. HOS & PUZZLES: List based, uncrowded and done artistically well. Puzzles are many and varied. See above: you will be moving all around to find the pieces of the puzzles and only one at a time. So there?s lots of back and forth. Even though there?s no map, it is not too hard to navigate (probably because you visit each location so often).
September 20, 2013
Favorite type HOG
I love games where you must obtain abilities to progress through the game. This is one of them. The HO scenes are great; difficult but not too hard and the items are easy to recognize. The climax was fun as you needed to use your abilities to defeat the witch. All around fun game!
May 15, 2013
Give this one a chance
I usually end up buying games as collector additions, but this one slipped by me. I purchased the regular version ( using a free game cupon) and am very glad to have added this game to my collection. It has more to it than is revealed in the first hour of play. In fact you have to be in it for awhile before extra elements start showing up. Magic abilities are awarded as the game goes on to allow the player to look through walls, or stop time. There are 5 magic abilities in all. The art work is quite wonderful and the imagination given to this is lovely. If it had had a map I would have given it 5 stars. However the hint button will lead you to where you have to go next. The puzzels are thought provoking, with some new twists. I like that it is not over done with HO scenes, and that the ones that are there are findable with a little focus. My hat is off to the makers of this game and I appreciate the skill and effort that went into a fun game to play.
September 16, 2012
Great game
I am really enjoying this game. I played the CE and was sorry when it stopped after the demo. I didn't think it was quite worth buying the CE, so I've been waiting for the SE. As soon as the SE came out, I purchased it straight away. I like the story, the graphics are great, the music is good, although slightly monotonous, but you do have the option of turning it off. I liked how you gathered different powers as you went through the game. The mini games are just enough of a challenge without being so difficult as to disturb the flow of the game. The HOS are fairly easy, usually a junk pile, and one thing that I really like in a period style game, is that the HOS stay within the period, and this one does.This helps when searching for items - I hate playing a game that is set in the 1800s and tells you to find a phone, and it turns out to be a cell phone! The one thing that I would change about this game, is to have a map. The going back and forth can get very tiresome, as there is quite a large area to cover, and it can be annoying to pick up an item and have to scroll through 5 scenes to get to the place you need to use it. Otherwise I recommend this game to all HOAG enthusiasts.
September 17, 2012
A Good Adventure Lite HO Game
I initially passed up on the CE version of this game mainly because in my opinion it lacked features that would merit a CE price. However as a Standard Edition Game, Witch Hunter is an ideal adventure light HO game that will please most everyone. The story begins with a curse and a young girl who must now seek out the evil witch who has stolen her beauty. The graphics are very good as is the artwork. There are no V/O and the music does not irritate you. There is a slight lag between dialogues but you can skip. HO scenes are slightly interactive and objects very easy to find. Game features do not include a map or a journal which was disappointing. Gameplay is relatively easy, alot of backtracking and much to do. You have collectables which are keys as well as special abilities that you need to acquire. Overall it is an entertaining story although gameplay did lack a certain degree of challenge. An ideal game for beginners however I do think that hard-core gamers will find this game a bit mundane.
September 15, 2012
Really great game and recommend it, just one pet peeve
OPTIONS: -Adjustable sound and music -Custom cursor or regular -Full screen (my 1600w resolution monitor had black bars) PLAY MODES: Casual / Advance / Expert - all have to do with the presence or absence of glints, and also recharge speed on hints & skips as usual. GRPAHICS: Awesome. They were very detailed and ornate. Very interesting to just pause and look at the scene for a few seconds before performing any task there. There were many locations to discover. HIDDEN OBJECT SCENES: Interactive, but fairly simple. They were colorful and not junk piles. I will take easy HOGS over the faded and light scenes where the objects appear almost like ghost of an outline of the object. A NICE VARIATION IN PLAY: The ability to gain special powers that helped perform tasks. PUZZLES: Fun and varied in both type and level of difficulty. CONS: There was only one that I found and that was the lack of a map. This wouldn't be so bad if there were not so many areas to cover, and even a mapped layout that didn't transport you but at least provided an icon of where there were task still to be completed would have been really nice. All in all, it was well worth the price to me.
September 19, 2012
Fun with an actual ending...
I love this developers games as they have beautiful graphics and interesting game topics. The witch theme has been used a lot but these developers took a different spin on it resulting in a new game experience. The concept is simple enough, a witch who steals young people's looks to look younger and not her ugly witch self. The hidden object scenes are nicely done and this developers graphics are something special in my opinion because it has that hand drawn appeal. The only downfall of this game is the fact there are no voiceovers. It could have really added something if they were done well and in the hidden object scenes, which you play multiple times, you end up finding a lot of the same objects from the previous time you were there which is unfortunate. The length of this game is spot on. It HAS AN ENDING IN THE STANDARD EDITION which is a huge thing for me. I shouldn't be punished for not buying the CE and missing the ending like in a lot of other games. The end set it up for a sequel maybe...however I do not know if that was wrapped up in the bonus game but it made no difference to this game at all. There were special challenges at the end which gave you a complete and understandable ending. The music was great and fit the theme of the game especially at the end and you get 5 different powers that you can use throughout the game and then at the ending which gave it that extra special note. I had a great time playing this game. Kudos to the developers =)
December 4, 2012
Tired of clicking!
Very good graphics and effects, would love the game quality except I got extremely tired of clicking clicking clicking between finding a needed object and getting back and forth to where it was needed. No shortcut map, which made playing somewhat frustrating.
July 31, 2013
Entertaining
I quite enjoyed this game as the graphics and animations were very good, the music was fine, the hidden object scenes were few (thank heaven). There was however a distinct lack of puzzles and the ones there were I found far too easy, but still I enjoyed playing this game. In would reccommend this game to beginners only.
July 30, 2013
The Apple logo is a trademark of Apple Computer, Inc.
The Windows logo is a trademark of Microsoft, Inc.