Jigsaw Boom 2
Continue the jigsaw puzzle fun in Jigsaw Boom 2! Choose from a collection of unique, high quality pictures to piece together anywhere from 12 to 850 pieces. Choose your own level of difficulty to match any mood and allow yourself to be taken to any number of beautiful locations in this wonderful, replayable puzzle game!
Custom puzzle piece styles
Relaxing ambient sound
Awesome art style
Game System Requirements:
OS:

Windows XP/Windows Vista/Windows 7/8

CPU:

1.0 GHz

RAM:

512 MB

DirectX:

9.0

Hard Drive:

68 MB
Game Manager System Requirements:
Browser:

Internet Explorer 7 or later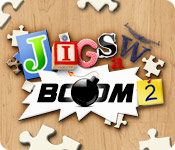 NEW299
The Big Fish Guarantee:
Quality tested and virus free.
No ads, no adware, no spyware.

Reviews at a Glance

Jigsaw Boom 2
0
out of
5 (
0
Reviews
Review
)
Customer Reviews
Relaxing hours of gameplay
Really nice pictures definetly not from creepy merchandise photobank. Feel yourself like a "camera man" who is exploring US. I dont really play on "hard level". For me Jigsaw is relaxing time spending. This one is perfect for it.
November 5, 2012
one of the greatest games
I love Jig-Saw Game and this one of the best, great gameplay and it kept me thinking throuth the game Sry for repeating game all the time
November 6, 2012
A nice change of pace
I liked this game for several reasons. For one, I enjoy jigsaw puzzles and I like the fact that you could start by having only the end pieces on the screen. Then you could hit the sort button which was only slightly helpful. I also like choosing how many pieces. You could also select the style of the pieces. The pictures are ok but I would have liked to pull in my own. If you like jigsaw puzzles and just want to chill then this is a decent game.
November 5, 2012
Puzzled Puzzler - Piece size is adjustable! Demo it yourself & see.
Don't overlook this game based solely on other reports of miniscule piece size... Puzzle size is variable and choices include: a Magnifier, Borders, Sorting, Achievements / Awards etc. - Everything a puzzle fan could want plus even more! The only slight detracting factor could be picture selection (of which only a small minority are a bit dark & not the picture perfect quality you should be able to expect from a game of this sort) but this game is far from an immediate "Pass" other reviewers have suggested. I don't often take the time to write up a review but felt compelled to even the odds a bit which have been skewed with mistaken impressions. Don't mean to hurt anyone's feelings (but anyone can be mistaken) ;-] If you enjoy puzzling give it a try & decide for yourself!
November 6, 2012
These are puzzles people
Geeish I do not know what that first person was talking about, I thought that this was the place to "rate" a game, not write a novel about it. Anyway, this is a good puzzle game, puzzle people will really like this game, of course the more pieces the smaller they are. But if you just want to relax and put your "troubles" aside you will like doing these. Its been awhile since Ive done puzzles and I put them together pretty quick, I believe it is my "HO's" talent that help me find the pieces so quickly. The visuals are good. I do not listen to music playing any games so I cannot rate that. You have a lot of puzzles to choose from so have fun and please make up your own mind.
November 6, 2012
PLEASE demo first if you enjoy larger puzzles, they are teeny tiny pieces
JigSaw Boom 2 New release Nov 5, 2012 puzzles from 9-660 pieces Claims that you can choose your own difficulty by choosing puzzles according to the number of pieces. Soothing music though a bit boring but at least not obnoxious, though the sound as you successfully place each piece is unnecessary & can be distracting while calmly zoning off while doing a puzzle. Game requires 68MB hard drive and 512 MB RAM Categories 7 types of Trophies, Top Players & their score, Best Scores shows picture of puzzle, score, number of pieces & time required Modify allows you to choose a puzzle & alter it in rotation & +/- number of piece Options is the gear symbol music & sounds have slider adjustment and cursor and fasten pieces to table can be checked on or off. Resolution & credits can also be chosen. Trophies Meditation- 1,5,10,50 hours of play Puzzle Solver- joining 10,100,1000,10000 &1 million pieces Jig Saw Expert -for 10,000; 100,000 & 1 million points Patience Solver- solving puzzles of 10,100,500,1000 pieces Master of Jig Saw- solving a puzzle of at least 200 pieces w/o hints, sorting or pocket Inconsistency- for solving 1,5,10,20 different puzzles Sage- joining 5,10,15,30,50,100 pieces w/o mistakes Game opens to an album of puzzles to choose from Box1, had 8pgs of 8 puzzles(64puzzles) ranging from 12-330 pieces Box2, had 63 puzzles from 12-660 pieces Box3, had 51 puzzles from 9-456 pieces Box4, had 46 puzzles from 12- 228 pieces Unknown if the purchased version will have any other pictures, it does not appear so. Puzzles were ocean scenes landscape and some city sites and what looked like a view of pictures from a zoo. I was not impressed with the pictures viewed, as there should have been a greater variety showing close ups and lots of color and texture evident in the pictures. I would have liked clear beautiful shots that would keep me interested while doing a larger piece count puzzle, and I saw multiple scenes that were very similar such as a seagull in 3 or 4 similar views none of which were so awesome as to spend time putting together a puzzle of. Once a puzzle is chosen along the lower edge there are 8 symbols. The eye puts a picture of the finished puzzle in the top left with the ability of 2X and 3X for those needing a larger view. Next was Ghost which had a ghost print on the game board to help you determine where a piece is to go. Magnifying glass was next, which if you purchase this game you will likely become VERY familiar it. Next was a picture of 3 pieces forming the corner which sorts the pieces to all border pieces remaining out and inside pieces are put away until you want them back out. Then came? For hint, Sort to help divide and sort the pieces, Settings was next and finally an exit door. I tried 5 of the under 100 piece puzzles. They did allow you to move around groups you had already put together and there was plenty of space to move things around and place things how you want to onto a white background. My issue with the game was 2 fold. First I was not impressed with the pictures offered, not even if I went in and modified the puzzle piece count to my choice of puzzle size and difficulty. Then the second frustration is I looked at the largest puzzle they offered which was a 660 piece puzzle. Sadly it was a puzzle that was 2 inches by 8 inches and each piece was teeny tiny and hardly able to see detail what so ever. Combine that with the developers chose to have shadows especially the right and lower edge when you pick up a piece but there is still shadow along the 2 sides when the piece is laying flat so by the time those teeny tiny pieces also have the shadow lines it is unrealistic for them to think someone is going to enjoy doing the puzzle. The difficulty of doing a puzzle should come from color and shading of a given picture along with the shape of a puzzle piece itself. In this case it came from the developers trying to make it hard due to the minuscule size of the pieces, poor shaping of pieces themselves, and bad shadows/ lighting of the game board. Give it a try to make sure you like the choice of pictures and are able to do puzzles in the sizes you prefer prior to purchasing this one. I will be passing on this one.
November 5, 2012
Could have been a good game
I love doing puzzles. This could have been a good game but the pieces are so small you cannot see them.
November 5, 2012
No variety
I downloaded this to take a look at it. The first thing I did was take a look at available puzzles. Many of them looked the same plus most of them didn't have a lot of colour. I was so uninspired I didn't even bother trying to do one. This may be the poorest compilation of jigsaw puzzles I have ever seen.
November 5, 2012
Brain Teaser?
I really like doing Jigsaws and loved the last one BUT This one is a disaster. The chosen pictures are very uninteresting. Most of them are far too small (100 pieces and under). Hated the 'star' when you click on a piece. When I tried to put something into the 'box' top left it just went behind the box. No way to modify the puzzles. All in all a great disappointment. Hoping for better next time.
November 8, 2012
Can we say boring boys and girls?
I love doing puzzles, but this has to be the most boring I've ever played. The music will put you to sleep. You can choose what size the pieces are. So you can choose how hard you want the puzzle to be. This is like most puzzle games, just more boring. Did I mention it was boring? Nuff said.
November 5, 2012
The Apple logo is a trademark of Apple Computer, Inc.