Journey: The Heart of Gaia
One evening a stranger appears at Liz's doorway, whisking her away to a colorful world that lies deep within the center of the Earth. Not only is it controlled by a powerful tyrant, but the very heart of Underworld is dying! Can Liz save this world and find the way back to her own? Journey through a fantastic landscape filled with quirky characters. Rescue the captured citizens, and they will help you put an end to the tyranny of Scartaris Umbra! Dive deep into the world of Journey: The Heart of Gaia, a thrilling puzzle adventure!
Beautiful hand-drawn world
Exciting story with charming characters
Solve a variety of puzzles
Game System Requirements:
OS:

Windows XP/Windows Vista/Windows 7/8

CPU:

1.0 GHz

RAM:

512 MB

DirectX:

9.0

Hard Drive:

316 MB
Game Manager System Requirements:
Browser:

Internet Explorer 7 or later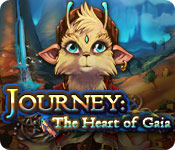 NEW299
The Big Fish Guarantee:
Quality tested and virus free.
No ads, no adware, no spyware.

Reviews at a Glance

Journey: The Heart of Gaia
0
out of
5 (
0
Reviews
Review
)
Customer Reviews
Journey: The Heart of Gaia
75
75
Good length, straight adventure game
What an unexpected good adventure game by waterlilly games the casual games division of frogwares ( Sherlock holmes games). I have no idea why this is categorised as a HOS as I nearly missed it due to this and it?s a shame as those wanting a casual lighter adventure game with a few puzzles, may miss this. I don?t normally like this style of graphics or the fantastical storyline but I enjoyed it, you are kidnapped and transported to a magical world and thus the adventure begins. Along the way are three helpers each with their own abilities that you use throughout the game and there is a lot of different locations which I always like to see. I appreciated that there were achievements along with a transporter map that has hints on it. There are two modes of play and the hardest has harder puzzles or more steps to some of them. There are hints and skip buttons and a helpful ?location complete? when you have finished with an area. The game has quite a few puzzles (over 20) ranging from easy especially at the beginning to a couple of more challenging ones and has a couple of my very favourite puzzles in it. It does have a reset as well as an info button button on them but to make it a more of a challenge try playing without using either, one of the achievements was not to use the reset button that often and that alone made some puzzles harder. By doing that I thought it was the perfect hardness for a relaxing game. It?s also a very good length as well, I took nearly 5hrs on casual mode (I?m playing for achievements as you have to play it in both modes to get all of them) and so many of these straight SE adventure games are sadly so short so it was refreshing to see a good quality, good length straight adventure game. It took me 35 mins for the demo if it helps you to judge length.
November 8, 2012
Fun Little Game
Based on the free trial. The basic story line is about a girl, Liz, who is kidnapped from her grandfather's home one night. Her kidnapper, however, drops her (I wasn't sure if it was deliberate or not) and she lands in the underworld. She must try and get home but not before she helps the inhabitants who are being terrorized by Scartaris Umbra. Visually the artwork in this game is a bit simplistic compared to other games on the market, but it's bright and colourful. Two levels of play. Voiceover and music. Interactive map. Earn 'powers' as you rescue inhabitants. No lists (at least in the trial) but you need to collect items as you go. Lots of puzzles, some fairly hard, others very simple. All in all, a fun little game to pass the afternoon and one I will be buying.
November 7, 2012
Another delight - not a HOS in sight!
This is a pure adventuregame - thanks! There are no HOS, but you do have to find things and solve ridles, to go on with your journey. The storyline is nice and the graphics are very colorfull and vibrant. I just played the demo and I will have to buy it.
November 7, 2012
I enjoyed the game - hope you give it a try!
Hmm...this review is based on the demo hour only....there are 2 modes, casual and expert. I played on casual. No HOG's, lots of things to put together.... Plusses: VERY pretty, clear graphics! Voice-overs were very good. Story interesting. Hint necessary. Reasonable tutorial. Puzzles were interesting, had instructions, were skippable Minuses: Hard to figure out what to do next - that's why hints were necessary. Surprise: There are 3 empty spots on the lower left side of screen when game play starts - fun to see how they get filled in! Play to see what I mean...:)
November 7, 2012
Many a puzzle, nary a HOS! Long Game Play.
Based on completed game in hard mode. This game has everything from crisp, clean, and very creative fantasy themed graphics, to plenty of mini-games of varying difficulty, and a variety of locales. A number of the mini-games I had not seen before. The ones I had were beautifully put together and still fun. The game is driven by finding 'x' number of items in order to gain access to various puzzles or to build a power source. There is a map that shows active areas and allows jumping to locations. I love this feature! There is no area complete indicator but no real need as the game is forward moving and access is cut off to scenes no longer needed. There is no journal and none is needed. The music was nice but at some point became a distraction so it was turned down mid-way through. Since this game has all the things I like - Great graphics, fantastic scenery (ok-a little heavy on the fantasy), no HOS, no back-and-forth, plenty o' fun mini-games, so why not give it a higher rating? Two reasons- As game play progresses the gamer picks up 3 side-kicks that have special abilities including the addition of lots of banter or better said "irritating chatter". It had the effect of adding a distracting, cartoonish feel to the game which sucked out some of the fun without adding anything. - For me anyway The second reason is that even though the game was in "hard mode" the 3 sidekicks could not resist offering hints at every opportunity. If the sidekicks weren't chiming in, clicking on items brought out black bar hints. There were even glints and winks here and there to ensure attention made it to the right places. Job well done Waterlily! I like the games produced by this company a great deal. They are well polished and deliver to promise.
November 18, 2012
Fun Game Considering I Don't Care For Puzzles Review Of Entire Game
This is a puzzle/adventure game. You do have to find things in the scenes to be able to move forward in the game however there are no HOS (hidden object scenes) at all to this game. Story: You take on the role of Liz who has been kidnapped and must find her way back home but not before she helps the inhabitants who are being terrorized by Scartaris Umbra. There's also 3 inhabitants who have special abilities and will then help you once you rescue them. 7 chapters Graphics: Whimsical and "cartoon" characters. There are voice overs. 2 play modes - I played the easier mode since I'm not a fan of the puzzles. Also shows when an area has been completed in the easier mode. Map: Will show you were you are and where there are tasks to do. You can also use it to travel back/forth. Puzzles: Lots of puzzles. Most the usual run of the mill found in many games: Rotate rings, get pieces from one side to the other, swap pieces to form a picture, etc. There were a few I've never seen before anyway. You can also reset them and there is a ? mark to get more info on the puzzles. Hint / Skip: Charge up pretty quick. There's also achievements to be earned. My overall impression: Well first off I'm not sure why the Big Fish has this listed under hidden object games as there are no HOS to this game. Considering I'm not a "puzzle" person however I still found this to be a fun game overall as I pretty much played this straight through. In regards to these puzzles some I found easy, some I found fun to my surprise and some downright annoying. The graphics to this game are just beautiful and a very well done here. I also enjoyed the story as I thought it was really well told along with the characters and their special abilities to help me along. The voice overs also very fitting and not overdone. This game just has a lot to do/places to go and I'm sure glad there was a map and also showed once the area had been completed. Game length: I still got 6 hours out of this game. May be more/less for you.I even used the hint a few times and skipped a few of the puzzles. I also didn't earn all the achievements but I did earn most of them. Overall I give this 4 stars.I would of given this 5 stars if there weren't so many puzzles and had just a few HOS since this is listed as a hidden object game. I thank you though Big Fish and developer as this was a fun game overall. As always, definitely give it a whirl and decide for yourself.
November 8, 2012
Very good game
Beautiful cartoon-like graphics, crystal clear., A true adventure/puzzle game. Not a HOS in sight !!!!! The game is interesting and challenging. Puzzles were challenging to me. Interactive map with jump feature was excellent, as was the "area complete" bonus. A very very good game.
May 13, 2013
Fun Game! Even beginners can do!
I really liked this game. I'm a beginner & even I could do it! I didn't get all of the achievements but at the end you get to see all the ones you could have gotten. There are a lot of puzzles. Some of them were hard. I didn't have to skip too many. It's for sure worth downloading to try it and see for yourself. My 7 year old liked this game too!!
December 12, 2012
Fun long adventure
I thought it was going to end 2 times before it actually did. Lots of fun--no HOGS, and much of it fairly easy. Is good for kids and adults--is cartoonish, with funky characters to help you. These sometimes get mixed up in the dialogue--but then, it is not time for them to help you, anyway..lol--is why I did not give it a 5, though. The hint button is very helpful, the locations say they are complete (when they are, so you do not have to waste time). There is not too much backtracking because game is sort of divided into sections, and you leave that area when you are finished. Great story and satisfying ending. Well worth the fun of playing, and is a very bright game.
November 13, 2012
It's A Keeper
Liked this one. been awhile since it's been good graphic's and story , and not monsters. challengeing and good hints available
November 8, 2012