Mystery Trackers: The Four Aces
Stop a devious conspiracy in Mystery Trackers: Four Aces! The entire town of Brightfield was evacuated after a series of bizarre animal attacks. Now, strange creatures roam the streets, danger lurks around every corner and youve just landed smack in the middle of it all. As you begin to investigate, you discover that the attacks may have been part of a whole series of crimes committed in town, all tracing back to an organization called the Four Aces. But just who are the Aces and what is their plan? With the help of your trusty canine companion, Elf, you must keep digging to get to the bottom of things. Good luck out there, Detective. Youre going to need it!
Game System Requirements:
OS:

Windows XP/Windows Vista/Windows 7/8

CPU:

2.5 GHz

RAM:

1024 MB

DirectX:

9.0

Hard Drive:

672 MB
Game Manager System Requirements:
Browser:

Internet Explorer 7 or later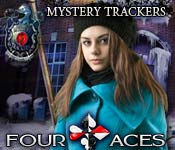 NEW299
The Big Fish Guarantee:
Quality tested and virus free.
No ads, no adware, no spyware.

Reviews at a Glance

Mystery Trackers: The Four Aces
0
out of
5 (
0
Reviews
Review
)
Customer Reviews
Mystery Trackers: The Four Aces
45
45
If not the CE you have to get the SE version - great fun game.
*All my reviews (bar one TM) is on finished gameplay - here it was the CE* Plot was 100% tied up in this SE version, bonus chapter was a bonus plot (more info at bottom.) As usual with Elephant you don?t have to worry about this or that you need to play the CE game to understand the next story. If they started doing that I wouldn?t recommend their games! I put my finished CE reviews in SE area as that information can be hard to find and it?s the most vital piece of information I look for in reviews (as often I?m a SE player.) Since Raincliff you don?t get any extras in the SE version, just in case you were hoping. Another great game from elephant (and big fish was in the credits as well as often they are) and I think the best of the four mystery trackers (this is more like raincliff purely because of the snow. Games in order it?s the void, ranicliff, black aisle) Usually developers gives you the best in the demo and by the time the end comes, it?s not as good. Elephant are very unusual as I find it gets even better as it goes along. The quality never wavers, gives you a good amount of new areas and holds my easily bored attention throughout. While I lOVED their extras in the CE I do think about if it would hold my attention without all that, and here it would. The usual elephant signature of never repeating HOS, no random click penalty, great cutscenes, transporter map (in later games) with tips in it, a lot of adventure and not that many HOS makes them my favourite DEV along with their graphics. The hint button is their usual mini guide which makes it great for SE players. Here you have a choice of four modes to play ? added detective one which is the same as the 3rd but mouse icon doesn?t change if you get to an interactive area. You can change hardness during play. There is the usual live actors and I?d say apart from 2 scenes the lip synch was OK (mostly didn?t speak!) Your dog is back to help! Ratio you can see is a lot of adventure and not so much HOS or puzzles but a lot of interactions, which is my personal preference as I love the adventure side. PROS -Transporter map -Amazing cutscenes -Unique plot -Lot of adventure -Only play a HOS once (other devs are lazy when they repeat and pad their games out by repeating them) CONS -Black bar tips on hardest mode -Puzzles were mostly easy and mostly not that original or got a twist on them compared to their other games -HOS in some of their other games are more crystal clear and sharp -Although better than some other games, still need to work on lip synch with live actors -I wish it was more like surface where you never went back to old areas 15 PUZZLES Mostly easy, some medium hardness (3 out of 5 for hardness) I enjoyed the move the ball down the path but that was made so easy by limited choice of arrows to use. The suitcase/flag is one of my favourites. 15 HOS No random click penalty on any mode, all list, interactive ? had some mini games in them, never repeat. While I found them well defined they weren?t as crystal clear and sharp as in some of their other games. Also there is light in some of them making it hard to see some as well as some very small items. I gave the graphics 5/5 for the amazing cutscenes and other scenes but the HOS is more a 3/5. TIME ? 6 hrs (no skipping, no hints but did switch a few times from detective mode to get hints on map) This is a harder mode than I usually play (no hints or skips) so my time may be slighter longer. Slight spoiler ? #At the end of the bonus chapter in the CE version there is a literal 3 second scene with someone in it, that might be indicated that you will see them in another game but if you do there was no plot you were missing out on or anything like that.
November 9, 2012
ELEPHANT GAMES HAS SCORED AGAIN!
The Mystery Trackers series always are a buy for me ? they never disappoint. A most unusual storyline that keeps your interest ? glimpses of a damsel in distress and an evil villain. And let?s not forget your faithful helpful companion Elf who fears nothing and can get into a lot of places you can?t. Lots to see and do in your investigation ? your map keeps you on track to visiting only pertinent locations. Exceptional, highly-polished gameplay with beautifully drawn environments. Right amount of challenging play. Good mix of HOS and puzzles/mini-games. HOS are somewhat crowded, but are aesthetically pleasing. The objects included in the HOS actually make sense in the story. Wide variety of puzzles and mini-games with varying degrees of difficulty. [Speaking of difficulty, you get your choice of 4 modes, from casual to hard-core difficulty.] Wonderful live acting and voice acting. All Pros and no Cons for this game.
November 9, 2012
Wonderful Game!
Based on the trial, this game gets 5 stars from me! The story is fun, the graphics are crisp and beautiful, the HOSs go above and beyond with interactive parts! The puzzles are clever and fun to do. No only is there a map that zaps you where you want to go but the hint button is a handsome top hat-wearing toad that makes suggestions - very elegant, plus a little dog companion who can get in and out of tight places. The developers of Mystery Trackers continue to "hit it out of the park!"
November 9, 2012
disappointing
This review is based on high hopes, an immediate buy when I saw the SE version available and 3 hours of game play. I thought my weekend was made when I saw the SE version come up yesterday and full of excitement started to play last night ... and got more and more bored as longer I played. Sure, the cut-scenes are wonderful and the graphics are good. But if that's all then I might as well watch a good movie. The game isn't atmosheric at all, it doesn't suck you in where you cant wait to see what happens next. It's totally linear. You need a ladder, and the HO next will provide it. And then the attempt at atmosphere that's just simply stupid. Like a cut-scene interrupts your meanderings where the girl shouts for help from a balcony and throws down a dagger at your feet as she is dragged away. Cut-scene finished and you look down at your feet and go "ohhh, there's something hidden in the snow, hush, whatever could that be? I might just want to investigate perhaps. WOW, who would have thought, it's a dagger" = hellooo! The hidden object scenes are neat in the way they offer a couple of interactive items, but the rest is just soo old hat, where many other developers have finally already gotten beyond the 5xScissors, etc junk pile setup, this is repeatitive and boring. The puzzles I've come across this far where the only semi highlight, but I wouldn't rave yet on that account either. So overall a mediocre attempt, specifically with raising such high hopes after the other's in the series. The developer hasn't gone beyond what's been done before #even the actress is the same as in prior games down to the hat she wears#. The worst for me is that there's no vibe, no atmosphere, no tention, just walk there, do the HO, get the item to get you through the next locked door, etc - disappointing. If you've enjoyed the other games in this series and are keen, make sure to do the trial first before you get excited and dish out good money. I wished I'd have done that and then waited for a Daily Deal on this one.
November 10, 2012
Love, love love it!!!
I did not see one thing wrong in buying this game. Love the demo. Fantastic storyline, HO scenes, music and just have to love the dog that helps you.
November 9, 2012
deja vu
The mystrey tracker games are so alike that I always have to check my games manager to see if I've played it before. That being said, they are still good games, and I do injoy playing them. There are several levels to play. There is a detective level that looks wicked. I think I will finish the casual level before I tackle that one. If you like the mystrey tracker games, you will like this one too.
November 9, 2012
not the "best" Mystery Tracker
disappointed in the length, played the trial version and thought it would be a good game to use as my "free game" get. I was surprised when it just sort of ended! It was not as good as the previous Mystery Tracker Games, sort of disjointed, not all that lenghty and story line was just fair. I do like the little dog as helper, and being able to jump from one scene to another without endless backtracking is a BIG plus. I normally love Elephant games so this was a bit of a let down. Not a bad pick for the "free game" glad I didn't waste the money to purchase. It was OK, but these days OK is hardly a glowing review.
November 13, 2012
If I could give this game 10 stars I would....
I had to force myself to stop playing the game (I bought this, SE version) just long enough to RAVE how GREAT this is. It will now be on the TOP of my FAVORITES OF ALL TIMES list... a winner in EVERY respect. It just continues to get better and better versus the usual trend to diminish or get redundant after Demo [thus I typically can't even finish many games; I get bored ~ NOT with this one]. Yay~!! No offensive creep or evil [occult] .. yet it maintains very suspenseful and scary with a twist of humor thrown in.... a GREAT MIX! SUPER HUGE KUDOS TO TALENTED DEV AND BFG ON THIS ONE! I hope there will be more from Elephant games with the same qualities as this game; well, that's all.... now back to the game :}
November 12, 2012
Fun to play
I played this game with my daughter and we really enjoyed it. We loved deciding what steps to take next and finding important clues. Played the free trial and didnt feel it was too dark like some of the other games.
November 24, 2012
Don't Miss This One!
I love the Mystery Trackers but they always seem too short. That said, I'm glad I purchased it (but also glad it was on a free game purchase). Maybe I've having soooo much fun I hate for it to end, but I was disappointed at the length. I seem to end up with either games which I wish would end or just change course, or games which don't feel "finished". The dog helper is great, the frog tips sometimes too much helpful information...would like an option to ask for more vague clues, but way better than "there is nothing else to do here now". Great graphics, just overall great time. Don't miss this one! Happy gaming! :)
November 10, 2012
The Apple logo is a trademark of Apple Computer, Inc.