Mystery Trackers: The Four Aces
Stop a devious conspiracy in Mystery Trackers: Four Aces! The entire town of Brightfield was evacuated after a series of bizarre animal attacks. Now, strange creatures roam the streets, danger lurks around every corner and youve just landed smack in the middle of it all. As you begin to investigate, you discover that the attacks may have been part of a whole series of crimes committed in town, all tracing back to an organization called the Four Aces. But just who are the Aces and what is their plan? With the help of your trusty canine companion, Elf, you must keep digging to get to the bottom of things. Good luck out there, Detective. Youre going to need it!
Game System Requirements:
OS:

Windows XP/Windows Vista/Windows 7/8

CPU:

2.5 GHz

RAM:

1024 MB

DirectX:

9.0

Hard Drive:

672 MB
Game Manager System Requirements:
Browser:

Internet Explorer 7 or later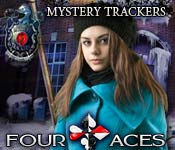 NEW299
The Big Fish Guarantee:
Quality tested and virus free.
No ads, no adware, no spyware.

Reviews at a Glance

Mystery Trackers: The Four Aces
0
out of
5 (
0
Reviews
Review
)
Customer Reviews
Mystery Trackers: The Four Aces
45
45
Dumb storyline...
I LOVE elephant games but this one failed a little for me. I usually love this series but the last two have just had the worst storylines. Detective games should be scary and keep you on edge the entire time. This one did not have me on edge. I played on advanced mode. I am sooo thankful I didn't buy the CE as this game only took me 3 hours roughly to complete. I did skip a few mini games but even if I had played them I would have been at 3.5 hours... The live actors were nice and so were the voiceovers. I would have liked some better character development. The evil guy wasn't really that scary and his intentions weren't really that clear except for him wanting to be beastman. This left a lot of questions. Maybe the bonus chapter summed it up but his plan definitely didn't scare me or make me care about saving the town. The mini games were unique. The hidden object scenes were lovely as elephant games usually are. I would have like an option to lock the inventory so it didn't keep going down. I really like games that have that function. I would really like a mystery trackers game that was out of the snow...and didn't have weird cloaked guys running around. Im starting to feel like I am just continually playing the same game...same bad guys...Id love a REAL LIFE mystery, something truly scary, evil and that could happen...I just feel like this story line was played out and the game didn't really develop the characters enough for me to care who I was saving or what I was doing... I did like the helper though...fire lizard and elf.
February 5, 2013
Best in 'Mystery Trackers' series so far!
I have played the previous three games in this series and in my opinion they get better each time. This one is definitely the best so far. Bringing back Elf the dog was inspired and makes gameplay even more enjoyable. I am pleased too that in this game the inventory items are named when your mouse hovers over them - in previous games some of these items have been a little unrecognisable and have left me puzzled as to what they are and where they fit in. The videos are good, as are the graphics. Puzzles are fun and not too frustrating or impossible. I also like the introduction of the map, showing areas where objectives have to be met - Mr Toad approves as well as he is 'resting' much more in this game than in the others as I don't need his help anywhere near as much. This is definitely my type of game, and I will certainly be buying any more in this series or any other games of this quality and nature. I am also pleased it is wide screen and fills my laptop screen, unlike most other games. I love it!
January 31, 2013
Good game, but too easy in places
I enjoy Mystery Trackers games, because they're mysterious and adventurous, but not too dark or grim. :) Like the other Mystery Trackers games I've played, this was very well executed, with excellent backgrounds and what I think are called 'cut scenes' - you know, the little animated scenes that move the plot along. The plot was good, and made sense within its own framework of reality. :) Hidden object scenes are nicely broken up with other puzzles and mini-games, so they do not become monotonous. :) And, as usual with a Mystery Trackers game, it took me several evenings to complete - so you get a fair bit of game for your money. :) However, there is one prominent nit that I feel I must pick: in places, achieving the objectives set was just too darned easy!! And it seemed to me that these instances got more frequent as the game progressed. I know that not all games have to be majorly challenging - but for me, this didn't give the level of challenge that I've come to expect from a Mystery Trackers game. :( That said, it was still, overall, a fun game. And some of it WAS challenging. I'd still recommend it. :) I just hope that the next one they make will more fully live up to the excellent standards that they have previously set. :)
January 29, 2013
EVEN THE HINT BUTTON HAS CHARACTER
I have to say that I thoroughly enjoyed this game: *interactive map (don't forget to use the arrows when the time comes) *clear indication as to where to go next to perform a task *hint button not only EXTREMELY helpful as to WHAT TO DO, it has character -- hm...what to do next; oh yeah, how about.... *you get 2 helpful critters -- just don't forget to use them like I did on occasion; hint would say .... and I'd think -- duh, of course Some people don't like this type of hand-holding but I LOVE it as it provides a very relaxing but thought-provoking game wherein if you get stuck, the answer is at your fingertips. Besides, I do believe that this game has 3 difficulty modes to choose from.
January 15, 2013
a great game for many
i really liked this game. the hints walk you through it if you need it. they tell where to go and there is a map for you to locate the place. the clues for some of the things are "right there" where you need them. not hiding anywhere. didn't hear too much of the sound but the graphics are very clear!!!!
January 14, 2013
challenging and worth the price
I don't like buying games that I finish in a few hours. This one really took me more time than I expected - cool! There was much to do to progress in the game and the mini-games were tough. Design of the game is excellent. The video segments were well done and the level of detail of each setting showed the quality that the creators strived to achieve. It was exciting, too, and I was sorry when it was over....
January 10, 2013
Great game
I enjoy playing Mystery Trackers and the little helper (Elf the dog) is a cute plus to the game. Overall I liked the story and the challenge of the game, though the story it in many ways reminds a bit of the Raincliff story. I found that if you set your challenge level high enough, you will be challenged for a long time making the game time worth the prize of the game. At the end of the game, though, it seemed that the game developers was in a hurry to make an ending for the game and more or less just keeps you moving back and forth between three or four previous locations to get more items to solve the next puzzle(s), where as at the beginning of the game, you get your inventory filled up very fast and more locations open up. Because of the similarity to Raincliff, the navigation through the last stages and the fact that this is the third game of Mystery Trackers in a row that takes place in a snowstorm, I can only give this game 4 out of 5 stars.
January 8, 2013
Positively Magic!
This game reminded me so much of Mystery Case Files, Dire Grove. The story line was really engaging, and the graphics were simply beautiful. The puzzles were challenging but not so difficult that I needed to refer to the strategy guide. Mini-puzzles within the hidden object scenes kept the game interesting. This game was the most fun I've had playing a HOG in a long, long time. I will certainly look for more Mystery Tracker games to play!
January 2, 2013
Blah
Really liked the other Mystery Trackers games, was excited to see a new one so quickly! However, it fell flat. Rather dull, long stretches of no noise (background) whatsoever, disjointed "plot", just ...blah....
December 20, 2012
Really wanted to like it, but....
I bought this one because I have really enjoyed all the other Mystery Trackers games. But this one really fell short. I played on expert, which I like to do because it takes longer to finish and you have to use your brain more. But in this game, the expert level actually SKIPS some puzzles! At least twice I saw a device that I know I should do something with, but when I clicked on it nothing happened. I checked the strategy guide, and Yep! they were puzzles that I wasn't allowed to do on Expert! And it just wasn't a fun game. Either what you needed to do next was so pitifully easy, or completely illogical. If you want a good Mystery Trackers game, Raincliff is my favorite.
December 15, 2012
The Apple logo is a trademark of Apple Computer, Inc.