Mystery Trackers: The Four Aces
Stop a devious conspiracy in Mystery Trackers: Four Aces! The entire town of Brightfield was evacuated after a series of bizarre animal attacks. Now, strange creatures roam the streets, danger lurks around every corner and youve just landed smack in the middle of it all. As you begin to investigate, you discover that the attacks may have been part of a whole series of crimes committed in town, all tracing back to an organization called the Four Aces. But just who are the Aces and what is their plan? With the help of your trusty canine companion, Elf, you must keep digging to get to the bottom of things. Good luck out there, Detective. Youre going to need it!
Game System Requirements:
OS:

Windows XP/Windows Vista/Windows 7/8

CPU:

2.5 GHz

RAM:

1024 MB

DirectX:

9.0

Hard Drive:

672 MB
Game Manager System Requirements:
Browser:

Internet Explorer 7 or later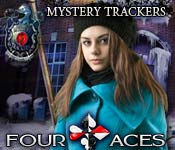 NEW299
The Big Fish Guarantee:
Quality tested and virus free.
No ads, no adware, no spyware.

Reviews at a Glance

Mystery Trackers: The Four Aces
0
out of
5 (
0
Reviews
Review
)
Customer Reviews
Mystery Trackers: The Four Aces
51
51
disappointing
This review is based on high hopes, an immediate buy when I saw the SE version available and 3 hours of game play. I thought my weekend was made when I saw the SE version come up yesterday and full of excitement started to play last night ... and got more and more bored as longer I played. Sure, the cut-scenes are wonderful and the graphics are good. But if that's all then I might as well watch a good movie. The game isn't atmosheric at all, it doesn't suck you in where you cant wait to see what happens next. It's totally linear. You need a ladder, and the HO next will provide it. And then the attempt at atmosphere that's just simply stupid. Like a cut-scene interrupts your meanderings where the girl shouts for help from a balcony and throws down a dagger at your feet as she is dragged away. Cut-scene finished and you look down at your feet and go "ohhh, there's something hidden in the snow, hush, whatever could that be? I might just want to investigate perhaps. WOW, who would have thought, it's a dagger" = hellooo! The hidden object scenes are neat in the way they offer a couple of interactive items, but the rest is just soo old hat, where many other developers have finally already gotten beyond the 5xScissors, etc junk pile setup, this is repeatitive and boring. The puzzles I've come across this far where the only semi highlight, but I wouldn't rave yet on that account either. So overall a mediocre attempt, specifically with raising such high hopes after the other's in the series. The developer hasn't gone beyond what's been done before #even the actress is the same as in prior games down to the hat she wears#. The worst for me is that there's no vibe, no atmosphere, no tention, just walk there, do the HO, get the item to get you through the next locked door, etc - disappointing. If you've enjoyed the other games in this series and are keen, make sure to do the trial first before you get excited and dish out good money. I wished I'd have done that and then waited for a Daily Deal on this one.
November 10, 2012
not the "best" Mystery Tracker
disappointed in the length, played the trial version and thought it would be a good game to use as my "free game" get. I was surprised when it just sort of ended! It was not as good as the previous Mystery Tracker Games, sort of disjointed, not all that lenghty and story line was just fair. I do like the little dog as helper, and being able to jump from one scene to another without endless backtracking is a BIG plus. I normally love Elephant games so this was a bit of a let down. Not a bad pick for the "free game" glad I didn't waste the money to purchase. It was OK, but these days OK is hardly a glowing review.
November 13, 2012
why all the evil?
Been a HOG fan for nearly 2 years now and the pattern continues. Except for the "Love Story" games, every single one has evil, dark, spiritually deadly story lines with ghoulish and black hearted antagonists. I get the "Mystery" angle, but game creators must worship at the altar of Stephen King. Skipping all the story lines to get to the games and puzzles is an option, but it sure takes away from the price paid to own the game.
December 30, 2012
Not bad, but quickly finished.
Visually it's good, sound is adequate but not brilliant. Main problem is that it only took 2.5 hours to finish. Probably not worth spending a credit on.
November 22, 2012
Dumb storyline...
I LOVE elephant games but this one failed a little for me. I usually love this series but the last two have just had the worst storylines. Detective games should be scary and keep you on edge the entire time. This one did not have me on edge. I played on advanced mode. I am sooo thankful I didn't buy the CE as this game only took me 3 hours roughly to complete. I did skip a few mini games but even if I had played them I would have been at 3.5 hours... The live actors were nice and so were the voiceovers. I would have liked some better character development. The evil guy wasn't really that scary and his intentions weren't really that clear except for him wanting to be beastman. This left a lot of questions. Maybe the bonus chapter summed it up but his plan definitely didn't scare me or make me care about saving the town. The mini games were unique. The hidden object scenes were lovely as elephant games usually are. I would have like an option to lock the inventory so it didn't keep going down. I really like games that have that function. I would really like a mystery trackers game that was out of the snow...and didn't have weird cloaked guys running around. Im starting to feel like I am just continually playing the same game...same bad guys...Id love a REAL LIFE mystery, something truly scary, evil and that could happen...I just feel like this story line was played out and the game didn't really develop the characters enough for me to care who I was saving or what I was doing... I did like the helper though...fire lizard and elf.
February 5, 2013
Really wanted to like it, but....
I bought this one because I have really enjoyed all the other Mystery Trackers games. But this one really fell short. I played on expert, which I like to do because it takes longer to finish and you have to use your brain more. But in this game, the expert level actually SKIPS some puzzles! At least twice I saw a device that I know I should do something with, but when I clicked on it nothing happened. I checked the strategy guide, and Yep! they were puzzles that I wasn't allowed to do on Expert! And it just wasn't a fun game. Either what you needed to do next was so pitifully easy, or completely illogical. If you want a good Mystery Trackers game, Raincliff is my favorite.
December 15, 2012
Mystery Trackers - Four Aces
First time player and am so frustrated that I could scream. Can't seem get beyond the 1st chapter. I like a challenge but this is awful...ready to throw in the towel. Wasted my money.
December 26, 2012
MT is going down hill
Are the creators even trying anymore. It seems like once someone makes a good game, they make it into a series and slowly stop concerning themselves with details like story, plot, and enjoyable game play. This is one of those games that just had an interesting series name slapped on it then rushed out to make money. Story is bad after the demo, music and visuals are good but that's all. Why is our character dumb enough to bring his dog and put him in danger? Only get the SE version on a sale day if your interested otherwise it's a total waste of money.
November 15, 2012
Blah
Really liked the other Mystery Trackers games, was excited to see a new one so quickly! However, it fell flat. Rather dull, long stretches of no noise (background) whatsoever, disjointed "plot", just ...blah....
December 20, 2012
save your game credits
This game is boring and uncreative. There is absolutely no challenge to it at all. Cheaply and amateurishly made. Don't waste you money or credits. It might be OK if ths was your first HOG.
November 13, 2012