Time Relics: Gears of Light
Exclusive
For hundreds of years, the clock tower at the edge of town has been a landmark and a tourist attraction. The tower itself appears to never age, and the small town's inhabitants are prosperous and happy. Enter the Hands of Fate - a mysterious group whose objective is to keep the continuum of time running smoothly. You play as a member of the Hands of Fate determined to collect all the Gears of Light and return them to their rightful place in the tower thus restoring time to its rightful place – but, is it already too late?
Interesting and immersive story
Play through HI screens
Play through Puzzles
Check out the Blog Walkthrough
Game System Requirements:
OS:

Windows XP/Windows Vista/Windows 7/8

CPU:

1.0 GHz

RAM:

512 MB

DirectX:

9.0

Hard Drive:

460 MB
Game Manager System Requirements:
Browser:

Internet Explorer 7 or later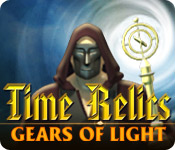 NEW299
The Big Fish Guarantee:
Quality tested and virus free.
No ads, no adware, no spyware.

Reviews at a Glance

Time Relics: Gears of Light
0
out of
5 (
0
Reviews
Review
)
Customer Reviews
Time Relics: Gears of Light
28
28
REVIEW OF COMPLETED GAME
This is not a bad game at all, just a little rough graphics-wise, a bit too dark (visually) and too short, at only 3.5 hrs. There are a lot of iHOS and mini games but there are also other things to find and do, scattered around. I especially liked the music, it's really beautiful. The hint button is quite fast and points the way, but the game is not overloaded with locations so getting lost is not a problem. There is no map because there is no need for one. The story is quite good, I think. Original anyway. The distant past has intruded into present day, so you have the strange and mystical town and buildings existing at the same time as the modern ones. An evil they call The Catastrophe has caused this and you have to defeat it. There is nothing remarkable or innovative about it, it is just your basic problem solving SE. If you know not to expect too much and can get it for free, it will while away a few hours as it is moderately interesting. These devs have many other games to their credit that I own and I would not put this one too high on the list. I am not going to recommend or not recommend it because I am not pulled in either direction.
November 10, 2012
Beautiful music & fun way to spend an evening at home
I've never felt the need to comment on music before but I thought it was beautiful and simply had to leave one. Other than the music, I liked the VO and thought they were well done. The graphics is probably the games weakest point compared to other releases we've seen from this dev but there are several other qualities and aspects that I did enjoy. Plot: You're one of several "guardians of light" in the clock tower where Elchron, the clock keeper suddenly changes for the worse. He "upsets" time and uses the gears to alter the land ("the catastrophe"#. You and the others are cast out of the tower and the 5 gears of light are scattered across the land. You must find and return the gears to the clock tower and restore order. - Widescreen option, w/ 3 lvls of play - Can chose the SIZE of the cursor; I loved this feature as I tend to groan when given a cursor the size of my fist to tool around with - Journal is usful & tracks 3 things: Clues, Gears and Echo Crystals #which you find and drag to the center to play/stop/listen#. ** I really liked the ability to continue listening to a shard after closing the journal while I cont. to explore the game. Huge plus for me - HO scenes = list of 12 items #full list up front# with white/yellow/blue name tags. Yellow = move another item to find it; Blue #unique) = Requires a "Rune of Transformation" to find. Clicking the rune transforms modern items into their older equivalent which put a nice spin on HOS and kept them interesting. Items weren't impossible to find & few were cleverly hidden without being invisible. No click penalty in casual - Puzzles were fun and of good variety; some unique - Mini games aren't too hard and I enjoyed the ones which requried you to place scenes from storyline in the correct order, so if you skipped them all, this task may take you a bit longer to complete - Game length was too short for me but overall, for a SE game it's was definitely worth using a credit
November 10, 2012
A Non-Challenging Time Warp Game
In the past these developers have brought us a selection of very good games; Nightfall Mysteries and the Shattered Mind series, all in their own right very entertaining games. Unfortunately Time Relic, a HOPA, disappoints me for several reasons. First I found the storyline very weak in comparison to previous games. The byline of the story is the past meeting up with the present causing great havoc in a town. According to the game description, you belong to a mysterious group of brethens called the Hands of Fate, whose objective is to keep the continuum of time running smoothly. The ancient Clock Tower has been destroyed under mysterious circumstances and you must collect all the missing gears in order to restore the time continueum before the town is completely gone. These facts are not made evident when you begin playingthe game which makes the story a bit disconnected which made it somewhat difficult to immerse myself into the plot and the characters. There are three play modes and with the exception of hardcore, you will have sparkles and guidance. The graphics are dark and clear but cut-scenes were a tad blurred and choppy. I did enjoy the music score and there are voice-overs. Game features a notebook with four sections; one section for clues, one that will hold the missing gears found throught the game, a section that holds the special crystals that will have recorded thoughts of characters that offer you background information. Finally a section where you need to place the missing pages of the Grimoire that recounts the story behing the Clock Tower and its secret. Gameplay is your basic HOPA with interactive HO scenes that are different from what we have seen and offers a unique perspective to the game. There are items that belong in the present and some that are from the past and can be revealed when locating the rune button. The adventure aspect of the game is pretty straightforward and you do have the blackbar tips that does lead you through the game. There are a variety of min-games that I did come across and all were a bit too simple which was rather disappointing. Overall I was not thrown over by the game; it lacked challenge and I felt that the story was not covered very well by the gameplay. As it has been offered as a Standard Edition, I personally will spend a free game credit on it. The fun factor was a bit low and I really did not find the game overtly challenging or entertaining when I compare it to the other games from these developers; it felt a bit incomplete. Nevertheless, a game for HOPA beginners and fans of the occult who may enjoy Time Relics for what it is; an easy and uncomplicated game with some interesting HO scenes and some basic puzzles.
November 10, 2012
Hooded evils are back....
Played 20 minutes, casual - 3 modes, casual, advanced, extreme - Note book, you get crystals that you put in it to know other people thoughts - H0, you interact in two ways, regular one pushing objects to find another one and in each H0 you have a rune that changes time, brings you in the past where you find the rest of your missing objects - Hint refill quickly (casual) - Skip button which I didn't check - Mini games easy up till what I played - Music pretty loud when you're supposed to be scared.... - Good graphics - Looks like a good SE Gears of light are keeping evil spirits away, of course they get shattered all over the place and you have to find them to save your world. A bit tired of hooded demons threatening to kill me and leaving me unharmed, running to other tasks, but then, if I were killed how would I play ? !!! Will spend a punch card credit on this one.
November 10, 2012
A much better game than I expected
When I first started playing I thought it was going to be a standard hidden object game but I found it much more enjoyable . Some of the mini games were hard. The story line was an old and tried one time is out of control and you have to sort it out etc etc but it was done in a refreshingly new way the HO's carry the story along and you do have to use your brain although if you get stuck the hint button refreshes quickly . My only disapointment was the demo finished far too soon and Yes I will buy it
November 10, 2012
Surprisingly good game for an SE
This review is based on the demo. When I read the description I didn't think I would like the game, but decided to try it anyway. I'm really glad I did. The video and VO in the beginning, and throughout the game, is well done. The storyline is intriguing, but not totally original. You are one of the Guardians of a tower containing Gears of Time that keep an evil known as the Catastrophe imprisoned. These Gears need to be renewed every so often. As the game opens something has happened and the Catastrophe is breaking free, causing elements from different times to appear. You have to find all the gears and put them back in place to prevent the Catastrophe from merging all the different time streams and destroying the world. There are 3 levels of challenge. I played on the hardest level. The mini-games were interesting, but somewhat easy. The HOS were well drawn, and interesting. Each one has a Rune of Transformation that changes items into ones from a different time. Some of the objects require actions before you can find them. Graphics and gameplay are good. The scenery is beautiful, very colorful. The music is pleasant and fits the scene. I found the story interesting despite the fact that it's similar to other storylines. Overall, I think this is a good game, especially for an SE version. I plan to buy it.
November 10, 2012
Give this a Try! It's worth it!
When I read some of the early reviews I wasn't too sure about how much I would like it...however I am so glad I gave it a try. It is challenging without being frustrating...puzzles are just the right degree of difficulty that you can figure them out without a walkthrough. I am playing advanced mode. The Graphics are nice and so is the voice over. The HO scenes are also not too hard and fairly easy to see. Just the right mix of puzzles and HO so far for me. I definitely recommend.
November 10, 2012
Not bad, could be better
This was a mediocre game. Interesting to play but not as well developed as I had hoped it would be. Puzzles were fairly easy, music was mysteriously good to storyline and I did like the way the HO scenes worked in that when you clicked on the rune, it would change a few items into what you are looking for. Pretty much a linear game with not alot of going back and forth. Somewhat entertaining but not sure I would want to purchase at the regular price.
November 10, 2012
Time relics
Graphics are good, music is ok, HOSs are good but too few. Puzzles are challenging. Seems like the game stopped every couple of minutes for some pointless story element. Very distracting and disjointed. The story just made no sense to me. Too many interuptions, not enough game.
November 11, 2012
I wise the time was longer
This game is fun to play. I did have to use the hunt button alot, but it was still fun. I wish I could extend the time on this game. I love the graphics in it. It is kind of gothic like. I would recommend the game.
November 11, 2012
The Apple logo is a trademark of Apple Computer, Inc.