Time Relics: Gears of Light
Exclusive
For hundreds of years, the clock tower at the edge of town has been a landmark and a tourist attraction. The tower itself appears to never age, and the small town's inhabitants are prosperous and happy. Enter the Hands of Fate - a mysterious group whose objective is to keep the continuum of time running smoothly. You play as a member of the Hands of Fate determined to collect all the Gears of Light and return them to their rightful place in the tower thus restoring time to its rightful place – but, is it already too late?
Interesting and immersive story
Play through HI screens
Play through Puzzles
Check out the Blog Walkthrough
Game System Requirements:
OS:

Windows XP/Windows Vista/Windows 7/8

CPU:

1.0 GHz

RAM:

512 MB

DirectX:

9.0

Hard Drive:

460 MB
Game Manager System Requirements:
Browser:

Internet Explorer 7 or later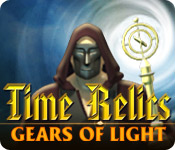 NEW299
The Big Fish Guarantee:
Quality tested and virus free.
No ads, no adware, no spyware.

Reviews at a Glance

Time Relics: Gears of Light
0
out of
5 (
0
Reviews
Review
)
Customer Reviews
Time Relics: Gears of Light
31
31
Not bad, could be better
This was a mediocre game. Interesting to play but not as well developed as I had hoped it would be. Puzzles were fairly easy, music was mysteriously good to storyline and I did like the way the HO scenes worked in that when you clicked on the rune, it would change a few items into what you are looking for. Pretty much a linear game with not alot of going back and forth. Somewhat entertaining but not sure I would want to purchase at the regular price.
November 10, 2012
not that bad
Has voice over and the graphics are not that bad. Music is ok. The hint button works good and fast. The HOS are good and the puzzles are ok. Some harder than others. You do go back and forth to find items and you do need more than 1 at times to progress. All in all not that bad of a game.
February 22, 2013
Nice little time filler...
This is perfect game to play after a long and drawn out hidden object adventure game. This is the light version of that and plays very nicely. It is quite linear, not a lot of back and forth going on. Once you leave a scene, you can go back to it as its not roped off but the tasks you need to do are forward and not in the old scenes. It has beautiful music, one of the best aspects of the game. Because the music is so beautiful, it makes the game a real delight to play. This took me about 2-3 hours and after the last game I played, I welcomed something sweet, short and to the point. This game is a little strange though as objects from the past and present are combined into one. The hidden object scenes have a neat little feature that adds to the cuteness of this game. Love the sound effects it gives off too. I would recommend this game to anyone who likes the developer VAST (Im a huge fan), wants a time filler game inbetween a big saga game or just wants a to the point, linear, light game to fill their afternoon. I really enjoyed this one. Cheers!
January 18, 2013
Good game but short
This is a rather easy game with an interesting story. There are 3 game modes, with sparkles also in the Advanced mode. The graphics are very clear, even in the HOS. The mini-games are interesting and not too challenging. But without skipping, it took me less than 2 hours to finish. I would recommend it with a coupon or as a DD.
April 18, 2013
Got better as it went
I really had doubts when I started the demo. I was a little lost at first, but it certainly got better as I went along. The storyline improved the more I played and I think this turned into a very good game. I plan to purchase it when I have a game credit. I don't know about the length because this is baed on the demo, but I think it will be worth a credit.
November 15, 2012
Good Game
Overall I enjoyed this game although it is very easy to play and was somewhat short. The guardian clock that keeps time in sync has broken and the gears have scattered. You play as the sole remaining guardian and have to locate the gears and restore the clock. Timelines are converging as the story moves along. The graphics are good, but overall dark. The cut scenes were okay, but somewhat choppy. There are lots of iHOS and mini games. The iHOS were good, but a lot of the mini games were repetitive. The music was so-so, but I usually don't like music in games. The voice overs were well done. There is a journal which is useful. You don't have a map, but you don't need one. The game is very linear and you don't go back to areas once you clear them. The game would be really good for beginners. There aren't many challenges and game play is straight forward. I would recommend this game; however, if you're not a beginner, select this game when you want a break from some of the harder, more involved games.
November 22, 2013
REVIEW OF COMPLETED GAME
This is not a bad game at all, just a little rough graphics-wise, a bit too dark (visually) and too short, at only 3.5 hrs. There are a lot of iHOS and mini games but there are also other things to find and do, scattered around. I especially liked the music, it's really beautiful. The hint button is quite fast and points the way, but the game is not overloaded with locations so getting lost is not a problem. There is no map because there is no need for one. The story is quite good, I think. Original anyway. The distant past has intruded into present day, so you have the strange and mystical town and buildings existing at the same time as the modern ones. An evil they call The Catastrophe has caused this and you have to defeat it. There is nothing remarkable or innovative about it, it is just your basic problem solving SE. If you know not to expect too much and can get it for free, it will while away a few hours as it is moderately interesting. These devs have many other games to their credit that I own and I would not put this one too high on the list. I am not going to recommend or not recommend it because I am not pulled in either direction.
November 10, 2012
A Non-Challenging Time Warp Game
In the past these developers have brought us a selection of very good games; Nightfall Mysteries and the Shattered Mind series, all in their own right very entertaining games. Unfortunately Time Relic, a HOPA, disappoints me for several reasons. First I found the storyline very weak in comparison to previous games. The byline of the story is the past meeting up with the present causing great havoc in a town. According to the game description, you belong to a mysterious group of brethens called the Hands of Fate, whose objective is to keep the continuum of time running smoothly. The ancient Clock Tower has been destroyed under mysterious circumstances and you must collect all the missing gears in order to restore the time continueum before the town is completely gone. These facts are not made evident when you begin playingthe game which makes the story a bit disconnected which made it somewhat difficult to immerse myself into the plot and the characters. There are three play modes and with the exception of hardcore, you will have sparkles and guidance. The graphics are dark and clear but cut-scenes were a tad blurred and choppy. I did enjoy the music score and there are voice-overs. Game features a notebook with four sections; one section for clues, one that will hold the missing gears found throught the game, a section that holds the special crystals that will have recorded thoughts of characters that offer you background information. Finally a section where you need to place the missing pages of the Grimoire that recounts the story behing the Clock Tower and its secret. Gameplay is your basic HOPA with interactive HO scenes that are different from what we have seen and offers a unique perspective to the game. There are items that belong in the present and some that are from the past and can be revealed when locating the rune button. The adventure aspect of the game is pretty straightforward and you do have the blackbar tips that does lead you through the game. There are a variety of min-games that I did come across and all were a bit too simple which was rather disappointing. Overall I was not thrown over by the game; it lacked challenge and I felt that the story was not covered very well by the gameplay. As it has been offered as a Standard Edition, I personally will spend a free game credit on it. The fun factor was a bit low and I really did not find the game overtly challenging or entertaining when I compare it to the other games from these developers; it felt a bit incomplete. Nevertheless, a game for HOPA beginners and fans of the occult who may enjoy Time Relics for what it is; an easy and uncomplicated game with some interesting HO scenes and some basic puzzles.
November 10, 2012
Moves too fast after trial
The game was challenging and interesting during the trial period. Once I bought it, the challenge wasn't as much. It took less than 2 hours to complete.
February 1, 2013
Okay Game
I think this game could have been better.. The basic story is good.. but its lacking depth or something... I did not care for the surroundings at any time in the game.. this took away from Enjoyment for me.. I thought the game was just a bit too easy to make up for what it lacked... Its okay for a free game credit.. I would not suggest paying for it though...
January 14, 2013
The Apple logo is a trademark of Apple Computer, Inc.