Forbidden Secrets: Alien Town Collector's Edition
Exclusive
A TV show is turning the children of Fort Nightingale into zombies - but that's not the weirdest thing going on in the city! Enter this mystifying maelstrom as Clarrisa, a government agent that investigates unexplained phenomenon. Are you afraid? Or will you step bravely toward the unknown? Find out in Forbidden Secrets: Alien Town!

This is a special Collector's Edition release full of exclusive extras you won't find in the standard version. As a bonus, Collector's Edition purchases count toward three stamps on your Monthly Game Club Punch Card!

The Collector's Edition includes:
Additional bonus chapter
Built-in strategy guide
Magnificient wallpapers and concept art
Game System Requirements:
OS:

Windows XP/Windows Vista/Windows 7/8

CPU:

1.4 GHz

RAM:

512 MB

DirectX:

9.0

Hard Drive:

677 MB
Game Manager System Requirements:
Browser:

Internet Explorer 7 or later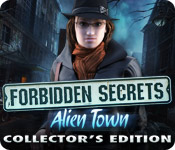 The Big Fish Guarantee:
Quality tested and virus free.
No ads, no adware, no spyware.

Reviews at a Glance

Forbidden Secrets: Alien Town Collector's Edition
0
out of
5 (
0
Reviews
Review
)
Customer Reviews
Forbidden Secrets: Alien Town Collector's Edition
90
90
Have I played this one before?
I liked this game but didn't love it. The mechanics were good. Lots of locations, morphing/ beyond objects to find and a mix of HO scenes. Some were find the objects and some were place the objects back in. No achievements. The game was long with a kind of far out aliens taking over/ attacking earth storyline. The 3D people and the VO's (what there were) were fairly well done but I don't know. This one just didn't wow me. It felt as though I had played it before and seemd a mesh of many before it. Not a huge knock on it.. it was fine.. I liked it.. but there was just nothing new.. nothing bad and at the same time .. nothing outstanding. A good solid HOPA that seemed similar to many that we have already played.. If you are looking for a good game that's a good length and decent story.... this one will do.
November 18, 2012
Alien Town
I have played for 40 mins, and I think it appears to be a very good game, I will keep it mind for a future purchase. I am a pensioner so have to be careful with my income which is fixed to the more mundane things in life like food and fuel. but I hope to buy it soon.
November 12, 2012
Most Everyone's in a Stupor
An interesting story about people afflicted with a disease causing them to be in a state of stupor. While most people are plagued with being in a stupor, not everyone is and there should be an explanation of why ? after all, those who are normal don?t live in a bubble, thereby escaping the cause. Love the morphing objects. Voiceovers are okay, as are the actors. It?s usually easy to figure out what has to be done next, but if you become stumped, the interactive map, showing where current activities are available, is most helpful. Physical environments are somewhat drab. HOS are not crowded; in fact, there was a most efficient use of HOS scenes. There would be a small amount of objects which you must find and interact with. That resulted in a new short list of objects to find and interact with, and so on. They were a pleasure. Also had to put objects back where they belong. Some were obvious; other were not ? moderate challenge finding whether things belonged. Nice game ? a little better than average. Just not compelling as some others. About 3 1/2 stars or a little more, but I rounded down due to the drab locations.
November 11, 2012
Plot was good but that was about it for me (bonus info at bottom)
I should have stuck with my first instincts of this game, that the graphics are dreary and thought the puzzles were boring and the HOS was mostly junkpile. The plot was good and it?s a good length game but that was about it. I bought the CE as it had morphs but even the morphs were not well done. The icon changed when it went over a morph and mostly it was in dark shadows so it was really hard to see. I like collectables/morphs to be a challenge but I prefer it not to solely rely on darkness to do this. I thought it was great that the transporter map had two different choices on it, one for morph tips and one for things to do in a scene. You can turn both on or off during the game and I wish every DEV would do this. I know a lot of people like their challenge to be purely memory and don?t mind loads of backtracking. If you like that then this game delivers. I prefer my gameplay and puzzles to be more of a challenge. The backtracking in this was HUGE even with a map, backtrack for one thing then go somewhere else. This makes it more bitty for me and just didn?t have a good flow for my taste. This game just did not keep my attention due to this. I feel this developer has done better graphics in the past, and this is apart from the dreary look. 29 PUZZLES (has a skip button) The puzzles by the end I wanted to scream if I saw one more puzzle ?you?ve seen this combination before.? They were so easy it was boring and also kept repeating a certain type ? swap tiles/rings etc. At the beginning there was hardly any ?puzzles? and I don?t class looking up a combination in your journal as a puzzle and there were LOADS of ?puzzles? like that. There were about 3 or 4 arcade type. I prefer logical, work out puzzles rather than guess the right sequence etc. Apart from 1 or 2 puzzles I did not like them at all. You also have auto tips on hard mode which you should have an info button to bring up this info without it automatically being given. 19 HOS 9 reverse (put an item back in a scene) 10 list type Most were repeated, do one list then it?s repeated as a reverse scene. There is no random click penalty on the hard mode (choice of two modes you have). A lot was in the junk pile realm, some very small items. I personally didn?t like the look of most of them even though the reverse kind is my favourite kind of HOS. BONUS EXTRAS & GAME Apart from the usual (SG, wallpaper, concept art) the only real extra was 40 morphs and they have done it better in their other games, unless you love looking at shadows. I wouldn?t have really known that the plot was tied up in the main game until I played the bonus which was just a backstory and although it added slightly to the overall story it wasn?t worth it re plot alone and in the middle just got weird for me. But then I rarely think a bonus is worth it on plot alone. I did get 1hr 10mins out of the bonus and mostly it was in a new area and the graphics did actually have some colour to it. HOS 4 list 3 reverse kind One of the scenes it was the third time you played it as it was one you played in main game twice already. You repeat each scene, so the list became reverse. 9 Puzzles Three arcade, configurations, swap tiles/things around to make image TIME main game over 5 hrs BONUS another 1hr 10 mins I?m not recommending the CE as it is double price than a SE, the morphs wasn?t that well done and I just wasn?t loving gameplay to even overlook the other things. Even though the bonus had new area and it was over an hour.
January 12, 2013
A good game
Just finished the demo: -graphics were good, so visually enticing! -story line not original but still bearable! -mini puzzles and HO a wee bit on the weak side of challenging and altogether acceptable to keep one's brain functioning! -didn't bother with the sound so cannot comment! I will probably wait for the the "non collection" version before purchasing it altogether with a special offer on a sales weekend from BF. Didn't feel it was really an immediate purchase for me and would suggest it might be a very good game for beginners and intermediate levels.
November 11, 2012
ALIEN SI-FI
This is a great game for beginners and intermediate fishies who want to get the experience, but sadly not challenging enough for experts. You have: * Voiceovers; * Casual and Expert Modes; * Interactive HOS; * Interactive map; * 40 morphing objects to find; * 7 chapters plus the bonus; * Interaction with the characters. The graphics are very good and clear as you are travelling around - but I just wished it would stop raining. The HOS were interactive and very easy to find everything. I enjoyed doing these. The sound was good - quietly in the background. The mini-games we have all seen before, but some were fun. Most were very easy and could be accomplished in under a minute or so. There were many of them, so you will find some you like. The morphing objects were a different story. In a lot of cases they were very hard to see. Some were in such obscure places and you would have walked right passed them. Its only because you get a "hand" to tell you that one is there that you realise 'oh okay I didn't see one'. You can also look on the map to see if you have missed any and then go back and find them. I wished they had been more clearer. Its quite a long game - I think it took me around 6 hours to play the game and about 1 hour for the bonus. I like to take my time though and play all the HOS and mini-games without hints or skipping. I didn't need to use the Hints or Strategy Guide, so sorry not sure how long they takes to recharge. Experts won't need it anyway. All in all, a good game. Definitely recommended.
January 25, 2014
Not my favorite
Some games are great. This isn't one of them.
February 18, 2013
It's Ok... In A Good Way
Forbidden Secrets: Alien Town does not live up to the standards the other reviewers have set, but by the end of my free trial it began to get good. Good Parts: Strategy guide and map 3 different types of HOS. Junkpile. Place the Item, and the HOS where some items needed to be used to do other things in the scene. Great graphics. Really good voice-overs Good hint and skip recharge 2 modes, Casual and hard "Beyond" objects OK Parts: Storyline. Started off really boring, but towards the end of my trial got really good. As I've said, the gane started off boring. Puzzles. Some were alright, but some I didn't like. A bit of going back and forth. Sometimes I found it hard to figure out what to do. Bad Parts: Not really worth CE money. Before playing, I checked the extras, and all there was was art and soundtracks! There is a bonus chapter but I wont be sticking around. For those who are wondering, I would wait for the SE due to limited extras. But overall, this was a nice game. One I'd recommend the trial for.
November 16, 2012
Didn't Like It.
Ten minutes of the demo was enough for me to decide not to purchase this game. The scenes were small, dull and uninteresting. Nah.
November 27, 2012
Great story,Voices, Dreary,dull colors used in all graphics
I own all of this Game Developers games and I appreciate their quality game testing, they do not use their customers for beta testing! I love the storyline it is very interesting. I love the map and the way we can jump instantly to location. I love the voice overs they are very well done. I own every game from this Developer and the majority are beautiful colored graphics with beautiful animation. It is a shame the G.D did not continue to use beautiful colored graphics in this game. This Game could have been so much more interesting to play if they had changed colors in the graphics and used more animation. I hate the bland lifeless colors used in all the graphics. The story could show a deserted town and remained interesting by using beautifully colored graphics. In my opinion the graphics are dull and lifeless not beautifully done like in Game Developers other games. I hate all the mechanical assembly required, it is not fun for me. I hate the Game Designer chose to use the most depressing, dark bluish graphics even in the hidden object screens it takes the fun out of the hidden object scenes they are dreary,lifeless, static graphics. This game has a interesting storyline I buy games for the storyline especially with voices. I will not be buying Collectors Edition for the above reasons. I own every collector Edition thus far, but I will wait for this to go on sale. It is a shame because the voices in the game are very well done. I hope the Game Developer will not make this a habit of using dark, dreary, lifeless, colors and boring mechanical assembly of objects in future games. In my opinion a little of mechanical assembly is tolerated but this game carries it to the extreme.
November 12, 2012