Inception of Darkness: Exorcist 3
In the middle of a forested archaeological encampment surrounded by long deserted dwellings and artifacts, we again find Garret Ghostfighter. He has been summoned here to investigate the strange disappearances of scientists, as well as his own godson, Jacob. The missing vanish without a trace and screams are heard at night. Which new evil are we to fight this time? Find out in Inception of Darkness: Exorcist 3.
Unravel an ancient mystery
Deep story-driven adventure
Play the original Exorcist
Game System Requirements:
OS:

Windows XP/Windows Vista/Windows 7/8

CPU:

1.0 GHz

RAM:

512 MB

DirectX:

9.0

Hard Drive:

405 MB
Game Manager System Requirements:
Browser:

Internet Explorer 7 or later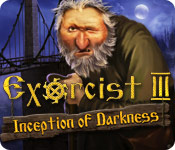 NEW299
The Big Fish Guarantee:
Quality tested and virus free.
No ads, no adware, no spyware.

Reviews at a Glance

Inception of Darkness: Exorcist 3
0
out of
5 (
0
Reviews
Review
)
Customer Reviews
Inception of Darkness: Exorcist 3
33
33
Good sequel of the Exorcist
I really liked the first two games of the series and this one is my favorite so far. Nothing to complain about! I have not seen a single samovar in the game and I had to look up some of the HO items in the dictionary, but I actually enjoy this. This is what games are about in the end, having a good time and keep your mind busy.
November 13, 2012
Great Compliment to the Series
Like with any HO series, lots of hopping around and takes a minute to figure out what goes where, but excellent storyline..HO's are pretty easy...Hint button okay if you're stuck...
November 12, 2012
Not on the same level as other Exorcists
I went ahead and purchased this before playing since I have the other Exorcist games. This one was good but not as good as the others. This click area is pretty tight (had to click forever to find the amphora), but other than that is is good. The only other thing is that is was too short. I am still pleased with the purchase.
November 15, 2012
Very good, but short
Good story line, rescuing Jacob from the devil. No VOS, just text Lots of HOS, interactive Diary Good puzzles, short skip Cursor a little slow on picking up items 3.25 hours casual
December 21, 2012
Better then the first
This Exorcist 3 is much better then the first and the first was good not great. I did not know there was a second one, but would probably buy all three just to have the story line. Liked the puzzle, graphics were great.
December 20, 2012
Not Exactly What I Expected
These developers have in the past delivered games with interesting storylines, some dealing with the occult while others dealt with the supernatural. As a sequel, Excorsist 3 does not quite hold a candle to their previous games when it comes to graphics although there is a slight improvement withthe overall look. If like me you do enjoy the occasional world of the dark and macarbre, this may just appeal to you. I did find the storyline somewhat weak without any real emphasis on the darkness of the overall subject matter. Be warned, there is way too much dialogue in the beginning which incidently is supported by good voice-overs and luckily they can be skipped. I personally did not mind the excessive jabber but I was once again slighly disappointed with the plot. Once again, Derek, the Exsorcist and savior of innocent souls, is called upon by an old friend who requires his immediate help with the dissapearance of his son Jacob. His Father has witnessed a dark and malignant force grab his son and now needs Derik's help in rescuing him. Pertaining to the story, the graphics are dark and gloomy. Unfotunately graphics are also at times bit grainy and blurry during the cut scenes. Game features three play modes to choose from. You are equipped with a journal and supposedly a map which I have yet to find during the trail play. Game mechanics is a HOPA with junk-piled HO scenes that are slightly interactive and where some items were barely visible to the naked eye. I enjoyed the adventure aspect of the game and I found some of the mini-games quite challenging. Overall the story is dark, the gameplay is midly interesting and there were a few times I actually needed a bit elbow-grease in solving a puzzle. Visually, graphics are not up to par but I will nevertheless recommend it if, like me, you are a junky for HOPA's and enjoy topics dealing with the dark forces of evil.
November 12, 2012
Dark Story
This is my first play of this series. Very dark story starting with the abduction of a child. Not my cuppa. Graphics are good, music was ok. The music could have been more intense to support the story line. The puzzles were really good. The ones I did during the trial were new to me and quite fun. The HOSs were just jumbles but some of the objects were uncommon - you might need a dictionary if you don't like using the hint button. The hint button recharges quickly. There was an atypical map at one point that was interesting to use. A diffinate yes on at least doing the trial.
November 12, 2012
Exorcist is back !!!
Played 20 minutes casual -3 modes, casual, expert, professional - Voice overs - Note book (scroll) - Hint is useful outside H0 - Interesting mini games (only came across one the time I played) - H0, you interact - Good graphics Another exorcist story, I have the first two and I will spend a punch card credit on this one. No everyday that we get a decent SE.
November 12, 2012
Uninspired Prequel
BASED ON COMPLETED GAME This game should have been icing on the Exorcist series cake. It has EXCELLENT GRAPHICS, a COMPELLING STORY, and INTERESTING GAMEPLAY. But it was totally ruined for me within the opening moments. This STORY is set in Jacob?s (our character from Exorcist II) childhood. He has been kidnapped by a demon, and his father calls in the boy?s godfather, none other than our old friend Garret Ghostfinder. Once again we get to play him at his prime. But it is absolutely sacrilegious! They have substituted Ghostfinder?s very proper English VOICEOVER to one with a broad American accent. Unthinkable. It would have been much better to simply call on an American exorcist, and leave Ghostfinder out of it altogether. The STORY didn?t really require that it be him to make sense. It was just a fun aspect. Other than this, the game has become pretty much your every day mainstream SE game. They have messed not only with the VOICEOVERS, but the AMBIENT SOUNDS AND DEMONIC MUTTERINGS have been replaced by BLAND MUSAK. Ick! The GRAPHICS are GREAT, the HO SCENES are clear, not too cluttered, and ? an important improvement from the previous games ? there are no more objects too tiny to identify. The scenes are visited twice, not always spread sufficiently apart. WELL DONE on the PUZZLES though. These had some of the usuals, but they also had some INTERESTING & ORIGINAL ones as well. On the Quirk-O-Meter, this game scores very low compared to the other Exorcist games, but it retains a bit of that maverick spirit ? some of the items used, well, interestingly. And there is really only one character outside the father and Ghostfighter and he DEFINITELY rates as QUIRKY. This Exorcist takes itself a bit too seriously for my tastes. The previous ones always give me a good giggle.
May 6, 2013
Some games need fine tuning.
This is the third Exorcist game, and I was somewhat disappointed. Many of the hints don't make sense in the context of the game, especially in the underground cavern. There seems to be a lag between what you see and what is described. You are told to use the water bucket on a rock fissure, when you have previously used the bucket and the situation calls for a pickaxe. Or, a body dangles from the ceiling and the game says this is where you use the bunny; the bunny is described as a dead explorer. Oh well, we all make mistrakes! Also, it is irritating when the character is speaking and the caption shows a very different sentence. On the plus side, most of the hidden objects are described correctly, which is not always the case in some of these games. Over all, this game was pretty boring. It didn't stop me from purchasing a while back, but there are better games.
January 3, 2013