Inception of Darkness: Exorcist 3
In the middle of a forested archaeological encampment surrounded by long deserted dwellings and artifacts, we again find Garret Ghostfighter. He has been summoned here to investigate the strange disappearances of scientists, as well as his own godson, Jacob. The missing vanish without a trace and screams are heard at night. Which new evil are we to fight this time? Find out in Inception of Darkness: Exorcist 3.
Unravel an ancient mystery
Deep story-driven adventure
Play the original Exorcist
Game System Requirements:
OS:

Windows XP/Windows Vista/Windows 7/8

CPU:

1.0 GHz

RAM:

512 MB

DirectX:

9.0

Hard Drive:

405 MB
Game Manager System Requirements:
Browser:

Internet Explorer 7 or later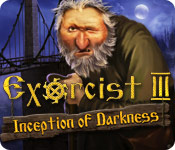 NEW299
The Big Fish Guarantee:
Quality tested and virus free.
No ads, no adware, no spyware.

Reviews at a Glance

Inception of Darkness: Exorcist 3
0
out of
5 (
0
Reviews
Review
)
Customer Reviews
Inception of Darkness: Exorcist 3
31
31
The best part in the series!
Kudos to developers, as they've managed to go from good to great in Exorcist series (and actually moved me enough to write this)! This one is again a heavy adventure with challenging mini-games and stunning graphics. Yeah, sometimes it is hard to figure out what to do next without thinking about it, but hey - this is exactly what I like to challenge my brain with. There is nothing much otherwise in my life to keep myself mentally in a perfect fit. :) I wish though the story was a bit better driven - sometimes I was a bit lost in it even when I was reading eveyrthing they wrote. But overall, it's definitely worth trying.
November 13, 2012
REVIEW OF COMPLETED GAME
It is a bit of a stretch for me to even give this disaster the 2 rating. The 2nd Exorcist was a vast improvement on the 1st and I fully expected this one to be even better than the 2nd.. However, it was even worse than the 1st. It does not seem that that same people worked on this one, it is so different and so inferior. The graphics are very poor and the game play is clunky, slow and awkward. Navigation is dreadful. The iHOS are illogical and unclear. The music is awful. The story is lame and the whole thing is just so amateurish, I cannot understand how it got passed. Often the instructions, when I clicked on something highlighted, did not match the object or item, but harked back to something I had already done. There are a huge amount of iHOS and puzzles, which puzzles I found illogical and not doable. There was talk of a map, but it never materialized. On the plus side, the hint/skip are fast and the hint gives directions. Unfortunately, that is all I can find to say about it that is positive. I do recall the same incongruity between the design and style of the first 2, and this one is again, unlike either of them, and is of a third type. I think different groups of people have worked on each one. It was altogether quite dreadful and I hated it. BFG needs to be more vigilant as to what they put out there. This type of mess is damaging to their rep, not to mention the dev's rep. I am just grateful I did not spend any money on it.
November 12, 2012
Inception of Darkness: Exorcist 3
I liked Exorcist 3 a lot and the game tells really great the story in between Exorcist 1 and 2. Thumbs up!
November 14, 2012
VERY GOOD GAME
I have all the Exorcists Games now so far. This is a very good game to play. If you like Adventure/ Hidden Object Games then try this one out too. Beleive me you will enjoy playing it. I can not wait until they make an Exorcist 4.
November 13, 2012
Great Compliment to the Series
Like with any HO series, lots of hopping around and takes a minute to figure out what goes where, but excellent storyline..HO's are pretty easy...Hint button okay if you're stuck...
November 12, 2012
Uninspired Prequel
BASED ON COMPLETED GAME This game should have been icing on the Exorcist series cake. It has EXCELLENT GRAPHICS, a COMPELLING STORY, and INTERESTING GAMEPLAY. But it was totally ruined for me within the opening moments. This STORY is set in Jacob?s (our character from Exorcist II) childhood. He has been kidnapped by a demon, and his father calls in the boy?s godfather, none other than our old friend Garret Ghostfinder. Once again we get to play him at his prime. But it is absolutely sacrilegious! They have substituted Ghostfinder?s very proper English VOICEOVER to one with a broad American accent. Unthinkable. It would have been much better to simply call on an American exorcist, and leave Ghostfinder out of it altogether. The STORY didn?t really require that it be him to make sense. It was just a fun aspect. Other than this, the game has become pretty much your every day mainstream SE game. They have messed not only with the VOICEOVERS, but the AMBIENT SOUNDS AND DEMONIC MUTTERINGS have been replaced by BLAND MUSAK. Ick! The GRAPHICS are GREAT, the HO SCENES are clear, not too cluttered, and ? an important improvement from the previous games ? there are no more objects too tiny to identify. The scenes are visited twice, not always spread sufficiently apart. WELL DONE on the PUZZLES though. These had some of the usuals, but they also had some INTERESTING & ORIGINAL ones as well. On the Quirk-O-Meter, this game scores very low compared to the other Exorcist games, but it retains a bit of that maverick spirit ? some of the items used, well, interestingly. And there is really only one character outside the father and Ghostfighter and he DEFINITELY rates as QUIRKY. This Exorcist takes itself a bit too seriously for my tastes. The previous ones always give me a good giggle.
May 6, 2013
It was a great game...until the end
I will try not the give anything away for those who want to give this game a try. It was a great game until the end when the last task would not work...which is why I only gave it two stars. The only advise I got was to reinstall the game. Good luck with that suggestion... too many games...too little time. I have a one year old computer with a pretty good graphic card running windows7... so I am fairly sure there may be a glitch in the game. If you have a game credit and are feeling lucky you may want to give the game a try... otherwise I cannot recommend the game.
December 8, 2012
Not on the same level as other Exorcists
I went ahead and purchased this before playing since I have the other Exorcist games. This one was good but not as good as the others. This click area is pretty tight (had to click forever to find the amphora), but other than that is is good. The only other thing is that is was too short. I am still pleased with the purchase.
November 15, 2012
GLITCHY
This game has many glitches and often does not respond when you click on an object even if it is the right one. This slows down the gameplay and is very frustrating.
November 17, 2012
Disappointing
Oh dear, I did try to like it there was so much to do on the ho's I got bored and I agree some objects are impossible to put togeather and it definately is inferior to the first game in the series The visual look of the game is good may be the problem comes down to the storyline its too same old same old please can developers come up with some new stories sorry but I only lasted 15 mins
November 12, 2012