Spirits of Mystery: The Dark Minotaur Collector's Edition
In the dark of night, an elusive figure breaks into the royal menagerie and steals four magic animals, your childhood companions and dearest friends. It is up to you to save them! Take the journey to discover more about the Dark Minotaur who threatens the magical world. Can you save them in time?

This is a special Collector's Edition release full of exclusive extras you won't find in the standard version. As a bonus, Collector's Edition purchases count toward three stamps on your Monthly Game Club Punch Card!

The Collector's Edition includes:
Bonus gameplay
Downloadable music tracks
Stunning wallpapers and screensaver
An integrated Strategy Guide
Game System Requirements:
OS:

Windows XP/Windows Vista/Windows 7/Windows 8

CPU:

1.4 GHz

RAM:

1024 MB

DirectX:

9.0

Hard Drive:

874 MB
Game Manager System Requirements:
Browser:

Internet Explorer 7 or later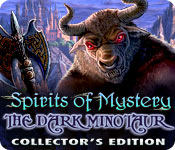 The Big Fish Guarantee:
Quality tested and virus free.
No ads, no adware, no spyware.

Reviews at a Glance

Spirits of Mystery: The Dark Minotaur Collector's Edition
0
out of
5 (
0
Reviews
Review
)
Customer Reviews
Spirits of Mystery: The Dark Minotaur Collector's Edition
92
92
Colorful and a couple of hours of fun
The artwork was great, the plot was fine, BUT the help was not helpful and the CE?s "extra play" was really the last chapter of the story. That is becoming more frequent isn?t it? I do recommend this game but the exclamation marks belong to Big Fish not me.
January 19, 2013
good but some issues
first I am very glad I bought the collectors, I don't generally buy collectors since I don't care about the extra's but once in a while I come across a game where I need the help and this is one. there is no map and I would not have known where to go next with out the help. the story line is okay, you get fun pets to help you etc. the only reason I am not overwhelmed is how it ended. all of the sudden it was over and I really don't know what I accomplished. I found the pets, I think I saved the place but it was all unclear. I don't use sound so can't rate that. I will recommend because it is an interesting story line, I think the pets are great and I like the idea of being invisible
September 8, 2013
fun game, but there's some loading issue
I own every single game in this series but unfortunately this one is my least favorite. ERS Games haven't changed, so graphic is their typical style. The HOG games are few and they're diverse from finding regular items, to interactive, to shadow images. There're few animals here, but too bad they mostly don't do anything unless we give them something to eat. The usual good thing from ERS is here: the nice voice overs, the length, the SG, the extras, but this game has serious loading issues in my computer. On on the first screen it freezes and I have to restart the game at least twice to make it work. In the end it's getting slower, maybe because of the first loading issue. I try to finish this game as soon as possible so not to meet another technical problem. In the end, if you want to buy this game, please make sure you try the demo first and decide.
March 6, 2013
Great game.. fun interactive HO scenes
I really enjoyed this game, it was very similar to Song of the Phoenix with fun interactive HO scenes. The graphics were beautiful, no over the top scary scenes, and the extra bonus chapter was long and added just enough to the end. My only complaint was that the sound was obviously on a loop, and would audibly stop and start over again, with every single scene. For a game to be this well-made I found that a little odd, but otherwise very good game.
March 1, 2013
Not as good as the others!
I love this series so was keen to play this one. As usual the graphics are gorgeous and the storyline was interesting for us fairytale/fantasy lovers. What I found was that it lacked the challenge of the previous games - very easy puzzles and very linear. Also towards the end it was one HO after another which was like the devs had run out of steam! Again I didn't feel that in the other games, so all in all although this was stlll fun to play, I was rather disappointed.
January 14, 2013
Entertaining!
As with the first 2 games in this series, this game does not disappoint. Beautiful graphics, imaginative scenes. Varied Minigames HOG scenes could have been better, had to use hint button in the final HOG scene. The game seemed too short! Waiting for the next one in the series!
January 5, 2013
A D?ssapoinment!
Amongst my favorite games are Spirit of Mysteries: Song of the Phoenix and Amber Maiden, so you can imagine how excited I was to have this one come out. Well after having completed the demo, my excitement has dwindled and once again these developers have managed to dissapointed me. The storyline has a slight disconnected theme and after a while I just could not find myself remotely interested in what was going on. Our Princess is back and you play her. Weren't we married inthe last game? Anyhow, our favorite mystical animals have been kidnapped and we must retrieve them from the wicked soceress and her sidekick, Isa the gamehunter (Didn't we get rid of them in the last game?#. Anyhow, Each animal holds special powers which we will use throughout the game #ofcorse provided we find them# Game Graphics are the usual and has become a signature for these devlopers: slightly washed out and old looking. I am sorry but when comapred to many games we have played recently, these style just seems a bit dated. The music is extremely annoying after a while and there are voice-overs. We choose from three play modes and game features inclue a journal and your menagerie of animals #once you hae located them). Gameplay is heavy on adventure and light on HO scenes. Mini-games are pleasant but not very challenging. There is alot of finding inventory items and if you have disabled the black-bar tips above, then the game does have a certain degree of challenge. While HO scenes are few, they vary at times; there are your standard "find list of items" and there is the occasional, "use items to unlock other items". The game is not bad but I am on the fence as to wether to purchase it or wait for the SE. Game play just did not blow me away and to be honest, I was rather bored after 45 mintues. I am sure that there will be many who will enjoy the adventure and these developers do have a very loyal following. I enjoy many of their games however this one just did not appeal to me as the previous ones mentionned earlier. Like I said, a dissapointment!
December 27, 2012
REALLY easy puzzles
I found the puzzles to be really, really easy. Even on the most challenging mode. The storyline was interesting but not enough to convince to buy the whole game. Possibly a good family game, if you're going to play with the six year olds. Still, the look of the game was nice and there didn't seem to be a lot of back and forth between scenes, which is also nice. I also liked that it wasn't super dark and gothic or involving some sort of fairytale romance. In the end though I need more of a challenge to enjoy this sort of game. Definitely try out the free demo, the good points about this game may be your cup of tea.
December 27, 2012
So-So, very easy puzzles but.....
The game has lovely music, wonderful graphics and an interesting storyline for younger players. I did feel the puzzles are better suited for the 12 to 15 year old group as they were very easy...but a good game for new players or a younger individual.
December 30, 2012
Not up to Spirits of Mystery standards
VERSION Collector's Edition full game DEVELOPER ERS GENRE Hidden Object/Puzzle Adventure fantasy STORYLINE You're back in your role as the plucky princess always fighting the evil witch Mortis and her lover/sidekick Isa in this third installment of Spirits of Mystery. This reads somewhat like a prequel, since you defeated Mortis and Isa in Song of the Phoenix, but there's not enough backstory regarding their relationship for it to qualify as one. Anyway, off you go to save another kingdom from their evil machinations, this time concerning the revival of a minotaur, who makes only a token appearance. You also have to rescue your four magical animals, whom Isa has kidnapped. GAMEPLAY This is mainly an adventure game with HO scenes and puzzles along the way. The HO scenes repeat several times?which is irritating?and are either of the junk pile variety or the serial action, "do this to get that" type. The junk pile HOs are extremely cluttered, some of the descriptions are questionable, and the font style is hard to read. The serial action HOs are more fun, being more innovative and interactive. The puzzles are nothing we haven't seen before, and none of them were difficult. The adventure portion, on the other hand, was somewhat chaotic. Several times, I found myself in an area before I had collected the items needed there, and the black box text was cryptic at best, leaving me wondering why I couldn't do anything in that area. Other times, I was simply at a dead end with no idea what to do next. And some interactive areas were easy to miss, being close to the "go back" hot spot or the very edges of the screen. INTERFACE A crystal ball at bottom right gives you hints. At bottom left is the amulet holding your magical animals. If you feed them, they'll help you. (That's all I can say without spoiling things.) I didn't notice whether there was a map, but your travels are segmented into smaller areas, so there's not a lot of backtracking. TECHNICAL No issues. GRAPHICS Graphics are the usual ERS painterly style. CUTSCENES Cutscenes are the usual ERS painterly style animation. MUSIC Appropriate, except for a repetitive "The Lost Boys vampires flying" sound which was annoying. SOUND The usual ERS ambient and game sounds. VOICEOVER Fairly well done, although the characters seemed a bit self-important and disrespectful considering they were addressing a princess. SUMMARY In my opinion, this is the weakest of the three in the series. Although I would still recommend it, it was a bit of a disappointment after Song of the Phoenix. The storyline seemed fragmented and the minotaur itself superfluous, merely lending himself to the game's name rather than as an integral part of the story. Also, the ending was abrupt?no denouement. Nor did the bonus play provide any; it was a completely different storyline. I had difficulty becoming interested in the game's characters as they had little personality aside from helpless neediness or gratuitous evil. Similarly, gameplay seemed fragmented, which is unusual for ERS games. There were a few times when I simply had no idea what to do next, and the items in my inventory provided no clue. If you have Amber Maiden and Song of the Phoenix, I would recommend you purchase this one if only to continue your collection. If not, Song of the Phoenix is the best of the series, to my mind?and the CE is worth it.
January 3, 2013
The Apple logo is a trademark of Apple Computer, Inc.