Rune Stones Quest
Help save the Dwarven Kingdom in Rune Stones Quest! Long ago, five Rune Stones protected and brought prosperity to the kingdom. The destruction of these runes by a sinister sorcerer has weakened the kingdom. Meanwhile the Army of Darkness threatens to erase what's left of the declining nation. The Rune Stones must be restored to save the land. The best Dwarven masters have prepared a quest to regain lost ancient knowledge and restore the runes. Will you aid them in their vital quest?
Magnificent atmosphere and graphics
Construct a settlement
Seven unique locations
Game System Requirements:
OS:

Windows XP/Windows Vista/Windows 7/8

CPU:

1.0 GHz

RAM:

256 MB

DirectX:

8.0

Hard Drive:

119 MB
Game Manager System Requirements:
Browser:

Internet Explorer 7 or later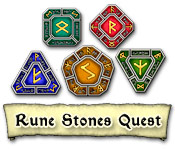 NEW299
The Big Fish Guarantee:
Quality tested and virus free.
No ads, no adware, no spyware.

Reviews at a Glance

Rune Stones Quest
0
out of
5 (
0
Reviews
Review
)
Customer Reviews
Match 3 for seniors
Excellent game with challenges and the ability to build something without having to go through a gazillion boards. Not really timed so you have time to puzzle out the best moves without triggering the pests. Nice graphics although the music gets a little boring.
November 13, 2012
Relaxing Match 3 Game
There are many things to match in this nature based game. It starts out very simple and then more hazards/obstacles are added as you go along. So far I've matched candles, wood, stones, leaves and other things. There is a fun story which is basically to get the rune stones back and rebuild a community. Fun game!
November 21, 2013
A very relaxing match 3 game
This is very relaxing game. The game tells you what to do. You build houses, clear the forest to get wood etc. The graphics are great. I don't know if there is a time limit, I got through the levels with no trouble. I would recommed this game.
November 13, 2012
awsome great for the sesons
love the whole thing.very enjoyable!!!!!!!!!!!!!!!!!
December 3, 2012
Awesome if you have 3D screen, otherwise FLAT basic graphics
Rune Stones Quest, 2011 Requires 256 RAM, 119MB Help save the Dwarven Kingdom. 5 rune stones protected and brought prosperity to the kingdom for generations. Their destruction by a sinister sorcerer has weakened the kingdom and the Army of Darkness threatens to erase what little remains. They need your help to go on a quest prepared by the Dwarven Masters, to help regain ancient knowledge and restore the rune stones. There are 7 locations, the first location the ancient tree is restored then the settlement is rebuilt, from building roads, lumber mills, fountains, getting rid of pests, and collecting honey. This is a basic Match 3, boards vary in size/shape plus have different tasks to accomplish. The goals for the current board are listed on a small board in the upper left of the screen. It will show a picture of the tile and how many of that tile you will need to clear. The Menu button is in the lower left of the screen. The players name and to switch players is in the upper right of the screen. Once you finish a board the board members that have tasks to accomplish are at the lower part of the screen in the center. If there is more than one person who has tasks to be done then you have a choice which to play first but once you click to see what that persons tasks for you are then you must play that one before looking at what the other people needed you to do. Players with poor eye sight may find that the lettering is a bit fuzzy and not very sharp making it more difficult to read. The option category allows you to set the graphics settings for your computer, window or full screen views, sound/ music sliders 0-100 in increments of 5?s, plus a choice of custom or standard game cursors. Once you have made any changes push the apply button, (not the return to game button). Once you have applied the changes then you can push the return to game button. Pictures on the tiles during the demo were easy to distinguish one tile from another. Close to the midpoint of the demo time they then made some tiles very similar. The tiles included a shovel and a pick ax with the same size, color, and length of handles plus they were also laying in the same direction. The other items on the board were 3 rocks: one gold, one light grey and one dark grey. Two were identical in shape and one was slightly different in shape but was the same size as the other two colored rocks. These may make it too difficult for some people to distinguish one tile from another. No game timer but points are given depending on the amount of time you took to complete a board. I received 2?s and 3?s and assume there is also a 1 but did not get one myself and nor did I get a 4 when I intentionally tried to go very slowly. Each board may have hidden items to find under the tiles or you may need to clear all the darkened tiles on the board, as is normal in other M3 games. On the completion of a board, a table pops up and lists Time- ___ points matched items bonus activated pests activated items collected extra items collected OK (you must click OK to clear the box and progress) Table states the different scores in each area but the game has not explained why I need to know this. Does it earn me anything or if it does not advance me why post the table at all? During certain boards one of five different types of pests may lock up a stretch of tiles. To clear the locked tiles you must make matches involving the locked tiles to clear them. You can also just work on tiles in another area as the locks tiles are not permanently locked and after a short time the locks will break and release the tiles without you needing to do anything. Another of the challenges is when a section is involved in a mass of black swarming pests that takes up about 16 squares, you can only see the very edge tiles around the swarm and the swarm, eventually clears but it is a major obstruction to work around. If you are careful you can make selections that will prevent the swarm from occurring. The other thing that was a frustration was you can not make another match until all the tiles stop cascading or falling. The story line is OK, graphics leave a bit to be desired in the background scenes unless you have a 3D screen, but the tiles on the boards are clear. Once you click a tile you must play that tile as it is stuck to your cursor. The music is calm and unremarkable. The game does not have all the bells and whistles but give it a try it may be worth a punch card coupon if you have one and you enjoy basic Match 3 games with no pressure involved.
November 14, 2012
pretty, relaxing
OK, so there are better match-3 games around but I always like ones with click/swap action, rather than chaining and pretty natural objects to swap. Also it was the perfect length. A good game to play while eating or talking on the phone!
November 25, 2012
Match 3 Relaxation!
If you're looking for a classic Match 3 with plenty of soothing qualities this may be for you. The forest graphics are lovely, the game play simple, the music very pleasant. You can lose the custom cursor which is always a plus for me and the play is traditional swapping. The only things I disliked were the fact that you can't continue swapping while tiles are falling and that the game play was just a tiny bit slow for my taste. My review is based on only part of the demo hour so please try it for yourself.
November 13, 2012
needs a bit of tweeking for fun but still nice game to relax
Ok, I just loved the graphics. I guess I must have a 3d screen?? I have my pc hooked to my television. Well I've never seen these unique graphics before and I am trying to decide to buy just for that reason. Also I love match 3 games where you have to get a certain quantity of items to pass level. Even though it would of been better if it was certain quantity of each of the items not just 2.which is as far as I've gotten in the trial play. I'd prefer it to be more like lalaloopsy game on my phone which I like. Not having a timer doesn't bother me so much because I like relaxed games but I would of liked an option for replay to beat that number they give you, if that scoring for time is in fact a reflection of how well you played that board. That is my biggest complaint of why they didn't add a clearer scoring to give this game a higher fun level. Why add obstacles in the game if it doesn't matter how long it takes you to finish or a chance to beat your time. That is what makes this game have no challenge at all. Come on, give me a gold silver or bronze rating and a replay button. But I still may buy and would recommend it to play when you just don't feel like thinking much because I love the fact that it is a simple M3 board with fantastic graphics. You can actually pick up the items you are switching and they look real, not just flat pictures. I enjoyed it visually.
December 8, 2013
WHILE AGREE WITH OTHERS ABOUT...
While I agree with others that the playing boards were 99% flat and colorless and objects at times difficult to differentiate from each other (i.e. shovels and pickaxes), I took on the mindset that such issues were good for the following reasons: *I can better appreciate the higher quality of Match3 games that I play in the future and *it's good eye exercise With this type of mindset, I was able to enjoy playing and completing this game. The 1 issue that I have to admit that I found confusing was the purpose of board objects being blacked out when certain set-ups came into play. The reason for the confusion is to its purpose; even with the board objects were blacked out, a gamer can STILL PLAY said objects as if they'd not been blacked out. Maybe it was done to provide a form of misperception as to the availability of said blacked-out objects? I don't know but this game is VERY EASY to play as even "x" out objects became free within a moment or 2 without any matching efforts from the gamer and hence no need for any type of power-ups.
April 1, 2013
Good concept - FLAT graphics, literally
*** Demo only*** Your village has been dessimated by the destruction of necessary runes and your quest is to restore these runes and rebuild the village. With improved graphics the game concept seems quite good. The tiles are VERY VERY FLAT and rather than sliding they attach briefly to the cursor and are sort of dropped in place. Not a very smooth process for the seasoned game-player. There is no timer although the time is recorded; there are no huge bombs just some bonus objects go 'pff' when swapped - we need more BANGS!! There are plenty of 'pests' like bee swarms, spider webs and frozen tiles. Matching with the tile underneath gets rid of the webs and frozen tiles but the swarm just hangs around for a while getting in the way. I liked the idea of choosing which part of the new village to concentrate on next which then tasks you with collecting supplies of one thing or another. I didn't like the mines games as the stones, gold and rocks all looked very similar as did the picks and the shovels. The gems were clearer but then the FLATNESS spoilt it. The library books and manuscripts were also extremely FLAT. Not a buy for me unless the graphics and sound effects are drastically improved.
November 13, 2012