Rune Stones Quest
Help save the Dwarven Kingdom in Rune Stones Quest! Long ago, five Rune Stones protected and brought prosperity to the kingdom. The destruction of these runes by a sinister sorcerer has weakened the kingdom. Meanwhile the Army of Darkness threatens to erase what's left of the declining nation. The Rune Stones must be restored to save the land. The best Dwarven masters have prepared a quest to regain lost ancient knowledge and restore the runes. Will you aid them in their vital quest?
Magnificent atmosphere and graphics
Construct a settlement
Seven unique locations
Game System Requirements:
OS:

Windows XP/Windows Vista/Windows 7/8

CPU:

1.0 GHz

RAM:

256 MB

DirectX:

8.0

Hard Drive:

119 MB
Game Manager System Requirements:
Browser:

Internet Explorer 7 or later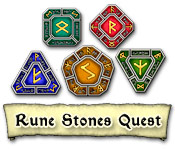 NEW299
The Big Fish Guarantee:
Quality tested and virus free.
No ads, no adware, no spyware.

Reviews at a Glance

Rune Stones Quest
0
out of
5 (
0
Reviews
Review
)
Customer Reviews
What on earth happened?
It is an OK game, but it looks like the developers dug out an old game with old graphics, spruced it up a bit and submitted it as a "new" game. The game is simple enough, the music is soothing but repetitious, but it gets a bit more challenging as you go through the upper levels. Not sure if I will buy this one since it is a Match 3, which seldom shows up these days, but the game just isn't appealing so think no sale here.
November 13, 2012
A Bit of a Surprise
Flat Graphics come alive on a 3D monitor, changes the whole play of the game. A good Match 3 game, great for passing time. I have added it to my Match 3 folder.
November 14, 2012
A puzzling game (pun intended!)
After playing this game for about 2 hours, I am still puzzled by it. I find the graphics nice, and the game boards are very clear. But the scoring system is impossible to figure out. Is a score of 3 on time better or worse than a score of 2? Is it better to activate pests or not? Also, since progress is not shown, it is impossible to know how long this game is. I've restored one rune stone out of five and am close to restoring a second, but that doesn't exactly tell me how long it will take for the others. The game has been easy except for the level where I restored the rune stone, which was reasonably challenging. There is a real attempt to provide variety in how the levels work, and the pests do add some challenge, but in general, the game is fairly easy, and has not gotten harder at the pace I would expect. For a match-3 game it does have a pretty good story line, and you get to build rather nice buildings. What puzzles me about the game is why it does not get harder. It has potential as a "different" game, but so far, it's offered little real challenge. I recommend it as a fun game for children or match-3 beginners.
November 13, 2012
Mellow Game
I got the game as a freebie a while back, tried it to make sure it worked, but didn't feel interested in playing. Recently, I decided to give it a try and was hooked. What changed is that I am destroyed by work right now and want to do something mindless and relatively stress-free. +1 to the reviewer who said it is perfect to play while eating or talking on the phone. I read that while completing the final levels. There's a little story line, but all that does is set what types of tiles you need to clear. You can disregard the quests and just play it like a straight match-3 with some variations in game play. I'm not sure how many levels there are, maybe 50. You have to assemble five runes, and for each rune you help with various tasks like mining, weeding, constructing buildings, and gathering manuscripts in the library. There's little indication of your progress. From the setup, you know that there will be a section for each rune. As you get used to the tasks in each section, you get a feel for how many there will be. The levels get repetitive because the challenge doesn't increase much. You have to make more matches at the higher levels. I think the tiles you need become scarcer, but I could just have been getting tired. I like the illustration technique. It is flat, but to me it has a nice quality that supports the visual style of the game. The style does create a sameness to the tiles, which can make them hard to distinguish. The music is unobtrusive, fine to leave on. I like the sound effects for the tiles. My favorite levels were with the alchemist where you assemble the runes. They were also the most challenging. My least favorite were the mining levels because everything looked the same -- spades, pick-axes, rocks, gold, and silver had a limited color palette and similar shapes. Some of the field work was also difficult because the carrots, wheat, and corn all look the same. Those levels were hard on my eyes. I like the pests. My favorites are the bees, which explode out of their hive and conceal part of the puzzle, and spiders, which cover tiles with webs. Most pests dissipate quickly. Least favorite -- not sure what they were, maybe brambles ? turned tiles permanently to black-and-white, causing more eye strain. As others have mentioned, the sticky cursor is a nuisance. Stars Ashes (the developer) rolls that way. I like their games, so I deal with it. Through to the end, though, I made unintended swaps because of it. The scoring is a complete mystery. There's another review that talks about that in detail. The end of the game was a let-down. There was a "congratulations" screen, but I thought there might be a final challenge or even just credits to confirm that, yes, that's it. I did experience a bug. It was difficult to move tiles in the top row because the window would move as if I were dragging it by the title bar. The game was full screen, so there was no title bar. I worked around it by confining my dragging to the very bottom of the tiles, or if possible, moving adjacent tiles. I recommend doing the trial before purchasing.
August 12, 2013
Slower Paced Relaxion
So-So All around.. Nothing Great, nor F'Nasty either Easy to Learn Simple M3 Slower paced than most.. on the edge of boring... On the Edge.... If you have a stray credit... maybe buy (i did) Enjoyable at least for the Demo
November 13, 2012
M3 with a story line
There is a back story that each game board is a task which you must accomplish to help restore the runes. You may be gathering stones and logs or cleaning snags from the waterway or collecting gems, gold, and silver meaning that the game boards have different icons to look at and match. Initially I was put off by the stones and logs because they were difficult for me to look at. It did get better. There are minor disasters in the boards which limit play and few bombs or power ups. I rarely played more than 3 levels before exiting but each time I returned. In several of the boards there are hidden things to find, meaning that matches have to be made over the grey boxes or that all boxes begin grey and matches clear the grey and the board is over when all of the hidden items, not necessarily all of the grey boxes, are found. That was different and I liked it except in the library when the icons are books which cover nearly all of the background; it is hard to tell which boxes are grey. Not a great game but a good solid one. Call it a 3.5.
December 24, 2012
Rune stone quest( Great kids game)
Well if you have small children they will love this game .ages 6+ and up the tiles are very simple in design and easy to figure out for kids.If I had small children I would recommend this game to them .The game does all level upgrades for you so you don't have to worry about saving up for a certain item .I would love to play another of their games that are more of a challenge at match three .
November 15, 2012
It may be good for beginners!
Very simple and easy game. Small boards with easy tasks that will increasing - pick one kind of tile - acorns, 2 types: stone and wood, 3 types - branches, trunks (dark tiles) and stones, and so on. Has no challenge or excitement. Graphics ok, sound too, but does not encourages to play more than 15 minutes It may be good for those who never played match 3 learn how this game (match 3) works.
November 13, 2012
Okay Match 3, Weird Graphics
I did NOT complete the 1 hour demo, but since I love Match 3 games, I tried to do so. Things that I enjoyed: 1) The initial graphics were beautiful. Having said that, the board tiles were horrible! 2) The actual match 3 part worked fine. 3) The quests were very easy to understand and accomplish. Unfortunately, there were a lot of features that I did not like. 1) Though i said I liked some of the graphics, other graphics were terrible. I wonder if this was some sort of mobile port because the tile graphics were overly simple, flat, and pixelated. 2) There's no matching during a cascade. If you get a good cascade, you sit there and wait for it to finish. 3) There were no rewards for big matches early on in the game. Maybe they come later. I didn't make it to that part. 4) There's very little in way of explanation as to what I was doing. Now, it's a match 3, so I know that I'm matching. My problem was knowing what I was trying to accomplish overall. 5) Once I clicked on a tile, it stuck to my cursor. This is completely a personal thing, but I don't really like that at all for my Match 3. I was sadly disappointed by this one. Again, some of the graphics were GORGEOUS, but the board is what I have to look at most. I wish they'd spent a little bit more time on it.
November 13, 2012
Became bored quickly
May be ok for beginners or youngsters
November 14, 2012