Web of Deceit: Black Widow
You're drawn into a web of deceit when your train stops in Andville, where the Black Widow lies in wait. Follow a trail of clues and dead husbands as you explore this once picturesque town now at the mercy of the Black Widow and her mechanical minions. What drives her lust for revenge? Where is the root of her strange power? Uncover the bizarre history – and mystery – of this little town. And track down the Black Widow in time to foil her devious plot for revenge!
Spectacular cut scenes
Amazing music!
For a more in depth experience, check out the Collector's Edition
Game System Requirements:
OS:

Windows XP/Windows Vista/Windows 7

CPU:

1.6 GHz

RAM:

512 MB

DirectX:

8.0

Hard Drive:

810 MB
Game Manager System Requirements:
Browser:

Internet Explorer 7 or later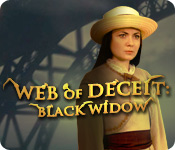 NEW299
The Big Fish Guarantee:
Quality tested and virus free.
No ads, no adware, no spyware.

Reviews at a Glance

Web of Deceit: Black Widow
0
out of
5 (
0
Reviews
Review
)
Customer Reviews
Web of Deceit: Black Widow
30
30
Held My Interest
Enjoyed this one. Not quite as much of a challenge as I like (even on expert mode) but still fun. Music wasn't annoying, puzzles were fairly good, nice graphics, okay length but wish it had been a little longer. I think most people would have fun with this. Several HOS's, but not an over abundance. Could have used a few more puzzles.
March 27, 2014
maybe 3.5 good game
The graphics are great and the music is good. Has voice over. The hint button works good but a little slow. The HOS are good some you really need to look for. The puzzles are challenging. What I did not like was you had to listen to all the talking or not at all. Could not speed it up. If you click on anything you skipped it all. The other thing is that you had to do lots of going back and forth to do things and find things to use. Not a bad game just lots to do.
May 10, 2013
Decent Game, If You Can Cope With Spiders
GAME COMPLETED SEVERAL TIMES It?s not sensational, it has no extra gimmicks or gizmos, it?s just an average HOG with decent production values. I guess the one thing that does separate it from the crowd is the extensive use of LIVE ACTORS. This I think they did PRETTY WELL. They hammed it up a little bit, and the LIP SYNC was a little OFF, but all in, not a bad effort. There was also a LOT of REPLAYABLE VIDEOS, and they are done VERY WELL. As you?d expect, there are SPIDERS everywhere ? mostly mechanical ones though. The STORY is not going to win awards, but it was held together well enough. You find yourself stuck in a little town that?s been taken over by spiders. Yick! And now you must find out what?s going on and defeat them. WARNING to the squeamish: there are a LOT of dead bodies in this game, although none are gory or gross. This is primarily a HO GAME. There are some STRAIGHTFORWARD PUZZLES, but relatively few. The HO SCENES are excellent. VERY CLEAR, objects clearly visible and a reasonable size. They do make use of colour to confound you a little, but not enough to irritate. The ANIMATION really livens up the scenes. In general, this game is autumnal (fall, for the US contingent) in colouring throughout. Which was unusual. The GRAPHICS were GOOD, not great. And the same can be said for the sounds, although sometimes the AMBIENT SOUND included strange and creepy mutterings, and that was REALLY WELL DONE. I found myself checking behind me. All up, good value game, even at full price.
May 19, 2013
Good game but please speed up the dialogue end improve the hints
Just finished this game and I liked it. It's eerie with all these spiders and all and there is challenge enough to my taste. The game is long enough too, and there are lots of scenes to explore. The only (twofold) advice I would give the developers (and this has been commented before) is: a) improve your hint system. Just telling me that 'I could use something here' is annoying after a few times. Don't give it all away but a little more than this would be good. b) get better actors and speed up the dialogue. Even better, make it possible to skip just a part of it so you can read it all but can speed it up if you like. These are the reasons I gave it 3 stars instead of four. For everything else, I recommend this game.
July 20, 2013
Could have been excellent but....
I remembered trying the CE of this game and not buying it; I assumed it was because I've had a fear of spiders since childhood. But I made it through the first 45 minutes of the SE demo only finding mechanical ones, so that wasn't the reason. Good enough graphics, filled my w/s monitor, HOS not overly cluttered or full of hard to find items, enjoyed the puzzles which were different to any I've seen before and the game ran smoothly. So what turned me off the CE and ultimately the SE? The hint system. It is completely useless. Aside from pointing you in the direction you should be heading, all it says is 'I can use something here'. Really?? I'd already figured that out for myself; it didn't need saying. But it does get said, over and over and over again until it got so annoying I just stopped playing. It even says it in the HOS if the item needs another step to be found. Pointless and irritating in the extreme. The hint system should say something constructive, not state the obvious. Otherwise it's pretty much redundant. I might have bought this game in spite of the spiders; I certainly won't be buying it now.
November 14, 2012
Fairly good game
If you don't like spiders, you don't want to buy it! It IS about spiders... Mechanical ones, but still. I didn't buy the CE but found a good walkthrough on the BF site. Not that I don't recommend the CE, I just didn't think of buying it. Puzzles are quite challenging and I almost lost my nerves on a few! I appreciated partly interactive HOGs, which was new to me. The scenes with real actors are very nice. I loved it. Two weak points though: a bit too much of going back and forth and the way too sloooow dialogs! I passed almost all of them, running out of patience! Overall a nice game.
September 21, 2013
Slow and Boring...
I usually like BLAM! games but this one fell a little short for me. The story line is really dumb and not scary and it should be considering there are lots of spiders and personally spiders creep me out but there was nothing creepy or scary about this game. Just large mechanical spiders walking around. Maybe if they had been REAL large spiders walking around, I would have been scared but these looked soooo fake! The story line about the black widow, I haven't seen done much but they just didn't do it well IMO. The music and graphics were quite nice. Nice atmosphere. The voiceovers were the WORST I have ever heard!!! They are sooo slow. Its like the people forgot what they were saying mid-sentence and then started up again. I speak faster when Im sleeping for freaks sake! The story line drug on and on because of this. Yes, I could have turned them off BUT its the kind where they are giving you objects and the characters are moving looking for stuff so without the voiceovers and the slowness of them and so therefore the slowness of the scene, it would have been even weirder with them off. This game was kind of short which was fine by me. IF this had dragged on, I probably would have rated it lower from sheer boredom. I can't name just one reason it was so boring. There is just something missing for me. Its H0 heavy especially near the end. I played the scene twice without even leaving the room...not okay. Also, there is a puzzle at the end which in my opinion was quite hard to solve the game. I ended up skipping it. I hate when developers leave the hardest puzzle til last. In this game it wasn't needed anyways to "destroy the evil plan". I kept hoping there would be a plot twist...nope. The pros for me are...the inventory box had a button to keep it locked and upright at all times. I love that. And the music/graphics were great. The H0 scenes were interactive so thats a plus but the horrible voiceovers, bad story line and boring interactions killed it for me. It was OK...not the worst game I've ever played BUT this developer's other games are 5 star awesome games, so this one just does not do them justice.
February 1, 2013
Disappointed
I found the out of sync voices annoying and the graphics a little blurry. There were too many cut scenes, and they seemed a bit pointless. About half of the puzzles were good. The HOS were generally OK.
March 7, 2014
I tried but. . .
The voice acting was the first irritant. From there it went downhill. I cannot find any redeeming quality.
December 1, 2012
SPIDERS! IN YOUR CLOTHES, IN YOUR HAIR, ON YOUR FACE
After the opening scene in which the main character is attacked by thousands of spiders which crawl into the window, up her clothes, over her face, head, hands and eventually wrap her up like a fly in their web, I uninstalled.
July 18, 2013
The Apple logo is a trademark of Apple Computer, Inc.