Web of Deceit: Black Widow
Exclusive
You're drawn into a web of deceit when your train stops in Andville, where the Black Widow lies in wait. Follow a trail of clues and dead husbands as you explore this once picturesque town now at the mercy of the Black Widow and her mechanical minions. What drives her lust for revenge? Where is the root of her strange power? Uncover the bizarre history – and mystery – of this little town. And track down the Black Widow in time to foil her devious plot for revenge!
Spectacular cut scenes
Amazing music!
For a more in depth experience, check out the Collector's Edition
Game System Requirements:
OS:

10.8/10.7/10.6

CPU:

1.6 GHz (INTEL ONLY)

RAM:

512 MB

Hard Drive:

778 MB
Game Manager System Requirements:
Browser:

Safari 4.0 or later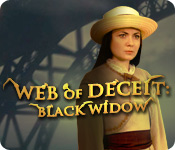 NEW299
The Big Fish Guarantee:
Quality tested and virus free.
No ads, no adware, no spyware.

Reviews at a Glance

Web of Deceit: Black Widow
0
out of
5 (
0
Reviews
Review
)
Customer Reviews
Web of Deceit: Black Widow
20
20
Spider webs!!
Cool game, with interesting story and some spooky elements - graphics are gorgeous, movie like intro, cut scenes with real actors, good voice overs - music is good, contributed well to the game - storyline is, as I sad interesting with lots of things going on. You witnessed one terrible event, young woman was taken away by mechanical spiders and now you are determined to find out what is going on - 3 modes: casual, advanced, hardcore - you have a journal and a map, most important is that you can use your map to travel around - hidden object scenes are very well done, lots of interaction, beautifully done scenes - puzzles were a bit more challenging than expected, but that was not a problem because most of them were fun to solve, so I enjoyed spending a bit more time playing them Over all, pretty good game to play, I recommend it!
January 30, 2013
SPIDERS SPIDERS BUT THEY'RE MECHANICAL
Three modes: casual, advanced and hardcore professional. Journal; interactive map. Mechanical spiders with live actors create a mysterious atmosphere that grabs your attention right away. Storyline was more interesting and unique than I thought it would be; and it?s spot-on today as bullying is a hot topic these days. Graphics are world class ? usually the color palette is bluish cast for this type of story; here the colors are vibrant and worldly. Interactive HOS with useful hint system. Wide variety of puzzles with varying degrees of difficulty. Well thought-out story and gameplay. Not too much backtracking. Game will hold your interest throughout.
November 14, 2012
maybe 3.5 good game
The graphics are great and the music is good. Has voice over. The hint button works good but a little slow. The HOS are good some you really need to look for. The puzzles are challenging. What I did not like was you had to listen to all the talking or not at all. Could not speed it up. If you click on anything you skipped it all. The other thing is that you had to do lots of going back and forth to do things and find things to use. Not a bad game just lots to do.
May 10, 2013
Could have been excellent but....
I remembered trying the CE of this game and not buying it; I assumed it was because I've had a fear of spiders since childhood. But I made it through the first 45 minutes of the SE demo only finding mechanical ones, so that wasn't the reason. Good enough graphics, filled my w/s monitor, HOS not overly cluttered or full of hard to find items, enjoyed the puzzles which were different to any I've seen before and the game ran smoothly. So what turned me off the CE and ultimately the SE? The hint system. It is completely useless. Aside from pointing you in the direction you should be heading, all it says is 'I can use something here'. Really?? I'd already figured that out for myself; it didn't need saying. But it does get said, over and over and over again until it got so annoying I just stopped playing. It even says it in the HOS if the item needs another step to be found. Pointless and irritating in the extreme. The hint system should say something constructive, not state the obvious. Otherwise it's pretty much redundant. I might have bought this game in spite of the spiders; I certainly won't be buying it now.
November 14, 2012
Decent Game, If You Can Cope With Spiders
GAME COMPLETED SEVERAL TIMES It?s not sensational, it has no extra gimmicks or gizmos, it?s just an average HOG with decent production values. I guess the one thing that does separate it from the crowd is the extensive use of LIVE ACTORS. This I think they did PRETTY WELL. They hammed it up a little bit, and the LIP SYNC was a little OFF, but all in, not a bad effort. There was also a LOT of REPLAYABLE VIDEOS, and they are done VERY WELL. As you?d expect, there are SPIDERS everywhere ? mostly mechanical ones though. The STORY is not going to win awards, but it was held together well enough. You find yourself stuck in a little town that?s been taken over by spiders. Yick! And now you must find out what?s going on and defeat them. WARNING to the squeamish: there are a LOT of dead bodies in this game, although none are gory or gross. This is primarily a HO GAME. There are some STRAIGHTFORWARD PUZZLES, but relatively few. The HO SCENES are excellent. VERY CLEAR, objects clearly visible and a reasonable size. They do make use of colour to confound you a little, but not enough to irritate. The ANIMATION really livens up the scenes. In general, this game is autumnal (fall, for the US contingent) in colouring throughout. Which was unusual. The GRAPHICS were GOOD, not great. And the same can be said for the sounds, although sometimes the AMBIENT SOUND included strange and creepy mutterings, and that was REALLY WELL DONE. I found myself checking behind me. All up, good value game, even at full price.
May 19, 2013
Spiders Everywhere
I hate spiders, but I enjoyed this game. Bugs are everywhere. The game is challenging and the graphics sound and storyline is very well done. I enjoyed this game.(not the bugs though, I really hate bugs LOL). This game is well thought out.
November 14, 2012
Fun Game
I immediately loved this game because it automatically opened in widescreen, no black bars! Gorgeous clear graphics Choice of 3 modes of play : Casual - Sparkles for a HOS (Hidden Object Scenes) Sparkles not overbearing. Quick refill of Hint and Skip Advanced: No Sparkles, slower hint and Skip refills Hardcore : No Hints or Skips, although if you spend too long in a scene it will tell you there is something or not to do in that scene, which could annoy the more experienced. HOS are interactive and the objects are easily identifiable Choice of Cursors, the Custom Cursor worked beautifully, nice and smooth There is a Journal and map inside the Journal which you can use to Jump, which Everyone seems to like, I on the other hand like to wander, especially with a game like this one, as the graphics are so clear and colourful Live actors, although the Audio could do with a bit of editing in certain scenes Cutscenes can be replayed via the Journal, love this feature, a lot of the better Developers are incorporating this added feature in their games, adds to the enjoyment of the game IMO Puzzels were different and enjoyable, some were a little hard for me, took me a while to figure out, even with the instructions, but that's just me There are no Collectibles or Achievements (which is a shame, would have enjoyed collecting spiders or wasps) ------------------------------------------------------------------------------- Husband is killed and his widow uses his invention for evil. Your job is to stop her, and help a few others along the way, she has an army of spiders to do her bidding, there's a great fight between a giant spider and wasp, one of the cutscenes I replayed a few time, just loved it. I'm quite a slow player and hate to skip puzzels, unless I really have to, and the game took me about 5 hours to play. I thought the ending was quite abrupt, but a lot of the SEs are nowdays Overall a fun game, easy enough in Casual mode but if you're afraid of spiders....Beware! LOL
November 18, 2012
very unique game
The reason why didn give 5 stars : i never skip so many mini games in a game,, (( Some of them too complicated for my bird brain,,, I bought it after less than 5 minutes of trial play, the spiders and butterfies are too attractive to resist for me, The graphic is super, the real characters acted well, they making the story alive and interesting, and there is a map easy to transport to different locations that really saving times from wondering around. Those who playing this game might jus like me, cant stop til the end.
November 17, 2012
Slow and Boring...
I usually like BLAM! games but this one fell a little short for me. The story line is really dumb and not scary and it should be considering there are lots of spiders and personally spiders creep me out but there was nothing creepy or scary about this game. Just large mechanical spiders walking around. Maybe if they had been REAL large spiders walking around, I would have been scared but these looked soooo fake! The story line about the black widow, I haven't seen done much but they just didn't do it well IMO. The music and graphics were quite nice. Nice atmosphere. The voiceovers were the WORST I have ever heard!!! They are sooo slow. Its like the people forgot what they were saying mid-sentence and then started up again. I speak faster when Im sleeping for freaks sake! The story line drug on and on because of this. Yes, I could have turned them off BUT its the kind where they are giving you objects and the characters are moving looking for stuff so without the voiceovers and the slowness of them and so therefore the slowness of the scene, it would have been even weirder with them off. This game was kind of short which was fine by me. IF this had dragged on, I probably would have rated it lower from sheer boredom. I can't name just one reason it was so boring. There is just something missing for me. Its H0 heavy especially near the end. I played the scene twice without even leaving the room...not okay. Also, there is a puzzle at the end which in my opinion was quite hard to solve the game. I ended up skipping it. I hate when developers leave the hardest puzzle til last. In this game it wasn't needed anyways to "destroy the evil plan". I kept hoping there would be a plot twist...nope. The pros for me are...the inventory box had a button to keep it locked and upright at all times. I love that. And the music/graphics were great. The H0 scenes were interactive so thats a plus but the horrible voiceovers, bad story line and boring interactions killed it for me. It was OK...not the worst game I've ever played BUT this developer's other games are 5 star awesome games, so this one just does not do them justice.
February 1, 2013
Love It!
I love this game. The graphics are great, the ambience is great. Nice and gritty and realistic like I like it. Lots of puzzles which is my favorite. Not too easy not too hard. HOS are interactive and fairly easy. Not too many which is good. The inventory makes sense and not much backing up. Great game for the money. Quite long too.
February 11, 2013
The Apple logo is a trademark of Apple Computer, Inc.
The Windows logo is a trademark of Microsoft, Inc.