The Gift
Dead bodies are piling up, a bizarre symbol on their foreheads. Guide paranormal investigator Sarah Meiville through a classic noir adventure as she searches for clues, solves puzzles and learns to use visions that appear to be helping her. The Gift is an unforgettable cross between a moody '40s detective movie and a modern occult thriller!
Bring a killer to justice
Restore Sarah's name
48 unique locations
Unlimited hints and tips
Game System Requirements:
OS:

Windows XP/Windows Vista/Windows 7/8

CPU:

1.6 GHz

RAM:

512 MB

DirectX:

9.0

Hard Drive:

635 MB
Game Manager System Requirements:
Browser:

Internet Explorer 7 or later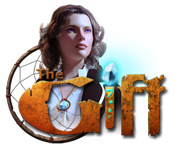 NEW299
The Big Fish Guarantee:
Quality tested and virus free.
No ads, no adware, no spyware.

Reviews at a Glance

The Gift
0
out of
5 (
0
Reviews
Review
)
Customer Reviews
VERY good game - Try it for yourself!
[b]The Gift [/b](IHOG) It is 1941, and discredited psychic detective Sarah Meiville desperately wants to earn back her credibility and her job with the police force. Had this been a modern-day tale, I would not have been able to enjoy it as much as I have... Massively disturbing a crime scene would be too prevalent in my mind! However, since forensic science had not come all that far back in the 1940's, I was able to put these feelings aside and just concentrate on the gameplay and story. There are separate sliders for background music and sound effects, as well as options for full screen, custom cursor, maintaining aspect ratio, and the ability to turn sparklies on/off at any time! Yes, Virginia, there is a Santa Claus... err... I mean, there are two options for difficulty, though I think they meant that interactive areas do NOT sparkle on the Expert Mode! ;) The opening scene is skippable, if you so wish. All dialogue is voiced over, and the actors chosen do a very good job. Our heroine has a Southern twang, rather like Kyra Sedgwick in 'The Closer'. You need to click in order to continue dialogue throughout the game, though it can be skipped (though you don't have the option to click through during the opening scene.) I like the character designs, and their movements are realistic, whilst still being appropriate in the game (ie. not so realistic that they look jarringly different than the background images.) The gameplay is fairly straightforward, without toooo much to-ing and fro-ing... except when we have to keep going up and down the elevator. haha I'm really enjoying the story in this one, wanting to know what happens next, as well as what happened to cause Sarah's current state of affairs. The graphics are very nice, and while the devs have used "recycled" items during the hidden object scenes, it's not really a big deal! These items don't look exactly the same, as they are oriented (positioned) differently each time, and frequently have different shading due to the shadows in the scenes. The HOS themselves have some very light interaction, such as grabbing a knife and using it on a loaf in order to get "sliced bread". Try playing with the sound turned up, then click on the HINT button before it's fully charged... Ooooo~ Speaking of the HINT button, it is refillable, and the length of time it takes depends on which mode of play you choose. If used during the adventure portion, it will either highlight what you need to see/do, or give you an arrow showing you which way to go. There is a misclick penalty if you randomly click too many times. If you can sit back and enjoy the story, the graphics, and the music/voices, and overlook the very small complaint of recycled items in the HOS, this is a very good, long, and enjoyable game. Definitely recommended!
November 19, 2012
Review of completed game
This was a good and long game. There were a good amount of hidden object scenes with at least one or two items that you had to find something else to clear them. There were plenty of voice overs, puzzles and the graphics were a1. This developer is my favorite developer and they once again made a stellar game. I also like how they think outside of the box and keep trying to put new spins on story lines.
November 14, 2012
FAAANTastic
;;;WOW;;; Well I didn?t even feel the hour going passed, going from room to room I did have to use the hints a few times when I took a wrong turn but it is a very relaxing game. I would put it into A 'Little Neor' game but more relaxing than them. It has Character of being like 'Angel' and 'X Files' if I could put a Smiley face on this I Would well here goes :) not too bad hey Ria
November 17, 2012
THE GIFT - GREAT GAME!!!
This game truly was a gift to me. Review based on full game play. You are Sarah, a young woman with paranormal abilities. Animation/VOS - Good - More to me like avatars. IHOS - Clear, some small objects. Could have done without the "ahhh" each time an item was found. :-D Be sure to scan areas outside of IHOS. Misclick Penalty - Screen resembles a tv set losing focus for a second. Hint - Quick recharge, gives clues and acts as a guide. Inventory - Items used quickly in various locations. While hint is recharging, if you click on it, a female voice whispers something but I couldn't understand what she was saying. Puzzles/Mini-Games - Not as many as some players would like but challenging all the same. Seems to be more IHOS. For those of you who enjoy the paranormal, then this is the game for you. Buy and enjoy!!!
December 11, 2012
Good Adventure Game - NOT Hidden Object Game
Graphics are good, but not great. Storyline is very good, and so are the vocals. I personally liked all the cut scenes. Journal is good as well. No map, but in casual mode, none is needed. Hint points toward task, or in direction needed to travel. Music is repetitive, so I turned the volume down. Even though this game has hidden object scenes, it's really an intuitive adventure game- i.e. think on your feet: 1) I just got an object, but what is it for? Have I already been somewhere I could use it? 2) I just found a new task. What kind of object would work here? Are there any objects in my inventory that would work? If not, I'll need to be on the lookout for something else that would work. For expert Adventure gamers, this game might be too easy, but I really liked it.
February 27, 2013
Check it out - Well done 40's noir flavored crime... with a twist.
Wow, this gem of a game by a primo developer slid past as a soft release that i missed, & boy, am i glad i finally heard about it! Had a blast playing this noir detective style game set in the 40's. You're playing as a Sarah Meiville, former police detective who's now working as a PI, or more to the point, an occult investigator with the gift of seeing people's memories. I don't want to give much away, but this is a very cool storyline, and the atmosphere created for it is wonderful. Graphics/artwork is great & i was enthralled by the stunning use of color in the darker areas - a perfectly moody stage for a detective drama. Music is repetitive but didn't bug me, as it was really appropriate for the mood. There are 2 levels of play & you have the option to have sparkles or not at either level. There's a journal that loads up with info as you go, no map, & a hint button that only points you in a direction. Puzzles give little to no instruction, so you're gonna have to figure what to do as well as complete them, & you can skip if you get frustrated. Also, no walkthru available anywhere that i found. So you're pretty much on your own in this game, Detective, & i think you'll find some challenge here, with nothing to fall back on but your little gray cells. This HOPA will provide you with smooth gaming, lots to do, HOscenes with a bit of interaction, great characters, & decent length of play. I was thoroughly engrossed in this one, played straight through. & am now ready for a sequel (please. I think this would make a great series). If you like crime/detective/mystery or dark & eerie games, i think it's worth your while to check this one out. Give it a go, & have fun gaming, folks.
December 9, 2012
Great game, you'll love it!!
Just finished the game, and I'm still baffled by it. Fantastic story! But you'll have to see for yourself, I can't give it away, can I? Crisp graphics, great fifthies atmosphere, fantastic VO's, nice, clear HOS, slightly interactive. Certainly not the easiest of games, had to skip a couple of puzzles. One small warning though, there is no walkthrough (on BF). But try it and see for yourself. Happy gaming!
June 29, 2013
Loved it.....Even Her Voice
I found this murder mystery refreshing with that twist of the occult. Meiville's voice intrigued me as it was a change from the professional British actor voice. We are brought into the reason for her reluctance to play the role of the paranormal detective and we see her as an "outsider." But at the same time she is driven which creates a good tension in the story.(no details) I skipped a few puzzles due to weak directions mostly. But overall I liked it even with its very few faults.
November 25, 2013
A gift of a game!!!
I see mixed reviews for this but I loved it! The storyline is interesting and drew me in and it is a good long game. I made it last 4 days because I didn't want to finish it as I was enjoying it so much!! The HOS scenes are clear and the hint button shows you which way to go should you need it. The puzzles made the game for me. OK, the instructions were pretty vague but it was pretty obvious what you had to do, it was just doing it. Some took me a while but I feel a great sense of achievement at managing them all. A game I will definitely play again :)
March 23, 2013
great game
I think this game is greatly underated please give it a try
November 15, 2012
The Apple logo is a trademark of Apple Computer, Inc.