Tower of Elements
Defeat the Void army in the unique Match 3 game, Tower of Elements! An invading darkness has fallen upon the land. The Void army, a force dedicated to the obliteration of life and creation, stretches its hungry arms towards the innocent villagers. An ancient tower built in an age long-forgotten now stands as the first line of defense. Harness the power of fire, earth, air, and water to protect the kingdom and bring peace back to the land!
Match 3 with strategic tower defense
10 chapter story in the world of Primordiax
Collectible monster cards
Game System Requirements:
OS:

Windows XP/Windows Vista/Windows 7

CPU:

2.5 GHz

RAM:

1024 MB

DirectX:

9.0

Hard Drive:

264 MB
Game Manager System Requirements:
Browser:

Internet Explorer 7 or later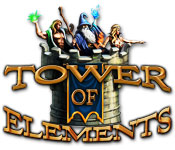 NEW299
The Big Fish Guarantee:
Quality tested and virus free.
No ads, no adware, no spyware.

Reviews at a Glance

Tower of Elements
0
out of
5 (
0
Reviews
Review
)
Customer Reviews
Good variation on matching games!
If you enjoy matching games, this will be really fun. I like the added action and story element, which you don't get with most games like this!
November 17, 2012
Good game, and works under Linux
I'm largely moving off Windows, so it's important to me if something does or doesn't work under Linux. For games like this, that means Wine, and ToE works pretty well under Wine. (At least, the version I got did; it may not be quite the same edition as is available here.) Gameplay is pretty good. There are a few places where it gets a little frustrating (trying to keep an eye on the battlefield for dropped coins/scrolls while keeping your tower alive), but by and large you can actually ignore the battlefield and just pew-pew-pew indiscriminately. You're rewarded nicely for making big combos (4 matches = free money, 5 = free XP, >5 = cool powerups), and the "spells" mechanic is very playable. The storyline is particularly good for someone who's played Threshold RPG, another Frogdice game, but is internally coherent without any Threshold knowledge. I'm not really a match-three game, and this isn't what I normally think of as a tower defense game (you don't build towers to defend yourself, you're defending a tower), but this is very much a playable game. I'm only about half way through it so far, though, and so can't advise on its replay value or lack thereof.
November 17, 2012
Awesome puzzle/tower defense hybrid
Good progression, use of spells, and match 3 mechanics to fend off hordes of enemies in an RPG fashion. Definitely worth a good look at!
November 18, 2012
Good download
Great game to download and kill time with. Moderately challenging.
November 20, 2012
Based on one hour trial....
I was so engrossed in the game, that I was shocked when the trial was over. As soon as I'm done writing this review, I am going to purchase this one. The graphics are beautiful. Other's have described the gameplay (sparkles, loading between some scenes, etc.), so I won't go into that. What I will say is that, even with the sparkles, there is plenty to figure out... and I'm thoroughly enjoying doing so. There is more adventure than HO and a nice mix of puzzles. I very much recommend this game!
October 30, 2012
Give it a look
I'm not typically a match 3 player (though of course I am not completely unfamiliar with the genre). Even so, I found this to have many elements that added a surprising amount of strategy, both during each level and between levels (choice of items). You do have to be quick on your toes in order to formulate and execute plans, as the gameplay is pretty fast-paced. Some may like that, some may not, but a few of the item choices do allow you to slow things down a hair, so that's one potential strategy. If I had to pick on something, it's that the indication of when scrolls and gold drop from the enemies is a bit too subtle, so giving in to the natural inclination to focus on the tower-matching may cripple your ability to afford items later on. (I would even recommend an auto-loot option for players that want to lighten the load.) I would also give a bit more feedback for when your wall's health meter is critical, because there are plenty of things to occupy your attention, and it's easy to not notice that things are going south. Those are nitpicks, though. It was still an entertaining experience and I would urge anyone looking for an interesting spin on the genre to give it a look.
November 18, 2012
A solid all round game
I found this game because I play one of Frogdice's other brilliant games Threshold. I wanted something I could just mess about with in down time between playing other games and did not expect it to be THIS addictive. Very pleasantly surprised as I am a lover of bejewelled type games (match 3 in a row) and this adds a little extra factor on top of it. Its a game that is easy to jump in and out of and thankfully pauses when it looses focus!
November 17, 2012
Not your typical Match game
This game takes the match games to a new level. It is all the fun of a match game, add in a good story, helpful tutorial, RPG elements for something completely new. It took only a few minutes of playing for me to be completely addicted. I am always looking forward to the next new spell or challenge.
November 16, 2012
I Just Had to Have It
I tried this game and thought it was a wonderfully different concept. If there are other games like this, I haven't heard of them. Think Plants vs. Zombies but making matches to kill the bad guys. I played on easy and got really stressed out trying to find matches while the enemies chewed on my tower, so I decided I liked it, but too stressful. I kept thinking about it, though. This game was always in the back of my mind. Then I decided I had let myself get too stressed. They have to do lots and lots of chewing in easy mode to hurt you, and I had much more time(and weapons) than I was thinking I had, and of course I will get better the more I play, so I decided I just had to have it!
December 23, 2012
Nice Matching Discovery!
What a neat game! Matching to defend your kingdom and casting spells to keep the enemy out? Who would have thought that a RPG-wannabe game would be in the form of a matching game! I can't really say anything new about the game that the others have not disclosed; all I can say is that you need to give this game a chance. Though it seems simple enough, you need some strategy to gain upgrades and new skills/spells to complete the game. Watch out for those sneaky uber-monsters who show up; you'll need a pretty good arsenal of spells and weapons. Oh, yes, a feature of the game that's necessary: You can actually complete it and win -- you don't have to start from scratch if you lose one of the battles. Have fun; give it a try!
December 15, 2012
The Apple logo is a trademark of Apple Computer, Inc.